Buying a coffee machine is a big deal, both in terms of the cost and your enjoyment. But it can also be a confusing one with so many different brands, price points, and features to choose from. Throw into the mix machines sold under the same name, like the Oracle Touch, by two different companies and you have a recipe for mass confusion…
Or are Sage vs Breville actually the same company?
Yup. Sage and Breville are really two names for the same company. Breville started in Australia and sells worldwide. But Sage is sold in European markets where there was already a "Breville" brand selling coffee makers. They wanted to ensure their quality products couldn't be confused with "inferior" machines, so changed the name.
So, buying from either is an investment in high-quality manufacturing and a high-quality cup of coffee. Here we will take a deep dive into the history of these two coffee maker brands, what separates them, and what ties them together. Grab a cup of the good stuff and let's dive right in:
This article may contain affiliate/ compensated links. As an Amazon Associate, we earn from qualifying purchases at no additional cost to you. For more information please see our disclaimer here.
That dream started with radios so they combined their surnames and Breville was born. They didn't stop with radios though and moved into mine detectors for WWII. Then, in the 1960s, their kitchen appliances started hitting the shelves.
It was the launch of their toasted sandwich maker in 1974 that really cemented Breville as a household name. Though it's their coffee machines that get us hot under the collar.
Headquartered in Sydney, Australia, the company is officially registered as the Breville Group Limited. But you can find their products sold in over 70 countries around the globe. Not only does this include Breville branded products (everywhere except Europe), but they also own a number of other brands including Sage by Heston Blumenthal.
When they first made the move to sell in Europe, they discovered a company already trading under the Breville name. So, to avoid confusion (and a lawsuit), they opted to sell under a different name in the European markets. And thus, Sage was born.
You can expect the same excellent quality from Sage vs Breville machines. It is the exact same bit of kit, they just have a different name slapped on the front.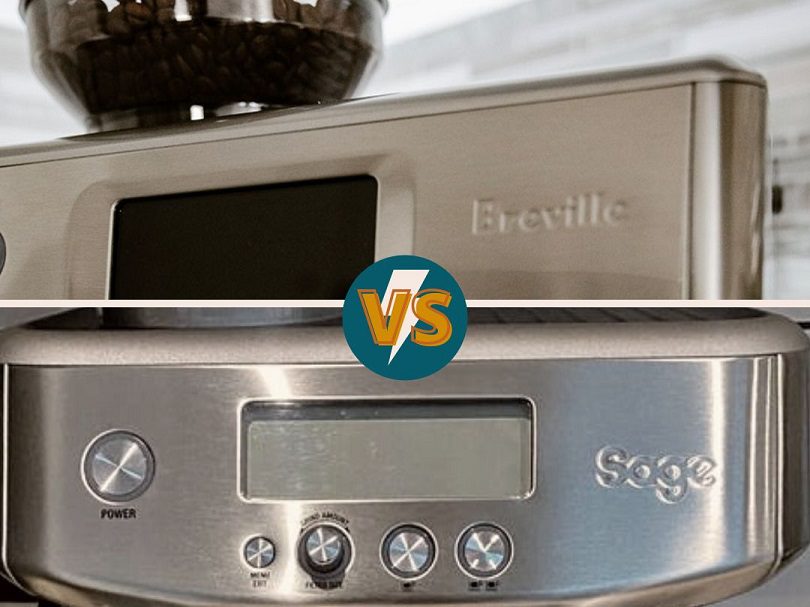 Breville exists as a brand name in the European market. But this has nothing to do with the Breville Group Limited. Confused?
Within European markets, Jarden Corp owns the rights to the Breville brand name although it's mostly found in the United Kingdom and not the rest of the continent. It's basically a case of 'we were here first and we're not selling you our company name'. So, to prevent confusion or a lengthy legal battle, the Breville Group Limited established a London-based subsidiary, BRG Appliances Limited, who choose to market the same great products under the Sage by Heston Blumenthal brand.
So, yes you can wander around a store in the UK and find Breville products. Just don't expect the same great quality as Breville elsewhere in the world. If that's what you're after then you are looking for Sage coffee machines instead.
Sage by Heston Blumenthal is a brand name owned by the Australian Breville Group Limited (under their London subsidiary). When it came to launching their products in the UK and European markets in 2013, they needed a new name. And a helping hand to get their products into stores.
So, as a man who knows a thing or two about kitchen appliances, Heston got on board with developing and pitching the great Breville products to UK retailers. The initial launch was for just 16 products, but now the Sage range includes many of Breville's espresso machines, coffee makers, and other excellent kitchen gadgets. The only thing that's missing is a commis chef to keep your kitchen tidy as you go.
The first (and biggest) difference is the Nespresso machine line-up. Sage only stocks the Creatista range (Plus, Pro, and Uno) whereas Breville has a far more extensive selection of Nespresso single-serve machines. This includes the Creatista (Plus and Pro), Pixie, Inissia, CitiZ, Essenza, and Vertuo ranges.
Overall, there's a total of 23 Nespresso coffee machines available from Breville but only 3 from Sage.
However, the Creatista Uno is the only machine that is only sold by Sage, not Breville too. The fully automatic machine offers a more simplified user interface than the Creatista Plus but without the touchscreen and extra features of the Creatista Pro.
There are some minor differences between Sage and Breville's drip coffee options too:
Breville offers a glass carafe option for the Precision Brewer drip coffee machine alongside the thermal carafe version. At Sage, you can only get the thermal carafe model. Really, the only benefit of offering a glass option is a lower price (but only by $30) as it also breaks much more easily. Being made of stainless steel, the thermal option will keep your coffee hot for longer after brewing without burning it.
Outside of Europe, you can also get your hands on the Breville Grind Control – a drip coffee maker with an integrated burr grinder. By grinding your coffee beans immediately before brewing, you retain all the fresh deliciousness for a better cup of coffee. So we hope this one joins the Sage lineup soon too.
Both ranges start with the entry-level Bambino and run all the way up to the spectacular Breville/ Sage Oracle Touch. Unlike their competitors, Breville and Sage machines all maintain the trademark look of being traditional espresso makers. But Breville has snuck one extra machine in there – the Infuser.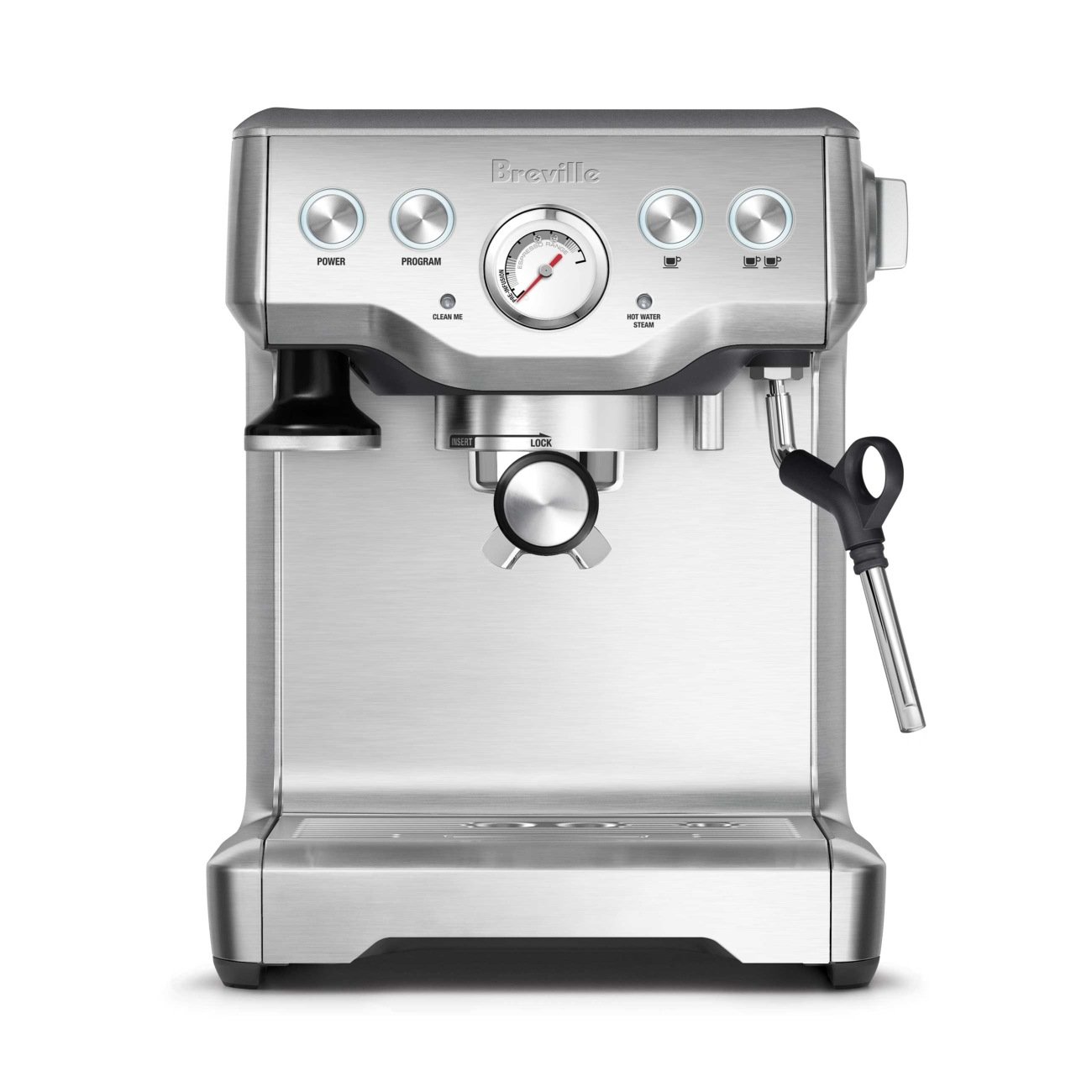 the Infuser:
Breville's the Infuser is the first in the range (price wise) to come with a pressure gauge, helping you to get a perfectly timed, extracted, and sized shot of espresso.
The high-pressume steam wand also delivers top quality milk foam every time. So you can practice your lavish latte art before sitting back and enjoying your delicious handiwork in the form of a cappuccino, mocha, or latte.
Best of Breville or Sage
The whole line-up of espresso makers is excellent for anyone who loves coffee, but these are the standouts for us: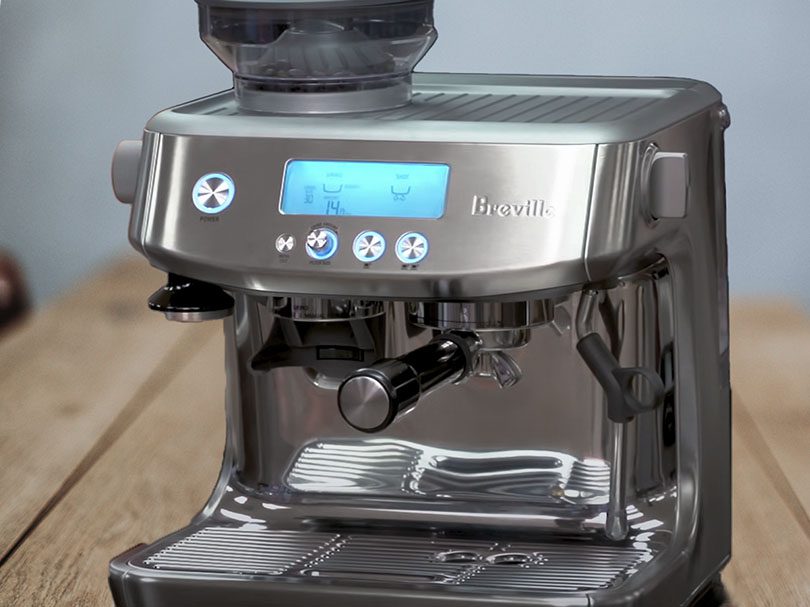 the Barista Pro:
Do you dream about making the perfect espresso at home but need a little helping hand to get you there?
If so, the Breville/Sage Barista Pro is that helping hand you need. It makes pulling a perfect espresso easy whilst leaving you enough control to really sink your teeth into getting the best from your favorite coffee beans.
While it's possible to get a basic bean-to-cup espresso machine for the same price, the ability to perfectly customize your shot makes the Barista Pro worth it.
the Oracle Touch:
The Oracle Touch from both Breville and Sage is an incredible piece of engineering.
There is an insane number of options for you to customize. You can alter everything in the brewing process from grinding to milk temperature. And it will be exactly how you want it, every time.
You obviously pay a premium for this level of flexibility but for anyone who likes a very specific coffee, it's perfect. Saving your perfect coffee to be ready at a touch of a screen is the perfect home luxury.
You can check out the full lineup of their excellent espresso machines in our Best Breville Espresso Machines article. And, by extension, the best Sage espresso machines too.
That said, if you're buying a coffee machine in Europe, remember to avoid ones labeled as Breville. In Europe (and only Europe), Breville branded machines aren't the same as the rest of the world – it's a different company and so you should opt for Sage instead.
Across the global markets, Sage vs Breville differs in their machine offering. Outside of Europe, you will find a more extensive range of Nespresso coffee makers plus a few more drip coffee makers. Currently, Sage lacks behind in this respect. But the flagship espresso machine range is the same for both Sage and Breville.
You Might Also Like
Beautiful, simple, and delicious espresso for around $1000? We had to test if such a thing was possible – read our Jura ENA 4 review to see

Jura ENA 8 vs Gaggia Babila is a battle of philosophies. Is the convenience of the ENA 8 superior to the precision of the Babila?