Do you want high-quality coffee in the comfort of your own home? But, also the complete ease of using a pod machine? Then, the VertuoPlus could be just the one for you. Read on for all the pros and cons in this Nespresso Vertuo Plus review.
Thanks to George Clooney, Nespresso pod machines are becoming increasingly common in many people's morning routines. Whilst we were most disappointed to learn that Mr. Clooney doesn't come with the machine, we can certainly see why they are so popular:
On a cold, tired morning there could be nothing easier than using a Nespresso machine. Simply pop in a pod, press a button, and delicious coffee is yours. One such machine offering these great benefits is the Nespresso VertuoPlus.
So, if this sounds like the kind of convenience you are after, keep reading for our complete Nespresso VertuoPlus review and buying guide. Armed with this you can discern if this is the perfect espresso machine for you.
We have scoured the internet for all the reviews to collate with our own, meaning we have the most comprehensive review you can find. Whilst not all home coffee experts give numerical scores, we have averaged these out. Therefore, you can get a consensus opinion on how good this coffee maker really is and know for sure if it is right for you.
This article may contain affiliate/ compensated links. As an Amazon Associate, we earn from qualifying purchases at no additional cost to you. For more information please see our disclaimer here.
At a Glance: Nespresso Vertuo Plus Review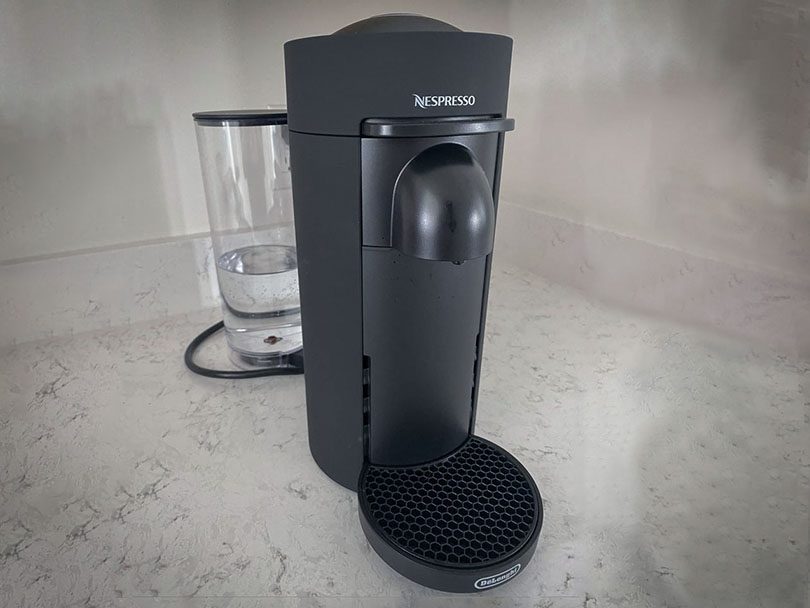 The Nespresso VertuoPlus is a budget single serve machine. But as you're tied in to Nespresso Vertuo pods, it's certainly not the cheapest espresso machine to run.
If you're happy with this then you'll get a superb espresso maker that really delivers on flavor and simplicity.
The Vertuo Plus offers an ultra-convenient way to quickly make lots of coffees with nice crema. All without a loss of quality – a fantastic offering at this price.
No, the coffee quality won't be better than an expert barista using fresh ground beans. But that doesn't mean it isn't very enjoyable.
When sourcing this machine you might spot it made by both Breville and De'Longhi. They are both the same machine, but Nespresso outsources its coffee machine manufacturing.
Pros
Rich, full-bodied coffee with thick crema
Easy to operate and clean
Excellent build quality
Heats up quickly
Large selection of Vertuo pods available
Reliably makes multiple cups
Quiet
Swivel action water tank
Big water reservoir
Cons
Vertuo capsules more expensive than the Original capsules
Tied to Vertuo line of pods
Can't pour hot water only
No milk frother
Pods are not always easy to recycle
Attracts dust
Pod coffee isn't as good as fresh coffee
1. Centrifusion Extraction Technology
The VertuoPlus uses Nespresso's own propriety centrifusion extraction technology. This process works in a totally different way from the Nespresso Original's 19-bar vibration pump.
So how does centrifusion work?
After inserting your favorite capsule and pressing the magic button, the machine punches a hole in the center of the pod. Plus, a further 18 holes around the ring of the capsule. This is then spun at a rate of 7,000 times per minute. Doing so blends the coffee and the water better and is, most likely, the reason for the beautiful thick crema too
2. Capsule Specific Brewing
Each Vertuo coffee pod has a barcode on it. This is read by the Nespresso VertuoPlus using its internal barcode scanner. Doing so allows the machine to customize it's extraction settings, utilizing a specific, optimized program for each specific blend.
3. Fast Heat Up Time
When you turn on this espresso machine, it takes less than 30 seconds to warm up and be ready to brew your coffee. This is incredibly quick and means that first sweet sip will be with you in no time.
4. Lots of Capsule Options
Vertuo capsules are expensive. But there are 16 coffee capsules and 10 espresso capsules to choose from. So, whilst you're tied into Nespresso Vertuo capsules, there is plenty of choices.
After selecting your favorite Vertuo capsule, pop it in, face down. Then, all that's left to do is press the button – and your coffee is poured.
The internal barcode scanner will determine how much water is needed for your chosen capsule. So, there's no need for any other buttons. You really couldn't have a simpler coffee machine design.
One tap on the silver lever will open the top, allowing you to insert your favorite capsule. Another tap closes the lid again. And then a press of the button brews your coffee.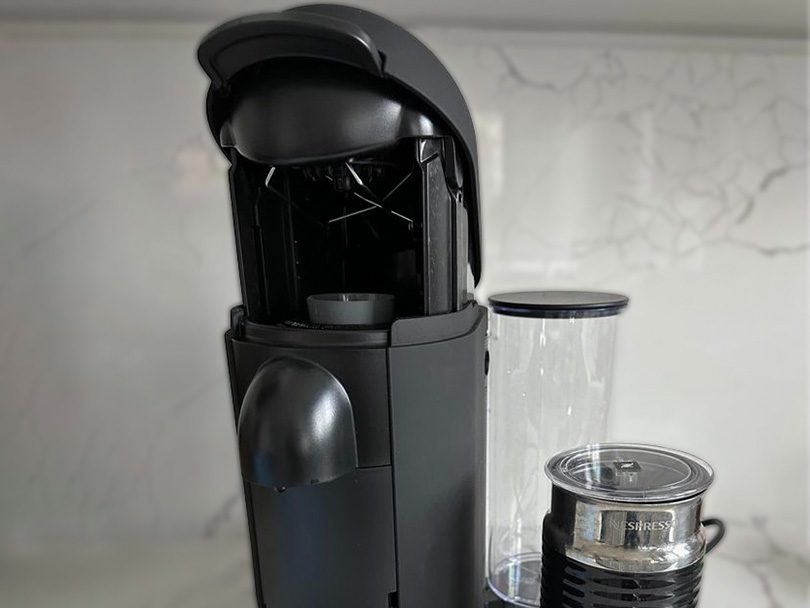 The downsides to this are you have no room to personalize as you can't play around with your espresso brewing:
Other Nespresso machines like the Pixie have buttons for a single espresso, double espresso, and long coffee. And you can have whatever length you like from whichever capsule. With the Vertuo Plus, all that (admittedly small) flexibility is gone in favor of simplicity. In theory, this means each capsule is prepared optimally.
You wouldn't even feel rude telling guests to help themselves to a coffee as it's so easy to use, it doesn't feel like a task.
The only thing that takes some getting used to is the light. There is just one light that displays different colors to indicate different things. But there's nothing complex here and the machine manual has you covered if you are ever unsure.
This does limit you to the 26 or so variations that are available. Although that is plenty for most people looking for a single-serve machine. Plus, the available options give you 5 different drink sizes to work with.
But, this does create a couple of other potential issues:
Firstly the Vertuo pods are considerably more expensive than the Original Nespresso pods. They work out at around 80 cents per pod, which is a bit more expensive than buying ground coffee or grinding coffee beans yourself.
This means that, in the long run, the Nespresso Vertuo Plus is a much more expensive machine to run per cup than other types of espresso makers.
There is also the issue of recycling the pods:
You can throw the used pods in a pre-paid UPS bag and drop them off at any UPS pick-up location, local office depot or Staples. So, if you happen to pass one of these locations on a regular basis then this is no problem. But it takes away from the convenience of the machine if you have to make special trips to recycle the pods.
Local collection for recycling is the long-term ambition of Nespresso. But, for now, you have to take them in yourself.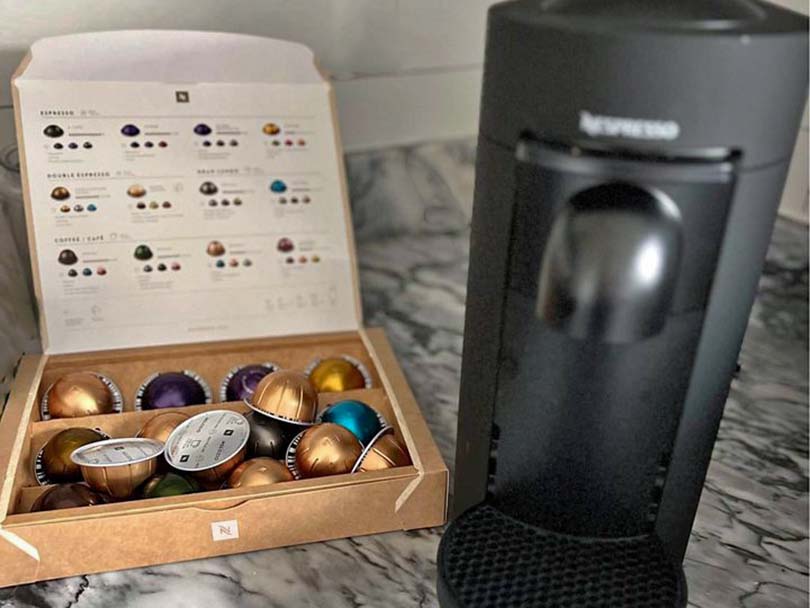 The water tank is also movable, which is surprisingly handy if you're short on space. Using the swivel arm, you can have the water tank either at the back or to the side of the machine. Just keep in mind that you have to remove the water tank to get to the used capsule container.
Overall, the VertuoPlus has a very sleek design. There is a silver handle that pops up, revealing space for the capsule. Tap again to close, and push the button to make your coffee or espresso.
The body is made of shiny plastic – the type that looks dusty a lot faster than you want it to. Plus, you can choose from black, titanium, or grey. It's a design that will fit in well in most kitchens, unless you're going for a rustic aesthetic, and will look at home in almost all offices.
Everything about the build quality is excellent – every part looks and feels sturdy.
Nespresso machines are always solidly built and tend to manage quite a few years of regular use. Just make sure to properly descale your machine when prompted in order to maintain the machine's life.
The used capsule container, located at the back, is large enough to hold around 10 capsules. This is a big improvement over earlier Nespresso coffee makers that could only store a couple of spent coffee capsules.
A common problem with espresso machines is a dripping nozzle. But, you won't find this on the Vertuo Plus so it will look great for longer… if a little dusty.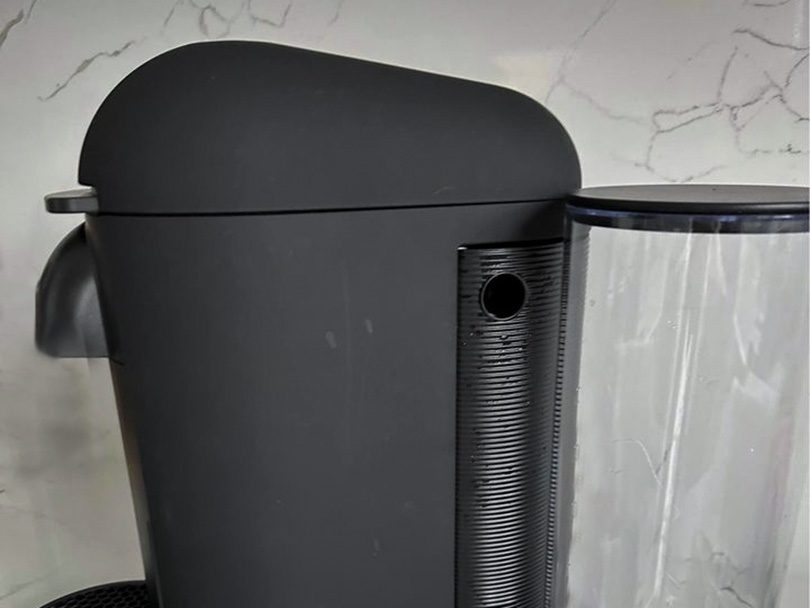 Doing so means that the coffee is always good from the Nespresso Vertuo Plus:
It is incredibly consistent, it always has a full body, good taste, and an excellent crema. You can stand and make coffee using the VertuoPlus all day and each will be as good as the last.
Each capsule has a barcode around the edge. This instructs the machine to use the right amount of water and pressure for that specific coffee. So, the Vertuo Plus will always get the best out of each capsule which is very impressive.
Will this single-serve machine compete with your local barista's single-origin espresso made on a professional-grade espresso machine?
No – the nuance simply won't be there. Plus, you don't have anywhere near the same amount of choice as you would if you were buying fresh coffee beans or even ground coffee.
But, what you will have is consistently good coffee. It doesn't matter how tired/ hungover/ busy you are, the quality and waste will always be the same. And, in our tired eyes, that's a big plus.
There is zero skill or effort involved in using the Vertuo Plus. This makes it perfect for anyone who is too busy, or has no desire, to perfect their home espresso making techniques. Beginners and old-hands alike can open the box and get straight to quality coffee.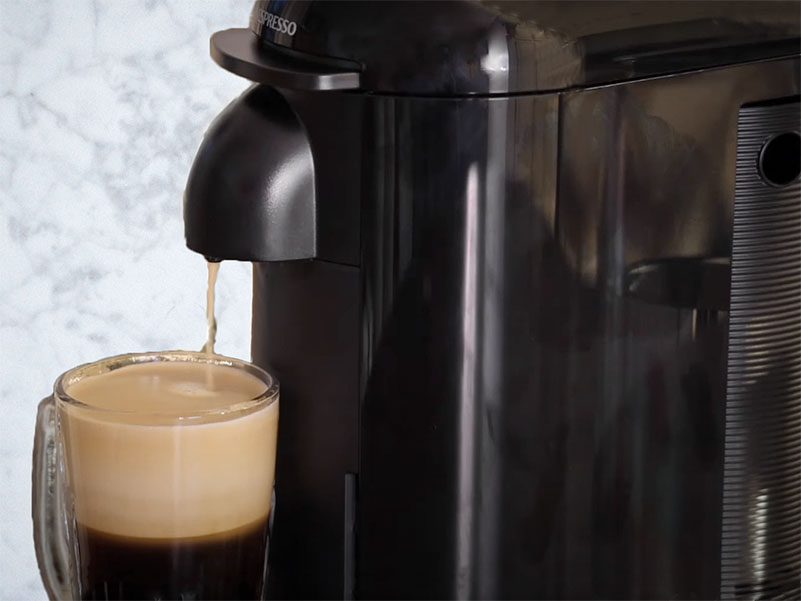 The fancy centrifusion technology inside the machine definitely qualifies as added "bells and whistles". Yet, this is a very basic Nespresso machine.
There is no milk frother and no hot water button. Basically, there's no messing around:
Capsule in, push button, drink coffee.
If you're a fan of foamed milk coffees, you will need to buy a separate milk foamer to make these at home or at the office. To help with this, you will often find deals that include the Aeroccino – Nespresso's milk frother – alongside the VertuoPlus.
On a day-to-day basis, all you need to do is empty the capsule bin (it will hold up to 10 capsules) and refill the water tank.
The drip tray stays remarkably clean as the nozzle doesn't drip.
Plus, the coffee machine only requires descaling every 6 months or so. Of course, Nespresso sells its own descaling fluid which it is recommended you use. But that's the world you buy into with one of these machines.
Being incredibly low maintenance is another reason why single serve machines are so popular. They are a perfect espresso or coffee machine choice for those who love their coffee but not all the effort that can go into it.
The Vertuo Plus has a sleeker design and a larger water tank.
As an added bonus, you can choose where to position the water tank thanks to the VertuoPlus' swivel arm. This means it can fit into smaller spaces that the Vertuo just wouldn't manage.
On the Vertuo Plus, the machine head opens and closes automatically. You have to do this yourself on the Vertuo which is hardly a big ask, but a difference nonetheless.
Finally, the VertuoPlus is much quieter than the previous Vertuo coffee makers.
However, both machines use centrifusion extraction technology. So, regardless of which you choose, you will get a high-quality coffee from the capsules.
Another option at the budget end of the espresso-making spectrum is the DeLonghi Stilosa. The DeLonghi Stilosa is a little cheaper than the Vertuo Plus but it requires you to do a lot more work.
The DeLonghi Stilosa is a semi-automatic espresso maker. You're in control of all the elements of making your espresso other than heating the water and generating pressure.
The good part of this is that you can use any coffee that you like. You can nail down your perfect grind, dose, and extraction time for really good espresso. With a quality grinder, you can produce a better espresso shot than the Vertuo Plus.
The downside is that this is obviously a lot more work than the Nespresso Vertuo Plus. It's also a lot more cleaning and you'll need to spend extra for a grinder.
If convenience is your goal then the Vertuo Plus is clearly the better option. However, if you're looking for great espresso on a budget, the DeLonghi Stilosa and a good grinder, like the 1Zpresso JX-Pro, will give you better coffee in the long run.
It really is a very good espresso machine for the price. But you need to completely commit and buy into the Nespresso way of doing things.
The capsules are expensive and limited. And everything you buy for this machine has to be Nespresso branded. Plus, recycling the pods can be a bit of a pain.
None of these issues are deal-breakers by any stretch of the imagination. But, it all comes down to whether you're happy with that arrangement. If you are, then this is an excellent machine for home or office.
All things considered, our Nespresso Vertuo Plus review verdict is positive. This is a great single-serve machine for anyone who prioritizes quickness and easiness. Or, who is new to home espresso and coffee making.
Don't forget to Buy Your Nespresso Vertuo Plus Today
You Might Also Like
Beautiful, simple, and delicious espresso for around $1000? We had to test if such a thing was possible – read our Jura ENA 4 review to see

Jura ENA 8 vs Gaggia Babila is a battle of philosophies. Is the convenience of the ENA 8 superior to the precision of the Babila?