Gaggia's lineup of super-automatic espresso machines is very impressive. Care has been taken at each price point to produce the best quality machine for espresso lovers. Our Gaggia Accademia Review looks at the newly upgraded, top-of-the-range offering from the Italian espresso giants.
If you're looking for a very easy-to-use espresso machine that is absolutely gorgeous, the Gaggia Accademia is ideal. The small drip tray and minimum espresso size being 1oz are slightly annoying, but it's got great customization options, and delicious quality coffee and milk. Plus, it looks fantastic.
The old Accademia was a true workhorse of a machine. So when they released the new model in late 2022, we had to get our hands on it to see how the upgrades measure up. Especially given the increase in price. Read on as we see whether it justifies its price tag and whether it deserves a space on your countertop.
This article may contain affiliate/ compensated links. As an Amazon Associate, we earn from qualifying purchases at no additional cost to you. For more information please see our disclaimer here.
At a Glance: Gaggia Accademia Review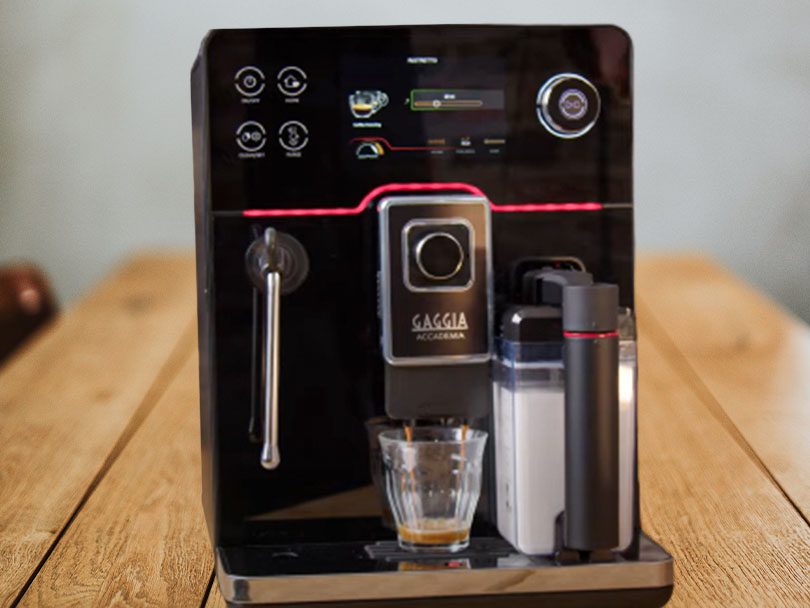 The new look Gaggia Accademia is absolutely gorgeous. It's easy to use, has great drink options, and the coffee and milk quality are excellent.
There are a few small niggles like having a small drip tray and the espresso is slightly too long. But these are the only issues we could find. And they're small issues.
Overall, it's a very high-quality machine with superb build and functionality. Even at the higher price point, the Gaggia Accademia is an excellent choice.
Pros
Stunning design
Simple to use
Automatic or manual milk steaming options
Lots of drink options
Dual boilers
Ceramic grinder
Espresso flow control dial
Great build quality
Cons
Small drip tray
Espresso is too long
Milk dispenser can splash
1-year warranty is less than some competitors offer
1. 15 Coffee Options
All the classics are available from the menu plus some more niche Italian options, giving you a stunning array of coffee choices. The Gaggia Accademia allows you to choose from:
Ristretto
Espresso
Lungo
Coffee
Americano
Cortado
Macchiatone
Melange
Cappuccino
Flat white
Cafè au lait
Caffè latte
Cappuccino XL
Latte macchiato
Latte caldo
2. Four User Profiles
Save your favorite coffee to your own profile on the Accademia. This allows everyone to have a selection of custom coffees available at a touch.
3. Ceramic Grinder
The built-in ultra-accurate ceramic grinder is whisper-quiet and has 8 grind settings to dial in your espresso shots. Ceramic helps to prevent heat build-up from ruining your freshly ground coffee.
4. Automatic and Manual Milk
Automatically steamed milk is available with 4 different foam settings to make your coffee exactly how you like it. Or use the manual milk wand to perfect your latte art.
5. Three Pre-Infusion Settings
To get the best flavor from your coffee beans, pre-infusion is a necessary step that allows trapped CO2 to escape. On the Accademia, you can choose between no pre-infusion, regular pre-infusion, or extended pre-infusion to suit your preferences/ your favorite beans.
6. Three Temperature Settings
Brew at low, medium, or high temperatures depending on your beans' roast level or personal preference. We recommend using higher temperatures for light roasts and lower for dark roasts.
7. Five Strength Settings
Choose from 5 strength settings ranging from 6.5g of ground coffee to a maximum dose of 11.5g.
8. Coffee Boost Function
With the "coffee boost" setting you can add a ristretto shot to any coffee for an extra punch.
9. Dual Boilers
Having dedicated boilers for coffee brewing and milk foam means you get the optimal temperature for each, better milk quality, and no waiting between espresso and milk.
10. Espresso Plus System
Control the flow rate of water through the coffee grounds to get the perfect coffee without adjusting the grind size. Slow it down for a deep, powerful espresso, and speed it up for a perfectly balanced lungo.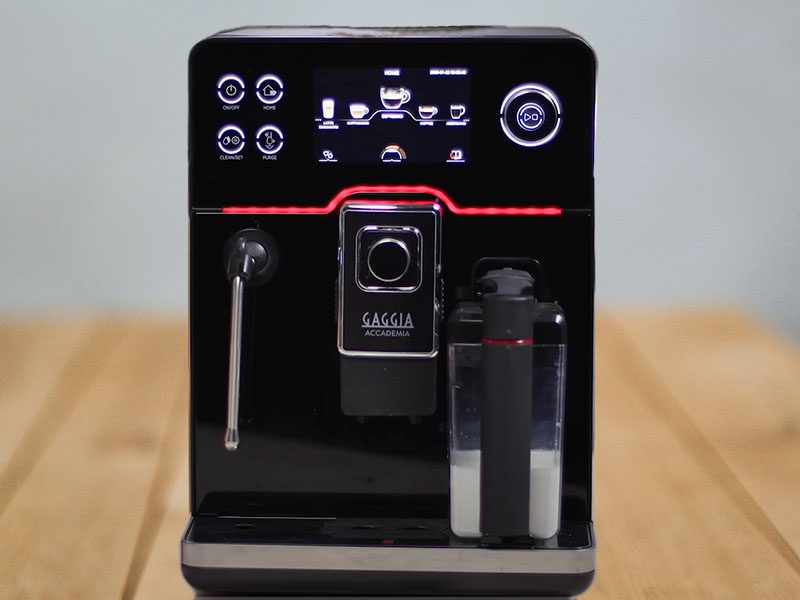 Each drink's screen then has all the customization options available so you can adjust the strength, length, temperature, milk foaminess, etc. You can even touch the "?" on the screen and it'll explain what all the different options mean.
The Gaggia Accademia espresso machine allows you to save your preferences to one of 4 user profiles, denoted by color, so next time it's just one touch and go.
The espresso flow control system has 3 settings which are clearly indicated on the screen and controlled by the dial on the dispenser. So if you have it on the lowest for espresso but middle for lungo it's easy to see and change. They've also given the length adjustment bar units so you can see in oz how much coffee, water, or milk it's dispensing.
You can add an extra ristretto shot to any coffee with the "coffee boost" setting too. For those of us who need eye-wateringly strong coffee in the morning, this is an excellent addition. No more messing around with adding extra shots manually like you'd need to do on most automatic espresso machines.
If you want to use the manual steam wand it's not only excellent quality but it's also slightly less powerful than one on a commercial espresso machine. This means you have a little more wiggle room to learn how to nail your perfect milk.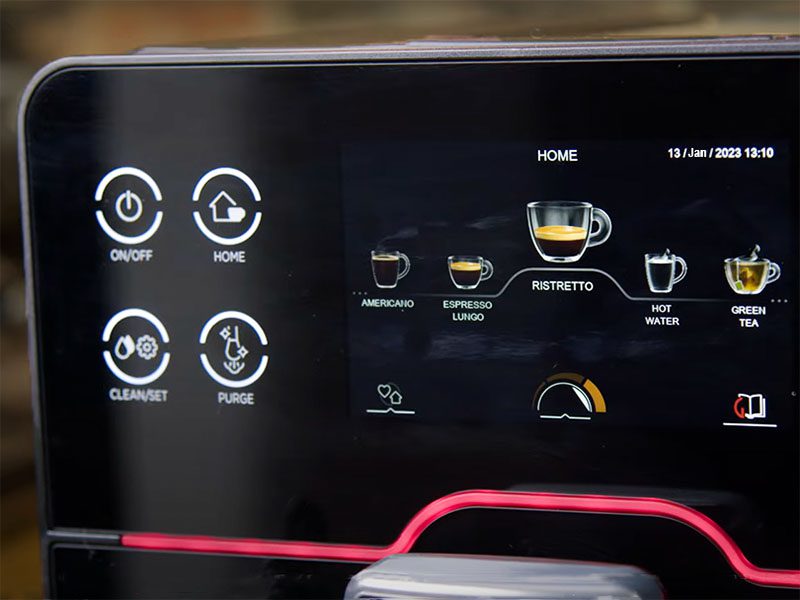 The ceramic grinder is super accurate. Plus, the ceramic burrs mean the grinder won't overheat which would damage the delicate oils in the ground coffee.
As there's a pre-ground bypass chute, there is the option to use pre-ground coffee if you prefer. But the quality massively drops if you opt for this. This function is best suited to an occasional decaf or flavored coffee, not for daily use.
All espresso machines are only as good as the beans you use. So, make sure to use top-quality coffee beans to get the best-tasting cup of coffee out. We recommend buying from a roaster with a transparent supply chain to ensure you're buying ethically sourced coffee.
Also, avoid overly oily beans as they can damage the grinder on automatic espresso machines.
The Looks
Looks-wise, there are two options for the Accademia: black glass or stainless steel. We're big fans of the glass option with its full glass front and red "go faster" stripe. It's stunning and a huge step up in design from the previous generation of Accademia.
The touchscreen is also gorgeous and responsive to user input. Plus, the buttons are all nicely sized and designed.
These updates are a huge improvement over the previous Accademia model. Gone are the clunky-looking buttons and 2000s LCD screen. Now, we get a sleek and modern espresso machine that fits most kitchen styles.
It's a big and imposing machine though at 11.1" by 15.2" by 16.5" (width x height x depth). So it's going to dominate your countertop. You also need to be aware of any cabinets you have above the machine for ease of access to the bean hopper and water tank.
The bean hopper holds 12oz of beans and the water tank is a whopping 54oz. So at least you're getting a good amount of storage for all that bulk.
We don't mind the size – coffee machines at this price are often this big. It's such a stunning design with either glass or stainless steel rather than plastic.
The Build
The first Gaggia espresso machines became immensely popular due to their superior build quality. Today, Gaggia still makes all their espresso machines in a factory just outside Milan, Italy. And it shows – the Gaggia Accademia looks and feels like it has been made from premium materials.
The milk carafe is fantastically engineered. The mechanism to clip it into the machine is super smooth, the spout easily swings over above your cup, and the plastic feels sturdy. It looks pretty good too. Quality milk with ease is a must on high-end coffee machines and the new Accademia delivers.
There are dual boilers – one for coffee and one for steam. And the brew group is removable so you can make sure it's properly cleaned. It's the kind of high-quality engineering you'd expect for this price.
Gaggia only offers a 1-year warranty which is low compared to other manufacturers like Jura or DeLonghi who offer 2 years with their more expensive machines. But the life of your Gaggia should be around 15000 brewing cycles which is about 10 years at 4 coffees a day. A service center received one of the previous generation Accademia's that had done nearly 30,000 cycles and was still working.
You have all the tools you need to get your perfect coffee. Control the grind, dose, temperature, and volume for a cup of joe just how you like it. When you throw in the pre-infusion and flow control, you can get some really delicious coffee from the Accademia.
We have one issue, which is minor or major depending on your preferences:
The espresso function has a max dose of 11.5g and a minimum volume of 1oz. This is very much in the style of Italian espresso, obviously given that they're an Italian manufacturer. However, we think that for really great espresso you need a 1:2 ratio.
With a machine costing $2k, we'd at least like the option to get the 1:2 ratio. That said, the espresso is still really good, it just depends if you want a more Italian or American style of espresso.
You can set a ristretto to have the 1:2 ratio but it's not possible to program the various milk-based espresso drinks to use this, which is a shame. Also also means you lose your ristretto option.
Automatic Milk Foam
Detachable milk carafes are all the rage in the super-automatic market. And with good reason.
Having a container to keep in your fridge and clip to your machine when needed is vastly superior to one sitting in the machine all day and going warm.
The Gaggia milk system is very good. You get nice microfoam and the self-cleaning spout means you can confidently just pop it back in the fridge after use.
With the Accademia, you get 4 milk foam levels. The lowest level is great for drinks like cortado or flat white, whilst the foamiest setting gives that nice cap on your cappuccino or latte macchiato.
The dual boiler system means the manual milk wand is very good too. Powerful steam that can create perfect latte art milk, if that's your preference. It's not quite as powerful as a professional steam wand but this is a good thing as it gives a little more margin for error to the milk-frothing newbie.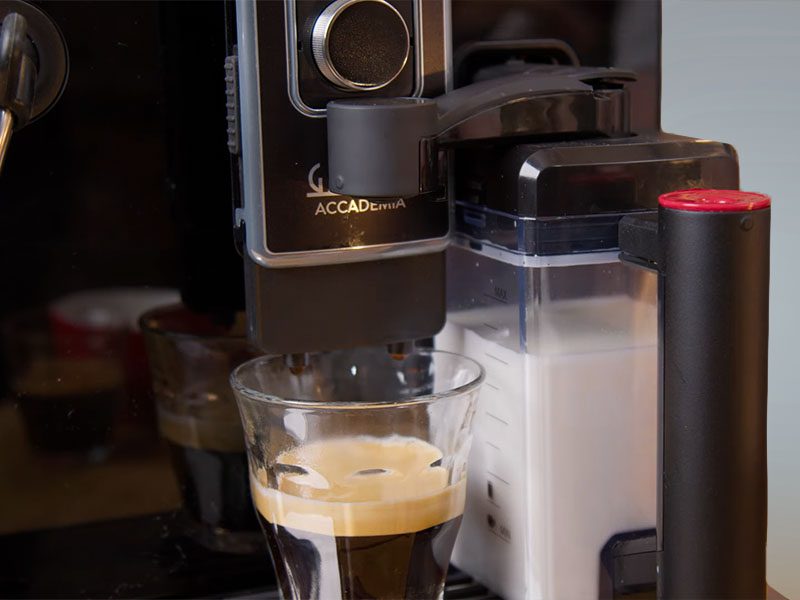 By slowing the flow of water through your puck you can get very rich, intense espresso. It really helps to add depth and punch to every espresso shot. Being able to precisely set the volume allows you to easily nail your drink.
For longer coffees, it can also help avoid over-extraction by speeding up the flow of water.
Having the 3 levels indicated on the screen makes switching between espresso and longer coffees simple. Just turn the dial to speed up the flow rate and avoid those bitter flavors in your lungo.
The milk carafe self-cleans the dispensing system but you'll want to clean the container weekly at the absolute minimum. Maybe every few days to be extra safe.
There are options on the menu for daily and deeper cleaning too. So you can decide how often the machine is thoroughly rinsed through.
Our main annoyance with the Accademia is that the drip tray is really small. Since the milk cleaning rinses into the drip tray, it needs to be emptied every 4 or 5 drinks. To do so, you have to open the front of the machine which gets real annoying, real fast if you're making a few coffees in a row.
The brew group can be taken out and rinsed in warm water. It's best to do this every day but every week is also fine. Just make sure it's fully dried before popping it back in.
Ideally, the grinder should also be hoovered out weekly. This is something that many people ignore but your coffee will taste so much better for doing it. And your machine will last longer too.
To keep your machine in top condition, there are a few tasks that need Gaggia cleaning products. You'll need to run the brew group cleaning cycle around once a month with the appropriate cleaning tablets.
If you don't have the water filter, you'll also need to descale every month which takes around 30 minutes and the screen will talk you through the steps. If you do have the filter then it's more like a once every 6 months type job, which is nice. So we'd recommend using the water filters. Either way, this needs to be done with the Gaggia branded descaling solution.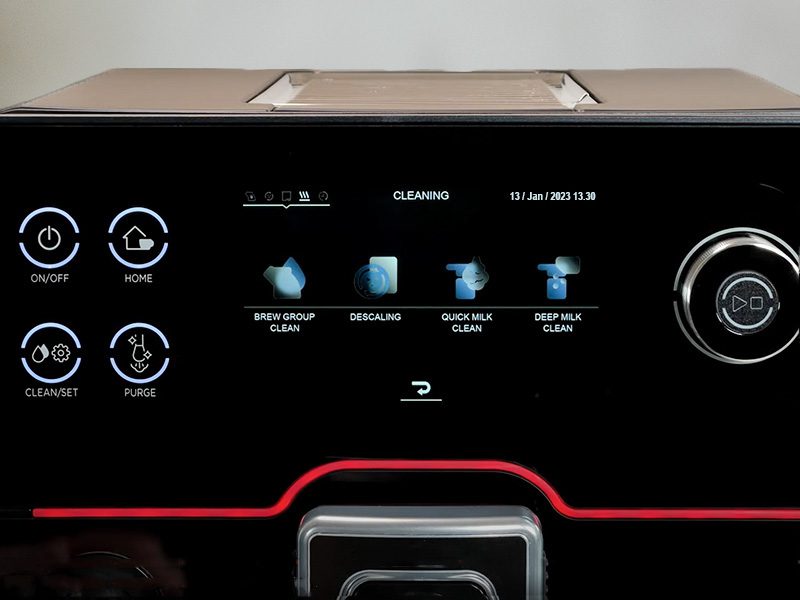 For Savings – Gaggia Babila
Espresso Quality: 4/5
Milk Quality: 4/5
Drinks Options: 3/5
Value for Money: 3/5
Or read our full review
For Looks – Gaggia Accademia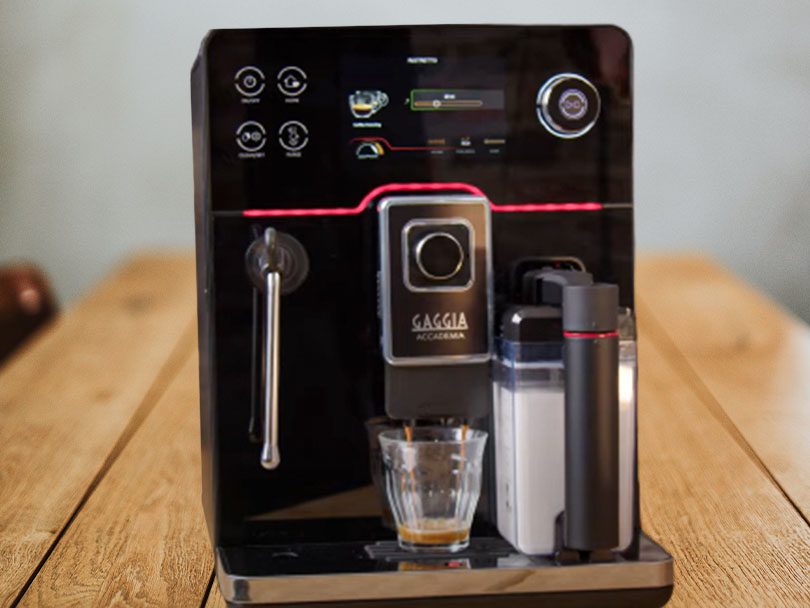 Espresso Quality: 4/5
Milk Quality: 4/5
Drinks Options: 5/5
Value for Money: 4/5
For Iced Drinks – DeLonghi Eletta Explore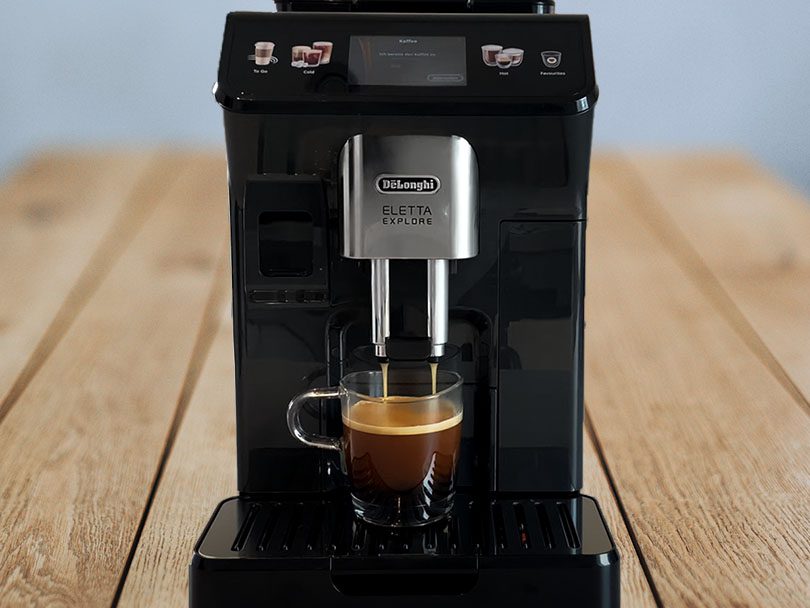 Espresso Quality: 3/5
Milk Quality: 5/5
Drinks Options: 5/5
Value for Money: 5/5
Or read our full review
Gaggia Accademia vs Babila
The Gaggia Babila is one step down from the new Accademia in terms of price but it still has a lot to offer:
It's a previous-generation model so there are fewer drinks to choose from, the display is a little old-fashioned, and it's clunkier to use.
But it does produce excellent coffee, has a good variety of customization options, and has an excellent automatic milk and manual wand combo.
The problem is it's only $200 or so cheaper than the new Accademia. For a, relatively, small amount extra you get so much more. More drinks, more customization, easier to use, user profiles, coffee boost function, and a much better-looking machine.
The new Accademia blows the Babila out of the water in our opinion and is absolutely worth the extra investment.
Gaggia Accademia vs DeLonghi Eletta Explore
The Eletta Explore is the top-of-the-range offering from another espresso machine giant, DeLonghi. It offers an insane 40+ coffee options at a touch. These are mostly duplicates as many options are available in hot, cold, and to-go forms though.
Still, it's incredibly impressive for around $1800. And if you're a fan of iced coffee then you won't find anything short of the Jura Z10 at nearly $4000, which gives you this choice.
The Eletta Explore is for those who want to change up their coffee quite frequently, or a household/office full of people who all like different things. It can't be dialed in to the same level of precision as the Accademia though.
If you love variety, especially iced coffees, then the Eletta Explore is the perfect machine for you. Those looking for perfection of a few select drinks will prefer the Gaggia Accademia.
It makes good espresso and great milk, it's easy to clean, and has the excellent Espresso Plus system that allows you to really dial in your shots.
We don't sugarcoat the downsides in our reviews, and this Gaggia Accademia review is no exception. But the problems are pretty small: the drip tray is tiny and the espresso is longer than we'd like.
These aren't huge issues and, for many people, the espresso ratio isn't a problem at all. If you have a Gaggia and love the coffee from it, you'll love the coffee from the Accademia even more.
It's a gorgeous machine that's easy to use and produces superb coffee. With the pedigree of a company that's machines are nearly indestructible, this is a fantastic espresso machine overall. Hats off to Gaggia for making such standout improvements to an already great machine.
Don't Forget to Buy Your Gaggia Accademia Today
You Might Also Like
Beautiful, simple, and delicious espresso for around $1000? We had to test if such a thing was possible – read our Jura ENA 4 review to see

Jura ENA 8 vs Gaggia Babila is a battle of philosophies. Is the convenience of the ENA 8 superior to the precision of the Babila?