If you'd love a Jura espresso machine but find the price tag a little daunting, the ENA series could be exactly what you're after. These "entry-level" models (they're still $1000-2000) have all of the style and usability and a lot of the tech that makes Jura such a great coffee machine manufacturer. But which coffee machine is better out of the Jura ENA 4 vs ENA 8? Is there even much of a difference?
With a bright, intuitive display and a lot more coffee options, the ENA 8 is the superior machine. It has the option for your milky espresso favorites whereas the ENA 4 is purely a black coffee machine. But if you only drink black coffee and aren't looking to customize your drinks to your preferences, then why pay for the extra features of the ENA 8 if you don't have to?
To help you decide which is the best ENA machine for you, we put them both to the test in a head-to-head battle. As former baristas, we ran blind taste tests on the coffee quality and really put the machines through their paces. Here, we'll break down all the key differences and similarities so you can get the best Jura coffee machine for your budget.
This article may contain affiliate/ compensated links. As an Amazon Associate, we earn from qualifying purchases at no additional cost to you. For more information please see our disclaimer here.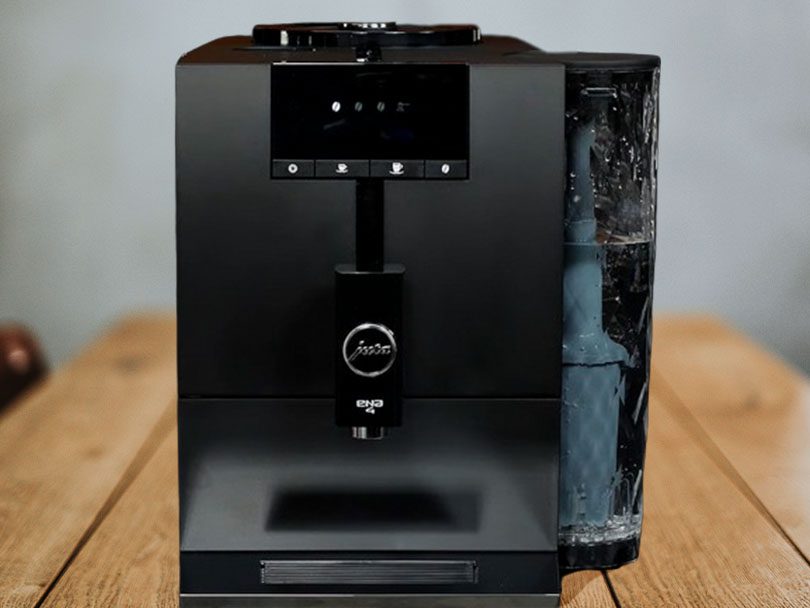 Choose the Jura ENA 4 if you:
Only want espresso or coffee
Want a more stripped-back, budget-friendly option
Prefer a simpler user interface with only a few options
Prefer 1st in Coffee? Click here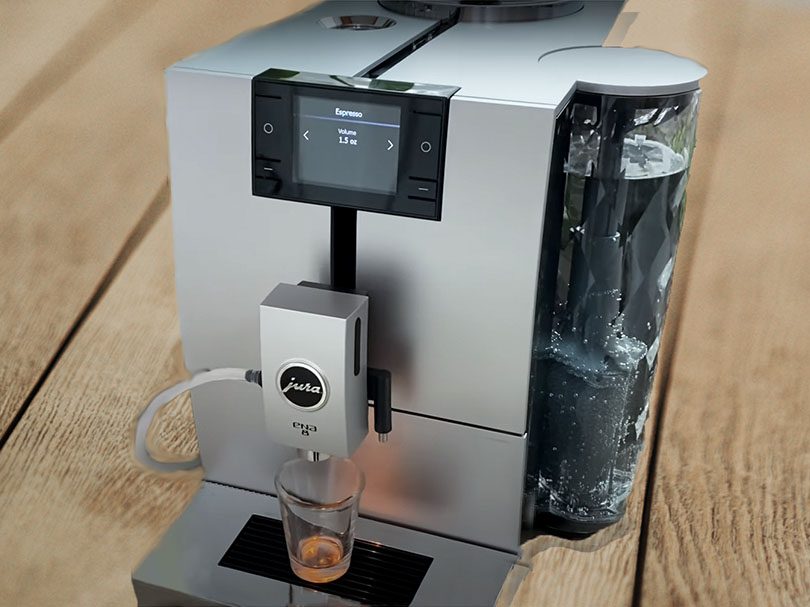 Choose the Jura ENA 8 if you:
Want to drink milky espresso drinks like cappuccino and flat white
Enjoy customizing your drinks
Drink tea or Americano so want hot water at the touch of a button
Prefer 1st in Coffee? Click here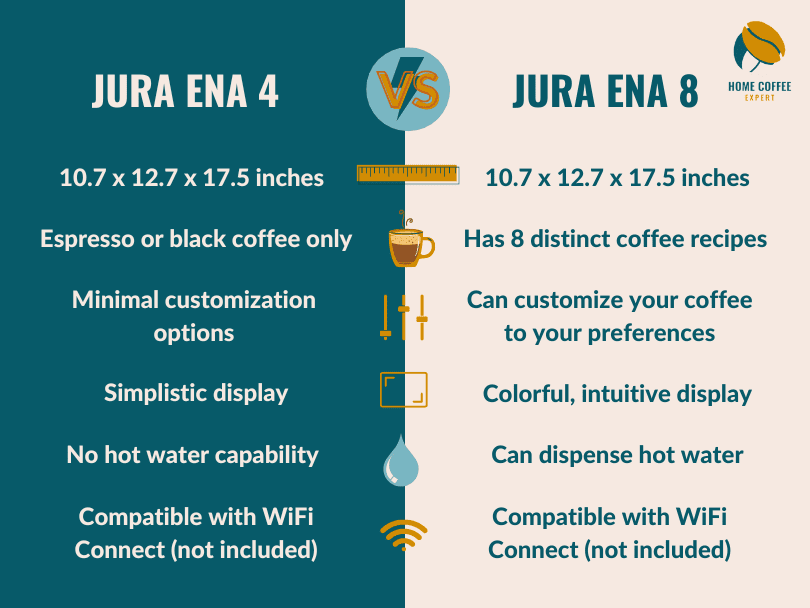 Looks & Size
Visually, you'd be hard-pressed to tell the difference between the Jura ENA 4 and ENA 8. They are both the same size (10.7 x 12.7 x 17.5 inches) and available in the same range of colors (black, white, or silver). Although, as the ENA 8 houses more tech, it weighs a little more too (18.5 lbs vs 24 lbs).
Both have the same snazzy-looking diamond effect water tank. (This also helps to hide any knocks or scrapes it has over its many years in your home.)
Where they do look different is the display. On the ENA 4, this is simplistic with 4 buttons along the bottom. And on the ENA 8, this is a large touchscreen. (The version with the touchscreen was only released at the end of 2022 so there are still some versions of the ENA 8 for sale that have buttons on either side of the screen.)
Plus the spout on the ENA 8 is a little wider than the thinner version on the ENA 4. Wild differences, I know.
Grinder
Both the ENA 4 and ENA 8 have the superb Aroma G3 Grinder with 7 grind settings.
While the G3 is no longer the top grinder on Jura coffee makers, it's still superb. The grind consistency is excellent, it's fast and it's quiet. (You'll find the Professional Aroma Grinder on most of their top machines and the Product Recognizing Grinder on the best of the best like the Jura Z10 – you can read our review, here.)
They also both have a bypass chute for ground coffee if required. Whilst you have to grind the beans yourself, we like this feature for the occasional decaf late at night or for a guest.
Brewing Unit
The brew group on both machines is the same. So you can vary your dose size between 6 and 10g. Plus, both coffee makers house Jura's amazing Pulse Extraction Process (P.E.P.) technology that helps to get great quality coffee extraction.
So the ENA 8 might have more incremental settings, giving you more choices. But, if like many people, you opt to use your machine on maximum or minimum strength, then you're getting the same dose as you would on the ENA 4.
App Connectivity
If you're a tech lover with a phone surgically attached to your arm (guilty!), then the J.O.E. app is great for interacting with either Jura coffee machine.
Using the app, you can adjust settings and save your favorite coffees. Plus you can queue up everyone's order when you're entertaining and have the machine serve them one by one. Which is a cool trick.
This cool trick comes with a catch though – you have to pay extra for the WiFi Connect dongle that allows your coffee machine to speak to your phone. It's one of our pet peeves when it comes to Jura – they only include it in their top-of-the-range models like the Jura Giga 6 or Z10. With a super-automatic coffee maker at this price, we'd expect it to be included. But they've clearly (wrongly) decided this way is better.
Cleaning & Maintenance
One of the biggest differences between the ENA 4 and ENA 8 is that the latter has milk frothing capabilities. But that also means it has more cleaning requirements as all things milk can quickly become breeding grounds for nasties if you don't stay on top of cleaning. Luckily, the ENA 8 will automatically rinse out the milk hose after each use. You just need to ensure the container stays sparkly clean.
Other than this, the two machines are identical to clean. You still have to rinse the drip tray and grounds bin daily and wipe down the outside to keep it looking pretty. Jura's automatic cleaning cycle will run daily too.
No Jura espresso machine has a removable brew group for cleaning. So like it or not, that's the same for both of these machines.
Luckily, descaling is also kept to a minimum thanks to the excellent water filters. In fact, if you keep on top of replacing the filters, you may never have to descale your machine.
But, whether you opt for filters or 6-monthly descaling, you will need to stick with Jura's branded products. Not only do they work better and last longer, but using alternatives can invalidate your 2-year manufacturer's warranty.
Milk System
The biggest, and probably most important, difference between the ENA 4 and ENA 8 is that the ENA 8 has a milk system. So if you enjoy drinking any espresso and milk coffee combination, then the ENA 8 is the only choice between the two.
You can customize the volume of milk dispensed to suit your preferences. But not the foam level or texture so you need to decide if that's important to you. If it is, you may have to look at splashing out for the Jura E8 instead (read our full Jura E8 review).
Coffee Drinks
With a milk system comes many more drink recipes. Though, since the ENA 4 can only make 2 – espresso and coffee – the ENA 8 isn't clearing a particularly high bar by beating it.
With the ENA 8, you can choose between 8 distinct coffee options at the touch of a button which is pretty good. This includes café favorite specialty coffees such as flat white, cappuccino, cortado, caffè barista, and latte macchiato alongside the classics like espresso, coffee, and espresso doppio. So pretty much everyone is covered.
Customization
Being an entry-level espresso machine, the ENA 4 offers 3 strength levels and the ability to customize the length of your coffee. That's all you get, and it might be all you need.
But if you're looking for more options, the ENA 8 is your machine. It offers 10 adjustable coffee strength levels for the same sized brewing unit, so far higher precision. It also has an adjustable coffee temperature (3 levels), plus length settings for coffee and milk (if applicable for the chosen drink).
So you get a lot more to play, allowing you to get into the process of dialing in your machine to suit your chosen espresso beans. Ultimately, you'll get good coffee either way but this way has the potential for you to get a truly great tasting coffee.
Display
Visually, one of the main features that separates the Jura ENA 4 vs ENA 8 is the display. The former is a simplistic screen with 4 buttons along the bottom. The latter has a colorful touchscreen.
However, the touchscreen is a pretty recent addition. Older models (including the one we tested) have a colorful, intuitive screen but with buttons on either side. So make sure to double-check before you buy whether it is touch or button operated in case your machine is from the older stock.
The Jura ENA 4 only has 3 coffee bean symbols and a scoop to indicate what is going on. This is absolutely fine as that's all you need when the machine doesn't have lots of functions. But it's not the most detailed or exciting to look at.
On the other hand, the ENA 8 has a beautiful color display. Not only is this very aesthetically pleasing, but it also makes choosing and changing settings an absolute breeze.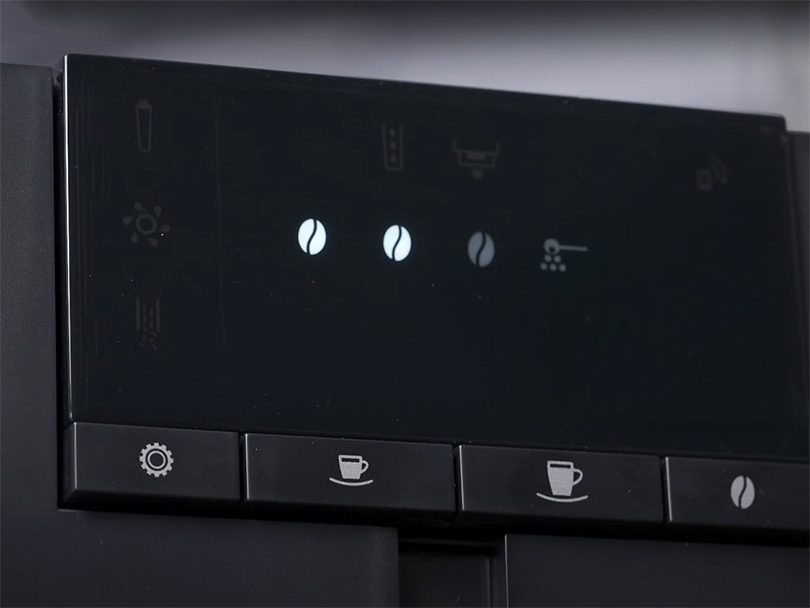 Hot Water
The ENA 8 will allow you to dispense hot water at 3 temperatures using a dial on the front of the machine.
This means Americanos are on offer and will also keep tea drinkers happy by having cooler water for green tea and hotter for black tea. This is an important difference if there's a tea drinker in the house who needs to be placated by your expensive coffee machine purchase.
This feature isn't available on the ENA 4.
The only real reason to choose the ENA 4 is if you're a black coffee drinker who won't use all the other settings offered by the Jura ENA 8.
Even just having the milk system option for guests may be enough to persuade you to upgrade from the Jura ENA 4 vs ENA 8. With the looks and size being identical, it's a lot more machine to play with.
But no matter which machine you choose, you are sure to love how easy they are to use and will soon be sipping on a delicious cup of joe.
You Might Also Like
Beautiful, simple, and delicious espresso for around $1000? We had to test if such a thing was possible – read our Jura ENA 4 review to see

Jura ENA 8 vs Gaggia Babila is a battle of philosophies. Is the convenience of the ENA 8 superior to the precision of the Babila?