If you want to get your hands on a new espresso machine from the Swiss coffee giant, Jura, but the price tags make your eyes water, this Jura ENA 4 review is for you. We used to love our Jura A1 super-automatic coffee machine as a great budget option but it's sadly been discontinued, with the ENA 4 released in its place. So we had to put this machine to the test to see if it lives up to the A1's standards.
Overall, we think the Jura ENA 4 is fantastic at what it does and looks great doing it. The only drawback is that it only makes two types of coffee – espresso or black coffee. If that's all your drink and you're looking for the easiest and most beautiful way to get automatic espresso for around $1000, this could be the perfect machine.
Time to dive into all the technology and brewing skills of this Jura espresso machine. By the end you'll know if it's the right fit for you:
This article may contain affiliate/ compensated links. As an Amazon Associate, we earn from qualifying purchases at no additional cost to you. For more information please see our disclaimer here.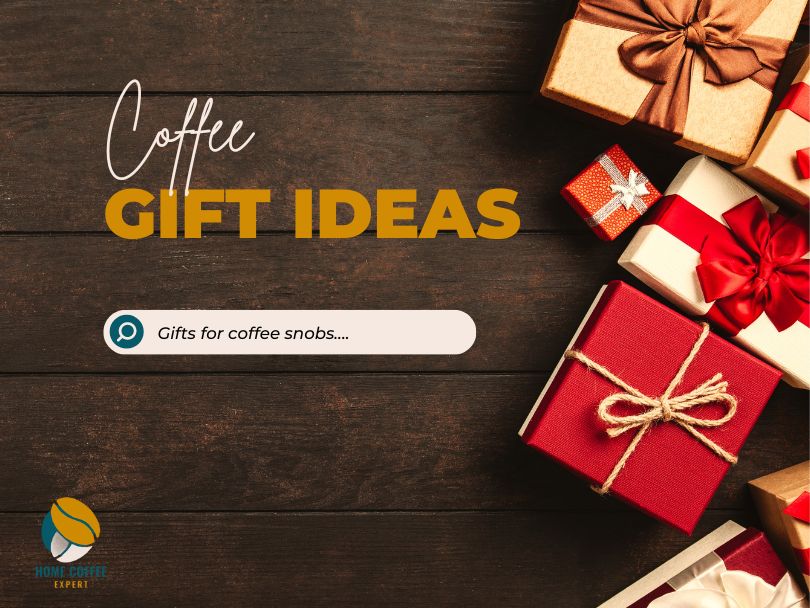 The holidays are coming. Which means stressing over the perfect gift is here too.
But stress no more. We've put together a list of all the best coffee gifts to please even the most discerning of coffee lovers in your life.
Check out our guide if they're on your 'nice' list. Or maybe be 'naughty' and buy something for yourself!
At a Glance: Jura ENA 4 Review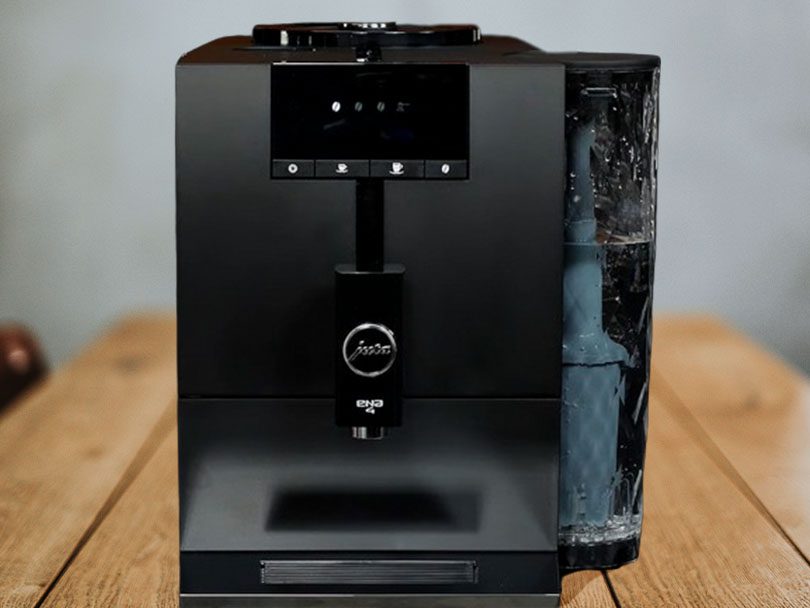 The Jura ENA 4 is great at what it does. It makes fantastic espresso and black coffee pretty much straight out of the box. This level of coffee quality without spending time "dialling in" is seriously rare around the $1000 price point.
The only issue is that the ENA 4 doesn't do anything else. Other machines at this price offer a raft of specialty coffee options and milk frothing capabilities (either manual or automatic.)
It's a lot of money for a gorgeous machine that only makes 2 types of coffee. But if you only want those drinks then having an easy-to-use, beautiful Jura espresso machine could be perfect for you. Maybe an ideal solution for someone looking to upgrade from their single serve machine.
Pros
Great espresso quality
High-quality, quiet grinder
Relatively compact (10.7 x 12.7 x 17.5 inches)
Looks great
Easy to use
Easy to clean
Cons
Limited functionality
Expensive
1. Aroma G3 Grinder
Jura's superb Aroma G3 grinder offers great precision with 7 grind settings. Plus, it offers fast and quiet grinding.
2. Pulse Extraction Process (P.E.P.)
This is one of Jura's patented pieces of special tech. The Pulse Extraction Process helps to get more flavorful coffee while reducing the risk of sour or bitter notes.
3. J.O.E. App Compatible
Connecting the ENA 4 to your smartphone not only feels futuristic, but it's also a great (and easy) way to customize coffees and save your preferences. You can then order them to the machine straight from your phone. My only annoyance is that you have to buy the WiFi Connect adapter separately.
4. Compact Size
At 10.7 inches wide, 12.7 inches high, and 17.5 inches deep, the Jura ENA 4 will fit in almost any kitchen.
5. Perfect Espresso
As taste is subjective, my perfect shot of espresso won't look or taste exactly like yours. Luckily, with the ENA 4 you can set the grind, strength, and length of your espresso so it's perfectly tailored to how you like it.
The Jura ENA 4 is just that.
There are 4 buttons: one for espresso, one for coffee, one for adjusting strength, and one for the cleaning cycles.
If you want a double, you simply press the relevant button twice. If you want to adjust the length of the coffee, hold the button down for 2 seconds then push again when you have the amount you want.
Adjusting the strength is done by pushing the button with a bean on it. You then cycle through 1, 2, or 3 beans or you can select pre-ground coffee. The helpful coffee bean symbols let you know what setting you're on.
That's about it for using the ENA 4 – it really is that simple.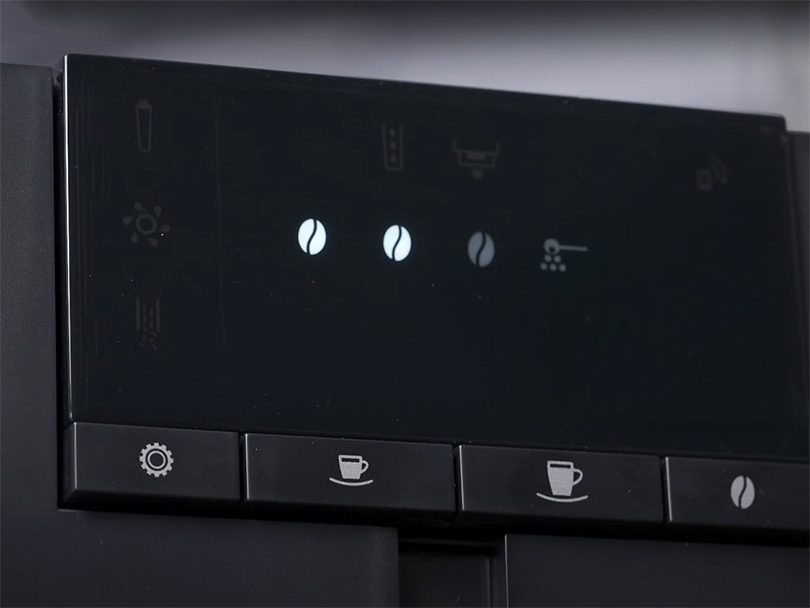 To adjust the grind settings, there's a nice wheel around the bean hopper which moves smoothly. Just remember to only ever make grinder adjustments whilst it's running or you risk damaging it.
There is an app if you want to set everything up on your phone and have coffee at the touch of your screen. Whilst, I'm usually a big fan of the J.O.E. app, it feels a little bit of overkill for the ENA 4's simplicity.
Jura is aiming to capture some of the capsule coffee machine market with this offering. So anyone moving from a single serve to the ENA 4 will love that the simplicity level is basically the same as their old coffee machine. Or if it's your first espresso maker and you just want things to be easy, it will be a good fit too.
The Aroma G3 grinder, while no longer the top-of-the-line Jura grinder, is absolutely superb. It's very accurate, whisper quiet, and pretty fast too. You get 7 settings and we used the 4 finest settings – after that, we didn't really rate the results for espresso. However, you might find all of them useful depending on the beans you use and your coffee preferences.
There is also a pre-ground coffee bypass chute if you need it. There's a little lever on the side to open it and you select it by using the strength button on the front of the machine. Whilst it would be a waste to use it as standard, it's good for the occasional decaf or to try out a new coffee bean variety.
As with any coffee maker, you need to buy good quality beans to get good quality coffee. Also be wary of very dark roasted, oily beans as they can clog your excellent grinder. I promise trying to clean it out if that happens is zero fun.
The Looks
Jura coffee machines all have a certain aesthetic that we happen to love. The minimalist style of the ENA 4 plus the faux crystal water carafe makes it a beautiful machine to have in your kitchen.
It's available in 2 colors and although I don't love the white version, the "Metropolitan Black" looks great. It's every inch the premium machine.
The water carafe may divide opinion. Personally, I like it and think it looks particularly nice when the machine is on and it's lit up. It's also much less likely to show scratches than a plain water tank which is a bonus.
The ENA 4 is also pretty compact for a super-automatic espresso machine. At only 10.7 inches wide, it's pretty likely you'll have enough space on your counter. It's also only 12.6 inches high, so overhead cabinets shouldn't be an issue either. Refilling the bean hopper and water carafe is also super easy due to the relatively small size.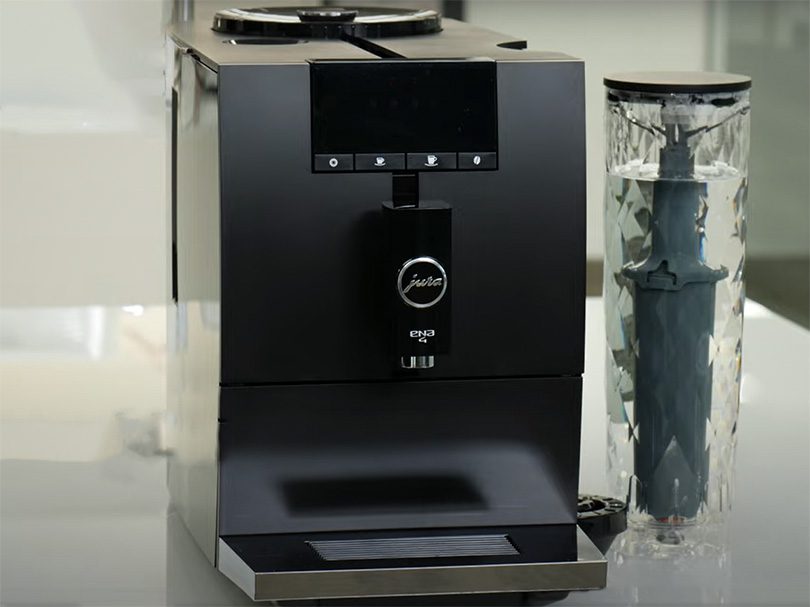 The Build
The Jura ENA 4 may be at the entry-level of their range, but it's still built to the incredibly high standards that Jura set. Yes, the machine is mostly plastic. But there are very few super-automatic espresso machines that aren't (though a big shout out to some Gaggia machines for being mainly stainless steel.)
Plastic is durable, and easily cleaned. It can also make a very pretty coffee machine.
The built-in Aroma G3 grinder is very high quality and all the parts that are removable feel sturdy. The drip tray has about a million different compartments but nothing feels cheap or likely to break. These also make coffee machine cleaning a little easier.
The warranty on the ENA 4 is 2 years or 6,000 brew cycles, whichever comes first. You need to drink over 8 coffees per day, every day, from your ENA 4 to hit 6,000 cycles before the 2-year mark. Like other Jura machines, the ENA 4 is a reliable automatic coffee machine but having 2 year warranty is still nice.
The bean hopper isn't the biggest at 4.4oz but the 37oz water carafe is actually pretty good for such a compact machine.
Straight out of the box the ENA 4 brews a decent espresso. Once you dial the volume down a bit (nearly all Jura coffee machines have 2oz as the standard espresso size for some reason), you get a good espresso.
After playing a little with the grinder, strength, and length settings, you'll get yourself a very good espresso. No bitter or sour notes, just rich, syrupy goodness with great depth of flavor. This won't take much tinkering and once it's done, it's just a touch for great coffee.
We personally don't think the lightest strength setting is ever worth using and the 3 coarsest grind settings weren't for us either. But everyone's taste differs so you may well decide that a coffee with the coarsest grind and lowest strength is ideal for you. Either way, it's nice to have a little flexibility.
Jura is aiming this machine at people looking to upgrade from a single-serve machine to a bean-to-cup. In this respect, the Jura ENA 4 is light years ahead of single-serves. Fresh ground beans with a great grinder and a good extraction process get you a far superior coffee.
At the end of the day, it's not trying to be anything fancy – it's the ultimate in simplicity for espresso and black coffee. And it definitely achieves that. If you're looking for adjustable coffee temperature or flow rate control then the ENA 4 isn't for you.
The drip tray and grounds container need to be emptied and rinsed daily. Thankfully this is pretty easy.
The drip tray looks more complex than it is because it's sectioned off into little bits for grounds and rinsing water. But this actually makes it easier to clean than many of its competitors.
A little light appears on the screen to tell you when the drip tray is full and it's pretty accurate. Which saves you from trying to hold it completely flat while crossing the kitchen, praying not to spill anything.
The water filter minimizes the need to descale your Jura coffee machine but it does still need to be done. You access this using the "programming" button and takes around 30 minutes to complete. Jura recommends using their branded cleaning products (obviously at greater expense) and we've always followed this rule to keep the machine in top condition and keep the warranty valid.
One knock against Jura is that the brew group can't be removed for cleaning. Jura claims the internal cleaning processes are sufficient and a fellow coffee lover used their Jura A1 for a year and then dismantled it to check. The brew group was sparkling clean so we're convinced Jura's right.
But if this is something that would keep you up at night, both Gaggia and DeLonghi machines have removable brew groups. Breville's machines use portafilters making them even easier to clean.
How Does the ENA 4 Compare to the E4?
The E4 is the big brother of the ENA 4 and has a bigger price tag. But are you really getting anything for that extra money?
Yup, I'm sorry to say that you get what you pay for and that equals a lot more functionality in this case:
To start with the E4 has a maximum 16g dose, instead of 10g on the ENA 4. This makes a huge difference to the flavor of your espresso and is possibly enough of a reason to get the E4, in our opinion.
The E4 also has intelligent pre-infusion, 3D brewing, and the upgraded Professional Aroma Grinder to help get the absolute best from your coffee beans. All this results is a vastly better espresso and coffee than the ENA 4 can produce. So it's totally worth the cost for an espresso lover.
By buying the WiFi Connect and using the J.O.E. app, the E4 gives you two "Americano" type drink options at a touch too. So you get a good amount more functionality for the price difference. It's not just about the inner workings of the machine.
If you want to dive deeper into the E4, read our full review here. Or, for a more comprehensive comparison of the two machines, read our full Jura E4 vs ENA 4 review.
Is the ENA 4 or ENA 8 Better?
While the ENA 4 is a junior version of the E4, the ENA 8 is a junior version of the E8 (yes, they make a lot of machines!)
The biggest difference is the ENA 8 offers you milk frothing capability and many more specialty drink options (10 instead of 2). It also has the 3D brewing technology for more even extraction throughout the whole coffee puck.
So a lot of big ticks. But it's also around double the price, so you'd expect it to do a lot more. This means you need to decide if these are features you'll use and whether they're worth the extra money to you.
If you're intrigued by the Jura ENA 8 then you can read our full review. Or full an in-depth breakdown of the battle of the ENA machines, read our comprehensive Jura ENA 4 vs ENA 8 article.
Black coffee purity or milky goodness?
It serves up delicious espresso and coffee, it's very simple to use, and is a clear step up for anyone currently using a single-serve coffee machine. Yes, it costs a lot more than those machines too, but better coffee is worth some extra money (in my clearly biased/coffee-obsessed opinion.)
On the negative side, it has very limited functionality for the price. And it's tough to say if it's worth it for the looks and better coffee over some other machines.
It all depends on your priorities.
Espresso or black coffee drinkers will really appreciate having a dedicated machine that's also amazing to look at. Doing a Jura ENA 4 review, it's hard not to fall in love a little bit. Maybe it's a niche machine, but if you're in that niche then it's perfect.
Convinced this is the right machine for you? Don't forget to buy the Jura ENA 4 today
You Might Also Like
If you're a dedicated home barista looking to manually pull espresso shots without it costing a fortune, this Flair Classic review is for you

Traveling a lot gave us the perfect chance to do an in-depth Wacaco Picopresso review. A spectacular portable espresso maker for coffee lovers