If you are looking for an affordable way to bring lattes, cappuccinos, and espressos into the comfort of your home, the Capresso 303.01 4 Cup Espresso and Cappuccino Machine could be just the ticket.
Steam-powered espresso machines are no longer the norm, particularly as people are becoming more in tune with coffee preparation and ideal brewing temperatures. They have a bad reputation for burning coffee and for failing to deliver on that rich, smooth flavor in your espresso shot.
But, it's all about balance. What steam pressure does give you is phenomenal value. Plus, they are more stripped back in their machinery so the cost is stripped back too.
Whilst it's often true that you get what you pay for, the Capresso 4 Cup Espresso and Cappuccino Machine is a great example of value for money. You just need to be realistic with your expectations.
So, read on for our complete Compresso 303.01 review and buying guide, so you can discern if this is the budget-friendly espresso machine for you. We have scoured the internet for all the Capresso espresso machine reviews to collate with our own. This means we have the most comprehensive review you can find. Whilst not all home coffee experts give numerical scores, we have averaged these out. Therefore, you can get a consensus opinion on how good the Capresso 303.01 really is and know for sure if it is the right espresso maker for you.
This article may contain affiliate/ compensated links. As an Amazon Associate, we earn from qualifying purchases at no additional cost to you. For more information please see our disclaimer here.
At a Glance: Capresso 303.01 Review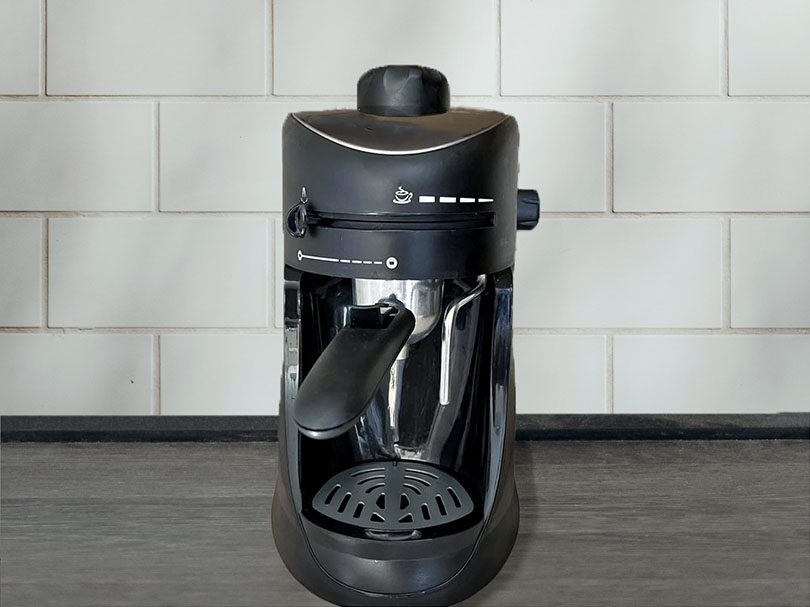 There's a reason you don't see many steam-powered espresso machines – they don't create great espressos.
That being said, if you are looking to make lots of cappuccinos, or similar, at the same time then this espresso maker will get the job done for you with minimal fuss.
The Capresso 303.01 is also very compact and easy to clean – both big plus points. The steam can take a little getting used to. But it's not as complicated as a manual espresso machine. After a couple of tries, you'll have it mastered.
For the price, if you want to be able to make a lot of coffees quickly it's tough to beat.
Pros
Powerful steaming
Handles large quantities with ease
Easy to clean
Compact machine
Cons
Too steamy
Built-up pressure being released can cause issues
Learning curve to perfect technique
1. Quantity
With the Capresso 4 Cup Cappuccino and Espresso Maker, you can make – you guessed it – 4 cups (12oz) at the same time! The powerful steamer heats up in just 2 minutes and can make those 4 cups of coffee in less than 5 minutes. Perfect for busy home life or entertaining.
2. Steam Powered
Being steam pressured, this Capresso machine packs a punch, giving you plenty of power. This hearty power allows you to steam and froth milk with ease. To prevent any mishaps, you can also use the steam selector to set the amount of pressure you are looking for.
3. Steam Powered
The user-friendly design allows you to easily switch between brewing coffee and steaming milk. The swivel frother matches the amount of milk that needs to be frothed for the quantity of coffee you are making. There is a panarello, meaning the steam wand auto-froths. This does give you little control. However, in this case, it does create a reasonable microform.
4. Adjustable Strength
The coffee strength can be easily adjusted to suit your tastes. Having a fully adjustable coffee/steam function gives you the control to make your espresso or cappuccino exactly how you want to drink it.
5. Safety
The water reservoir has a boiler cap, and there are built-in safety valves. This is great as the high levels of steam could otherwise be an issue. The filter holder comes with a thumb guard. All these safety features put it ahead of some of the most expensive espresso and cappuccino machines out there.
The instructions for Capresso espresso machines are easy to follow. However, the following is a brief guide to getting started with your new machine.
To start, you need to fill the reservoir with water. This can be cold water as the machine will quickly heat the water, producing the required steam.
Fill the portafilter with your freshly ground coffee. The Capresso CP30301 comes with a scoop which also doubles as a tamper.
Then you can pop the portafilter back on – it easily swivels and locks into place.
Next, place the carafe underneath and slide the dial to your desired coffee strength.
The steam built up in the machine creates the necessary pressure to force the water through the coffee grounds. This brews your espresso directly into the waiting carafe.
The glass carafe has handy fill lines indicating the number of cups brewed. Once you have made enough, you can simply stop the brewing.
The milk frother works by turning a knob. The wand is not overly long though so you do need to get in close, and can't froth too much milk at once.
In total, you can have your 4 cups of espresso or cappuccino within just 5 minutes (if you're fast)!
This can be a negative point if you want freshly ground coffee every time and are looking for one machine to do everything for you. As you will get better results from grinding yourself over buying pre-ground, we do recommend investing in the best grinder type for your lifestyle.
However, if you have a favorite place to buy your coffee from, they will probably be able to grind it for you. Or, you may have a favorite brand of pre-ground coffee you can pick up from the supermarket. Either will work – the machine is not fussy, just the drinker.
The Capresso Espresso maker is a very compact machine. It sizes up at 13.2 inches tall by 7.5 inches wide by 9.8 inches deep. This makes it a great countertop machine as it has a very small footprint. This espresso maker will fit snugly onto any countertop, regardless of how limited you are for space.
It also only weighs 7lbs. Therefore, it's easy to move around if you want to move it from cupboard to countertop on a regular basis.
The very simple design looks quite good and fits in with most home's decor. Although it is mainly matte black plastic which won't be to everyone's taste and can prove difficult to keep looking clean. It is, however, nicely finished so it certainly doesn't look "cheap".
The portafilter gives it that "barista" feel. Plus, the milk frothing wand is nicely out the way so you're unlikely to touch any part of the machine whilst it's hot.
The Capresso 303.01 is an all-round very simple machine to use. It is essentially just a pot for boiling water and some hoses. The benefit of its simplicity (other than the low cost) is that it's unlikely to break or degrade over time. This is a huge plus point and whilst it is mostly plastic on the outside, there's nothing to suggest it won't stand up to prolonged use. Plus, there's always the 1-year limited warranty if something does go wrong.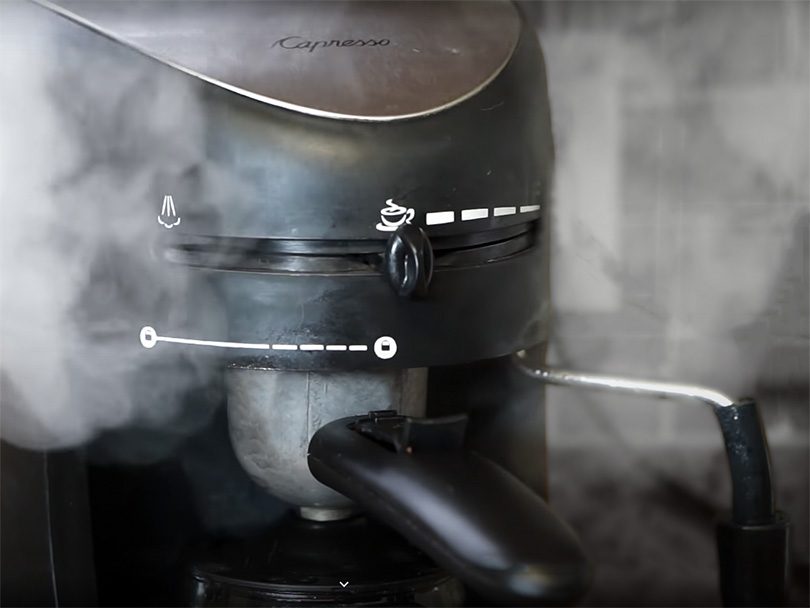 Psst.. Want to compare the Capresso 303.01 to other 4-Cup Coffee Makers? Check out our rundown of the best options here:
Like all things in life, you have to weigh up what's most important to you and the Capresso Espresso and Cappuccino Maker is no exception. Being steam-powered is what makes this machine so cost-effective and does generate a lot of consistent pressure, which is good.
The downside however is that steam is, obviously, very hot. The excess heat can cause the coffee to have a "burnt" flavor.
Now, not everyone dislikes burnt-tasting coffee. I used to work with someone who wanted their coffee "lava hot". However, for those that enjoy an espresso, it can be a bit acrid. And you certainly won't get the rich nuance from your beans that you would at a lower temperature.
There is next to no chance of getting a nice crema on your espresso with this machine. However, it can comfortably pull 4 shots of espresso at once, which is a huge plus. It also has a feature to vary the strength of your espressos. This is quite a nice bonus, helping you get your morning coffee just how you like it.
The frothing wand has adjustable pressure, which is excellent, although it is a bit short. With minimal practice, you should be able to get a nice microfoam for your cappuccinos or lattes. For the price, we think it is a great performer.
Having said that, the Capresso 303.01 does have a milk frothing wand which is not standard at the budget end of the spectrum.
So that's a nice feature if you enjoy café style drinks or want to be able to offer them to your guests.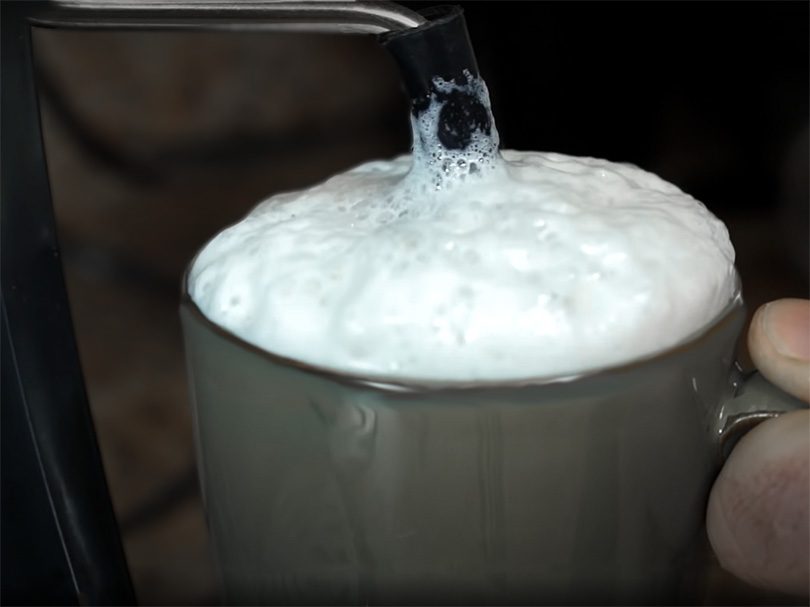 The Capresso espresso machine parts are easily dismantled, allowing you to clean them individually. Plus, the glass carafe is dishwasher safe, so cleaning couldn't be simpler. And having a removable drip tray also makes it a dream to keep on top of.
Finally, the portafilters are very easy to wash after each use. On the inside, there isn't really anything that can go wrong to make it clog up. An all-round star when it comes to keeping clean.
If you aren't too worried about the "burnt" flavor of coffee and want to be able to brew 4 espressos at once, then this is a great little machine.
The Capresso 303.01 makes a claim of 4 cappuccinos in under 5 minutes. We've never quite managed that by the time the milk is frothed, but we have certainly come very close. All round, we think that's pretty impressive.
However, if you're looking for a nice espresso with great crema alongside all the nuance of your single-origin beans, then this isn't the machine for you.
So, to conclude our Capresso 303.01 review – You will struggle to find another espresso maker in this price range that can also produce 4 cups of espresso or cappuccino at the same time.
Don't forget to Buy Your Capresso 303.01 Today
You Might Also Like
Beautiful, simple, and delicious espresso for around $1000? We had to test if such a thing was possible – read our Jura ENA 4 review to see

Jura ENA 8 vs Gaggia Babila is a battle of philosophies. Is the convenience of the ENA 8 superior to the precision of the Babila?