Breville's espresso machine lineup is designed to have something for everyone. While they all share the same looks, the features of each are aimed at a specific audience. In theory, no matter your espresso desires, Breville has a machine that's perfect for you.
Cue our Breville Barista Touch review. This is a machine for budding espresso makers who still want almost all the work done for them. The touch screen makes adjusting and saving your perfect coffees easy, the number of settings can satisfy all but the most intense espresso junkie.
But is it worth the price tag? That's what we are going to unpack here. Exactly how do these features perform in the real world? We've investigated it all so you have all the information you could possibly need.
We have scoured the internet for all the Breville Barista Touch espresso machine reviews to collate with our own, meaning we have the most comprehensive review you can find. Whilst not all home coffee experts give numerical scores, we have averaged these out. Therefore, you can get a consensus opinion on how good it really is and know for sure if this is the right Breville espresso machine for you.
This article may contain affiliate/ compensated links. As an Amazon Associate, we earn from qualifying purchases at no additional cost to you. For more information please see our disclaimer here.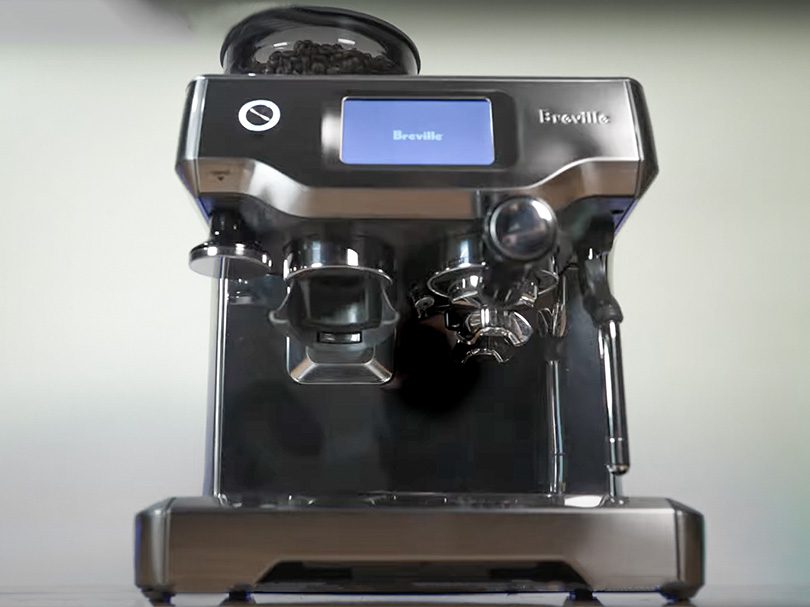 Breville Barista Touch
The Barista Touch fills a gap for those who want espresso-making to be a simple, consistent, and personalized experience.
The ability to save 8 customized drinks means everyone can have their favorite at the touch of a button. Whilst there are other coffee machines for cheaper, you do get a lot of features for the price. You'll struggle to find a better-looking machine with this functionality for less.
The small downside is it doesn't do everything for you. You'll have to manually tamp the grounds (with the excellent tamper and trimmer), and it would be nice to see a professional 58mm portafilter.
If you love the looks – we do – and want a hassle-free way to get professional quality drinks from one of the best home espresso machines then look no further. This is a brilliant option with a high build quality and 2-year repair guarantee from one of the best coffee machine companies around.
Pros
Great espresso
30 grind settings
5 pre-programmed coffee drink options
Space to save 8 customized coffee drinks
Manual or automatic coffee milk frothing
Full-color touchscreen display
Cons
Manual tamping
Single boiler espresso machine
1. Touchscreen Display
The touchscreen looks great and makes choosing or customizing your coffees very easy. It's especially good at simplifying the process for coffee novices, making it an ideal entry-level espresso machine.
2. PID Temperature Controls
PID is basically a fancy bit of tech that allows you to control the brew temperature of your coffee to an incredibly accurate degree. Given the price, this is a great feature to have and not one found on all high-end espresso machines.
3. Thermojet Heating
On many other espresso machines, having a single boiler would be a cause for concern. Especially if you prioritize that extra 5 minutes in bed, leaving you short of time in the morning (guilty!) However, the Barista Touch has a Thermojet boiler that heats up in just 3 seconds – perfect for maximizing your beauty sleep.
4. Automatic Milk Frother
If you love a milky espresso drink, you can choose between 7 milk temperatures (from 113 to 167°F) and 8 foam levels to get the perfect, glossy milk for your espresso. Or, if you want to really feel like a barista, you can switch it to manual mode.
5. 8 Savable Drink Slots
You can create, save, and name 8 of your own pre-programmed specialty coffees. Depending on your preference, you can modify an existing coffee or start from scratch. Everyone's favorite drink will be available at a touch.
You can choose to simply select your drink from the home screen and let the machine do all the work. You will have to manually tamp the grounds yourself but this is made easy with the excellent tamper and trimmer tools. Then, everything else is automated. Simples.
Yes, it is more work than a regular coffee machine, single-serve, or super-automatic espresso machine. It is more complex than the simple "push button for coffee" options.
However, what you're gaining is far more control over the final product. You're in the driver's seat, dictating the grind settings, dose, temperature, extraction time, milk temperature, and foam.
Even if you've never made espresso before, it's really hard to get a bad espresso shot from the Barista Touch. OK, so it may take a little trial and error to get it exactly how you like it but that's true of most other espresso machines too.
The Breville Barista Touch features a color touchscreen that easily takes you through all the steps for customizing and saving your own specialty coffees to come back to. If you're not sure what settings will give you the best coffee taste, start with one of the 5 pre-programmed options and start tweaking from there. Once you're happy, click 'Add New' and save your custom creation.
Whether automatic milk steaming is better than manual is a hotly contested subject in the coffee world. So go for the option that best suits your taste, skill level, and time.
When you select one of the pre-programmed drinks, the milk settings will be set for you by the Barista Touch. But you don't have to stick with their recommendations. Instead, you can adjust the milk temperature between 113°F and the absolutely scorching 167°F across 8 different foam settings. (1 = just a little foam, 8 = very foamy).
The Barista Touch features a built-in temperature sensor for the milk. But, being a mid-range Breville espresso machine, we often experienced a slight lag meaning you overshoot your desired milk temperature by 5-10°F. So for the best results, we recommend choosing the setting below your ideal temperature as a starting point.
In theory, it's possible to make latte art with the Barista Touch. But it's not great at it.
We prefer to use 140°F with a foam level of 2 whilst using cold whole milk, straight from the fridge. You need to purge the wand before and after use to make sure there's nothing blocking it. Once you've reached the desired temperature, swirl the milk pitcher then knock it on a hard surface to knock out any big bubbles before pouring over your coffee. The exact method, timing, and foam level will depend on the milk you use though.
Generally, it's best to stick with manual mode as you are in control but it will still take a little practice.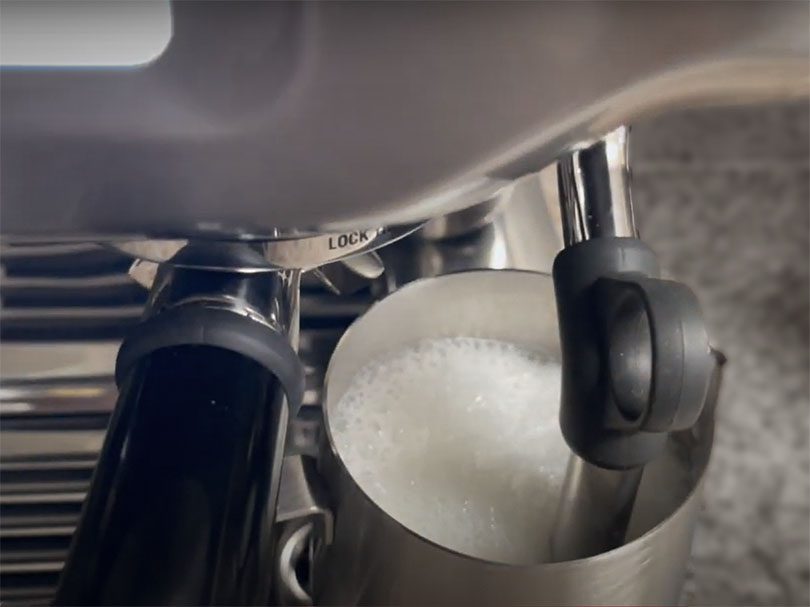 There are 30 settings on the grinder. Compared to other Breville espresso machines, this is a significant upgrade on the Barista Express' 16 but lagging well behind the top-of-the-range Oracle or Oracle Touch which both have a staggering 45.
Getting the grind just right is fairly simple. Adjustments can be made using the dial on the left-hand side of the machine. We recommend starting at around 10 as a good middle ground for you to feel out what will work best for you and your favorite beans.
The Barista Touch comes with double-walled filter baskets for the portafilters which are ideal for using pre-ground coffee if you need to. Obviously, it would be a waste of the machine's capabilities to do this often but it's a nice option to have for the occasional decaf coffee or something like Lifeboost's flavored coffees.
The Looks
Breville has a particular aesthetic with its espresso machines, one that I don't think is particularly divisive either:
Stainless steel, classic looks that would be at home in a coffee shop or your kitchen.
If you're more of a fan of the spaceship styles of other brands (like Jura) I guess it could be off-putting. But we feel that whether you choose the Barista Touch or one of our other favorite Breville espresso machines, it will look good in either a classic or modern kitchen.
In the range, there are two "touch" models – the Barista Touch and the Oracle Touch – and they are both available in 5 colors. Though, admittedly, they're all kinda dark and not that exciting. But it's nice to have the choice, particularly if stainless steel isn't your thing. A little note though, the full range of colors is usually only available direct from Breville.
The touchscreen is full color and looks great. It's a big step up from the LCD displays of the non "touch" models in terms of looks, as well as ease of use.
Some may describe the Barista Touch as "compact" but this is very generous in my opinion. In inches, it's 12.5 by 12.7 by 16. Something over a foot wide is not "compact" unless you've only ever had enormous kitchens. That said, it is smaller than the top-of-the-range Breville espresso machines.
Keep in mind that the 16-inch height doesn't include having the bean hopper lid open. So be wary of cabinets above your machine.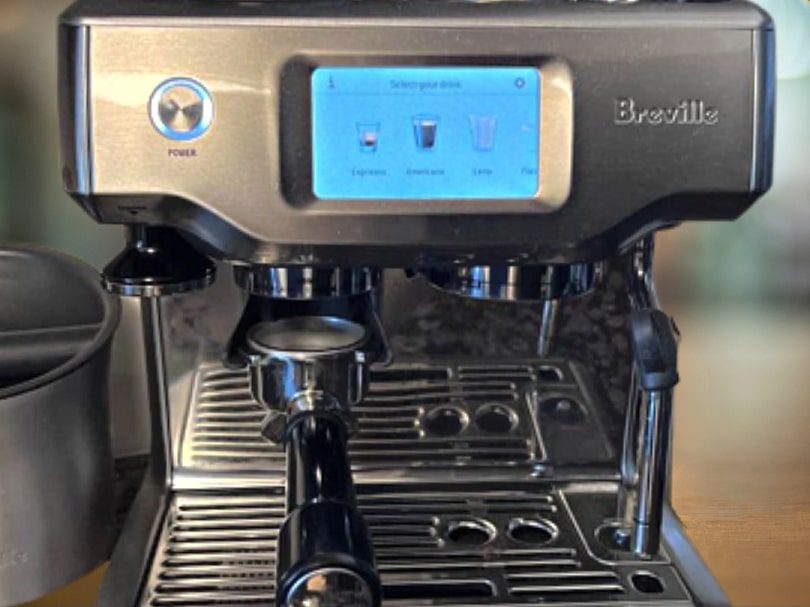 The Build
Breville is one of the higher quality espresso machine manufacturers out there, focussing on high build quality.
If you don't like plastic components near your coffee, you will love the predominantly stainless steel design. Everything is built to last and no element of Barista Touch feels "cheap". Plus, Breville offers a 2-year repair warranty too for that extra peace of mind.
We'd prefer a 58mm portafilter rather than the 54mm model, but this is splitting hairs.
The integrated removable tamper is excellent and the Razor trimmer is a superb addition for getting the perfect dose. They both feel (and are) very high quality. You wouldn't want to drop the tamper on your toe for example.
When you buy from Breville, you are buying a good espresso machine that should, with proper care, last you over 5 years. Possibly even closer to 10 even with daily coffee machine usage. You just need to take a look through the reviews of older models like the Barista Express, to see happy customers still using their machine at least 8 years after purchasing.
This is exactly what you should expect from an espresso maker that costs $1000+.
Breville claims that the machine will deliver an 18g dose but we've never managed to get more than 17g without overfilling (or spoken to anyone who has either.) That said, even on the standard factory settings, you'll get a decent shot of espresso. Most semi-automatic espresso machines require you to turn up all the strength settings to get anything resembling a "good" espresso. So this is a good start.
How good your different coffee drinks taste all comes down to personal preference and your chosen espresso beans. However, it should take minimal tinkering to get a truly great espresso from your Barista Touch.
Once you've dialed in your perfect shot (and milk if that's your preference), you can save it to one of the Breville Barista Touch customizable drink profiles. Then, you never need to worry about someone changing your espresso machine's settings meaning you have to repeat the process from scratch.
The sheer volume of customization options makes getting your perfect coffee a simple process for almost everyone. If you're a skilled Barista with a desire for total control, you'll probably feel a bit stifled. But everyone else will have a great time – and a great cup of joe.
Having a touchscreen with the ability to save 8 custom drinks is definitely something that's not available on all machines around this price. It's really helpful if you're a coffee lover without the desire, or time, to tinker with your machine on a regular basis. Instead, you can set it up and off you go.
The automatic milk frother, while not perfect, is really really good. OK, so it's hard to get consistent latte art milk from it. But, you can still get really good microfoam at roughly your preferred temperature for a delicious cappuccino or latte.
Feature-wise, the only thing you can really bash the Barista Touch coffee machine for is the lack of automatic tamping. However, tamping is not complex so, once you've got the feel for it, it's automatic.
They do give you a superb tamper that integrates into the machine with a handy magnetic holding place. Plus the Razor trimmer ensures your dose is perfect every time. So whilst automatic tamping would be preferable, there are compromises to be made with mid-range espresso machines, and this one is hardly a deal breaker.
The milk wand will automatically blast water through when finished – you just need to place it in a downward position. This is really important as milk wands are the quickest and easiest place on any espresso machine to get disgusting.
Knocking the puck out of the portafilter is pretty simple, usually. Occasionally, we've seen complaints of the puck getting stuck to the brew head (the bit the water comes out of) which is irritating and can be pretty messy. This isn't something we encountered with our Barista Touch but worth mentioning anyway.
You will have to do occasional deep cleans and descaling which are time-consuming – 30 mins to 1 hour usually. Sadly, there's no way around this sadly. If you want a great espresso machine, you are going to have to spend some time deep cleaning it occasionally.
One thing I will say for Breville espresso machines, in general, is the brew head and portafilter design allow you to deep clean your machine with confidence. Some other machines don't allow you to remove the brew group (or make it very difficult to do so) meaning you can't be 100% sure they're clean.
However, it is undoubtedly an excellent espresso machine. Certainly the best mid-range Breville espresso machine you could opt for:
It's easy to dial in, gives you a heap of options to customize your coffee, and pulls a great-tasting espresso. The design and build quality are as good as any so, for most people, it will prove to be a great espresso companion for a long time.
The biggest problems are the other Breville machines:
If you want more control over your espresso, there's the Dual Boiler (with separate Smart Grinder Pro) or the Barista Pro. For those looking for more automation, there's the insanely good Oracle Touch.
However, when it comes to our Breville Barista Touch review, we believe it sits as the perfect compromise of cost and usability for most people.
Don't forget to Buy Your Breville Barista Touch Today
You Might Also Like
Beautiful, simple, and delicious espresso for around $1000? We had to test if such a thing was possible – read our Jura ENA 4 review to see

Jura ENA 8 vs Gaggia Babila is a battle of philosophies. Is the convenience of the ENA 8 superior to the precision of the Babila?