Gaggia will always hold a special place in espresso lovers' hearts. They spread the espresso machine far and wide and helped start a global obsession with coffee. Since then, they've continued to push for better and better machines to keep us all caffeinated.
Near the top of their range is the Gaggia Babila. It's a superb espresso machine, ideal for anyone who is happy to play with some settings to get their perfect coffee at home.
But there's a lot more to this popular automatic coffee maker than that. That's why we wrote this Gaggia Babila review after rigorously testing and enjoying many espressos from it (it's a tough life). After reading, you'll know whether it's the right machine for you.
This article may contain affiliate/ compensated links. As an Amazon Associate, we earn from qualifying purchases at no additional cost to you. For more information please see our disclaimer here.
At a Glance: Gaggia Babila Review
The Gaggia Babila is an excellent espresso machine for those who like total control over their espresso or longer coffee.
You can adjust pre-infusion, temperature, dose, and flow rate to really dial in your perfect cup of joe. Add an excellent grinder and milk system and you have an awesome espresso maker.
That said, it's not the easiest to switch between different settings and you have to remember the flow rate setting for each coffee. The display is also a little dated and there's no app or user profiles which could be frustrating for big households.
But for many people, the build quality and customization options make this the perfect choice. It can also pull espresso as good as any of the best coffee machines.
Pros
Excellent espresso
Lots of customization options
Dual boiler
Manual or automated milk options
Superb milk system
Cons
No app
Dated user interface
No user profiles
Only comes with a 1-year warranty
1. Eight Pre-Programmed Coffee Drinks
With 8 specialty coffees to choose from, 5 of which are "one-touch", everyone will get their preferred drink.
Espresso, lungo, coffee, cappuccino, and latte macchiato are available at the touch of a button.
Whilst ristretto, macchiato, and flat white can be chosen from the drinks menu.
2. Three Pre-Infusion Settings
Pre-infusion allows gases to escape and makes more aromatic and flavorsome coffee. So by adjusting the pre-infusion time, you can get the perfect "body" from your espresso.
You can choose between delicate (no pre-infusion), balanced (short pre-infusion), or full-body (long pre-infusion) depending on your preference.
3. Five Strength Levels
Choose between 5 different strength levels, labeled as "Aroma" with doses between 6.5-11.5g of ground coffee. Making small dosage changes can make a big difference in crafting a perfectly balanced coffee.
4. Adjust Coffee and Milk Length
Using a sliding scale on the machine, you can adjust the volume of your coffee or milk. Alternatively, you can press and hold the button then press it again when you have the right amount for your cup.
5. Ceramic Burr Grinder
The Gaggia Babila houses a high-accuracy ceramic burr grinder with 15 grind settings. Ceramic grinders don't heat up as much during grinding, protecting your beans. They also stay sharper for longer than stainless steel grinders.
6. Espresso Flow Control
There's an easy-to-use dial for controlling the speed of water flow through your coffee puck. Go slower for a more intense espresso and faster for better-balanced, longer coffees.
7. Adjustable Coffee Temperature
Choose from 3 coffee temperatures on the Babila (though all but the hottest produces great results) to customize for your personal preference or to the beans you are using.
8. Automatic or Manual Milk Frothing
Get the perfect microfoam at a touch with the self-cleaning milk carafe. Or use the manual milk wand to make latte art quality milk. The choice is yours.
9. Dual Boilers
Brew espresso and foam milk simultaneously with dedicated boilers for each. Not only does this make coffee brewing faster, but it also ensures the perfect temperature for both espresso brewing and milk frothing.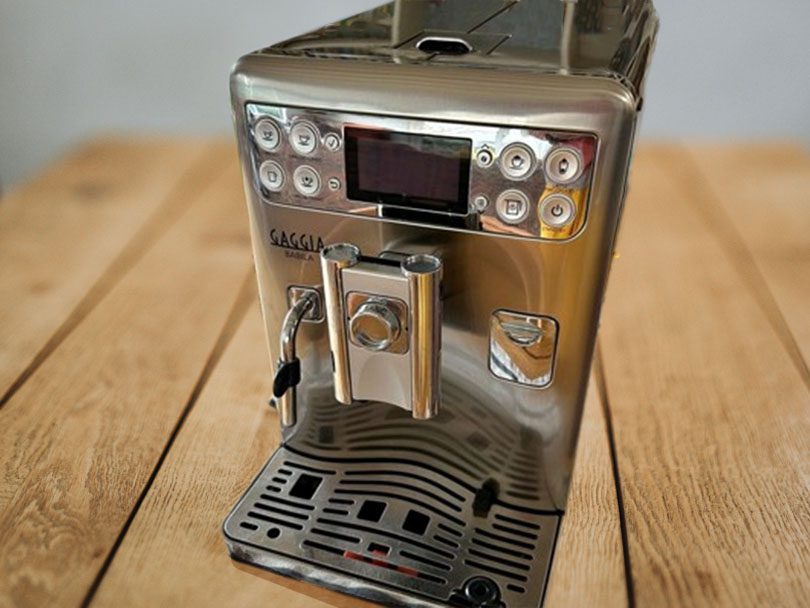 There are 5 "one touch" options among the 8 pre-programmed specialty coffee options on the Babila.
Available at just a touch are espresso, espresso lungo, coffee, cappuccino, and latte macchiato.
Ristretto, flat white, and espresso macchiato are available from the drinks menu which requires 5 button presses, the horror.
You can also access hot water, milk foam, and the steam wand from this menu.
The official marketing lists 11 drinks but I hate that most coffee machines list things like "hot water" and "milk portion" as distinct drinks. Gaggia has gone the extra mile in insanity by counting the steam wand as one. Mmmmm a delicious cup of steam.
Adjusting the body (pre-infusion time), aroma (strength), and length are all very simple. Your settings are then saved for the different coffee recipes.
While the display is a little dated, it's bright, clear, and easy to use.
My one annoyance is that the milk and coffee length adjustment scales have no units of measurement. So it's not possible to see how much extra you're adding or taking away and may need a little trial and error. Though you can always use the trusty "press and hold" method for adjusting the length.
The milk carafe is detachable and when you need it you simply remove it from the fridge, click into place, and rotate the dispenser over the cup. Simple.
The grinder has nice clear numbers on the dial for adjusting settings and the wonderful flow rate dial has circles indicating more or less water. All are very intuitive and simple for coffee machine newbies and old-pros alike.
We'd like there to be app connectivity to help with this process. While not everyone wants to use an app, they're pretty common for home coffee machines these days.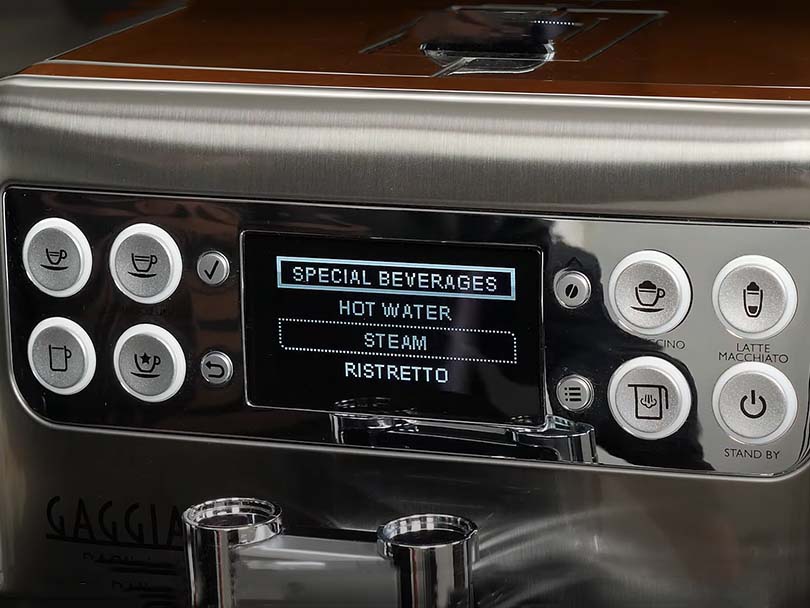 The Looks
The Gaggia Babila is a split personality on looks for us:
On one side, there's the stainless steel casing which we love and think it looks fantastic. The milk carafe also looks great with the chrome spout for dispensing the milk.
But the buttons and display make it look a little dated though. Or maybe not, maybe it looks more like an Art Deco espresso machine.
Honestly, I can't work out if I think it's an attractive coffee machine or not.
Attractiveness aside, the Babila is fairly compact for a good-quality coffee machine with this much functionality. Overall, it's 9.7 x 14.2 x 16.5 inches (width x height x depth). The small width is great for the space conscious. But it's still pretty tall so be wary of cabinets above your machine and accessing the bean hopper. But the depth is pretty standard across top super-automatic espresso machines.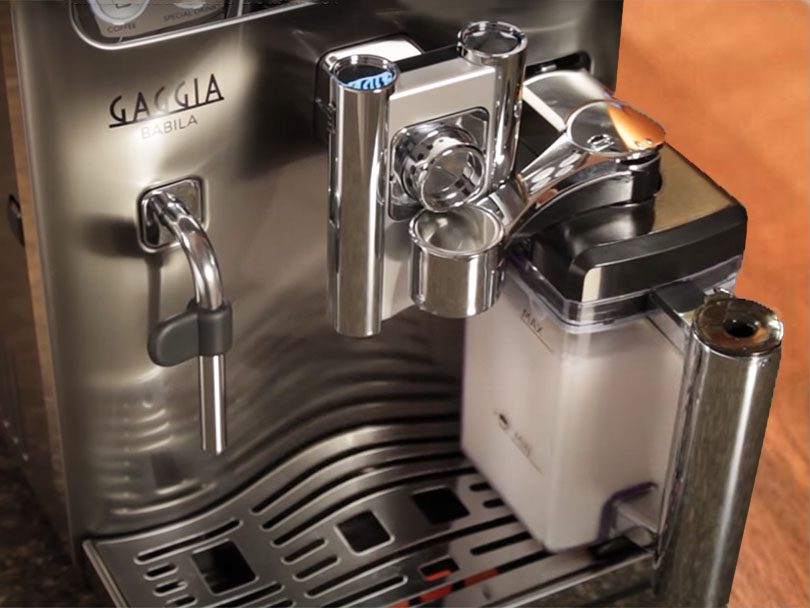 The Build
Gaggia still builds all its espresso machines in a factory just outside Milan. Their reputation is built on making reliable commercial coffee machines and that hasn't changed over the last 70 years.
At this price point, the stainless steel body is a nice change from plastic though we don't really mind plastic, to be honest.
There is a 1-year warranty if you're unlucky. But one of the main reasons to buy Gaggia is the build quality. Though many of the Babila's competitors have more generous warranties.
The ceramic grinder is more brittle than a stainless steel one but finding grinder-breaking little stones in high-quality coffee beans is astonishingly rare. Be careful though. It will stay sharper for longer than stainless steel so it's plausible that your machine will last over 10 years if well looked after.
A 10z spacious coffee bean hopper and a 50z water carafe mean refilling is a relatively rare activity. Plus, the Babila will advise you when these need to be refilled. The milk carafe holds 17oz and easily fits into your fridge when not in use.
Gaggia's reputation for making high-performance coffee machines is well deserved. The Babila continues this tradition.
Avoid using overly oily beans in your super-automatic espresso machine as they can clog the grinder. And always use the freshest coffee beans to get the best flavor.
There is also a pre-ground coffee bypass chute. This is a good option for a late-night decaf for example, or for someone who's not worthy of your excellent coffee beans. But the coffee quality will suffer.
Thanks to the Gaggia Babila having a superb ceramic grinder, you can expect consistent grinding and great-tasting coffee. Ceramic grinders stay sharper for longer than stainless steel and don't heat up as quickly, saving the delicious volatile oils of your coffee beans. They are more brittle though, so anything harder than a coffee bean will chip and ruin your grinder. Ye be warned.
When you start to dial in the settings is when things get very exciting. For example, turning the "body" up to full (4 seconds pre-infusion), strength up to max (11.5g dose), and slowing the flow rate delivers a big, punchy espresso with bags of depth. Fantastic from a super-automatic machine.
Depending on your beans you'll want to play with the temperature, dose, grind, length, etc to find your perfect combo. We'd suggest always leaving pre-infusion on "full-bodied" though. The "delicate" setting has no pre-infusion, rendering it pretty pointless.
All automatic coffee makers have settings that hurt, rather than help the coffee quality. But the Babila actually has very few of these.
The flow control is more mercurial. It's fantastic to play with and we love it as a feature, but getting it right for different coffee specialties isn't an exact science. Be prepared for some trial and error. As a guide, shorter coffees need a slower flow rate and longer ones need faster. Just having this feature on an espresso coffee machine is great though.
The 8 finest settings on the excellent ceramic grinder can all produce excellent coffee but the others aren't great. Within this, darker roast beans will need a slighter coarser grind, and medium roast a finer grind. But having 8 usable settings out of 15 is surprisingly good.
As with all coffee machines, the coffee out can only be as good as the precious coffee beans you put in. If you buy cheaper coffee beans, of lower quality, you'll get cheap, low-quality coffee out.
To get the best results from your new Gaggia automatic espresso machine, you need to start with the best espresso beans.
Check out the top choices from experts throughout the coffee industry:
Milk Frothing
The automatic milk foam is really good. The carafe looks fantastic, attaches easily, and dispenses high-quality foam. The fact it auto-cleans after use is a real bonus too.
You can only adjust the volume of milk, which may be a slight frustration. But the milk is so good that most people probably won't ever want to change it anyway.
However, if you're looking for a machine that allows you to customize the milk foam, the Gaggia Accademia could be a good choice.
With the Gaggia Babila, you also have the option for manual milk frothing if you like things a particular way.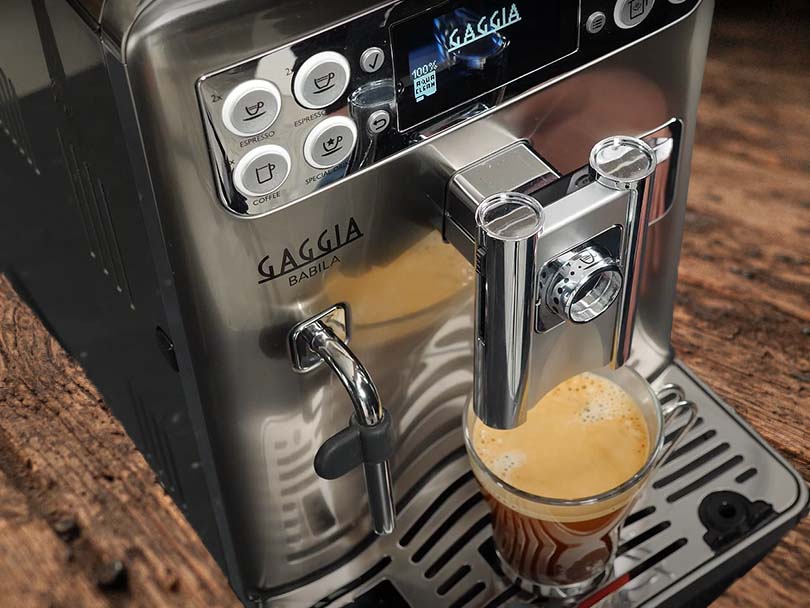 Having 15 grind settings is pretty high, even at this price. And we found around 8 of them to be usable. The longer coffees really benefit from that slightly coarser grind.
The pre-infusion options aren't that common on super automatic machines, though we left it on "full bodied" for everything.
The real star is the flow rate control. Being able to adjust the rate of the water moving through the espresso gives an extra level of control that nerds like me, love. We did need to play with it quite a bit but when we got it right, what a difference! A really rare feature on an automatic coffee maker.
Now the downside of this Gaggia Babila review is that if you're switching between espresso and longer black coffees, you need to constantly adjust the flow rate. Maybe not something you want to do every day. But we love the feature anyway.
You'll still need to empty the drip tray and grounds bin, which holds 11 pucks, and give them a rinse. But pretty much everything else around daily cleaning is done by the machine.
It's good practice to remove the brew group and rinse it in warm water every day. At the most, every week for the lazier among us. Having a removable brew group is great for those who like to know their automatic coffee maker is in top condition. This is a feature on all Gaggia coffee machines.
The milk carafe does a wonderful job of self-cleaning. After use, the spout can be rotated back to the carafe, and steam is blasted through to remove any residual milk from the system, which goes into the drip tray. Then just pop it back in the fridge.
Please remember to fully clean the milk container weekly though, it's very easy for nasty things to grow in milk. B constantly topping it up, you could accidentally go weeks without emptying it.
The water filter keeps descaling to a once-a-year type job (maybe twice), which is ideal. When you do need to descale, it takes around 30 minutes and the Babila will talk you through everything. Just like other coffee machines, there are branded cleaning materials to use to make sure it's done properly.
For Simplicity – Dinamica Plus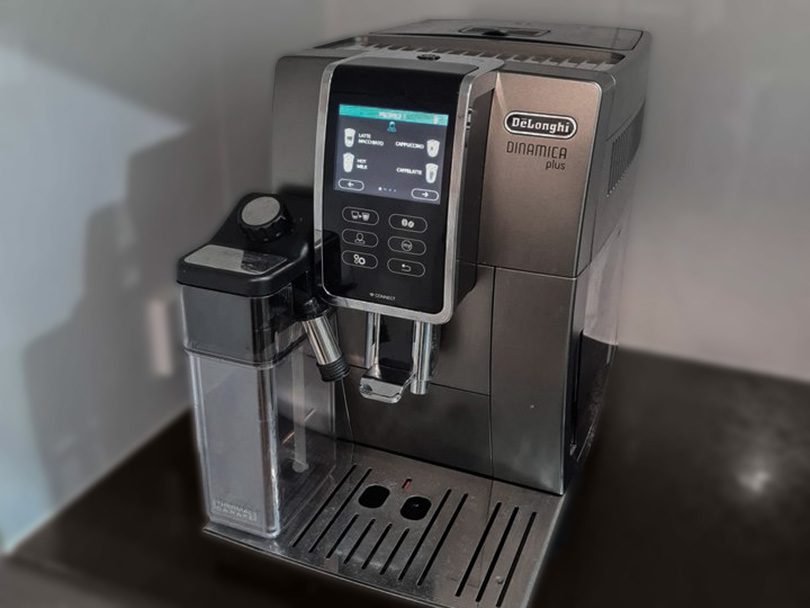 Espresso Quality: 4/5
Milk Quality: 3/5
Drinks Options: 4/5
Value for Money: 5/5
Or read our full review
Best of the Best – Gaggia Accademia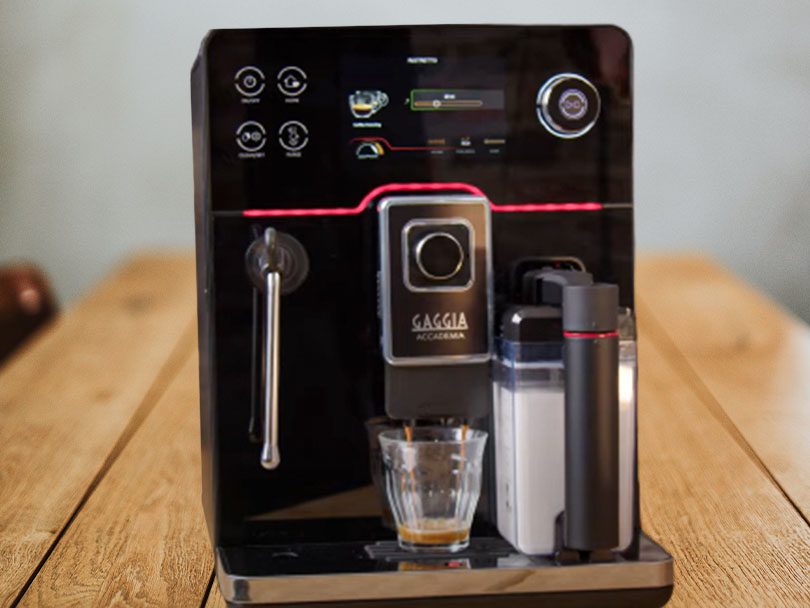 Espresso Quality: 4/5
Milk Quality: 5/5
Drinks Options: 5/5
Value for Money: 4/5
Or read our full review
For Ease of Use – Jura E6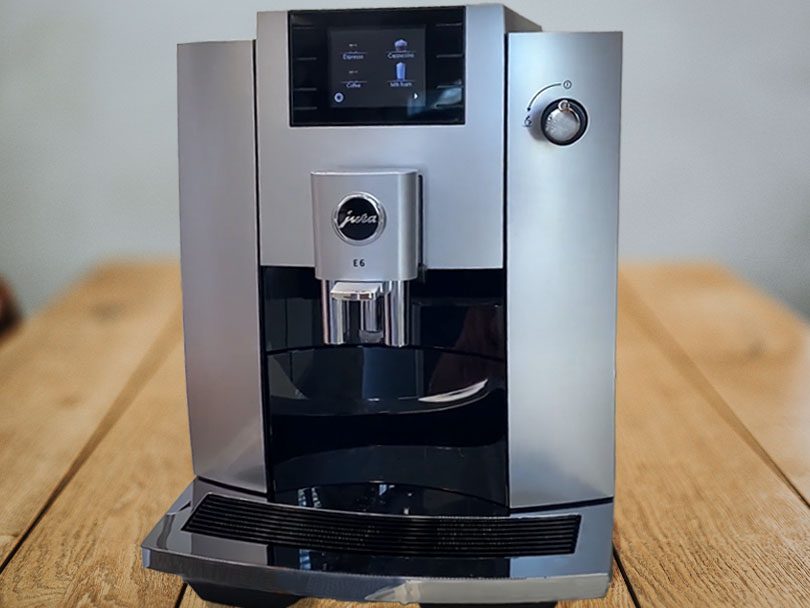 Espresso Quality: 5/5
Milk Quality: 4/5
Drinks Options: 3/5
Value for Money: 3/5
Or read our full review
Gaggia Babila vs DeLonghi Dinamica Plus
If you're never going to use the manual milk wand on the Gaggia Babila then the DeLonghi Dinamica Plus could be the perfect coffee machine for you for around $250 less.
It doesn't have the espresso flow control, but it's easier to use, has arguably better milk, and has amazing "over ice" options.
The 3 user profiles and app connectivity make it much better suited to a house with several coffee lovers who like to customize their own drinks. The LatteCrema milk system is also superb. So for those looking for choice and convenience, it's a top option.
It all depends if you would like an easier-to-use espresso machine or one with greater control over the coffee quality.
If you'd like a simpler machine then the DeLonghi Dinamica Plus is the better choice for you. It's got more drinks options and it's easier to select and save your favorites.
If the overall quality of the espresso is worth a little more work then the Gaggia Babila will pull a much better espresso shot than the DeLonghi.
They're both fantastic espresso machines though. It just depends on what you value more.
Compared to the Gaggia Accademia
The new Gaggia Accademia has made its way to the US and is quite something in terms of looks and functionality. It comes in a gorgeous glass front design which looks considerably better than the previous generation Accademia and the Babila. It's also available in a stainless steel look which looks good too but not as good as the glass front model.
The ease of use gets a big upgrade with the touchscreen and dial to scroll through the options. It's easy to customize drinks which you can also save to a profile for later, hooray!
Lots of the customization options are the same as the Babila but the Accademia also has 4 levels of milk foam customization. Plus it has units on its scales for coffee, water, and milk volume which is good to see them correcting a little niggle we had with the older generation of Gaggia machines.
The 19 drink options are clearly a large upgrade over the Babila and anyone who really likes variation will love the combination of classics and niche Italian options.
At around $200 more than the Babila, you need to ask if you want all the extra drinks options and the user profiles. The new Accademia is undoubtedly a better espresso machine than the Babila. But will you use the extra features that make it better? Although it could be worth it on looks alone.
VS the Jura E6
The Jura E6 offers Jura's classic combination of sleek design, excellent coffee, and amazing simplicity. It makes choosing and customizing your coffee incredibly simple, and if you pay to have the WiFi Connect dongle, you can do it from your phone.
It has a massive maximum dose of 16g (max of 11.5g on the Babila) and all the fancy Jura technology to produce stunning espresso. The milk foam is of superb quality, though it only offers cappuccino, latte, and macchiato style milk.
The E6 is easier to use but less versatile than the Gaggia Babila. Though you can get an espresso that's just as good as the Babila with less fiddling.
But you get fewer drink options and no manual milk wand – it's really only for black coffee, cappuccino, macchiato, and latte macchiato drinkers. Now if that's you, the E6 is a fantastic purchase.
For everyone else, it's worth a little bit more work to get the extra options from the Babila with similar espresso quality. Unless ease of use really is your number 1 priority.
If you're willing to spend a little more for a newer model of Jura, see how the Babila compares to the ENA 8, here.
The Gaggia Babila is a superb espresso machine for those who want to absolutely nail a great coffee. The option for automatic milk or manual is perfect for the perfectionist and having dual boilers makes the process super smooth.
It might not be as easy to use as some of its competitors, nor does it have as many drinks. But if the espresso quality is your main concern then this could be your perfect espresso machine.
Has our Gaggia Babila review convinced you this is The One? If so, don't forget to Buy Yours Today
You Might Also Like
Beautiful, simple, and delicious espresso for around $1000? We had to test if such a thing was possible – read our Jura ENA 4 review to see

Jura ENA 8 vs Gaggia Babila is a battle of philosophies. Is the convenience of the ENA 8 superior to the precision of the Babila?