De'Longhi has a wide range of espresso machines from the most basic Stilosa at around $100, all the way up to super-automatic espresso machines at $2000+. So they almost definitely have a machine for you.
The DeLonghi Eletta is near the top of their range. And it comes packed full of features and settings to make brewing the perfect coffee at home as easy as pushing a couple of buttons.
If you're planning to drop nearly $1.5k on a coffee machine, you want to know that it's worth it. So in this DeLonghi Eletta Review, we take an in-depth look at the bean-to-cup machine to make sure it lives up to its reputation and price tag. And, most importantly, it delivers amazing coffee.
We have scoured the internet for all the De'Longhi Eletta reviews to collate with our own, meaning we have the most comprehensive review you can find. Whilst not all home coffee experts give numerical scores, we have averaged these out. Therefore, you can get a consensus opinion on how good this super-automatic coffee machine really is and know for sure if it is the right fit for you.
This article may contain affiliate/ compensated links. As an Amazon Associate, we earn from qualifying purchases at no additional cost to you. For more information please see our disclaimer here.
At a Glance: De'Longhi Eletta Review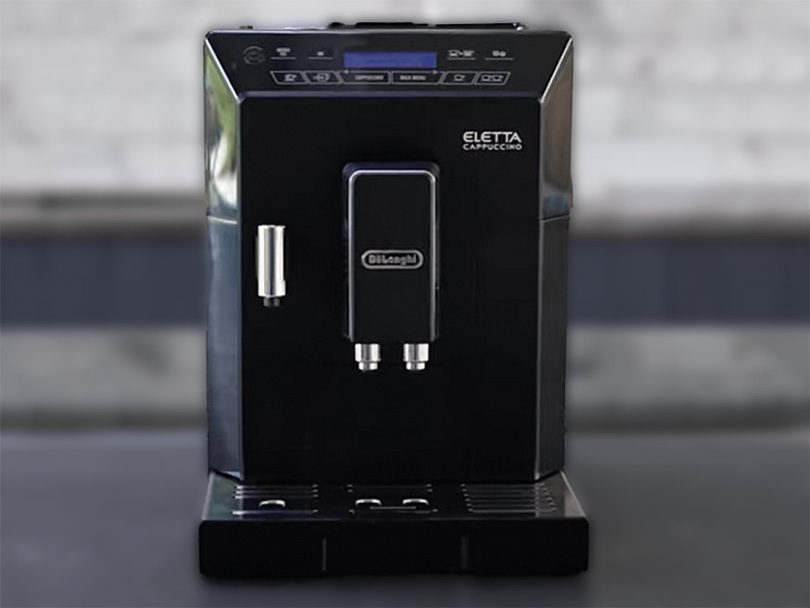 De'Longhi Eletta
The DeLonghi Eletta (44660) is a very good super-automatic espresso machine. It makes good espresso, excellent milk foam, and allows you to customize your coffee drinks.
But that customization can be more complicated than it should be, and more limited. This is an expensive coffee machine and it feels like it's lagging behind the competition.
If you're looking to customize your coffees more extensively we'd look at the DeLonghi Dinamica Plus, which is superb. Or some of the entry-level Jura machines like the ENA 8. Although, both of these cost slightly more.
That said, if you love milk-based drinks and are unlikely to deviate from the standard settings, the Eletta is a great choice. You will get good coffee, good milk, and you're not paying for settings you'll never use.
Pros
The quality of espresso is superb
Creates good milk foam
Easy to clean
Is a programmable coffee machine to suit your preferences
Good sized water tank and bean hopper
Cons
More complex than it needs to be
Doesn't have user profiles
Not as customizable as other automatic espresso machines at this price point
1. 13 Grind Settings
The grind settings can be easily adjusted using a knob in the bean hopper which is clearly labeled to help you remember your favorite grind sizes.
2. Detachable Milk Container
The well-sized 21oz milk carafe is removable. This prevents any milk wastage as you can simply remove it and pop it in the fridge between uses.
3. Customizable Coffee
Adjust the strength and temperature of your coffee to suit you. With the "My Coffee" setting, you can also program the perfect length of your drink or use the "My Milk" to save your favorite milk creations. Plus, with the height-adjustable coffee spout, you can always fit your favorite coffee cup.
4. LatteCrema Milk System
The LatteCrema milk system isn't new to De'Longhi's lineup. But it has had a glow-up on the latest Eletta Cappuccino model. At just the turn of a dial, you can get excellent quality automatic milk frothing. When you're finished, click the dial onto the auto clean function, detach the whole milk carafe, and store it in the fridge. Sparkly clean and zero waste, yes please!
5. Perfect Coffee at the Touch of a Button
If you like to keep things simple, you can push a button and be rewarded with a long coffee or cappuccino. Or use the milk menu for simple flat white, latte, and latte macchiato. For the most popular milk-based espresso drinks, it is an ideal coffee machine and really couldn't be easier.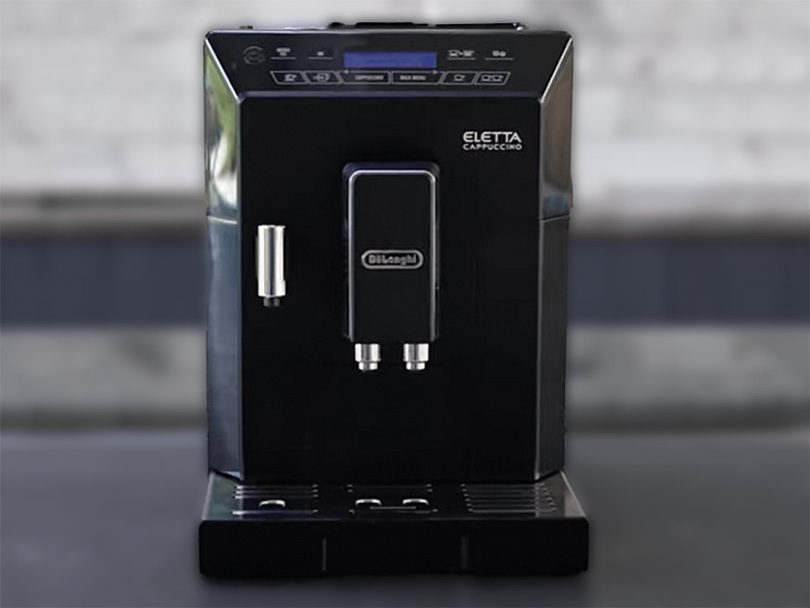 The De'Longhi Eletta has 2 "one-button" coffee options: long coffee and cappuccino. All other milk-based drinks have to be chosen from the Milk Menu. This just requires a couple of extra touches to get to your preferred coffee which, whilst not difficult, is a bit of a pain.
This is also a step back from the previous generation (Eletta 45760) which had 3 one-touch drinks (latte, flat white, and cappuccino) making it easier for milk-based coffee lovers.
The single and double cup icons are for selecting 1 or 2 of the pre-programmed coffees. Not single or double espresso. Push the single cup icon and you'll get the choice of "short", "standard", "long", or "extra long" coffee.
These equate to 1.35oz, 2 oz, 3oz, or 4oz of coffee. These are fixed lengths and can't be customized.
Whilst you can customize both strength and temperature of any coffee, if you want a custom length then you have to use the "My Coffee" setting. This allows you to set a custom length for just one coffee. So choose wisely.
You do this by holding down the cup button until it says "programming". Then hit the cup button again when you get to the ideal length.
If you're an espresso drinker, you will need to turn the grinder to the finest grind size and wack the taste setting up to "extra strong". This is the only way to get a really good espresso. Same with the longer coffees, the Eletta really needs to be dialed right up to deliver quality.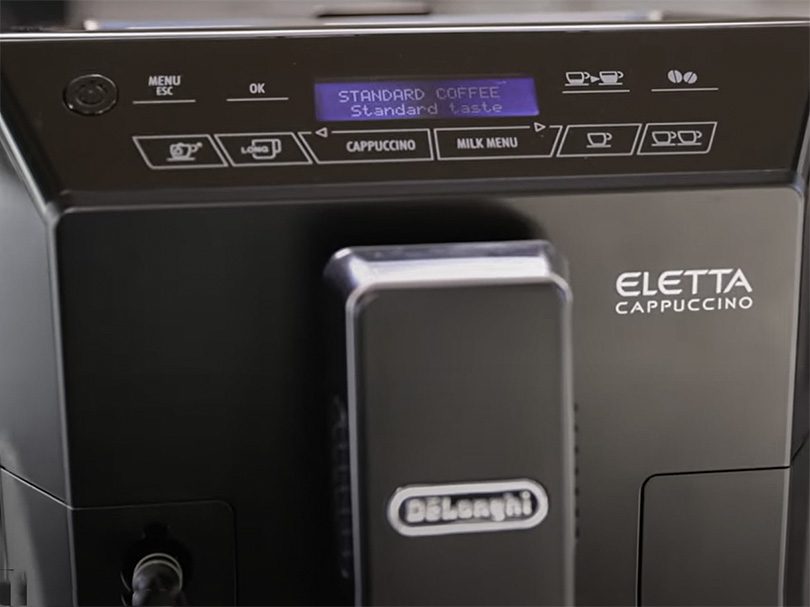 However, just be wary of using oily dark roast coffee beans. Bean-to-cup machines, like the Eletta, can't handle highly oily dark roasts very well as the oils can clog up the grinder. So it's best to avoid them.
The coffee grinder has 13 settings which are easily adjusted using the dial inside the bean hopper. Delivering freshly ground coffee beans is the forte of this super-automatic machine. However, there is also a chute to use pre-ground coffee if you prefer.
We like this feature as it gives the flexibility to have some decaf coffee or flavored coffee every so often without having to swap out the beans in the machine. Particularly useful if you're entertaining and need to make 1 decaf for the group.
Consistently using pre-ground coffee would be a total waste of a very good grinder and one of the best fully automatic coffee machines. Honestly, I have no idea why you would when the grinder is built-in. But it is a very handy feature if you occasionally want to use a different kind of coffee.
To get the most out of your shiny new espresso machine, you need the best espresso beans.
Check out the top choices from experts throughout the coffee industry:
The Looks
When you take into consideration all the machinery needed to make a bean-to-cup coffee maker a reality, it's no surprise that the De'Longhi Eletta is somewhat bulky. At 18.4 inches high, 10.2 inches wide, and 14.2 inches deep, it will dominate even a fairly spacious kitchen. And you need enough clearance above the machine to access the bean hopper.
That being said, it's a fairly slender coffee machine. So if you have some counter space with no upper cupboards, you can probably squeeze the Eletta Cappuccino in without any difficulty.
The updated design of the Eletta 44660 over the 45760 is much sleeker with soft touch buttons as opposed to the spaceship-like box of the previous model. Whilst they are small design changes, they do make the whole machine feel much more up-to-date. This machine will no longer feel out of place in a modern kitchen.
The Build
De'Longhi is a well-trusted manufacturer with a very long history of making excellent coffee machines starting with the Stilosa for under $100. So it will surprise no one to learn that this is a very well-built espresso machine. They also offer a 2-year warranty as standard.
When you first start using the Eletta espresso machine, the water boiler will be quite loud. But, don't panic – it quietens down after being used a few times.
The "silent" grinder is anything but silent. It's fairly loud while grinding your beans, but no more so than its competition.
There are separate boilers for the coffee and the milk so there's no waiting between coffee pouring and milk foaming, as you'd expect from a top-end machine. All in all, it takes under 2 minutes from turning on the machine to pouring a coffee which is pretty impressive.
The longevity of the Eletta is as you would expect for a machine at this price point. With proper cleaning procedures, there's nothing that should break on the DeLonghi for around a decade with normal home use.
That's about as good as you can ask for from a type of coffee maker as complex as a super-automatic espresso machine.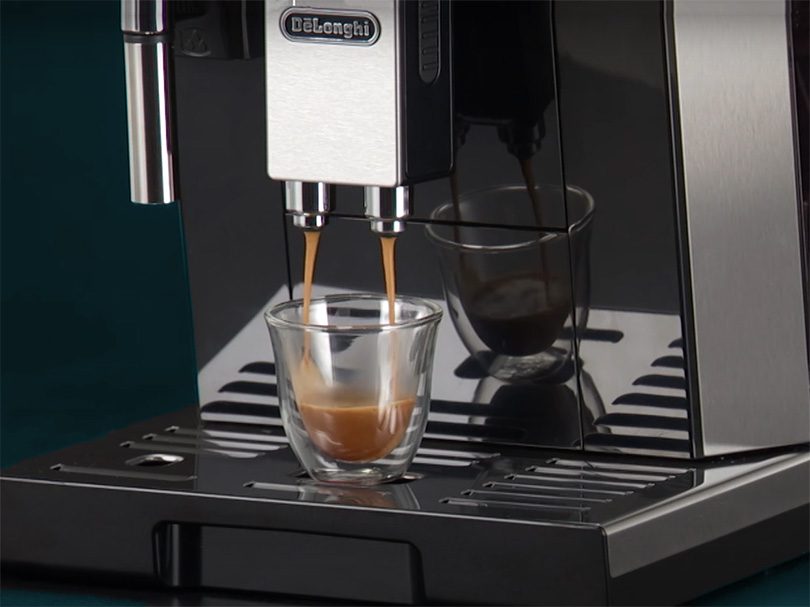 Good rich crema on a full-bodied, freshly brewed coffee is your reward when you turn the settings right up.
If you're looking to swap your morning coffee from a commercial chain to the Eletta, you will be very pleased with the increased quality of this machine. It easily outstrips the offerings from popular coffee shop brands like Starbucks.
The customization options will keep you satisfied if you want to adjust your coffee to your specific tastes, or if you want to fiddle with the coffee brewing process depending on your chosen type of coffee beans. If you feel you need a slightly smaller grind size or a slightly more rich coffee taste setting for your beans, you can do this with ease and great results.
The only thing that annoyed us in this DeLonghi Eletta review is how rigid the length of the coffees are. And the unnecessary complexity of the black coffee options. This is a minor point, but other DeLonghi espresso machines make this much easier to adjust.
The LatteCrema system on the Eletta produces fantastic textured milk for the most popular coffee drinks – flat white, cappuccino, or latte. If you prefer more or less foam then you can adjust the dial on top to give you the desired level of foaminess you enjoy.
The cup warmer on top of the machine works really well, which seems a weird thing to applaud. But it is incredible how many new coffee machines have cup warmers that don't really achieve anything, even when you're shelling out thousands of dollars.
You can adjust the temperature and strength of your coffee easily enough. We preferred the strongest setting only, but many will be fine with the strongest 3 options. Adjusting the grinder is also simple and probably 5 or 6 of the grind settings are actually useful.
But, at this price, you can get some machines with much more customization options. Some will have app connectivity, better volume control, more usable strength settings, and grind settings. The DeLonghi Eletta is lagging behind the competition somewhat.
Every time the machine is turned on and off it will run some water through the system to give it a rinse. So, remember to have something underneath the spout to catch the water, although the drip tray will be fine if you forget. The milk frother also runs a quick jet of boiling water through the spout to clean it after every use.
The coffee pucks and water both empty into the same compartment at the bottom. This makes it a bit messy to clean compared to just emptying the spent pucks and water separately. Though if you're someone who likes to reuse the coffee grounds in your garden, this may be a better solution.
You can get 14 single or 7 double espressos out of the machine before you need to empty and clean the tray. And it will need to be descaled every few months depending on your water, but the Eletta will prompt you when this is needed.
Basically, it's all set up to keep even the laziest of coffee makers happy. And it does this admirably.
But it is important to keep on top of cleaning the coffee grinder and the brew group, both of which can be easily dismantled. You should be looking to do this at least once a month to ensure you always get the best possible coffee from your machine. It will take about 30 mins to do, which isn't arduous by any stretch. But do keep this in mind.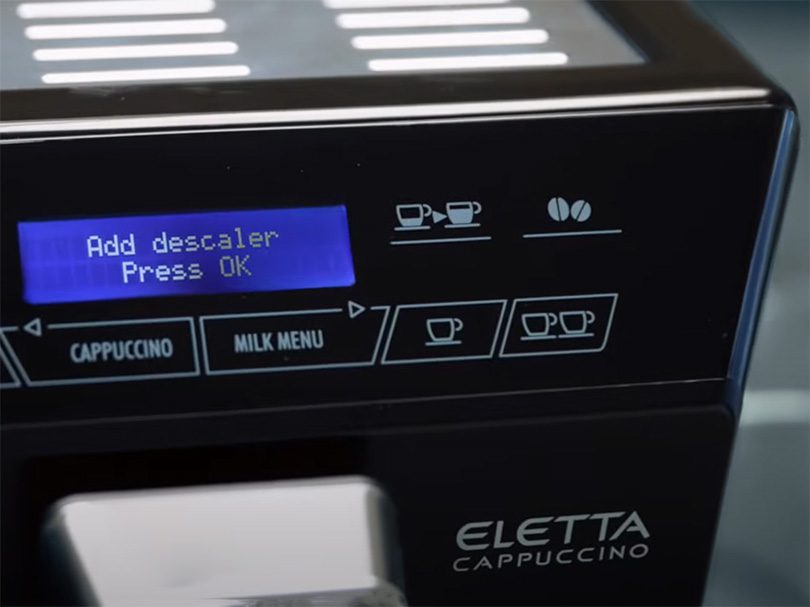 Not sure if the DeLonghi Eletta is the One for you?
Check out our list of the top super-automatic espresso machines currently available:
DeLonghi Eletta vs Dinamica Plus
Are you looking for a DeLonghi automatic coffee machine but want something easier to use and more modern looking? If so, the DeLonghi Dinamica Plus is for you.
The Dinamica Plus' touchscreen makes choosing and customizing your coffee options incredibly simple. It has user profiles for saving settings and app connectivity too.
The DeLonghi Dinamica Plus offers a lot more customization for black coffee drinkers, for a pretty similar price. So if you're an occasional milky coffee drinker but an avid espresso, ristretto, or long black coffee drinker then this is your machine.
Its TrueBrew Over Ice function is a big stand-out feature. It works really well for all your summer coffee needs and, overall, it's just a much better espresso machine. Yes, it's a little more expensive (although not by much) but you get a lot more for your money.
For the ultimate in ease, you'll need to shell out more for the next model up in the Eletta series. You can read our full DeLonghi Eletta Explore review to see why we think it's worth the extra spend.
Eletta vs Jura ENA 8
The ENA 8 is one of Jura's "entry-level" coffee makers. Entry level for Jura being around $2000 of course.
It's beautiful, it's simple to use and customize, and it makes exceptional coffee.
On the downsides, the Jura ENA 8 is more expensive than the Eletta. But it's also vastly superior in every way. You get 15 specialty coffees at a touch, all customizable to your preferences. Their Pulse Extraction Process yields great quality and you don't even have to turn the settings right up.
If your budget is towards the $2000 mark the ENA 8 is a fantastic option. You can also sometimes find great deals on refurbished Jura coffee makers. As super-automatics go, Jura espresso machines remain the gold standard.
DeLonghi Eletta vs Magnifica XS
The Magnifica XS is an entry-level machine from the DeLonghi super-automatic range. Although it's always worth checking the prices as they're all priced independently and you can sometimes get a Dinamica or basic Eletta model cheaper.
If you aren't the best at working out tech (or are frequently too sleepy/decaffeinated to make sense of it), then the Magnifica XS is not a great coffee machine. It doesn't have LCD displays, instead, it relies entirely on buttons, dials, and LEDs for customization. So, it's much easier to make a mistake and you need to pay attention.
The milk frothing on the Magnifica XS is also manual. Although it does come with a cappuccino "tip" for the frother that works pretty well – it is marketed as a cappuccino machine, after all.
We just feel that it's harder than it should be to customize your coffee and the customization options are a little limited considering the price. But the updated design is very nice though.
For the money, we'd prefer more customization made simpler. It's not even close to the ease of use of a Jura machine. Maybe we're being overly fussy, but when you're shelling out around the $1500 mark, it's not a huge ask.
So, as far as our DeLonghi Eletta review goes, it is generally a very good super-automatic espresso machine. We just feel there are better ones in the DeLonghi range, like the Dinamica Plus, and from other manufacturers.
Don't forget to Buy Your DeLonghi Eletta Cappuccino Today
You Might Also Like
Beautiful, simple, and delicious espresso for around $1000? We had to test if such a thing was possible – read our Jura ENA 4 review to see

Jura ENA 8 vs Gaggia Babila is a battle of philosophies. Is the convenience of the ENA 8 superior to the precision of the Babila?