Are you looking for a super-automatic espresso machine that can make excellent iced coffee drinks alongside the normal espresso options? Then this DeLonghi Dinamica Plus Review is for you.
DeLonghi has recently moved away from its strategy of making high-quality, entry-level espresso machines. Instead, they're focusing on super-automatic espresso makers. Luckily for all of us, they are excelling with smart coffee machine offerings that just know what we need.
In this review of the Delonghi Dinamica Plus, we give you the full inside scoop. We break down all the top features, capabilities, and hangups of one of DeLonghi's top bean-to-cup machines. And we give our unbiased opinion on whether DeLonghi successfully maintains its reputation for producing machines that far outperform their price tag.
This article may contain affiliate/ compensated links. As an Amazon Associate, we earn from qualifying purchases at no additional cost to you. For more information please see our disclaimer here.
At a Glance: DeLonghi Dinamica Plus Review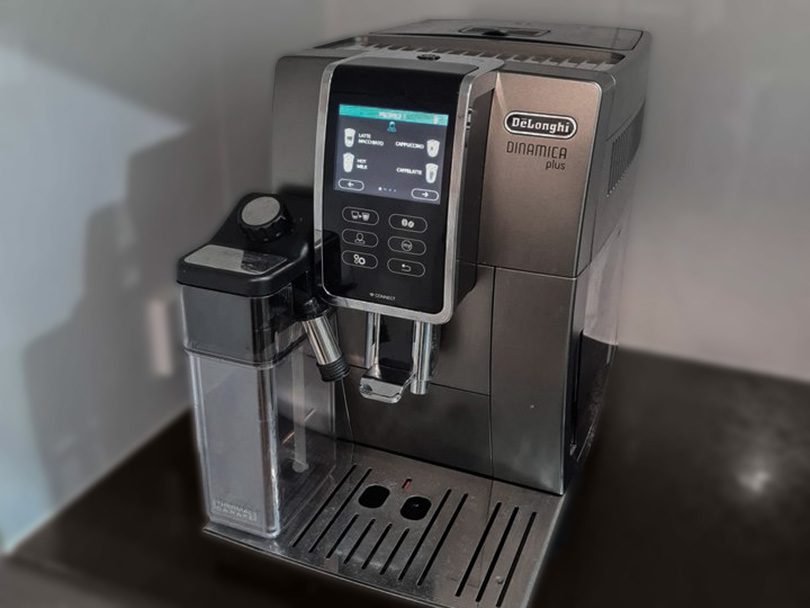 For the price, the De'Longhi Dinamica Plus is a superb espresso machine.
The touchscreen, user profiles, and app connectivity make it the best machine De'Longhi offer. Iced coffee options are seriously rare on machines at this price point too.
It does have its downsides:
Having only 3 user profiles is slightly frustrating, it has limited customization options, and the pot of coffee function is pretty terrible.
However, it does have a good, quiet grinder, makes excellent espresso that's easy to tweak, produces really good milk foam, and has a gorgeous touchscreen. Arguably, there isn't a better super-automatic espresso machine at this price point.
It's also considerably cheaper than the next best thing – Jura coffee machines. The only Jura that offers cold coffee drinks is the Z10 which is double the price of the Dinamica Plus.
Pros
16 amazing coffee drinks pre-programmed
3 user profiles
Iced coffee options
Dual boilers
Excellent milk frothing
Customization available via the app
Great touchscreen
10.6oz coffee bean capacity
Cons
Not as many user profiles as other super automatics
The pot function isn't great
1. 16 One-Touch Coffee Options
All the big hitters are available at the touch of a button. So whether you love flat white, cappuccino, latte, iced coffee, or any other top espresso drinks, the Dinamica Plus has you covered.
Plus, the Smart-One-Touch system remembers your favorite drinks and displays them first, saving you precious seconds before that first sip.
2. TrueBrew Over IceTM Function
De'Longhi stand apart from the competition with their patented TrueBrew Over Ice "cold brew" technology. By brewing at a lower temperature and pre-infusing the grounds, you can have a full-bodied, perfect iced coffee at the touch of a button.
3. Advanced Customization
Get your ideal coffee by adjusting the size, strength, and milk options for any drink either on the machine or in the app.
4. 3.5″ Touchscreen Display
Choosing and customizing your perfect coffee couldn't be easier thanks to the bright and easy-to-use touchscreen.
5. Coffee Link App
If you want to feel like you have a fancy barista in your home, you can 'order' your coffee whilst sitting on the sofa. Using the De'Longhi Coffee Link App (available for iOS or Android), your can customize your drink and send it directly to your machine. Just make sure you left a cup under the spout.
6. LatteCrema Milk System
The LatteCrema system has been in the DeLonghi box of tricks for a while. But they've made it even better for the Dinamica Plus with the addition of a thermal milk carafe.
You can easily adjust your milk settings with a dial on the carafe's top. Then, once you're finished, you can auto-clean the areas which came into contact with the hot milk, remove the carafe, and store it in the fridge.
7. Three User Profiles
Save your weird and wonderfully customized coffee brewing preferences or get quick access to your favorite preset coffee drink options via 3 user profiles. This should be enough for most homes but isn't the most flexible for bigger homes or an office.
8. 2-Year Warranty
In addition to the 2-year warranty which comes as standard, you can get an extra 1 year when you register your machine with De'Longhi. True peace of mind.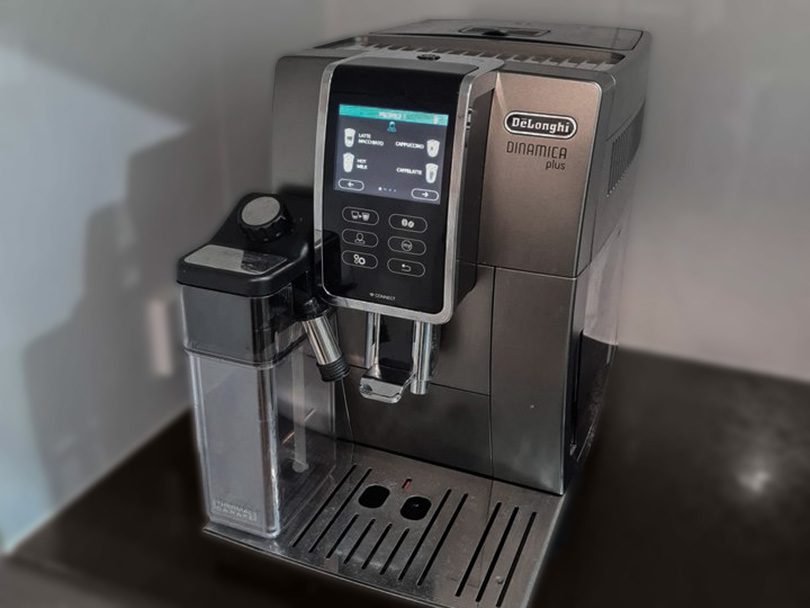 The touchscreen makes selecting and customizing your coffee effortless. Or if you're a tech lover, there's also the DeLonghi Coffee Link app where you can tinker away from your phone. This is a big step up in simplicity over the Dinamica.
Being easy to use is what makes DeLonghi one of the best super-automatic espresso machine manufacturers out there. They have a very "user first" approach to design. With the Dinamica Plus, they have moved from great to really great thanks to the sleek touchscreen and intuitive app.
The touchscreen holds your hand whilst it takes you through the various options, helped by images and icons. There are intuitive controls for strength (aroma), water volume (size of drink), milk, and adjustable coffee temperature. Once you've gone through all the setup, I find the app even easier to use.
The LatteCrema system is also really well thought out and a definite upgrade on previous generations.
The thermal milk carafe can be easily stored in the fridge until you need it. Then, when you're ready, simply attach it to the front of the machine and select your favorite milky drink. To get the style of milk you need, there is a dial on top of the milk jug and the screen will prompt you to check it's set correctly.
When it comes to cleaning (after every use), the DeLonghi Dinamica Plus has one of the most user-friendly, cleaning-friendly milk systems around. At the touch of a button, everything that came into contact with hot milk is cleaned out without affecting the cold milk in the carafe.
To get the best from your favorite coffee bean type, it has an excellent conical burr grinder that is surprisingly quiet. There are 13 grind settings to choose from, though you'll likely never use anything above the 3. You adjust this using a dial inside the bean hopper and we recommend starting on the finest setting – 1. Just make sure to only adjust this whilst the grinder is already running.
No matter what machine you use, to get high quality espresso coffee, you need to use top quality, fresh coffee beans. If you put bad espresso beans in, you get bad espresso out.
As with most other fully automatic coffee machines, there is also a pre-ground coffee bypass chute. We always like this feature as you may occasionally want to use decaf coffee beans, for example. Also, if you have a regular guest or family member who you don't want to waste your nice specialty coffee beans on, you can always have a packet of pre-ground coffee beans in the cupboard. No judgment here.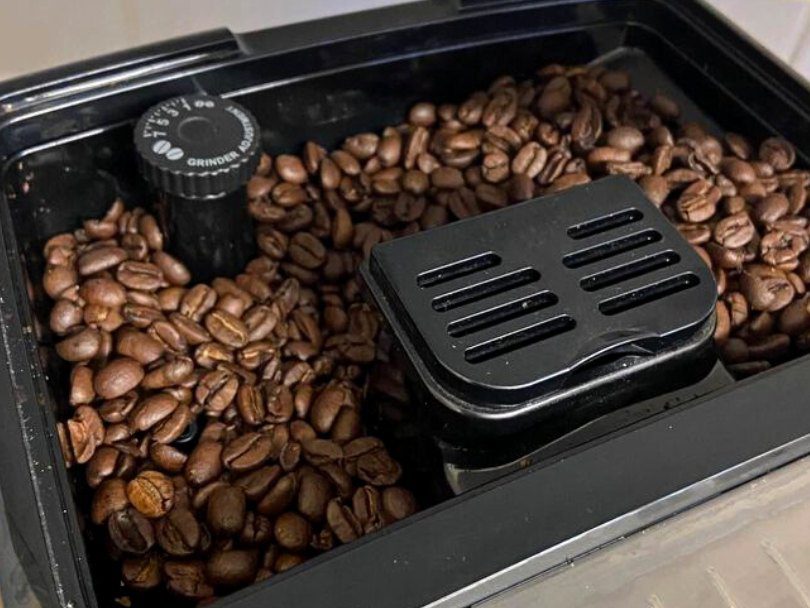 The Looks
Many of the best De'Longhi espresso machines have a tendency to look a little dated. The use of clunky buttons will have that effect. But the Dinamica Plus stands above the pack, benefitting hugely from the addition of the touchscreen.
Compared to the Dinamica coffee maker (the next model down), it looks much more modern and sleek. That's despite it being nearly identical in every other aspect.
However, the milk carafe does ruin the clean lines a little. But, unless you're actually using it, it'll be in the fridge so we won't hold that too firmly against the Dinamica Plus.
The Dinamica Plus is a great coffee machine if counter space is at a premium in your household. Whilst it's not a small machine, it's quite narrow – just 9.3 inches wide.
But what it lacks in width, it makes up for in height at 14.2 inches tall. You'll also need to access the bean hopper and water reservoir from the top, so be aware if you have any cabinets above your countertop. It's also 17.3 inches deep, but that shouldn't cause any issues unless you have weirdly shallow counters.
The Build
We'll start by talking about the 2-year warranty as standard with an extra year if you register your DeLonghi machine. That shows some serious belief in the quality of their products. Sure, an expensive coffee machine should last well beyond 3 years. But many automatic coffee maker manufacturers will only give a 1-year warranty.
There is a lot of plastic in the De'Longhi Dinamica Plus, which may put people off. But let's remember that the more expensive Jura coffee machines are also mostly plastic and nothing on the Dinamica Plus feels cheaply made. Many people, my in-laws included, have been using their De'Longhi machine for 5+ years without any issues.
If you want to keep your De'Longhi brewing top espresso for many years, you need to keep on top of regular cleaning, maintenance, and descaling. But, thanks to the simple design of parts like the LatteCrema milk system, there are fewer things that can go wrong.
Ultimately, you buy DeLonghi super-automatic coffee machines because of their excellent reputation for build quality. And our experience gives us no reason to doubt them on this machine.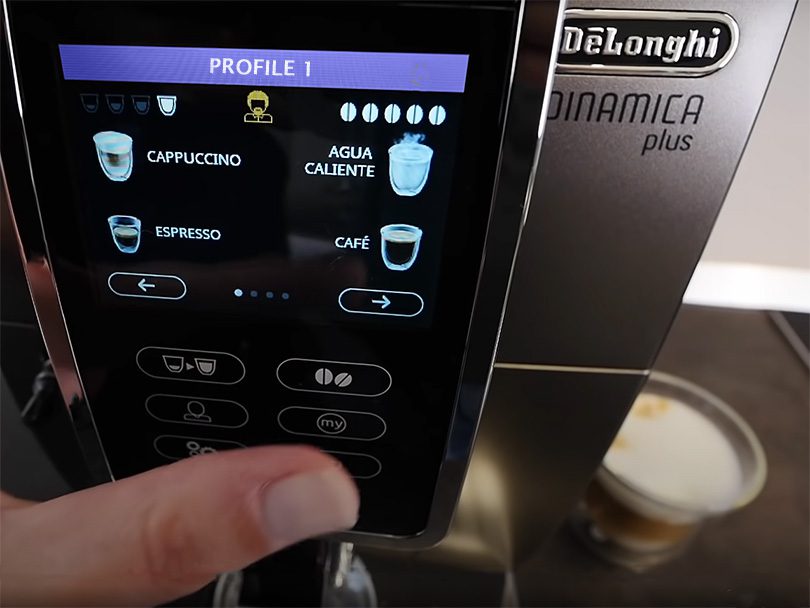 This means there is room to tweak things, rather than a bunch of useless settings as you find on some cheap espresso machines. You can easily get something as good as coffee shop coffee.
Any DeLonghi Dinamica Plus review would be remiss if it didn't mention just how terrible the coffee pot function is. In theory, it allows you to make 6 long coffees in a row. This might sound ideal if you're entertaining or in an office. But the coffee you get isn't great – too much water, not enough coffee. And, in my eyes, coffee that is too weak is the ultimate sin.
If you want a pot of drip coffee, you're better off getting a dedicated 5-cup coffee machine (or whatever size suits you best). Even better, get a big Chemex or V60 and enjoy that expensive coffee shop feeling at home.
We also have a slight issue with the lungo – too much water means it's pretty weak and uninteresting. If you like a longer coffee then the americano is a better option for this.
OK, bashing over. Don't let these two downsides detract from the great espresso coffee – and other options – that the Dinamica Plus brews with ease. Overall, this is an amazing coffee machine.
If you're a lover of latte, macchiato, or cappuccino you can expect great quality foam at the push of a button. Simply attach the carafe to the front of the machine when making a milky drink and store it in the fridge the rest of the time.
When you select your preferred drink, if it needs milk, the touchscreen will walk you through the adjustments you need to make to the dial on the milk jug. It really is that easy.
Being a mid-range automatic coffee machine, it isn't quite perfect. In this case, it's the milk for a flat white that suffers. Unfortunately, the Dinamica Plus never reaches the true micro-foam level needed and any die-hard flat white drinker will likely be a little disappointed.
But this is a small issue with an otherwise excellent milk system. Which is really very impressive at this price point.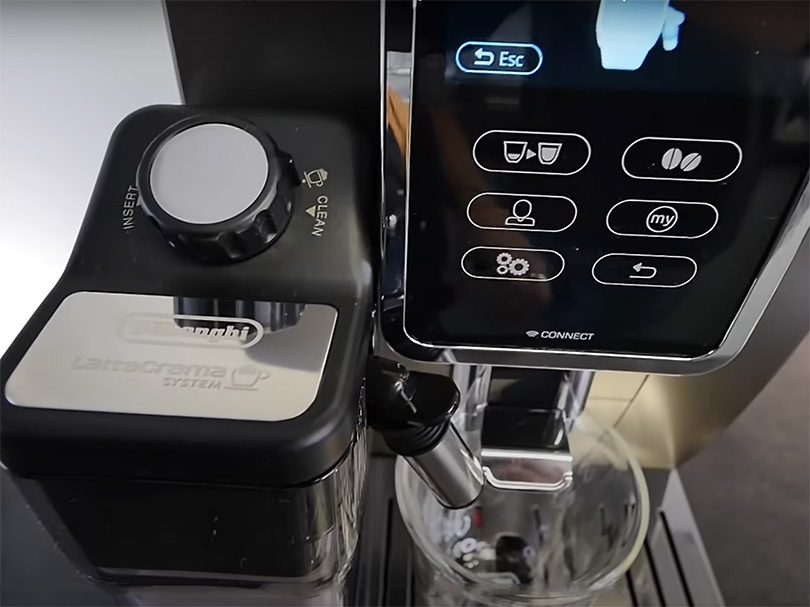 A super-automatic that can brew good quality 'cold' coffee is still a rarity in the coffee machine market.
Now, the TrueBrew Over Ice function won't technically make cold brew as its extracted too fast. But by pre-infusing the grounds and brewing at a lower temperature, what you do get is a pretty good shot of coffee at room temperature. From there, you can add your own ice (or whiskey rocks to avoid diluting your coffee) and have a delicious iced coffee or an iced latte at the touch of a button.
For many people, this will be a gimmick that you'll hardly use. But when the summer temperatures kick in, you may find yourself reaching for that refreshing iced coffee taste more frequently. So you'll be glad you had the foresight to buy such a brilliant coffee machine that has the option.
Being able to adjust your coffee through the app is not for everyone. It is an option we love though as I find nothing more enjoyable than endlessly fiddling with the settings. So being able to do it from my phone whilst also 'watching' Netflix is a huge plus.
It can also make life a lot easier if there are lots of people who want to use your machine. Instead of changing the settings on the machine itself, they can adjust them on their phone. Everyone wins this way.
The milk jug, drip tray, and brew group can all easily be removed for rinsing with the first two also being dishwasher safe. There are automatic rinse programs too, which are very useful.
Be careful after cleaning the milk jug to turn the dial back to milk/foam settings. Learn from our mistakes as, otherwise, you'll end up with a cul full of rinsing water.
Thanks to the water filter, descaling is an infrequent job. This means you may go years without having to do it.
But you will want to clean the grinder every couple of weeks. Just use a soft brush (never use water) to remove all the grounds that are stuck in the mechanism. Job done.
But the serial numbers and similar names can get confusing. So make sure you don't mix them up and only buy the one that has your favorite features.
There are essentially two base models: the Dinamica (ECAM35020) and the Dinamica Plus (ECAM37095). The third option is the Dinamica with LatteCrema milk system (ECAM35075) instead of the manual frothing wand. But this is $400 more than the basic Dinamica, which is a lot. It also means it's pretty close in price to the Dinamica Plus.
If you want the LatteCrema system then we recommend getting the Dinamica Plus. It's only an extra $200 after all.
For that extra $200 you get more drink options, 3 user profiles, and app connectivity. We feel it's a no-brainer to pay more for the Dinamica Plus over the Dinamica with LatteCrema system for all these really useful features.
The basic DeLonghi Dinamica automatic coffee machine (with manual milk wand) is great though. You don't get automatic milk, app connectivity, or a touchscreen. But you do get highly customizable coffee options. So if you're going to be making black coffee 99% of the time, this is the machine for you.
With a price difference of around $700, you may find it hard to justify the extra toys on the Dinamica Plus. However, if you enjoy different coffee recipes with milk, then it's absolutely worth it. All the extra options, the ease of use, and the ability to save drinks to different profiles really make a big difference.
The only reason to choose the DeLonghi Dinamica coffee machine over the Dinamica Plus is if you're basically never going to use the milk system. Black coffee drinkers can save the extra money and get the Dinamica instead – you'll still have a manual milk wand if needed.
For a relatively low price, you get a tonne of functions, including coffee over ice and app customization. It looks good, it's easy to clean, and simple to use. That's a lot of plus points.
But that doesn't make it perfect. The main negative I found in our DeLonghi Dinamica Plus review is that not all the features are great. Especially not the coffee pot feature.
However, it's still a lot better than other coffee machines at the same price point. So it gets a great big thumbs up from us.
Don't Forget to Buy your DeLonghi Dinamica Plus today
You Might Also Like
Beautiful, simple, and delicious espresso for around $1000? We had to test if such a thing was possible – read our Jura ENA 4 review to see

Jura ENA 8 vs Gaggia Babila is a battle of philosophies. Is the convenience of the ENA 8 superior to the precision of the Babila?