Want great coffee whenever you like? And to save money by ditching the coffee shop habit? This Gaggia Cadorna Prestige review will break down whether this is the machine to do just that.
With incredible ease, the Cadorna Prestige makes great-tasting coffee. It has a very high build quality and great design, making it a perfect replacement for cafe coffee or a step up from a single-serve machine. Not only will making coffee at home quickly pay off the upfront cost of the machine but it's built to last so will save you thousands over its lifetimes.
After spending some serious quality time playing with this machine, we've put together this in-depth review. Having spent years reviewing espresso makers, we've got high standards but feel we've got our testing down to a fine art to give you all the information you need.
This article may contain affiliate/ compensated links. As an Amazon Associate, we earn from qualifying purchases at no additional cost to you. For more information please see our disclaimer here.
At a Glance: Gaggia Cadorna Prestige Review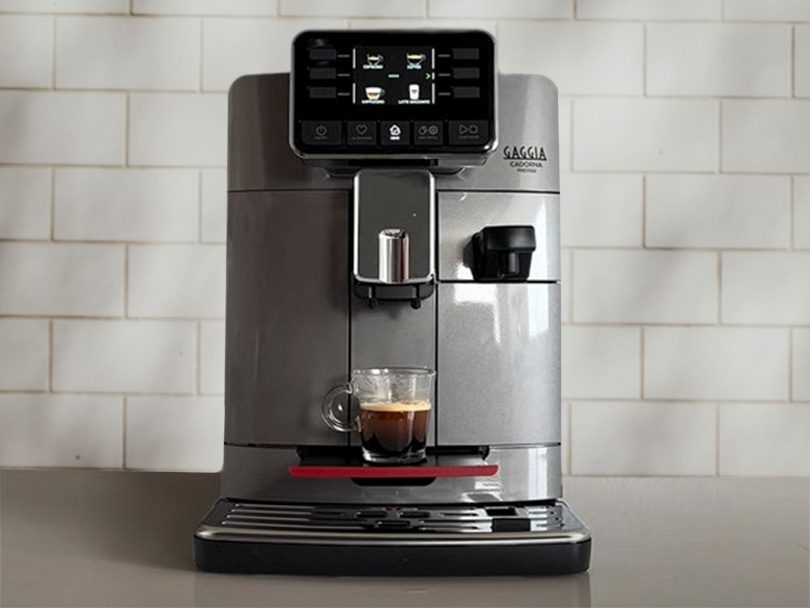 The Cadorna Prestige is a superb espresso machine that manages to stand out in the very crowded super automatic espresso machine market. The combination of functionality and quality is brilliant.
There are a couple of niggles though – adjusting the grinder is a little awkward for one. Not being able to adjust pre-infusion is another.
But the quality of the espresso and milk can't be knocked. The user profiles make it ideal for larger households too. The ceramic grinder also is superb and, at this price, the Gaggia Cadorna Prestige espresso machine is fantastic value.
Pros
Excellent espresso
Amazing user interface
Great value
Detachable milk carafe
Easy to clean
4 user profiles
Cons
Adjusting the grinder is awkward
Can't adjust pre-infusion settings
1. 12 Coffee Options
Choose from 12 different coffees including café favorites such as flat white, cortado, cappuccino, and latte macchiato. For black coffee drinkers, there is ristretto, espresso, lungo, and americano too.
2. 4 User Profiles
User profiles allow everyone to save their preferred settings for each drink option. Simply select your profile for your own customized coffee menu.
3. Ceramic Grinder
The Cadorna Prestige houses a high-quality ceramic burr grinder with 10 grind settings for super accurate grinding. Ceramic burrs stay sharper for longer than stainless steel. They also prevent heat buildup damaging the flavorful oils in your coffee beans.
4. Detachable Milk Carafe
Easy to attach and remove, the milk carafe can be kept in the fridge until needed. It then self-cleans after use to be returned to the fridge.
5. Full-Color Display
The large color display with backlit buttons makes selecting and adjusting your coffee of choice simple.
6. Automatic Pre-Infusion
Automatic pre-infusion allows trapped CO2 to escape from the coffee grounds, releasing more flavor into your espresso.
7. Adjustable Coffee Temperature
Choose between 3 temperatures for brewing coffee that perfectly suits your personal preference or the differing roast levels of your coffee beans.
8. 1-Year Warranty
Having a 1-year warranty gives you additional confidence in buying the Cadorna Prestige. Whilst good, some Gaggia competitors like Jura offer 2 years as standard.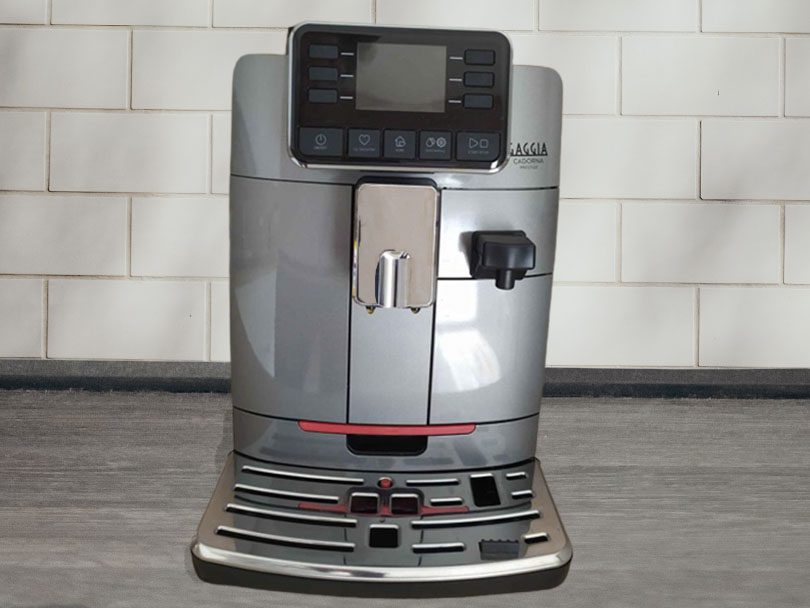 All the coffee drink options are available by scrolling through the menu with the buttons to the side of the screen for selecting your preferred drink.
You'll then get the chance to adjust the volume of coffee and milk (if used), the strength, and the temperature. You can save your preferences so you only need to do this once.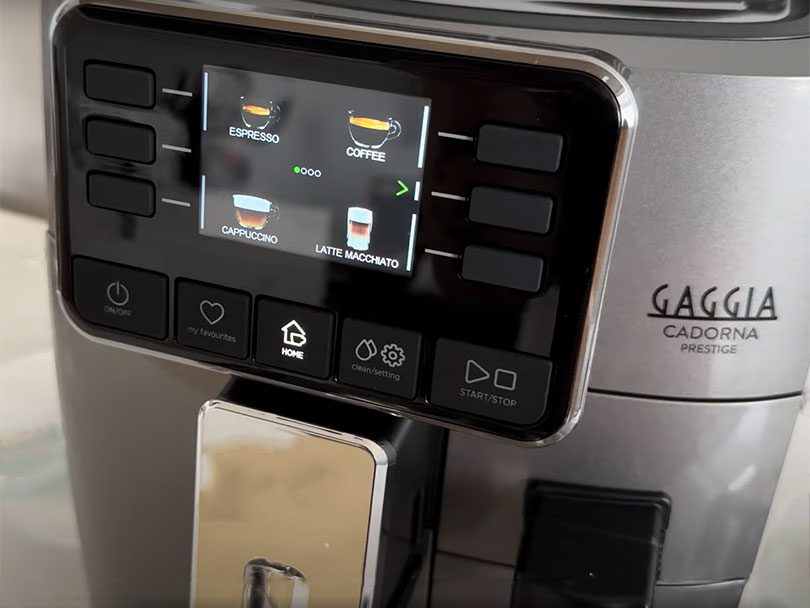 There are 4 user profiles (under the 'My Favorites' button), indicated by colored hearts, so the whole family can save their personalized specialty coffee drinks. As long as you don't need more than 4 different variations on one coffee, everyone should be happy.
Coffee and milk volumes are adjusted in 0.34oz steps, which seems like a weird amount but Gaggia machines are made in Italy so these are 10ml steps. This is a pretty impressive level of accuracy. The volume of each is displayed on the screen so you can easily see if you're getting the amount you want.
The only thing that is awkward about the Cadorna Prestige is the grinder adjustment:
The ceramic flat burr grinder is great, but you need to use the other side of the coffee scoop to adjust the grind setting. This is a little awkward, especially since you should really only adjust it while it's running. You may not plan on changing it often, but it's kinda weird it doesn't just have a dial.
The superb ceramic grinder will ensure all the flavorful oils make their way from the beans into your espresso.
As with all coffee makers, if you put poor-quality beans in, you'll get poor-quality coffee out. It's also best to avoid using super oily beans as they can cause issues with the grinder, and don't taste great anyway.
There is a bypass chute for using pre-ground coffee. But this is mostly used for the odd late-night decaf coffee or maybe someone loves flavored coffee as flavored coffee beans (like the Lifeboost collection) are also really bad for grinders.
Always make sure you're using the freshest coffee beans from a reputable roaster with a transparent supply chain. Getting good coffee quality and ensuring the farmers are well-paid tend to go hand in hand.
The Looks
If you love a more modern look to your espresso machine then you'll love the Cadorna Prestige.
The superb display dominates the design but looks so good that this is a plus. The dark grey plastic, detachable milk container, and chrome-accented drip tray are all fairly standard. They're nice, but nothing to write home about.
The milk container does ruin the sleek look a little, but it'll be in the fridge whenever it's not in use so it's not a big issue. They're also so common on automatic coffee makers these days that we're probably being a bit harsh.
It's only 10.2 inches wide, which is very slim for a super-automatic espresso machine. But at 15 inches high, it may cause issues with any cabinets above. However, the water carafe is removable from the front rather than the top so this is only an issue when accessing the bean hopper. The depth of 17.3 inches is pretty standard for bean-to-cup machines these days.
The Build
Gaggia's reputation is built on quality. They still make all their machines in their factory outside Milan and come with a 1-year warranty as standard. Just in case something does happen.
It does have a plastic outer case, but that's really not an issue and most other fully automatic coffee machines do too. The drip tray and water carafe are nicely made and fit beautifully into their assigned slots.
The ceramic grinder is more brittle than stainless steel. But this is only an issue if you end up with a stone or something in there which is extremely rare, however it's worth checking your beans to be sure. Ceramic will also stay sharper for longer too.
As long as you take care of it, you can realistically expect Gaggia super-automatic espresso machines to last around 15,000 brew cycles. That's 5 coffees a day, every day, for 8 years.
This requires regular cleaning and maintenance of course. But you should be confident in your machine lasting well over 5 years. Which will save a lot of money over buying coffee at a café every day.
We mostly used it with the "Aroma" setting on either 4 or 5 and near the finest grind setting available. But we do have a penchant for stronger espresso coffees than most. You may find that most of the adjustable coffee strength settings are usable.
We even used the middle-temperature setting – a rarity for us on automatic coffee makers. So that's great to have as another option.
Being able to adjust these settings so easily and save them to your profile really helps make this machine beginner-friendly. It's ideal for the casual coffee lover who wants great coffee, fuss-free.
The milk foam is really good too. While you can't customize it (other than the volume), the microfoam is excellent. Being able to easily have different milk styles for coffee drinks like cortado, flat white, and cappuccino is great. Some of the more expensive Gaggia espresso machines also have manual milk wands, but the Cadorna Prestige doesn't – it focuses on ease of use instead.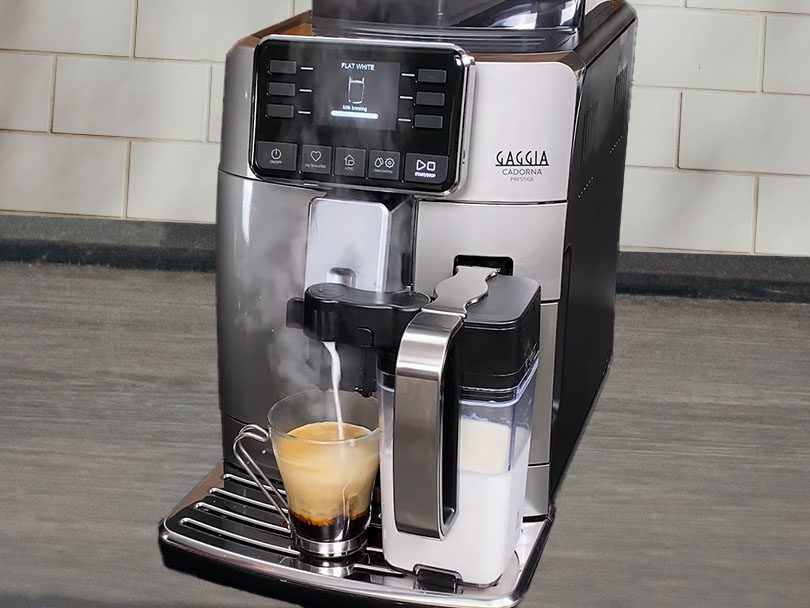 For starters, having user profiles is a fantastic feature of the Cadorna Prestige. Being able to save your own personal version of each drink is great for any household with more than 2 coffee drinkers.
But having 4 user profiles takes it to the next level so everyone can save their favorite coffee exactly how they like it. Don't get us wrong, changing settings is really easy but you don't want to do it every time you want a coffee.
While you can't adjust the pre-infusion time, just having pre-infusion isn't that common at this price. This makes a huge difference to the quality when brewing coffee and is really something we'd love to see on all super-automatic espresso machines.
You'll have to empty the drip tray and used grounds bin every day and clean them both yourself. But this only involves rinsing them with warm water daily, and maybe giving them a good clean weekly.
Ideally, you should remove the brew group to rinse with warm water (no detergent) daily to keep it in peak condition. Doing this weekly or monthly is probably also fine but your coffee will taste so much better if you do it daily. And it will keep your machine in good condition for longer.
The milk carafe will auto-clean the spout after use by running hot water through it to make sure it's nice and clean before you return it to the fridge. Just make sure to empty and deep clean the carafe itself at least every week as milk can get real nasty real fast.
Descaling is another task that needs to be done but the water filter will keep this to an absolute minimum. So it will likely need to be done every 6 months. When it's time, the Cadorna Prestige will talk you through the steps and should take around 30 minutes.
Like many high-end espresso machines, you need to use Gaggia's branded cleaning products (it will invalidate your warranty if you don't and can cause complications). It's a small annoyance for so much great coffee and such a big, long-term saving.
Absolutely yes.
You get far more drink options, far more customization options, a better milk carafe, and 4 user profiles. It also looks much nicer with the large screen instead of an LCD display and buttons.
So in terms of getting the most bang for your buck, the Cadorna Prestige is absolutely The One here.
Now if you're looking for more of a budget machine that only does a few things then the Anima Prestige is a good Gaggia espresso machine. It's a great consistent coffee maker that produces delicious coffee drinks. But we'd take the Cadorna Prestige every time.
Generally, Gaggia espresso machines have superb build quality, excellent grinders, and great features. And having the user profiles makes it a really family-friendly machine with an interface so simple that anyone can use it.
The little niggles of this Gaggia Cadorna Prestige review is that adjusting the grind settings isn't the easier. And maybe the espresso isn't as good as you can get from more expensive machines or more manual machines.
But as a combination of cost, functionality, and performance this is a top-tier espresso machine. Well worth swapping your daily cafe coffee out for or as an upgrade from a single-serve machine.
Don't Forget to Buy Your Cadorna Prestige Today
You Might Also Like
Beautiful, simple, and delicious espresso for around $1000? We had to test if such a thing was possible – read our Jura ENA 4 review to see

Jura ENA 8 vs Gaggia Babila is a battle of philosophies. Is the convenience of the ENA 8 superior to the precision of the Babila?