If there is a nation on Earth that feels like it was specifically designed for growing coffee, it would be Guatemala.
The combination of climate, altitude, and volcanic soil makes Guatemalan coffee some of the most exciting in the world. Whilst it may be hard to find a good cup of coffee if you're visiting Guatemala, the good news is you'll have no trouble at home – almost all of the good stuff is exported.
With so much to look into, we've picked out the best Guatemalan coffee beans for you to try alongside the flavors you can expect. For anyone who wants to really geek out, we'll also run through everything you need to know about this Arabica-growing paradise.
This article may contain affiliate/ compensated links. As an Amazon Associate, we earn from qualifying purchases at no additional cost to you. For more information please see our disclaimer here.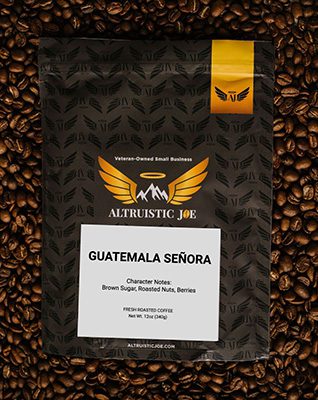 Image
Product
Details
Alturistic Joe – Guatemala Señora

Medium roast
Blend from New Oriente, Fraijones Plateau, San Marcos
Flavors of brown sugar, roasted nuts, fresh berries

Volcanica Guatemala Peaberry Coffee

Medium roast
From Antigua
Flavors of sweet berries, gentle citrus, fresh acidity

Volcanica Guatemala Antigua Decaf

Medium roast
From Antigua
Flavors of chocolate, nuts

Bean & Bean Guatemala Gesha Washed

Light roast
From Acatenango
Flavors of Peach, Kiwi, Sweet tea, Bergamot

Out of the Grey – Guatemalan Antigua SHB

Medium/Dark roast
From Antigua
Flavors of lychee, caramel, vanilla

Cooper's Cask – Guatemalan Cold Brew

Medium roast
Guatemalan coffee blend
Flavors of milk chocolate, caramel, orange

Two Volcanoes – Guatemalan Espresso Blend

Medium roast
From San Marcos
Flavors of caramel, nuts, chocolate, citrus fruits

Guatemala by Portland Coffee Roasters

Light roast
From Highland Huehue
Flavors of chocolate, cinnamon, raisin, molasses
It also means that blends of different areas can have a wonderfully rich and complex flavor.
To help you find the best options for you, we've picked out some of the very best Guatemalan coffee beans. Why not try them all to truly appreciate this amazing coffee nation?
Guatemala Señora, Alturistic Joe (Best Overall)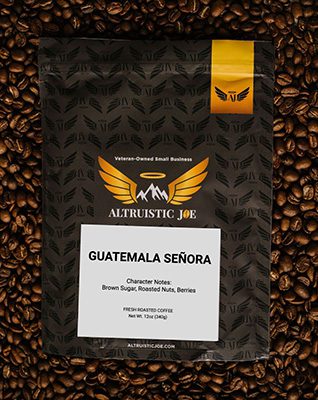 What to Expect:
Roast Level: Medium Roast
Region: Blend from New Oriente, Fraijones Plateau, and San Marcos
Varietals: Bourbon and Typica group
Processing Method: Washed
Tasting notes: Brown sugar, roasted nuts, and fresh berries
Important notes: Altruistic Joe is a veteran-owned company and donates 20% of profits to charity. These Guatemalan coffee beans are from 3 woman-owned farms, each from a different region in Guatemala
Women make up over 70% of the workforce on coffee farms in Guatemala, but they rarely own the farms they work on. Here, Altruistic Joe champions women-owned farms by using a blend from 3 such farms across Guatemala to create this amazing single-origin coffee.
Being a blend of 3 regions – San Marcos, Fraijanes Plateau, and New Oriente – this coffee shows all the best qualities associated with Guatemalan beans. You can expect flavors of roasted nuts, brown sugar, and fresh berries with a full body and pleasant acidity.
The use of washed processing shows off the delicious coffee flavors at their purest and best.
Altruistic Joe also donates 20% of profits to charitable causes, so you can feel good that the money you spend on coffee is going to all the right places.
Guatemala Peaberry Coffee, Volcanica (Best Peaberry)
Peaberry coffee beans occur naturally in around 5% of the crop. It's a biological freak of nature where there is just a single bean in the coffee cherry, rather than the usual two facing each other.
What it means for you, the coffee lover, is a smoother finish and more intense flavors than you would expect from non-peaberry Guatemalan coffee beans.
This particular Guatemala peaberry coffee is from the Antigua region. It shows the immense flavor complexity and softer acidity that are associated with this region. To taste, you will get notes of rich strawberry and blueberry alongside delicate citrus and balanced acidity.
Santa Felisa, Gesha, Bean & Bean (Best Light Roast)
Santa Felisa farm is run by the incredibly talented ecologist, agronomist, and Q Grader Annabella Meneses. Annabella has been researching innovative processing methods to develop new flavors in coffee. This dedication resulted in first place in the 2017 Guatemalan Cup of Excellence.
This farm also takes sustainability seriously:
This stunning Gesha coffee can rival any you'll find across Central America. The washed process preserves a delicate flavor and really allows the natural excellence of the beans to shine. Similarly, lightly roasting the beans brings out the floral notes that make this coffee so special.
Bean & Bean is an NYC-based roaster run by a Mother and Daughter team, who are both Q graders. All their coffees are exceptional but we feel this Gesha from Acatenango is the pick of the bunch.
They also donate a portion of the profits to The Sloth Institute, and we love sloths.
Volcanica Guatemala Antigua Coffee (Decaf)
If you can't or don't want to consume caffeine, you can still enjoy the famous Guatemalan coffee beans thanks to Volcanica.
Hailing from a single farm in the beautiful Antigua region of Guatemala, this coffee has the bold flavors and gentle acidity associated with the best coffees this country has to offer.
You will experience notes of fresh apples, raisins, chocolate, and a bright finish. This full-bodied decaf coffee is really impressive. The farm, Finca Medina, has been growing coffee since 1842 and you can really taste the depth of their experience. They are committed to sustainability and to preserving the natural forests around them.
This coffee is decaffeinated through the Swiss Water Process. In other words, no chemicals have been used – just pure water to soak the beans, extracting all the flavors and the caffeine. The caffeine is then stripped from the water by charcoal and, when the next batch of beans is soaked, only the caffeine is removed. Pretty cool and the result is some of best decaf coffee out here.
Guatemala Antigua Coffee Las Nubes SHB, Out of the Grey
On the slopes of Guatemala's third tallest volcano – Volcan de Acatenango – and facing the beautiful city of Antigua comes "las Nubes" or "Clouds" coffee. The slightly higher humidity causes the coffee cherries to ripen a little bit sooner than in other areas. This gives a gentler acidity that can be ideal for those with sensitive stomachs.
Strictly Hard Bean coffees (SHB) are the highest grade of Guatemalan coffee beans. Only the best hard bean coffees are allowed to be sold with regional designations. So, if you see any SHB coffee labeled as just "Guatemalan", it will be of lower quality.
This coffee is slightly softer in style but still has excellent complexity. Grown between 5,000 and 6,200 feet asl, the flavor profile features sweet lychee and berries, vanilla, brown sugar, caramel, and gentle acidity.
Cooper's Cask Guatemalan Coffee Cold Brew
Roasted especially with cold brew coffee in mind, this option from Cooper's Cask shows off the great flavors many Guatemalan coffees are so well-known for. Plus, it delivers a rich and smooth cold brew experience with ease.
You can expect a smooth caramel and milk chocolate flavor with hints of orange and citrus in the background of this organic Guatemalan coffee (USDA Certified).
As a company, Cooper's Cask Coffee is known for small-batch roasting and for its superb customer service. So if for any reason, you are unhappy with the coffee you've received they will issue a replacement or refund.
Two Volcanoes Guatemala Coffee
Two Volcanoes know exactly where their coffee comes from. They take control of the entire process from growing to shipping, ensuring that they only send you the very best quality Guatemalan coffee.
All their coffee is sourced from the San Marcos region of Guatemala, between two volcanoes. As the warmest and wettest region, San Marcos is known for complex specialty coffee bean production with a unique profile.
The classic flavors of chocolate, caramel, complex berry notes, and balanced acidity come bursting through in this medium roast.
They're not just interested in great flavor but also in doing great things too. As a company, Two Volcanoes Coffee, are very active in the local community to promote and ensure the sustainability of coffee farming practices. Plus, they are 100% USDA Certified Organic.
Overall, this is one of the best Guatemalan coffee brands. By controlling everything from farm to cup, they have complete oversight and can promise greatness.
Guatemala, Portland Coffee Roasters
The all-around excellent Portland Coffee Roasters have been buying from a single farm in the Highland Huehue region of Guatemala for nearly 20 years. This long-term relationship has been a fantastic partnership for both sides, resulting in a superb light roast coffee for us.
With notes of raisin, chocolate, and caramel, this coffee packs the kind of punch that really highlights Guatemalan coffee at its finest. The sweet round notes are balanced with bright acidity on the finish and the light roast really allows you to experience the uniqueness of the region.
Portland Coffee Roasters has been steadily improving the sustainability of its business with renewable energy and recycling processes. This dedication to constant improvement is good to see as it hopefully means they'll continue to work as green technologies develop.
The Guatemalan coffee flavor profile is bold flavor with a full body, complex aromatics, and moderate acidity.
As a land of volcanoes and with over 1,631 named mountains, the growing conditions in Guatemala lend themselves very favorably to producing high cup quality coffee.
The high altitudes lead to slower ripening of the coffee cherries, allowing complex flavor compounds to develop. The result? Better coffee.
If that wasn't enough, the mineral-rich volcanic soils of Guatemala are also ideal for growing top-quality coffee. Many of the compounds needed for plants to thrive are abundant in volcanic soil. So the constant eruptions of Guatemala's volcanoes ensure a continuous supply of these rarer minerals in the soil of volcanic regions.
Depending on which region your coffee has come from, the flavor profile will vary. From the floral and delicate flavors of San Marco, to the chocolatey coffee of New Oriente, to the more fruit-driven tastes of Fraijanes Plateau – the Guatemalan coffee experience has it all.
A combination of the topography and weather conditions make this country absolutely ideal for growing the popular Guatemalan coffee beans. There are over 1631 mountains and 37 official volcanoes (many of which are still active). This makes the soil nutrient-rich and the coffee cherries can ripen more slowly, giving them time to develop complex, incredible flavor profiles.
Similar to other coffee-producing countries, when you pick up a bag of coffee from Guatemala, it will often proudly display the region it came from. So, to help you make sense of what this means for quality and flavor here's a quick guide to the main coffee regions: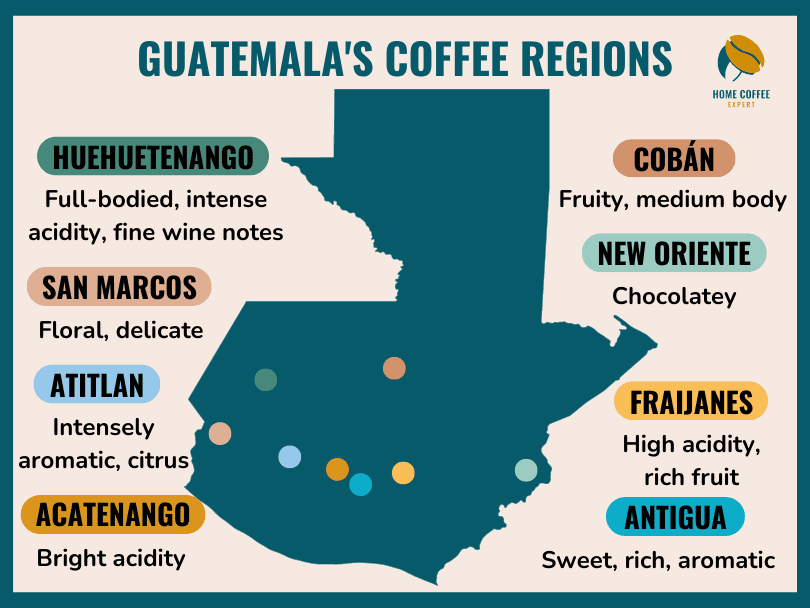 Acatenango Valley
Here, coffee is grown in the shadow of the dormant Acatenango Volcano and the very active Fuego Volcano. Thanks to the thriving forests of the region, the coffee plants grow under a canopy of shade.
With altitudes ranging from 4,300-6,500 feet asl and cooling winds of the Pacific Ocean, the cherries ripen slowly, developing intense flavors.
The soil is kept mineral-rich by the constant daily explosions of the Fuego volcano – there are between 2 to 14 per hour and can often be seen all the way in Antigua! These are perfect growing conditions for Arabica coffee so the cup quality from this region is among the best in Guatemala.
Acatenango Valley coffee beans feature bright acidity, strong aromatics, a full body, and great balance.
Antigua
Located between 3 volcanoes – Volcán de Agua, Acatenango, and Volcán de Fuego – the Antigua coffee region has lower humidity and cooler nights than the nearby Acatenango Valley region. The coffee farms surrounding the beautiful town of Antigua use the dense forests to help stave off the occasional frosts that can affect the region.
Volcán de Fuego keeps the soil rich in volcanic minerals and, whilst the elevation isn't as extreme as other parts of Guatemala, the farms are still a lofty 5000-5600 feet asl.
The famed Guatemala Antigua coffee holds a special place in the hearts and homes of many coffee lovers. This is thanks to the sweet, rich, elegant, and extremely aromatic cup of coffee they brew.
Traditional Atitlan
Traditional Atitlan is arguably the most beautiful coffee region in Guatemala – which is saying a lot given the tough competition.
The volcanoes that surround Lake Atitlan mean that the soil here has the highest density of organic material of any of Guatemala's coffee regions. This is great news for all the crops and for growing top-quality coffee beans.
The cooling winds from the lake, known as Xocomil, moderate the temperature with growing elevations of 5,000-5,600 feet asl.
If you are enjoying a cup of coffee from Traditional Atitlan you will experience intense aromatics with citrus acidity and a full body.
Rainforest Cobán
The wettest region of Guatemala, Cobán sits in the Atlantic basin where there are limestone and clay soils. Here, the coffee must be dried by machine as it's too wet to reliably dry by only the sun. The misty rain known locally as chipi-chipi often covers the region and isn't ideal for coffee drying.
However, the cooler and wetter climate also means there are some lower-lying coffee farms than elsewhere. You can find farms at altitudes ranging from 4,300 to 5,600 feet asl.
Coffee from Rainforest Cobán is more fruit-driven, with a delicate aroma and medium body.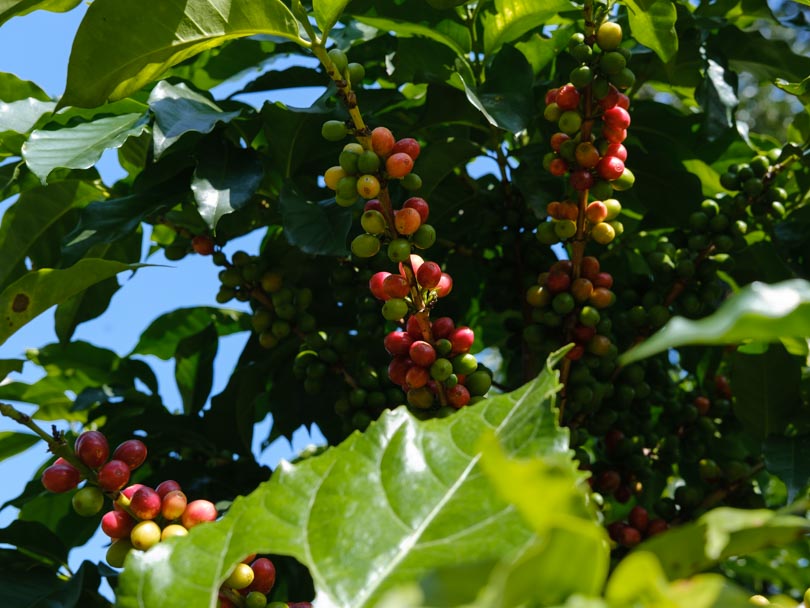 Fraijanes Plateau
Near the Honduran border lies the Fraijanes plateau with fantastic coffee-growing potential:
Here there are high altitudes, consistent seasons, volcanic pumice soil, and an active volcano continuously topping up the nutrients. With conditions like these, it's really no surprise they produce some fine Guatemalan coffee.
Fraijanes Plateau lies next to the most active volcano in Guatemala – Pacaya. The wet season is very wet, but the dry season is consistent enough to allow sun drying to take place. Altitudes here are between 4,500 and 6,000 feet asl.
Coffee from Fraijanes Plateau has the highest acidity of the Guatemalan coffee regions but this is balanced with a full body and rich fruit notes.
Highland Huehue
Huehuetenango, often shortened to HueHue, is a region located in the Western Highlands area. It is the highest non-volcanic region in Guatemala under coffee cultivation.
The benefits of growing coffee in Huehuetenango benefits are the warm winds from the Tehuantepec Plain in Mexico, which staves off frost. This allows coffee to be grown up to 6,500 feet asl.
It's an extremely remote location which means all Huehuetenango coffee beans must be processed in the region. Luckily there is an abundance of water from the many streams and rivers of the region so coffee mills can be located pretty much anywhere.
Highland Huehue coffee is very full-bodied with intense acidity and fine wine-like notes.
Nuevo Oriente (New Oriente)
Pretty much every farm in New Oriente grows coffee now. It was first cultivated here in the 1950s and has helped turn around one of the poorest areas of Guatemala. Although the farms are on a volcanic range, the soil is very different from those with active volcanoes.
Coffee farms range from 4,300 to 5,600 feet asl and the coffee from this region is full-bodied and nicely balanced. It also has the most pronounced chocolate flavor of any Guatemalan region.
Volcanic San Marcos
As the warmest and wettest coffee region in Guatemala, San Marcos has a slightly different harvest season to the others with earlier flowering and picking. The intense rainfall often means the coffee needs to be mechanically dried, as well as sun-dried.
This is another remote region so all coffee processing needs to take place nearby.
Here, you will find coffee farms at altitudes between 4,300 and 6,000 feet asl. The coffee from San Marcos is floral and delicate, medium-bodied, and has a pronounced acidity on the finish.
You may already have a favorite type of coffee maker, but here are our top choices for experiencing Guatemalan coffee at its finest: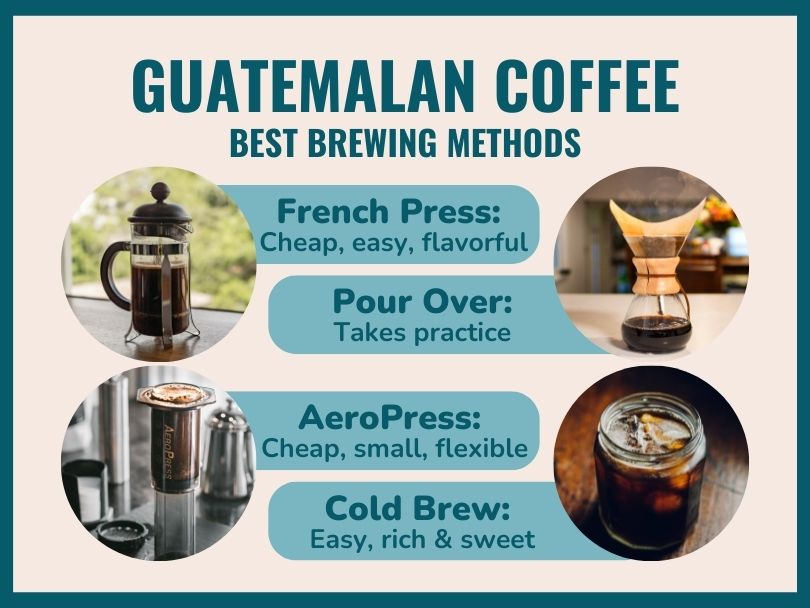 French Press
It's easy, the equipment is cheap, and it preserves all those flavorsome oils that exist in your beans. What's not to love?
French press is a great way to experience any new coffee beans as it works for all roasts, doesn't require any skill, and ensures all the flavor goes where it should.
It doesn't leave you with many options with the final form of your coffee, just black or…..white. But you'll definitely experience all the unique flavors from your Guatemalan coffee beans.
Pour Over
Similar to the French press in that pour over coffee makers are cheap, work for all coffee roast levels, and preserve the volatile oils on the beans. However, making pour over does require a little more effort than making French press and a touch of skill too.
The purity of the aromatics from a well-executed pour over is incredible and totally worth the effort. It's particularly good for brewing lightly roasted coffee beans.
If you're not a fan of the texture of French press, pour over can be a great option for you to get clean, clear coffee but with all the flavor. If you're not sure where to start, the Kalita Wave, Hario V60, or Chemex are the big hitters. But, for beginners, we recommend grabbing a Chemex as it is easier to use. Then, once you're a bit more confident you can graduate to making Hario V60 coffee.
Cold Brew
This might not be an obvious choice, but cold brewing Guatemala coffee beans will bring out the rich flavors, particularly the sweetness, of the nation's best coffees.
It's not a quick option as it takes 12-24 hours to brew, but the concentrate can last over a week in the fridge so it's ready to go when you are.
When you're choosing your coffee beans for cold brew, look for darker roast coffees. This is where this brewing method will really shine. Medium roast is the lightest that will work well.
The distinctive cold brew coffee taste is smooth, sweet, and easy-to-drink particularly on a hot day. So, you might want to skip it during the winter months. But it's a nice option to have in your back pocket for summertime brewing.
To make cold brew, you can use a French press or just a big mason jar with a filter.
AeroPress
Last, but certainly not least, is the old faithful: the AeroPress coffee maker.
This little device is the darling of millions of coffee lovers around the world. There are endless online recipes and tutorials, it's cheap to buy and really easy to use.
The Aeropress is always a good option when you're trying out some new beans to really get a feel for the profile of a coffee region.
Some may not like the fact it's made of plastic, or that it uses throwaway filters. But there are very few drawbacks to this amazing little device.
Shop the Top Brewing Methods
Anything up to medium roast allows you to taste more of how the growing conditions in Guatemala affect the flavor in the cup. So, you can truly experience the region.
The sweetness also means that dark roast coffee drinkers will enjoy the coffee of Guatemala. If you're an espresso drinker, this will be your roast of choice and you'll be able to enjoy the sweet fruits of the beans.
We recommend avoiding very dark roasts for all single-origin Arabica coffee as you taste more of the roast than the beans. Which is a real shame with coffee this good.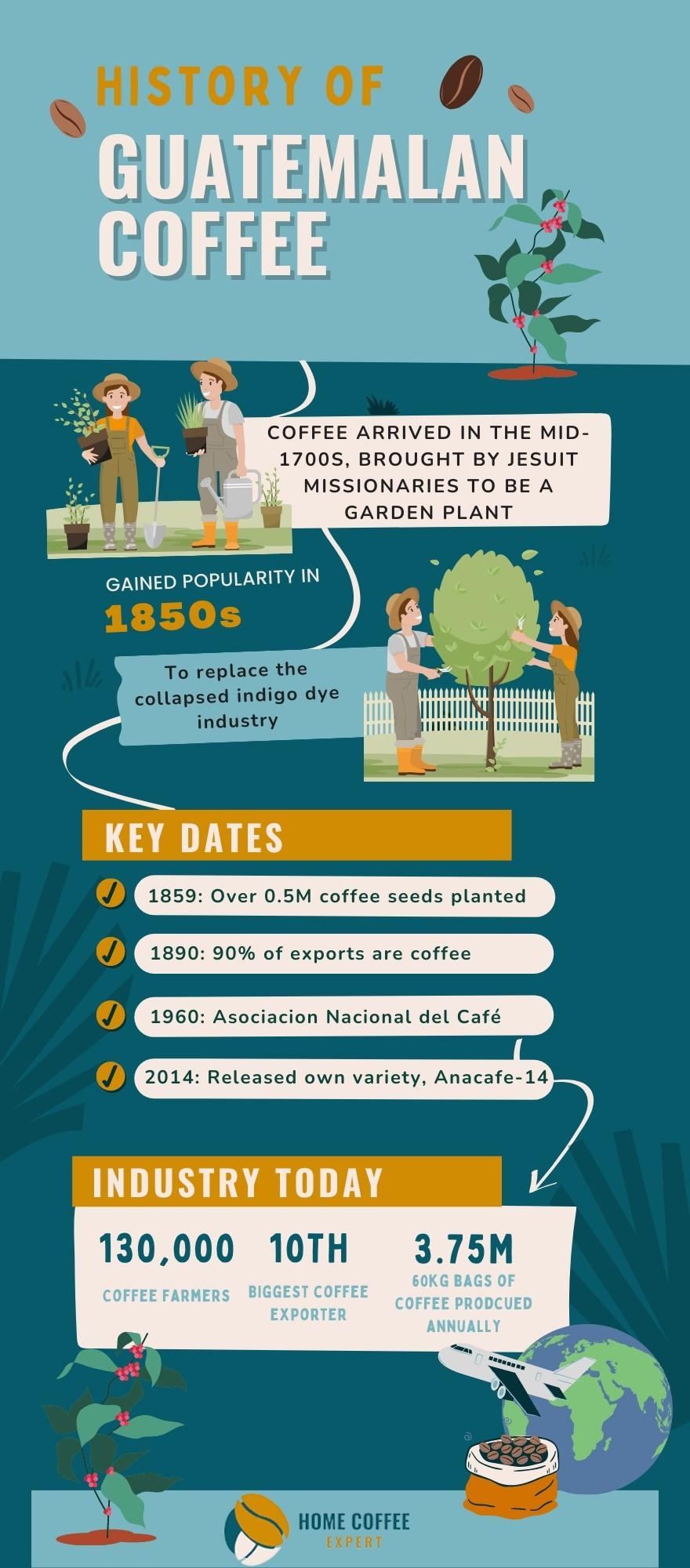 Coffee was brought to Guatemala in the mid-1700s by Jesuit missionaries. In an act of not seeing something's true potential, they brought the coffee trees over to be decorative garden plants.
So coffee didn't start being used as a commercial crop until the mid-1800s.
Before coffee, Guatemala's economy was based on producing dyes. This involved growing huge fields of indigo to be harvested and made into dyes. But, with the arrival of synthetic dyes in the 1850s, this industry collapsed. So a quick solution was needed.
Guatemala's government turned to coffee as a source of income, quickly growing the industry across the country so farmers could support themselves. With an increasing global interest in drinking coffee, this provided the government with something to export and generate revenue.
By 1859 over half a million coffee seeds had been planted, and by 1890, 90% of Guatemalan exports were coffee. People were impressed with the quality and flavor of Guatemala's coffee – they came to expect an enjoyable blend of complex aromas, rich flavors, and bright acidity.
In 1960, coffee farmers across the country formed the Guatemalan National Coffee Association (Asociacion Nacional del Café or ANACAFE) which is now responsible for marketing, research, and providing financial support to coffee farmers in Guatemala. In 2014 they even released their own coffee variety – Anacafe-14 which has high yields of very large coffee beans.
Nowadays it's impossible to walk around the towns of this great country without coming across coffee tree after coffee tree. In fact, there are around 130,000 coffee farmers in Guatemala – a nation of only 17 million people. All of the Guatemalan coffee varietals currently farmed are descended from the Bourbon and Typica varieties that were first brought to Central America all those years ago.
During the Covid-19 pandemic, there was a dip in exports but this is recovering back to pre-pandemic levels.
Around the country, there are over 130,000 coffee farms of which 44% are smallholders. In fact, the average Guatemalan coffee farm size for smallholders is just 1.1 hectares.
Over 96% of the coffee grown in Guatemala is Arabica, with a small amount of Robusta and no Liberica. The most common varietals are Bourbon, Typica, Caturra, Catuai, and Pache. Arabica thrives in the high-altitude regions of Guatemala.
As more people move from the countryside to the cities for better opportunities, the coffee farms are more reliant on seasonal labor for their harvests. There's also a chance some coffee farms around Lake Atitlan and Antigua may be sold to developers as tourism increases in these regions.
With the variety of volcanic and non-volcanic regions, soil types, and elevations, there are a lot of different styles to try. When brewing Guatemalan coffee, it's key to preserve the volatile oils from the beans that produce much of the coffee's signature aromatics.
You Might Also Like
Naming your new furry friend is a tall order. But if you love coffee as much as your pup, get inspired by one of these Coffee Names for Dogs

The Kyoto Latte is an incredible addition to the coffee world from % Arabica's flagship store in Japan. Discover what makes it so special