When you travel, why should you settle for anything less than delicious coffee? Armed with the right travel companions, like the Porlex Mini, you never have to drink sub-par coffee on the go again.
Porlex is a Japanese company that specializes in manual coffee grinders. They make 2 models: the Mini and the Tall. As you might have guessed, the main difference between them is the capacity.
In this Porlex Mini review, discover just how mini it really is.
If AeroPress is your coffee maker of choice, you will love the fact that this manual grinder can fit inside it. Overall, it's a very sturdy option that will survive the rough and tumble of life in a backpack.
But a coffee grinder needs to be good, as well as practical. So, is this the ultimate coffee travel buddy?
We have scoured the internet for all the reviews on the Porlex Mini to collate with our own. This means we have the most comprehensive buying guide you can find. Whilst not all home coffee experts give numerical scores, we have averaged these out. Therefore, you can get a consensus opinion on how good this grinder really is, helping you decide if it's right for you.
Then, if you're still not sure if it's the right fit for you, check out our handy guide for grinder shopping at the end of this article.
This article may contain affiliate/ compensated links. As an Amazon Associate, we earn from qualifying purchases at no additional cost to you. For more information please see our disclaimer here.
Overview of the Porlex Mini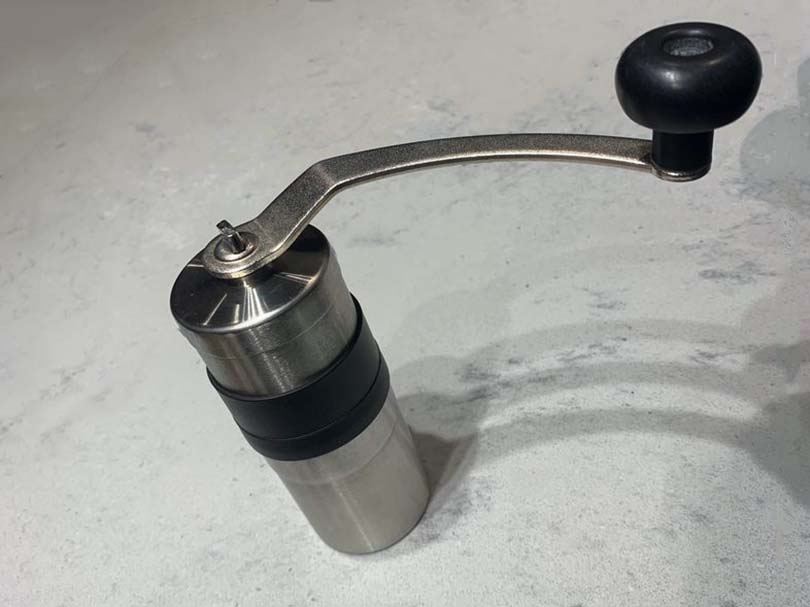 Porlex Mini
The Porlex Mini hand grinder is perfect for travelers who love their coffee.
With a capacity of only 20g of beans, the Porlex Mini lives up to its mini name.
It is, however, super small, lightweight, and sturdy – everything you want from a portable grinder.
The high-quality ceramic conical burrs work well across all grind sizes.
You will struggle to get the precision needed for espresso. But it works a treat for any other brew method.
Plus it's cheap enough that you can have the Porlex just as your "travel grinder".
Pros
Good grind consistency across whole range
Compact size, fits inside an Aeropress
High quality ceramic conical burrs
Very fast grinding
Stainless steel body
Very light, ideal for travel
Cons
Ceramic burrs can chip
Small capacity
Struggles to grind fine enough for espresso
1. Spring Loaded Ceramic Burrs
The ceramic conical burrs are of very high-quality, similar to the kind you find in high-end electric grinders.
They are not only razor-sharp but also reduce heat build-up and are spring-loaded for stability. This combination of top features ensures a very even grind whilst maintaining all the delicious oils from your beans
2. Stainless Steel Body
A sturdy stainless steel exterior makes the Porlex Mini durable enough to be chucked in your backpack and generally bounced about without damaging the grinder mechanism.
3. Weighs only 8oz
If you're going to be carrying a grinder around with you, you don't want it to weigh you down. At only 8oz you'll barely notice the extra weight.
4. Fits Inside the AeroPress
If AeroPress is your preferred brewing method, then this is a brilliant feature:
Your whole coffee setup can be fully self-contained making life easier and less messy, particularly when on the go. Plus it adds an extra layer of protection to your grinder.
5. 20g Bean Capacity
Yes, it is tiny – it's called the Porlex MINI after all. But you can still brew 2 cups of coffee. So, it is not just for the solo coffee drinker.
Simplicity is the name of the game with Porlex.
To use, all you need to do is:
Take the top off
Put your coffee beans in
Replace the top
Then turn the handle until you no longer feel resistance
It really couldn't be easier.
Changing the grind settings is also simple. There is a winged nut that is exposed when the grounds collector is removed. You simply turn it clockwise to get finer grounds and anti-clockwise for coarser grounds.
To help you on your way, it makes a small audible click for each setting. There are no markers to indicate what setting you are currently at, so switching between settings can be a bit of a pain. But it's great if you always want the same grind size.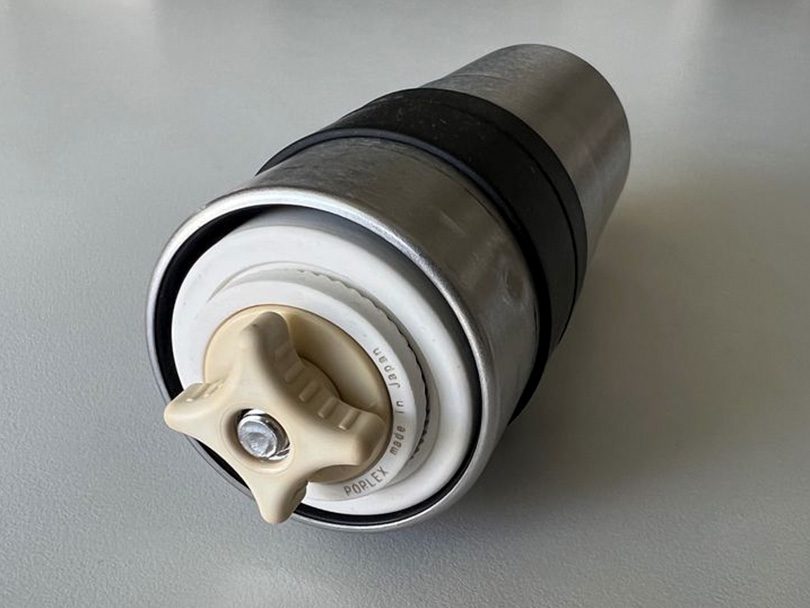 The Mini measures 6″ tall by 2.3″ wide and 1.8″ deep.
Even for a manual grinder, this is very compact. The small size makes it perfect to pop in your bag or inside your AeroPress.
If you're a traveler, the stainless steel body means it will easily survive being thrown around in backpacks or by careless luggage handlers. This is made even easier by the handle holder on the side, preventing knocks and preserving precious space.
Plus the ceramic burrs are of supreme quality, built to last no matter what you throw at it.
The spring-loaded mechanism around the burrs does a superb job at maintaining grind consistency and maintaining stability as you turn the handle.
Sure, the Porlex Mini isn't winning any beauty contests, but it isn't exactly ugly either. It's practical and functional – and that's all I want in a travel grinder.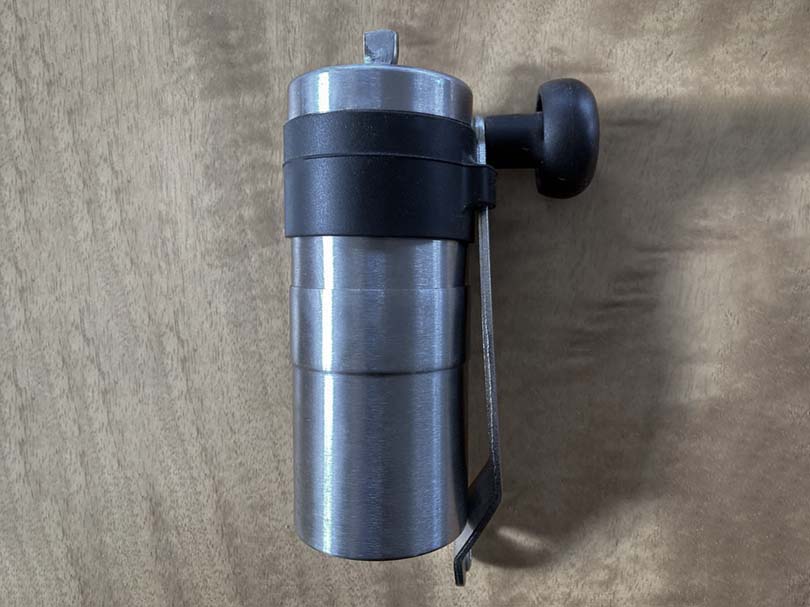 You will start to find a few issues at the very finest and very coarsest settings. These are not big issues, but they aren't ideal either.
If you are looking to dial in a very specific espresso whilst on the road, it may not be accurate enough for that. However, if you're using a Moka pot, pour over, AeroPress, drip, or even French press brewing method, the Porlex will do a fine job for you.
As the burrs are ceramic, you also need to take care not to chip them. This can happen if you're grinding on the go and manage to get a little stone in there or buy low-quality beans which have harder beans than others in the bag. Luckily, replacement burrs are pretty easy to buy for the Porlex Mini.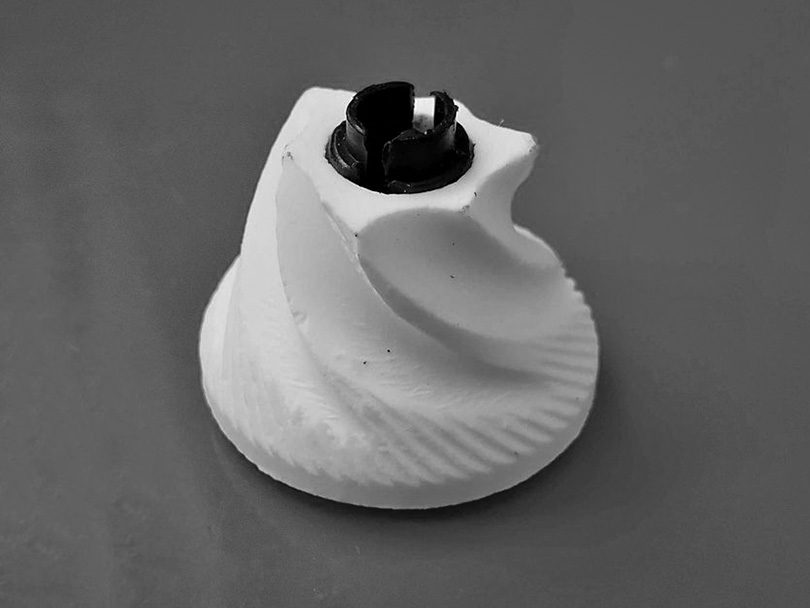 Want a manual grinder but not sold on the Porlex Mini? Check out our top picks for all occasions
Cleaning the Porlex Mini is made very simple thanks to how easy it is to take apart. All that is needed for cleaning is to use a soft brush on the burrs every week or 2, depending on usage. Doing so will ensure your grinder stays in top condition.
Thanks to the simplicity of design, disassembling and reassembling aren't an issue at all. In fact, the whole process should take less than 15 minutes to complete.
Whilst having to take apart and clean your grinder is a pain it is necessary no matter which type of grinder you have. So having the process as simple as possible is the best you can hope for.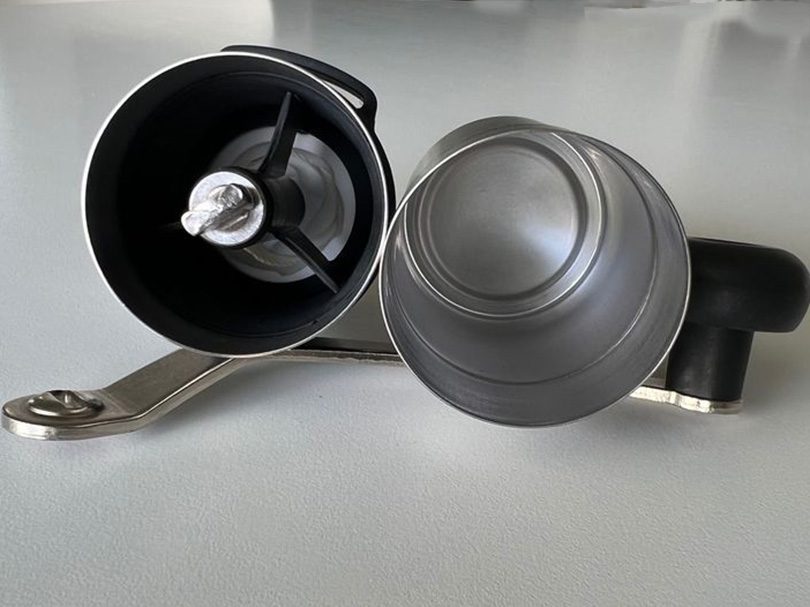 Finding good coffee when on the move can be a nightmare. So, having this little dynamo with you wherever you go is a godsend for any coffee lover.
The spring system keeps the burrs remarkably steady during grinding.
Whilst it isn't ideal if you're an espresso fanatic, it performs well for all other types of coffee makers.
Plus, the budget-friendly price means you can have one just for traveling and a different option for your kitchen.
Don't forget to Buy Your Porlex Mini Today
You Might Also Like
Find the perfect gifts for coffee snobs in your life. From budget-friendly to high-end, there are gift ideas for every coffee lover

The biggest sale of the year is here and we've hunted down the best Black Friday coffee maker deals so you don't have to. Get prepared here!