The name Gaggia has been synonymous with espresso since the 1940s. And, whilst espresso machines have come a long way since then, the compact machines they now make will look right at home in your kitchen.
The Gaggia Anima Prestige is the ultimate machine for ease of use in the entire Gaggia range. It is designed for anyone looking for a caffeine fix without messing around with settings or portafilters.
As far as superautomatic espresso machines go, the Anima Prestige falls at the cheaper end of the scale. But, it's by no means cheap. So, in this Gaggia Anima Prestige Review, we will see how it stacks up against both the cheaper and more expensive competition to work out whether it's worth the price tag.
We have scoured the internet for all the reviews on this bean to cup machine to collate with our own. This means we have the most comprehensive espresso machine review you can find. Whilst not all home coffee experts give numerical scores, we have averaged these out. Therefore, you can get a consensus opinion on how good this offering from Gaggia really is and know for sure if it is right for you.
This article may contain affiliate/ compensated links. As an Amazon Associate, we earn from qualifying purchases at no additional cost to you. For more information please see our disclaimer here.
At a Glance: Gaggia Anima Prestige Review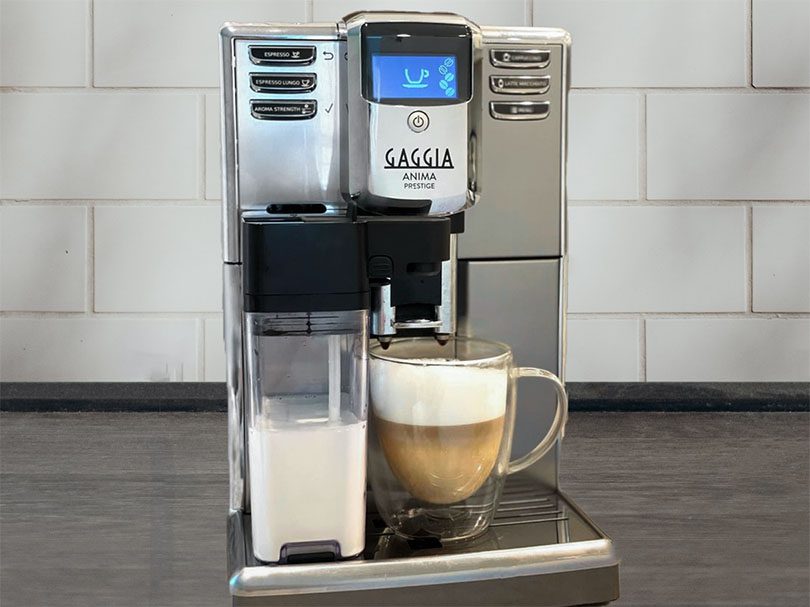 Gaggia Anima Prestige
Owning the Gaggia Anima Prestige will revolutionize your morning coffee routine. Bean to cup machines are made to be "idiot-proof" and you can't get easier to use than this espresso machine.
At just the press of a button, you will get a great quality espresso. Plus, the milk foaming is done to a very high standard too.
Ideally, there would be a few more grinder settings and a little more flexibility over the milk frothing. But these are small points that won't upset most people.
Gaggia's reputation for high build quality and ease of cleaning are massive points in its favor too.
Overall, the Anima Prestige is a good espresso machine for the price. But, keep an eye on prices as you can often pick up its big brother, the Velasca Prestige, for the same price. If you can, this is a fantastic deal for more features.
Pros
LCD screen and buttons make it easy to use
Very good milk frothing
Pulls quality espresso
Timeless design will fit most kitchens
Built-in ceramic grinder is excellent
Cons
Milk container is hard to clean
Aren't as many customization options as competitors
Bean hopper lid doesn't form an air-tight seal
1. Four "One-Touch" Coffee Options
By selecting one of the pre-programmed coffee selections, you will get a top-notch espresso, espresso lungo, cappuccino, or latte macchiato with zero effort.
2. Customize Your Coffee
There are plenty of options to make your coffee just how you like it. Play around with the 3 temperature settings, 5 strength settings, and 5 grind settings for perfectly brewed coffee every time.
3. Removeable Brew Group
Being able to remove the brew group makes deep cleaning an absolute breeze. It's important to keep on top of cleaning this if you want to keep your coffee machine in peak condition for as long as possible.
4. High-Quality Ceramic Grinder
The integrated ceramic conical grinder prevents heat build-up during grinding, keeping all the flavorful oils in your coffee grounds.
It is very simple to select your preferred drink using the 6 buttons on the front of the machine. Plus, you can adjust the strength or water temperature for a more personalized touch if needed. Since many people don't like touchscreens or the overwhelm from too many options, the simplicity of the buttons and LCD display will be a welcome change.
The strength (or aroma) setting is set through a 1-5 coffee bean choice on the screen, with 5 beans being the strongest. I usually set it to 5 beans, I use almost all espresso machines on the strongest setting. But levels 3-5 all produce good espresso.
Then, the temperature choice comes with 3 options – min. (177.5ºF), med. (182.9ºF) or max. (184.5ºF). We can almost hear the outcry of espresso buffs as this is lower than what is deemed "optimal" for espresso brewing (195-205ºF is usually seen as the best). But the Gaggia Anima Prestige brews an excellent espresso so we're not complaining. Though we'd caveat this with "only on the highest setting."
If you want to alter the volume of coffee you simply hold down the espresso button until "MEMO" flashes on the screen. Then push the "OK" button once you have the ideal amount of coffee and it will save this amount for future use.
If you want to get very precise with this, you can put your waiting cup on a scale to measure the perfect weight of espresso you want. This is what we do but we are aware this is slightly more involved than most people want to be with their automatic espresso machine.
The simplicity really is a big selling point. If you're looking for a "push button and go" type machine but want the quality of using fresh beans, then this is a very good super automatic coffee machine.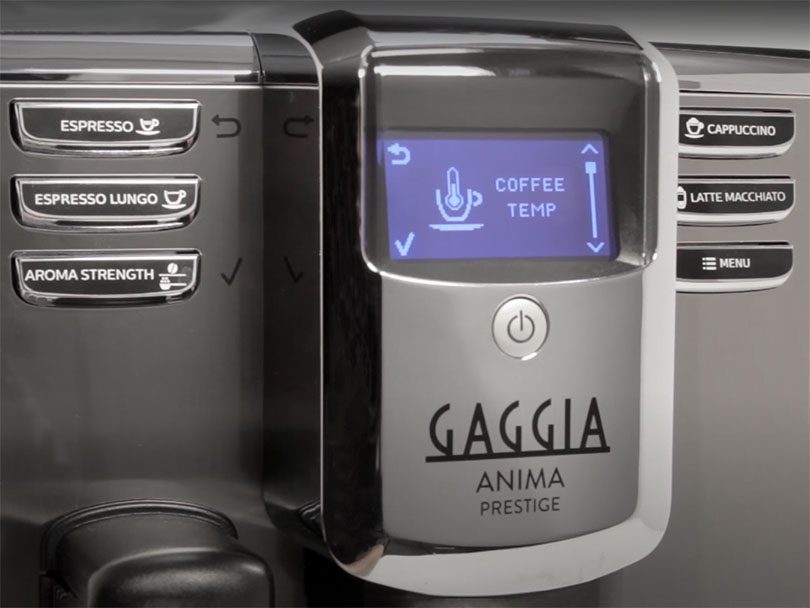 The main draw of a super-automatic espresso machine is the convenience of a pod machine like K-Cup or Nespresso but with the ability to use fresh whole coffee beans for higher quality espresso.
The ceramic grinder on the Anima Prestige is very good at minimizing heat build-up and, therefore, retaining the oils that give so much flavor. It's also fast, quiet, and very durable. Ceramic grinders stay sharper for longer than stainless steel ones.
The only risk is that something harder than a coffee bean gets into the grinder and chips it.
Like many of these machines, there is a bypass chute for pre-ground coffee. This might seem a bit daft when you have an excellent grinder for fresh coffee beans. But the occasional decaf or flavored coffee, possibly for a guest, is a nice feature to have available even if you almost never use it.
To get the most out of your shiney new espresso machine, you need the best beans
Check out the top choices from experts throughout the coffee industry:
The Looks
The stainless steel front of the Gaggia Anima Prestige makes it a great-looking machine, although most of the casing is plastic.
Visually, this espresso machine feels a little like a vending machine thanks to the LCD screen which is flanked by 3 buttons on either side. Not necessarily a bad thing. Plus, the detachable milk container means your machine's great looks aren't obscured when not in use.
It's also fairly narrow for this type of coffee machine – there's a decent amount of machinery inside so they always have to be quite big. At 16.9″ high by 8.7″ wide and 13.3″ deep, it'll fit onto your counter with no issues. However, both the water reservoir and bean hopper load from the top so you won't want to try and fit it underneath any cabinets.
There are a lot of people who prefer buttons to touch screens and they do add to the ease with which the machine is used. Plus, Gaggia has styled them nicely to feel sleek rather than like a 90s printer.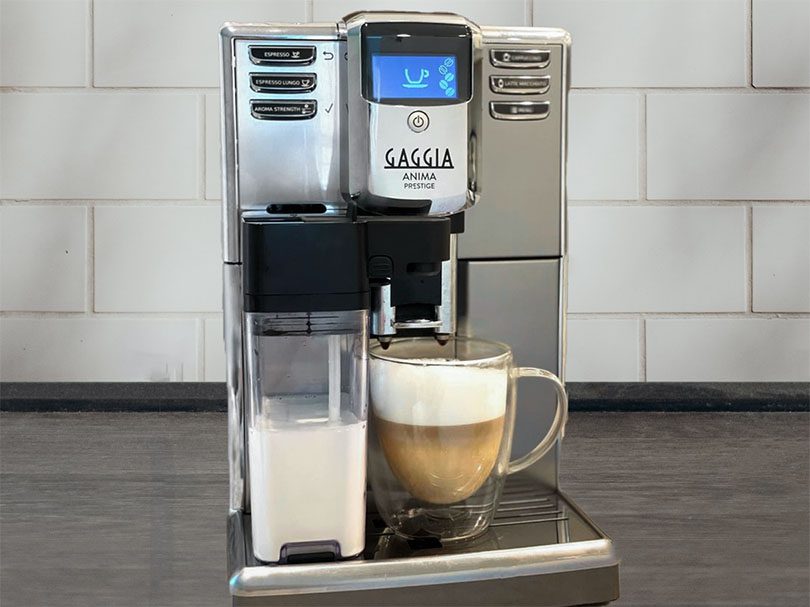 The Build
As a company, Gaggia is known for making high-quality espresso machines. All their coffee machines are still made in their factory outside Milan, Italy.
Despite most of the body being plastic, it is very sturdy and nothing about the machine feels liable to break under normal usage. That said, the seal on the bean hopper's lid could be better. This is frustrating, particularly for this price, as you might lose freshness in your coffee beans if you fill the full 8.8oz capacity but don't drink coffee all that quickly.
The removable brew group is excellent for cleaning. This is an essential part of espresso machine maintenance if you want to continue to brew top-quality coffee for years to come. And you only have to clean the brew group every month or so.
The only slight concern about this machine is the ceramic grinder. As long as you never end up with anything other than coffee beans in there it will last you perfectly fine for many years. But they are more brittle than stainless steel coffee grinders. So if there is something in your coffee beans harder than a regular bean then you can chip it. This is very unlikely to happen and isn't a reason to look for a super-automatic with a stainless steel grinder, which goes blunt over time, but it is something to remember.
Having just a single boiler is frustrating but the norm at this price. Whilst the time taken to switch from coffee to milk is pretty small (around 15 seconds), if you're brewing a few milky drinks in a row it may get a bit frustrating. Dual boiler systems are much better but you may have to pay quite a bit more to get a super-automatic like the Breville Oracle Touch that has one.
When testing espresso quality, we opt for the finest grind and the strongest aroma setting. Set like this, the Anima Prestige pulls a full-bodied, aromatic espresso with excellent crema.
The standard settings, however, are a little weak. But this is a common issue across all super-automatic coffee machines. And you still have a decent number of settings that produce good espresso.
Despite having 3 temperature settings, it doesn't go as hot as what many would consider the "optimal" espresso brewing temperature. But the quality of the shot is excellent so it isn't something to overly worry about. That said, the lower 2 settings are fairly useless in our opinion.
There are good customization options that allow you to flexibly tinker with enough variables to get the best out of your favorite beans, no matter your coffee style preference.
The milk foaming capabilities are also top-notch for anyone who enjoys a cappuccino or latte. A good stiff microfoam, not far off the professional barista level, is produced at the touch of a button.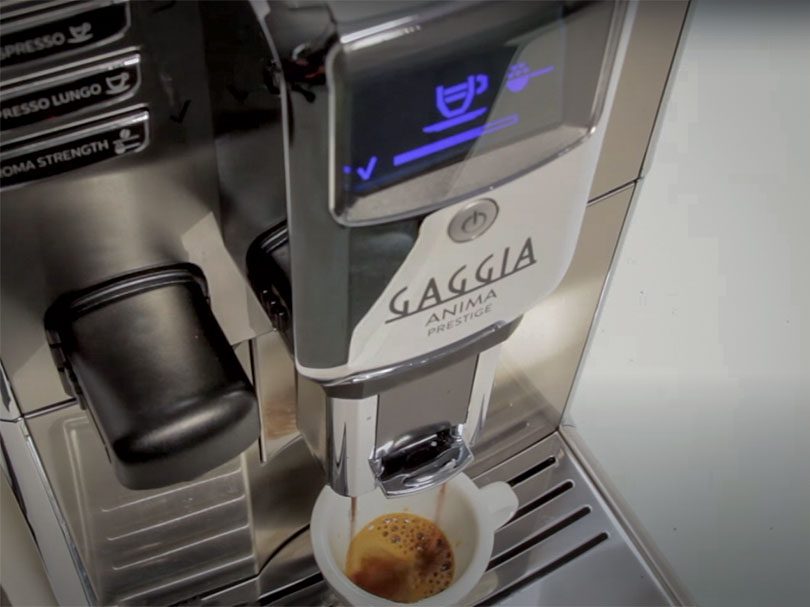 As far as bean-to-cup coffee machines go, the bells and whistles on the Gaggia Anima Prestige are fairly limited:
You have control over customizing the strength, volume, and temperature, plus the grinder has 5 settings. But that's about it.
Having an automatic milk frother isn't standard at this price point but there really isn't much customization on it. Thankfully it's excellent on default settings so you don't have to worry too much.
For an espresso machine with the functionality Gaggia has packed in, it is at the lower end of the price range. But, as a result, you don't get as many toys to play with. But it is cheaper than a lot of the other machines that have this many functions.
The milk carafe can be disassembled into 3 parts and thoroughly rinsed. It's best to do this every couple of days to ensure your milk is always fresh and there is no build-up of anything nasty in there.
The grounds tray will need to be emptied every day. But, again, this will take all of 2 minutes to do and really isn't much of a chore.
Not all super-automatics have a removable brew group so this is a big plus for the Anima Prestige. By taking it out you can give it a rinse which will help keep your machine in peak condition for longer. It's not as easy to remove as some competitor machines, but it's not difficult either.
Just be very careful when you put it back in as if you get it slightly wrong your machine will jam.
The other benefit of the brew group being removable is that you can buy a replacement if something goes wrong with it in a few years' time. While they aren't cheap, it's a lot cheaper than buying an entirely new machine.
The water filters for the Gaggia Anima Prestige will help keep descaling to a minimum. They come with 3 different settings depending on whether you have soft, medium, or hard water. So make sure you have it set up for your type of water and you'll rarely have to descale your machine. Maybe twice a year and it takes around 30 minutes to do.
Not sold on the Gaggia Anima Prestige?
Compare it to the best super automatic machines currently available
Gaggia Anima Prestige vs Saeco PicoBaristo
The Saeco PicoBaristo is slightly more expensive than the Anima Prestige. But not so much more expensive that you wouldn't compare them side-by-side.
In terms of flexibility to customize your coffee drinks, the Saeco PicoBaristo offers a fair bit more, including milk customization that you don't get on the Anima Prestige. The grinder also has 10 settings vs the 5 on the Gaggia Anima Prestige so it's already edging to the top of the list.
However, the Anima Prestige is easier to use, partly due to less customizable settings.
But when it comes to what matters most – the coffee quality – you'll get an excellent cup from both machines.
As with all things Super-Automatic, it comes down to the level of customization you want. If you're looking to tweak things as much as possible, including milk foam, then it's worth spending a couple of hundred dollars more to get the extra functionality of the PicoBaristo.
On the other hand, if you mainly drink espresso or black coffee and will probably leave all the settings once it's set up, then the Gaggia Anima Prestige will work perfectly for you. In all likelihood, you wouldn't even notice the benefit of spending more on the Saeco PicoBaristo.
Read Next: Saeco PicoBaristo Review
Gaggia Velasca Prestige vs Anima Prestige
The Velasca Prestige is a step up from the Anima Prestige in terms of functionality. You get more grinder settings, more coffee settings, and the same great-quality cup of coffee.
It all depends on what price you can find these machines for. Sometimes they'll be about the same price, in which case the Velasca Prestige is the better Gaggia machine as you're getting quite a bit more for your money.  
However, you may find the Velasca Prestige is a few hundred dollars more than the Anima Prestige. At this price, we don't feel it's really worth the extra money for not a huge amount more in terms of customization. Unless, of course, you feel you won't get the style of coffee you want from the Anima Prestige.
We're tramping down the same "how much do you want to fiddle with your coffee vs cost" road that we do on almost every coffee machine comparison. But, since that's what pretty much all these machines boil down to in the end, we'll just keep saying it.
With this super automatic coffee machine in your kitchen, you will be able to brew excellent espresso or make a top-notch cappuccino or latte at the touch of a button. The lack of milk customization might be a frustration for some people but the milk it does produce is excellent. So if you're not that picky about it, you'll be fine.
Ideally, it would be great to see more grinder settings – 5 seems a bit meager. And we'd like all the temperature settings to be useful. But, again, it doesn't really impact the espresso quality you can still brew a rich, full-bodied shot of coffee.
You're spending a good amount of money on this machine. But if ease of use is what you're looking for above anything else, then it's a really good buy.
It's also very narrow and the design is great, so those with less counter space can rejoice as you won't have a sci-fi spaceship taking up half your kitchen.
If you take just one thing from this Gaggia Anima Prestige review, let it be this: Always check the price. Whilst this is a great bean-to-cup machine, if you can get the Velasca Prestige at the same price then snap it up. The Velasca will give you more flexibility, even if you don't think you'll need it.
Don't forget to Buy Your Gaggia Anima Prestige Today
You Might Also Like
Beautiful, simple, and delicious espresso for around $1000? We had to test if such a thing was possible – read our Jura ENA 4 review to see

Jura ENA 8 vs Gaggia Babila is a battle of philosophies. Is the convenience of the ENA 8 superior to the precision of the Babila?