The world of super-automatic espresso machines is probably the most confusing of all coffee products. The features and jargon levels are turned up to 11, everything seems to be a copyrighted or abbreviated technology, and every company claims its patented system will unlock the magic from your coffee beans.
This Saeco PicoBaristo review aims to make it simple for you.
This machine falls in the mid-range of the super-automatic coffee machine market and the Saeco range. It's designed to strike the balance between options and functionality without straying into the eye-watering prices of the top-of-the-range machines.
Here you'll find our complete Saeco espresso machine review and buying guide. We've scoured the internet for all the reviews to collate with our own, meaning we have the most comprehensive espresso machine review you can find. Whilst not all home coffee experts give numerical scores, we have averaged these out. So, you can get a consensus opinion on whether it's the best automatic espresso machine out there.
This article may contain affiliate/ compensated links. As an Amazon Associate, we earn from qualifying purchases at no additional cost to you. For more information please see our disclaimer here.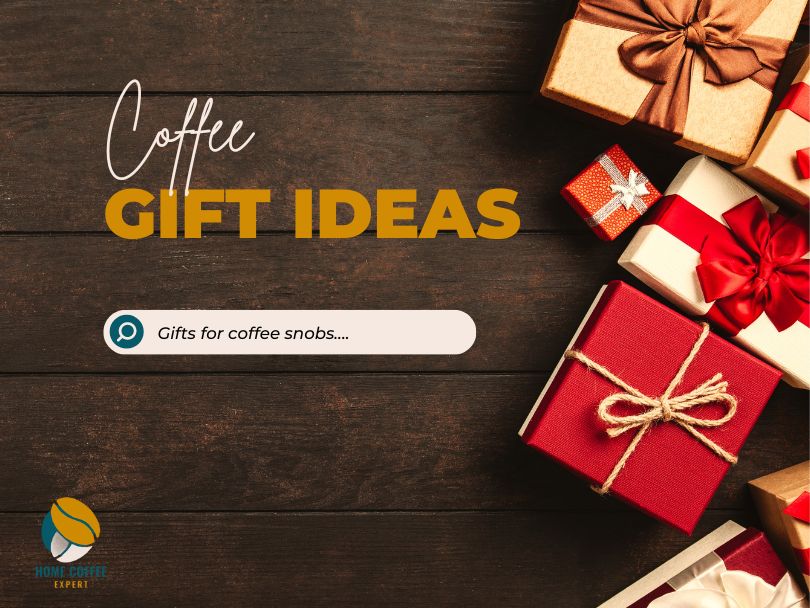 The holidays are coming. Which means stressing over the perfect gift is here too.
But stress no more. We've put together a list of all the best coffee gifts to please even the most discerning of coffee lovers in your life.
Check out our guide if they're on your 'nice' list. Or maybe be 'naughty' and buy something for yourself!
At a Glance: Saeco PicoBaristo Review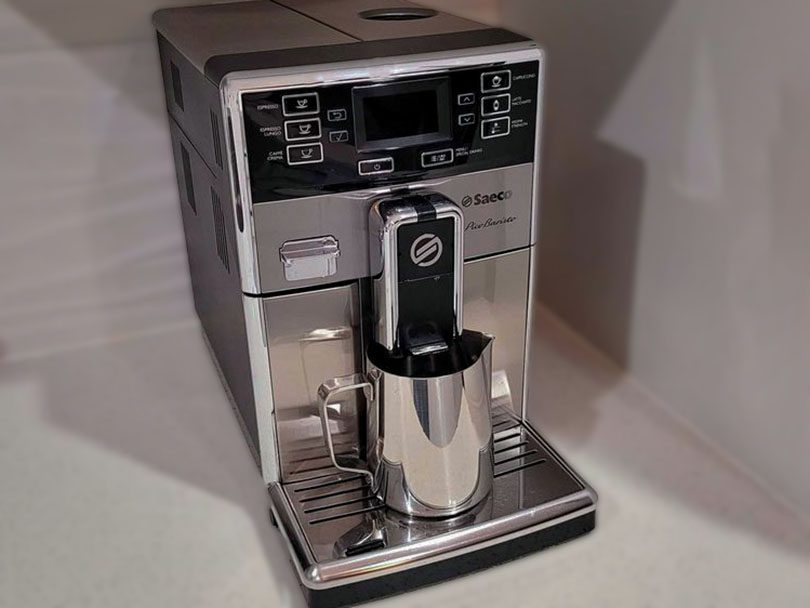 Saeco PicoBaristo
Overall, the Saeco PicoBaristo is a very good espresso machine.
With a few tweaks from the standard settings, you'll get a rich, full-bodied espresso. And the milk foamer makes quality foam for your milkier beverages.
There's just a few small niggles: You can't set different user profiles, the ristretto option is essentially pointless, and it isn't the best-looking machine in the world. And, when you're spending this much money, the small things matter a little bit more.
That said, the ease of cleaning, build quality, and longevity are big plus points for this Saeco coffee machine. And, it's a great super-automatic that most people would be very happy to have on display in their kitchen.
Pros
Looks great
Compact design
Very easy to use
Simple to clean and maintain
Plenty of adjustable bereage settings
High quality grinder is quiet
Large bean hopper and water tank capacity
Cons
Water can get into the milk frothing system
Water filter can negatively affect coffee flavor
No user profiles for storing different coffee drinks
1. 11 Different Coffee Drink Options Pre-Programmed
Whether you're looking for espresso or ristretto, flat white or latte, the PicoBaristo has everyone's favorite order covered. At just the touch of a button, you can choose between 11 different coffee drinks.
2. Ceramic Burr Grinder
The high-quality, adjustable ceramic burr grinder is superb, comparable to some of the best burr coffee grinders out there. It ensures all the flavor is preserved in your beans whilst they are ground. It does this by eliminating heat build-up during grinding.
3. Aqua Clean Filter
The proprietary AquaClean water filter for Saeco and Philips coffee machines removes minerals from your water so you can make 5,000 cups of coffee before you need to descale.
4. Removeable Brewing Group
With just one click you can remove the brewing group. This makes deep cleaning a breeze, ensuring you get a delicious, satisfying coffee cup every time.
5. Customizable Coffee Options
If you want to stray away from the common coffee drinks or have them more personalized, you can choose the strength, length, and temperature of your drink to get your perfect coffee. Then, if you want to save your coffee settings for next time, simply press the "memo" button.
There are simple one-touch button controls for each of the 11 pre-programmed coffee drinks. Plus, easy adjustments for the strength of the coffee brewed and the amount of water you want to use. So, even if every member of your family has different coffee preferences, you can all enjoy a perfect cup of joe.
The "standard" setting for espresso uses far too much water for us. But it's easy enough to reduce this. The minimum amount is 20ml, just less than 1oz which means the "ristretto" isn't really a ristretto. But unless you are a connoisseur of such things it won't bother you.
The milk frother is equally simple to use and comes with temperature settings. The default is about as hot as you can foam milk without burning it. A common complaint of super-automatic espresso machines is that the milk for lattes isn't hot enough. But there are no such issues here and you may well find yourself turning the temperature down a bit.
To adjust the grinder there is an easy-to-use knob inside the bean hopper with 10, clearly marked, selections available. It would be nice if this could be adjusted from the menu too but you have to pay 3 times as much for a coffee machine if you want that kind of feature. Plus, it's really not difficult or time-consuming, we are just being picky.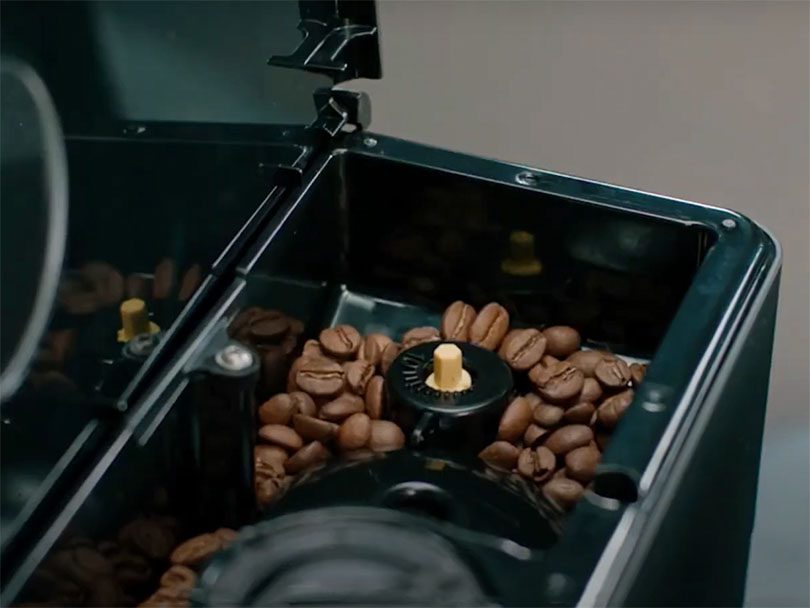 But what if you have a guest who would like a decaf coffee? Or maybe you want a flavored coffee later in the day but don't want to swap the beans out. Well, with the ground coffee option, you can have a few coffee options in the cupboard pre-ground and ready to use when you need to.
From a quality perspective, it seems odd to be able to use freshly ground whole beans (always better) and pre-ground but it's actually a very helpful feature. So it makes sense why most automatic coffee machines have it.
The best espresso starts with the best espresso beans.
check out the top choices from experts throughout the coffee industry
The Looks
The Saeco PicoBaristo is 8.7″ by 13.4″ by 16.9″ which is fairly compact for the super-automatic espresso market. After all, you need space for all the customizable stuff inside.
You can choose from 4 versions with either colored plastic or stainless steel bodies. Just be careful as the Saeco PicoBaristo HD8924/01 doesn't have a built-in milk carafe.
Regardless of your preference, the look is as you would expect – slightly blocky, accessible buttons and LCD display with recognizable light-up symbols. It's not winning any design awards but it's certainly not bad to look at either.
The combination of buttons and LCD display makes using the Saeco PicoBaristo very straightforward. Adjusting the strength and temperature is intuitive. To change the volume of water used, simply hold the button down and then release when the correct amount has poured through. The PicoBaristo will then save this quantity for next time.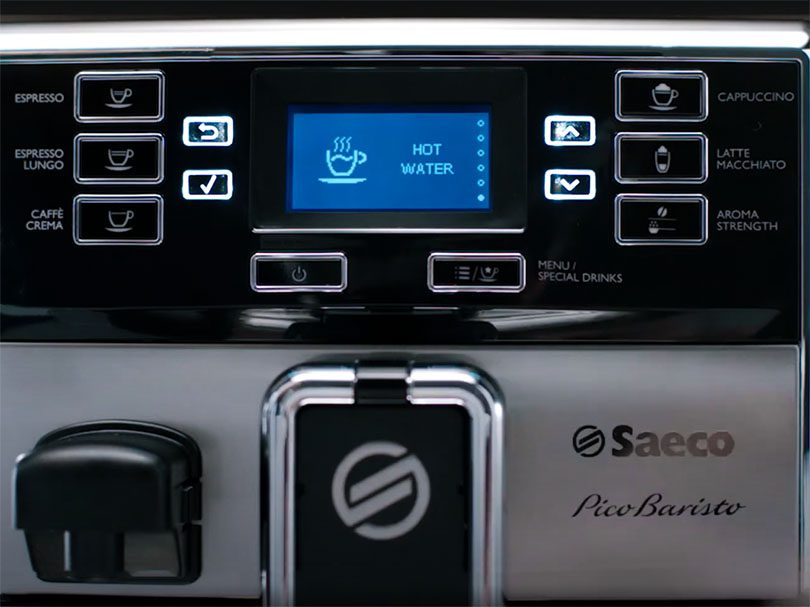 The Build
Saeco is owned by Philips. Whilst they're not known in the coffee space, they are a top-quality manufacturer with a superb reputation for quality products.
The PicoBaristo coffee machine feels incredibly well made and built to last. They claim that, if looked after properly, the ceramic grinder will last 20,000 coffees. So, if you make 5 coffees a day, every day, you'll need to buy a new grinder in just under 11 years!
The easily refillable water tank is 60oz. The only downside to a large water tank is that you may need to empty and refill it every couple of days if you don't drink much coffee. This ensures that your water is always fresh.
The bean hopper holds 0.5lb of coffee beans too. So, topping up your favorite coffee beans should be a fairly rare task, especially as the bean hopper is nicely sealed to preserve your beans' freshness.
Saeco should also get some credit for the spout height being 6.4 inches above the drip tray. Many of the best super-automatic machines have quite low coffee spouts, presumably expecting you to drink from those tiny fashionable coffee cups. But the higher spout means you'll easily fit a normal mug under there.
The milk container is just under 1 pint (500ml), which is kind of annoying. But most of the world uses metric measurements so I guess we have to just deal with it. As an added bonus, it is detachable so it can be placed into the fridge, preventing wastage.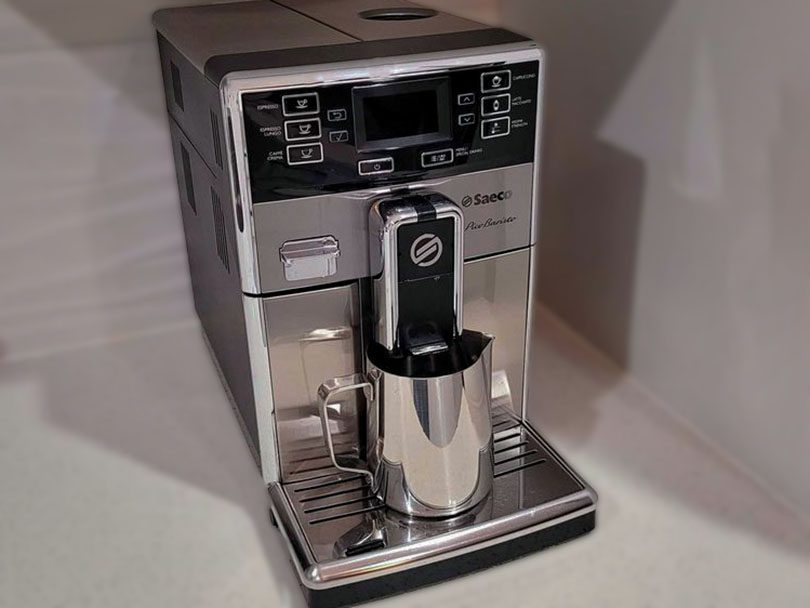 So to get the best tasting, full-bodied espresso you need to turn the grinder up to its finest setting, push the strength up to max (5 coffee beans on the screen), and pull through the correct amount of water (1oz). Et voila.
Whilst this is excellent news, the downside of this is that the minimum volume of water you can use is just shy of 1oz. So if you're a ristretto fan, you can't get actual ristretto from this machine. But you can get really excellent espresso.
By default, the milk comes out right at the upper limit of acceptable milk-steaming temperatures. But never higher than that. Some of the other best espresso machines suffer from underheated milk and lukewarm lattes but that is definitely not an issue for the Saeco. You may want to turn down the temperature instead.
The one question we have is with the fancy water filtration method:
Not having to descale your machine is brilliant. However, it removes the minerals, like calcium, that help with extracting great flavor from the coffee beans. So we do wonder if the coffee would be even better if they weren't filtering all this goodness out of the water too.
Now, maybe this is a bit over the top. But if you use distilled water instead of mineral water or tap water, depending on where you are, you'll soon see the massive difference it makes to your coffee quality. Just something to consider.
You will find other coffee machines with more options for temperature and many more settings on the grinder. However, they will also be considerably more expensive so you need to find that sweet spot between budget and what you need.
The big downside to the Saeco PicoBaristo super automatic espresso machine is the lack of different profiles for saving coffee settings. When you've programmed in your coffee, just how you like it, it's a simple one-touch button next time. But, if anyone else changes it, you'll have to go through the process again.
Now, this is really only irritating with water volume. But if a lot of people are going to be using the machine it's definitely something to consider.
The milk frother also automatically rinses after use which helps keep on top of the most time-critical part of cleaning (nobody wants off milk).
Then, thanks to the water filtration, descaling is a 'once every couple of years' job. And both the grinder and brewing group are easily accessed for the occasional deep clean.
Considering all the pieces involved, it's about as easy as it can possibly be to keep your coffee machine in top shape.
Many coffee machines claim to self-clean the brewing group. But we are slightly skeptical of these claims. Instead, we would rather know we can get at it to give it a good deep clean once a month or so to keep the espresso quality in peak form.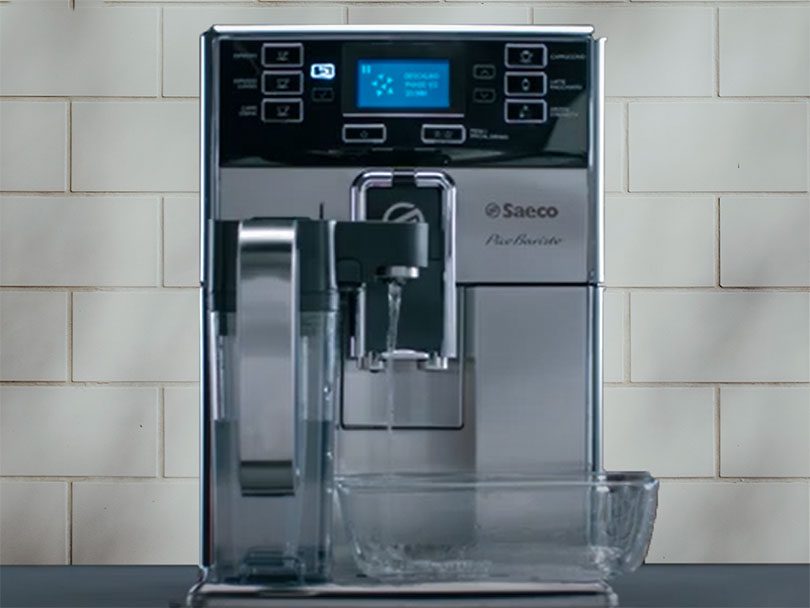 Do you want a super-automatic espresso machine but aren't convinced by the PicoBaristo?
Check out our picks for the best super-automatic espresso machines
I'd want to have the option for different user-profiles and there is the question of whether purifying the water too much negatively affects your coffee. Maybe that is being too picky for a machine at this price point that only needs to descaled every couple of years. But it's expensive, so you want it to be just right.
Realistically, you'll probably never taste the difference in the coffee. And if it's only a few people using it then the profile thing shouldn't ever bother you.
So, it's worth celebrating a machine that can be customized so easily, creating quality coffee all whilst needing minimal maintenance. It will likely last you at least 10 years before ever needing to be replaced – a rarity these days. So, it's an overall thumbs up for the Saeco PicoBaristo review – will it be your next choice?
Don't forget to Buy Your Saeco PicoBaristo Automatic Espresso Machine Today
You Might Also Like
If you're a dedicated home barista looking to manually pull espresso shots without it costing a fortune, this Flair Classic review is for you

Traveling a lot gave us the perfect chance to do an in-depth Wacaco Picopresso review. A spectacular portable espresso maker for coffee lovers