The focus these days is on fancy espresso machines, Keurigs, AeroPress and pour-over. But what about those who just want a small pot of awesome coffee? You are not forgotten.
We've hunted down the best 4 cup coffee maker so you don't have to. Being compact and easy to use was the order of the day, a machine that is ideal for 1 or 2 people to get their caffeine fix.
Searching for your perfect coffee buddy? We've done all the hard work so you can get on with the important stuff. Check out our 4 cup coffee maker reviews to find your ideal coffee buddy.
This article may contain affiliate/ compensated links. As an Amazon Associate, we earn from qualifying purchases at no additional cost to you. For more information please see our disclaimer here.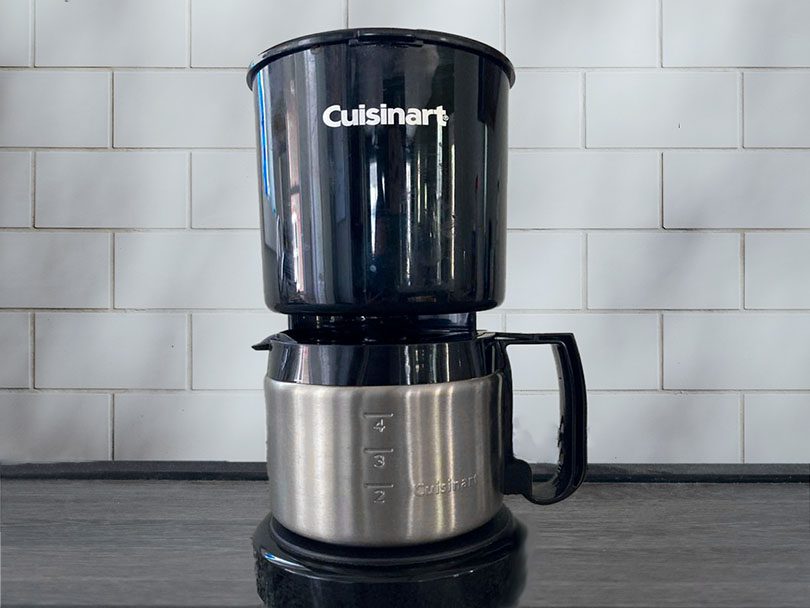 | Image | Product | Coffee Style | Cost ($$$$$) | |
| --- | --- | --- | --- | --- |
| | Cuisinart DCC-450BK | Drip Coffee | $$ | |
| | Braun BrewSense | Drip Coffee | $$$$$ | |
| | Bodum French Press | French Press | $$ | |
| | Cosori Pour Over | Pour Over | $ | |
| | Capresso 303.01 | Espresso | $$$$ | |
1. Cuisinart DCC-450BK 4 Cup Coffee Maker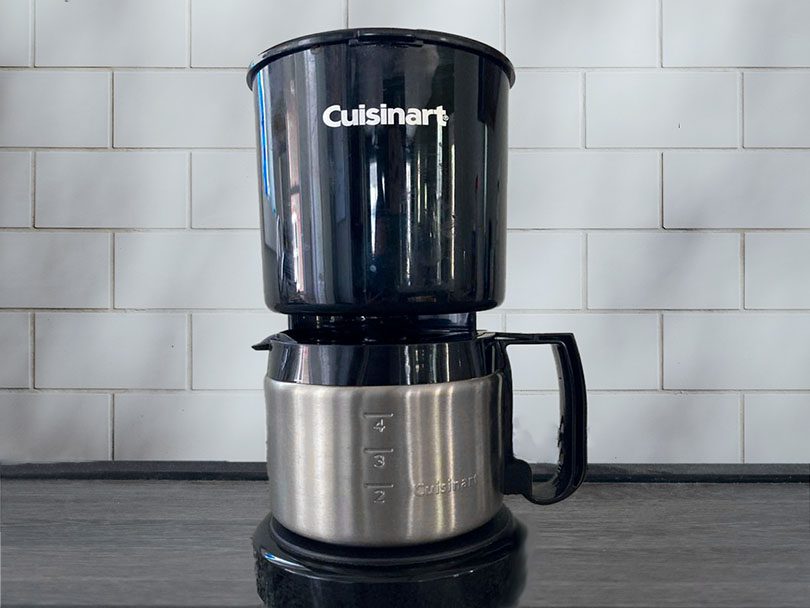 Pros
Compact
Brews a bold cup
No-drip spout
Very simple to use
Great value for money
Cons
No programmability
Not the best looking
Needs paper filters
Intersecting all avenues of quality, convenience, size, build quality, and functionality we have the Cuisinart DCC-450BK 4 cup coffee maker. Although failings of imagination appear to be endemic to naming coffee machines, the Cuisinart does everything we'd want from a small coffee maker and does them well. We feel this makes it the best 4 cup coffee maker available currently.
The stainless steel carafe may be less aesthetically pleasing, but sturdier than glass for those of us who occasionally drop things. The pause button works really nicely for pre-infusion of the grounds and it's such a compact machine that even the smallest kitchens should have space on the counter. The Cuisinart 4 cup coffee maker uses paper filters, though not hard to find or expensive, this is worth noting.
In terms of the bad stuff, it doesn't look amazing and it doesn't really have any functionality, though the 30-minute auto-shutoff is really useful.
But it is also around $40 and brews a good cup of coffee very easily. I'd rather have a permanent filter too but honestly, for $40, for how compact it is, its durability, and the quality of the brew, it's the best option overall.
2. Braun BrewSense Drip Coffee Maker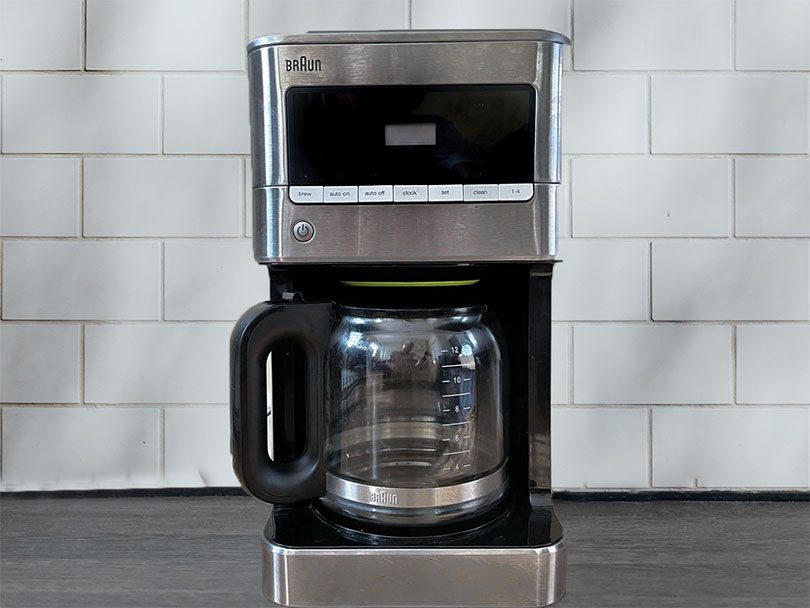 Pros
Brew 1-4 cups, or 12 cup pot
Auto-off function
Delay timer for coffee whne you wake up
Premium design
Vacuum locked carafe for better flavor
OK so technically this is a 12 cup coffee machine. However, one of its main features is that you can set it to brew just 1-4 cups if you prefer.
So you're getting the best of both worlds: 4 cup brewing for your everyday coffee needs, plus a big pot for when you have guests. This does mean it is more expensive than coffee makers that have a maximum capacity of 4 cups, but the Braun KF6050WH Brewsense has some great features that really set it apart from the competition.
As well as the 1-4 cup function, you can pause to grab a cup before it's finished brewing, time delay for those who want coffee ready and waiting for them in the morning and a "gold-tone" filter so no fussing with paper ones. There is also a cleaning function that can be adjusted depending on the hardness of your water. Oh, and the water is filtered through a charcoal filter for purity too.
This level of functionality isn't found on most 4- cup coffee makers, not surprising as this is technically a 12 cup coffee machine. But if you want the 4 cup size with the 12 cup options then this is the one for you.
The Braun KF6050WH Brewsense is a quality coffee maker with some really great features. A really good all-around coffee maker for under $100.
3. Bodum 4 Cup French Press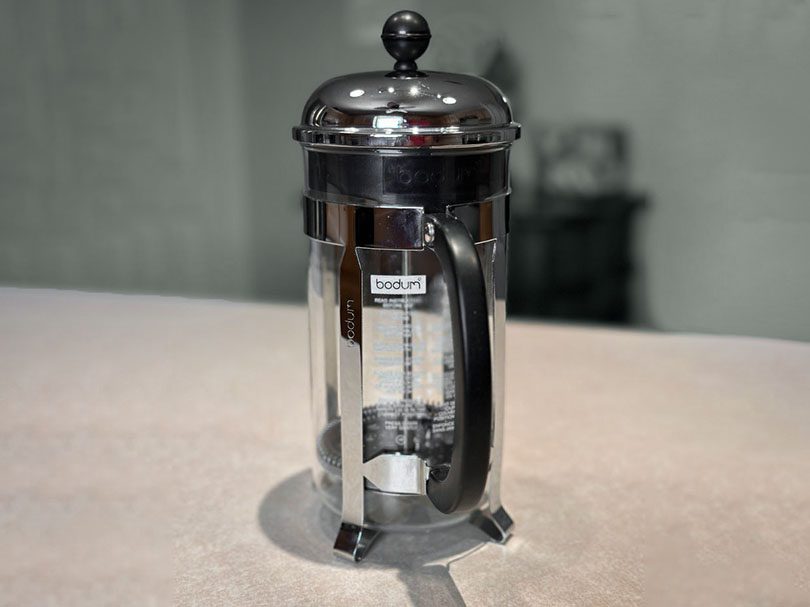 Pros
Very cheap
Easy to use
Full-flavored brew
Produces great coffee
Can brew cold brew
Cons
Labor intensive
Leaves fine sediment in coffee
When it comes to multi-cup coffee makers, simpler is sometimes better. Bodum has been making French presses nearly since the modern iteration of the French press was designed. The classic carafe and plunger design deliver rich, full-bodied coffee with all those delicious oils from your French press coffee beans adding extra punch to the brew.
The downside is you need to do everything yourself, measure the coffee, heat the water, time the extraction, and plunge when ready. This isn't much of a chore, in reality, we even have a handy French press ratio calculator you can use to get it just right. But if it's convenience you're after then this is not the 4 cup coffee maker for you. If it's a quality brew with all the flavor of the special beans you've bought you're after, then this is a great option.
You can also use your French press for cold brew if you're a fan of cold-brewed coffee on a warm day.
So it doesn't keep your coffee warm, you can't have 1 cup before it's finished and you can't put it on a timer to have it ready and waiting for you.
But the Bodum 4 cup French press can produce better coffee than any drip coffee maker, it can be customized to make exactly what you like and it's really cheap. I've used the French press for years as I love the coffee and trying out new beans all the time. Now a good coffee grinder like the 1Zpresso J Max (full review here) really makes a difference here but you don't have to.
As a budget way to make your morning brew, the French press is king.
Psst.. Want to learn everything there is to know about French press coffee brewing? If so, check out our Complete Guide:
4. Cosori Pour Over Coffee Maker
Pros
Can brew amazing coffee
Dishwasher safe
Reusable filter
Can brew up to 34oz of coffee
Cons
Needs practice
Requires a grinder for best results
Another different style of brewing that produces an entirely different style of coffee again.
You may have heard coffee nerds talking about "pour over" or maybe seen it on the menu at your favorite coffee place, or it may be your go-to cup of joe on your way to work. It's basically the same as drip coffee, except you control everything and the extraction is much faster. By doing this you can get a much lighter-bodied coffee that is bursting with aromatics and flavor.
The Cosori pour over coffee maker is dishwasher safe for easy cleanup. Plus the double filter allows those awesome essential oils into the brew but not any sediment as you'd get with a French press.
Pour over takes a bit of practice to get right, but there are loads of videos on YouTube explaining how to do it and it's not complex. To get the most out of this you really need to be freshly grinding your beans, the good news is you can get the Cosori pour over plus a quality budget grinder like the JavaPresse manual for under $70 total. A top-class coffee experience on a budget.
5. Capresso 303.01 4 Cup Espresso/Cappuccino Machine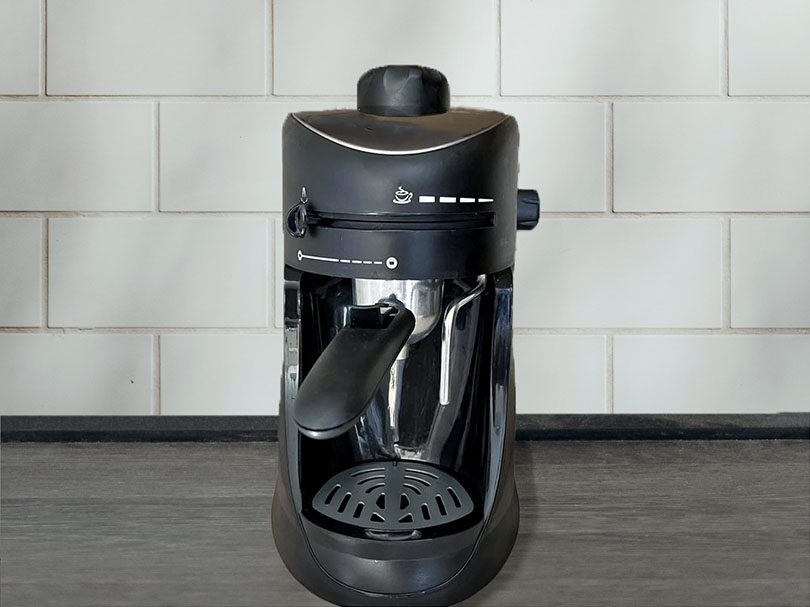 Pros
Easy to use
Quickly brews full-bodied espresso
Milk frother works well
Very cheap for an espresso machine
Cons
Steam can burn the coffee grounds
Produces A LOT of steam
Only good for one style of drink
Next on our list of best 4 cup coffee makers is a slight change to the regular drip machines. The Capresso 303.01 is a steam-powered espresso machine that produces enough espresso for 2 mugs of cappuccino/latte and is defined as a "4 cup coffee maker" so here we are.
Now steam-powered espresso machines have one big thing going for them, they're much cheaper than pump espresso machines. The downside is that steam can easily burn your precious coffee grounds and damage the flavor profile of your coffee. If you're a fan of Moka pot-style brew, like to add some frothy milk to the mix, and want to do it easier and faster, then you've found your machine.
Rich, full-bodied coffee is what you shall get and you can make a fair cappuccino foam from it too. Balanced espresso with flavor nuance is not really possible though.
A coffee machine for a very specific task, making solid but unspectacular cappuccinos.
Now, if that is what you want then great, it's cheap, it's small, and it's easy to use. You'll have a blast. If you're looking for anything else though, this isn't the machine for you.
The coffee world is full of "one-trick pony" machines so this isn't a knock on Capresso at all. Just be aware of its limitations before buying.
Coffee maker cup values are measured in 5oz cups, so our 4 cup coffee makers are making 20oz of coffee. That's enough for 2 regular mugs or one large travel mug of brew.
This means they aren't for those who need coffee for the whole family, you'll be needing a 12 cup coffee maker. But for 1 or 2 people, this is the ideal size so you aren't wasting brew by leaving it to go cold in the carafe.
4 cup coffee makers don't need to be drip coffee makers. French press is an easy-to-use and cheap type of coffee maker that will get you the 20oz of coffee you're after. There are also ones that use espresso but these are more complex to use, and we don't feel you get the best from your coffee beans using them.
Pour over is the other method that you occasionally see, needing the freshest ground beans and creating a very different style of coffee. But a beloved style for many people, myself included, and one that really shows off the differences between various growing regions.
Brewing Method
You've only really got 3 choices of brewing method when it comes to 4 cup coffee makers: drip, French press, or pour over.
Drip is what we commonly think of when we talk about machines in terms of the number of cups made. The carafe sat on the hotplate, slowly filling with delicious, dark brown liquid. However, if you're looking to make 20oz of coffee and either put it in a travel mug or split it between 2 regular mugs straight away then French press could be the better option.
French press is incredibly easy to use, very cheap to buy, and can produce much better coffee than some drip machines. You don't get the benefit of the hot plate keeping your brew warm, so this really is only for the pour and go crowd, but worth considering.
Pour over creates a completely different style of coffee. Lighter, more emphasis on the aromatics or the beans, and better for medium or light roasts. Pour over is more involved than French press and freshly ground beans are an absolute must when brewing in this way. Pre-ground will have lost too much of their subtlety to give you a great cup of joe. Pour over can be as cheap as French press though, just remember that you have to add the cost of a good coffee grinder in too.
Filters
Some machines will come with permanent filters, others will use disposable paper filters. Having a good filter is key to flavor extraction and you don't want it to be in an awkward position, making it difficult to add your grounds.
Some machines will come with permanent filters, others will use disposable paper filters. Having a good filter is key to flavor extraction and you don't want it to be in an awkward position, making it difficult to add your grounds.
French press coffee makers obviously come with their own mesh filters as part of the device but pour over coffee makers often are just cones that fit paper filters, though some have reusable ones so best to check them too.
Brewing Temperature
The temperature that your coffee is brewed, and subsequently kept warm at, will not only impact the flavor of your coffee but also how convenient the machine is to use. Most 4-cup coffee makers will have basically the same heating mechanism for the water so that part isn't much of an issue.
The real thing to focus on here is the heating plate. It needs to be able to keep the coffee warm without burning it, an auto-off function is something that is really worth the extra if you plan on slowly working through your 20oz of brew.
If we're looking at French press or pour over then the brewing temperature is controlled by you, or a kettle. This means you can adjust it with relative ease, even if you need to fiddle around a bit.
Carafe
When it comes to temperature, the material the carafe is made of will also be a big factor. Glass carafes are more aesthetically pleasing and it means you can stare longingly at your coffee slowly filling the pot. But a double-walled, thermal, stainless steel carafe will keep your brew hotter for longer and require much less input from the hot plate. Stainless steel also won't break if you happen to drop it, sure it might cost more, but in the long run it is well worth the investment.
Programmability
You have to make some sacrifices when it comes to these smaller, more compact coffee brewers and one of those is generally the level of control you have over the brewing process.
Most will be simple brew coffee makers and any additional features could be more annoying than they are actually helpful. One thing that is fairly common is a time delay setting, allowing you to have you coffee ready brewed for you when you walk into the kitchen in the morning. If you're looking to control water temperature, immersion time, volume etc then a manual brewer like a French press is the option for you. All the control you want, affordable and easy to use giving the perfect amount of coffee.
Seeing "4 cup programmable coffee maker" doesn't give all that much information on what "programmable" means. We've laid out what each can, and can't, do in our reviews.
Cleaning
Cleaning your coffee maker is the one part we're all upset that we have to do, so this process being as easy as possible is a must. Having removable components to empty the used grounds or even the magic "dishwasher safe" label are key things to consider. You'll need to clean out your carafe after each pot too, so ensuring this is easy to do is something else to consider when looking at buying your 4 cup coffee maker.
Accessories
Do you need anything else to pair with your 4 cup coffee maker? Generally we're looking at grinders, which will improve any cup of coffee when compared to pre-ground coffee. Most 4 cup machines don't need a coffee grinder to get coffee from them, but it will improve the product. The exception to this is the pour over method that requires freshly ground beans to get all the delicate aromas and flavors that are easily lost in pre-ground coffee. You may want some foamy milk too, generally this will require a milk frother on the side, which can be around $50 for a decent one.
Psst.. Do you want to up your coffee game with a brilliant coffee grinder?
Check out our list of the Best Manual Coffee Grinders to instantly improve your coffee experience.
If you're after a simple, 4 cup sized coffee maker for sorting out your coffee needs then the Cuisinart is a dependable machine that will almost certainly satisfy your needs.
If you've got a bit more money and like the idea of being able to brew a big pot when the need arises then we highly recommend the Braun SenseTouch as an all-around brilliant coffee maker.
You Might Also Like
Beautiful, simple, and delicious espresso for around $1000? We had to test if such a thing was possible – read our Jura ENA 4 review to see

Jura ENA 8 vs Gaggia Babila is a battle of philosophies. Is the convenience of the ENA 8 superior to the precision of the Babila?