Breville makes espresso machines for coffee lovers. For people who like to be involved in the process of making coffee. We decided to do a Breville Dual Boiler review as it seems to be the quintessential coffee lover's espresso machine. Total control and great design with some helpful features for the beginner. But how does it measure up in a crowded espresso machine field?
Just a note that this machine is called the Sage Dual Boiler in Europe. It's exactly the same machine and company, but there was already a Breville brand of kitchen appliances in Europe when Breville started selling there. So they decided to rebrand as Sage to avoid confusion.
Here you'll find our complete Breville Dual Boiler review. We've scoured the internet for all the reviews to collate with our own, meaning we have the most comprehensive espresso machine review you can find. Whilst not all home coffee experts give numerical scores, we have averaged these out. So, you can get a consensus opinion on how good it really is and know for sure if it is right for you.
This article may contain affiliate/ compensated links. As an Amazon Associate, we earn from qualifying purchases at no additional cost to you. For more information please see our disclaimer here.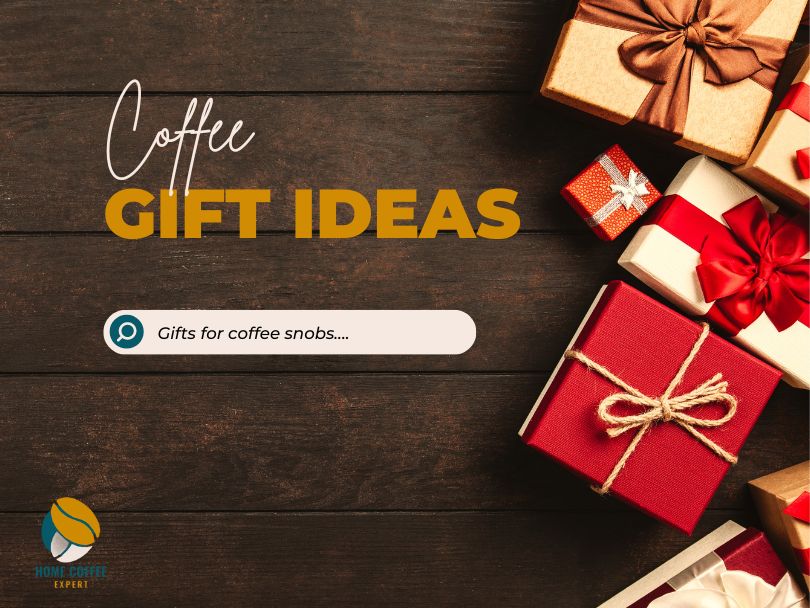 The holidays are coming. Which means stressing over the perfect gift is here too.
But stress no more. We've put together a list of all the best coffee gifts to please even the most discerning of coffee lovers in your life.
Check out our guide if they're on your 'nice' list. Or maybe be 'naughty' and buy something for yourself!
Breville Dual Boiler Review – In Brief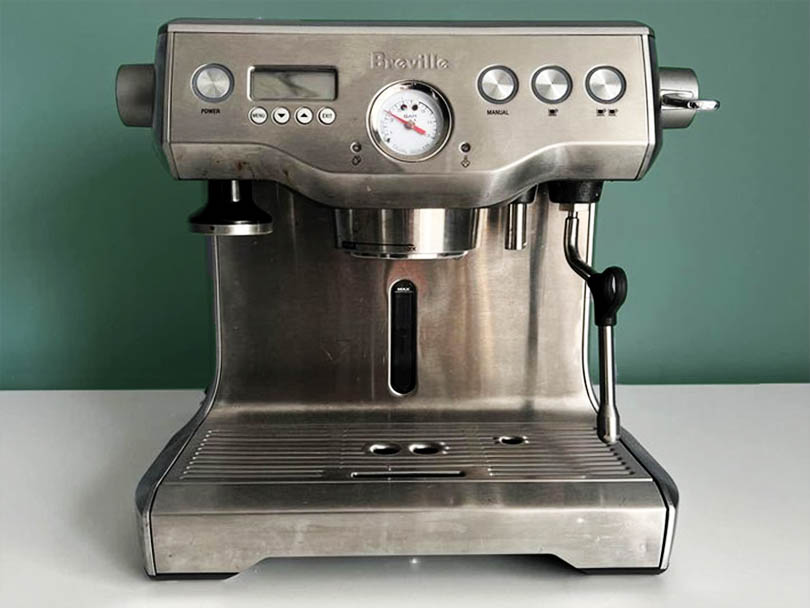 Breville Dual Boiler
The Breville Dual Boiler is everything we've come to expect from Breville: Excellent design and build quality, top-notch espresso quality, and simple to use. The two boilers mean milk and espresso at the same time plus a really high standard of steam for making amazing microfoam. The pressure gauge and shot volume settings help guarantee great quality espresso every time.
The downside is you need a grinder, the bundle with the Smart Grinder Pro is a really good deal and sometimes it's cheaper than the machine on its own! But for the same price, you can get espresso machines that can automate your everything for you. It can also take a bit of force to properly fit the portafilter into the machine.
Ultimately the Breville Dual Boiler excels at what it is supposed to do. It gives coffee nerds like me an amazing at-home machine offering quality and control for exceptional coffee. If you're interested in perfecting your home espresso and milk foam, this is a great machine for you.
Pros
Exceptional espresso
Separate boilers for coffee and steam
Time your extraction or set a specific volume
Auto-on feature: your machine is ready when you are
Pressure gauge for consistent, perfect extraction
Dedicated steam boiler means "drier" steam for better milk quality
Set precise temperatures for coffee and steam
Cons
No in-built grinder
Expensive for so few features
1. Espresso Shot Control
Choose the exact amount of espresso by water volume or extraction time with the LCD display. Get the perfect shot every time.
2. Separate Boilers
There are dedicated boilers for milk, espresso, and the brew head so you can pull espresso and foam milk simultaneously. The dedicated steam boiler produces steam at the perfect temperature for superior microfoam.
3. Adjustable Brewing Temperature
You can set the perfect espresso brewing temperature between 86°C (190°F) and 96°C (205°F) in 1°C increments.
4. Adjustable Steam Temperature
Adjust your steam temperature between 130°C (265°F) and 140°C (285°F) to get that ideal milk texture depending on your favorite espresso-based drink.
5. Razor Trimming Tool
The Razor trimmer makes getting the perfect coffee puck easy by removing any excess grounds that are too high in the portafilter.
6. Pressure Gauge
You can see the low-pressure pre-infusion followed by perfect 9 bar extraction on the pressure gauge. There is also an overpressure valve to ensure high-pressure extraction doesn't lead to bitter flavors in the coffee.
7. Heated Group Head
Breville has included a heated group head which ensures stable temperature throughout the extraction process for better espresso quality.
Any time the user is involved, there is a chance we'll make a mistake that will result in bad coffee. The upside is obviously that once you know how to use it, the coffee that is produced is exceptional. If you're after something a little easier, there are other types of coffee makers that take less thought in the morning.
The good news is that with the volume or timed shot control, pressure gauge, trimmer, and tamper, Breville is helping you out every step of the way. Simply weigh out 19-22g of your favorite espresso beans, tamp, trim, pop into the machine, and set the volume or time for 25 seconds-ish. As long as that pressure gauge goes to 9 bar, you'll have an awesome espresso.
Breville even provides you with dual-walled filter baskets which can help make up for any errors while you're learning, so you'll still get good coffee. Once you're confident, move to the single-walled filters and get a fuller and more nuanced flavor profile from your beans.
Milk Foaming
Milk foaming isn't really that hard, though it's easier with a thermometer. To make things easier, the Dual Boiler has a superb, professional-quality steaming wand. This means your milk will heat up FAST. But it also means you can get that perfect texture and latte art milk with ease, after a bit of practice.
Breville offers a really good deal on a bundle with the Dual Boiler and the Smart Grinder Pro. Occasionally you can pick this up for the same price or cheaper(!) than the Dual Boiler on its own. This is an elegant solution and also means you can use the grinder for French press, pour-over, AeroPress, or any other brewing method you like.
There are, of course, more budget-friendly grinders available but you need to make sure it's one designed for espresso to get the best out of the Breville Dual Boiler espresso machine.
The Looks
Breville loves a "classic" espresso machine design and the Dual Boiler is a perfect example of this. It comes in brushed stainless steel or a matte black called "black sesame". The portafilter, steam wand, buttons, and LCD screen give an industrial café feel which isn't to everyone's taste. But I think it fits in well with more kitchens than the plastic spaceship designs of many high-end espresso machines.
The screen and buttons make operating the Dual Boiler really easy too. There's no tapping at touch screens with bleary eyes and clumsy fingers first thing in the morning. I wouldn't go so far as to say it's a pretty design, but the functionality of it makes up nicely.
This is a big machine however at 15.9″ x 14.7″ x 14.9″. So you're going to be surrendering a decent amount of your countertop to it. This is also fairly common with top-notch automatic espresso machines. Rotary pumps and better boilers or technology in the machines mean more space is needed. But if you can sacrifice that real estate, it's worth it.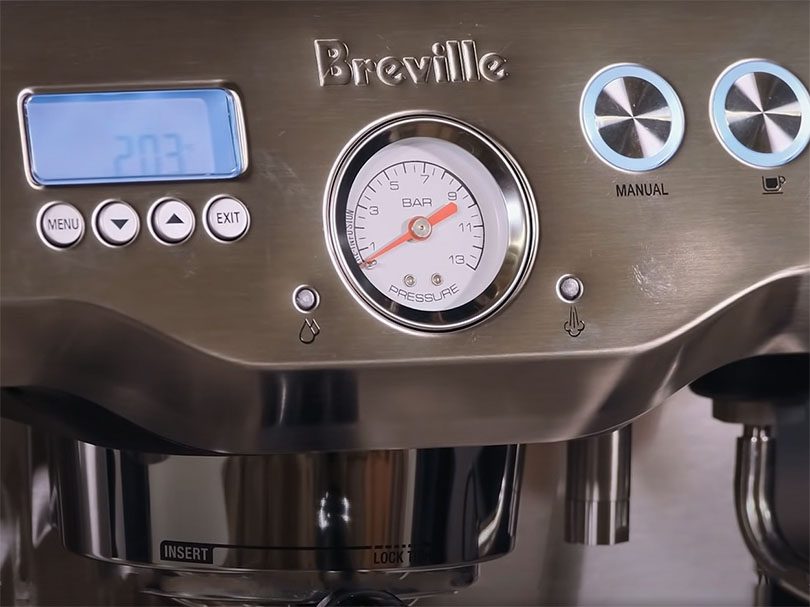 The Build
You buy Breville espresso machines because the build quality is excellent. All the other stuff too, but the build is a big reason that they stand out as a manufacturer. There are a couple of plastic elements on the Dual Boiler which don't feel super sturdy. But really we're splitting hairs because it's expensive and we don't want to only praise the build quality.
The tamper, trimmer, portafilter, and steam wand all look and feel like professional-grade kit. Those who greatly dislike plastic anywhere near their coffee are in for a treat with most Breville espresso machines and the Dual Boiler continues this fine tradition.
The LCD screen looks a little basic because, well, it is. But nothing feels cheap or like they've cut corners when you use it. There are many many coffee enthusiasts who have used their Breville espresso machine for a decade or more. I see no reason why the Dual Boiler couldn't be your trusty coffee buddy for that long.
We will gripe a little about the force needed to put the portafilter into the "lock tight" position. I didn't struggle, but my wife had to use more force than expected to get it there. Again, we're splitting hairs.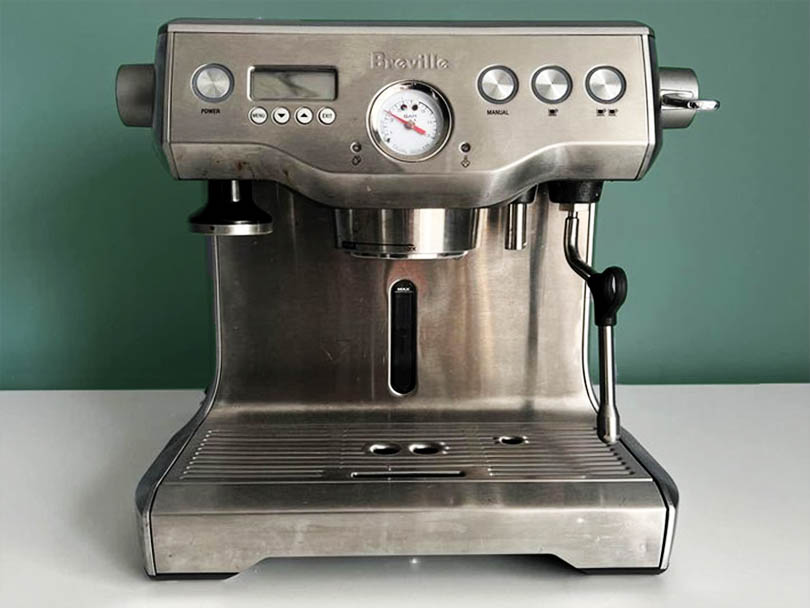 Looking for an amazing grinder for your espresso machine? Check out the best manual grinders to get the most flavor from those beans
If you're a novice, use the double-walled filter baskets to start. This helps to keep the pressure up in the portafilter so they can even out some slight mistakes in grinding or tamping when you first start out. It won't take long until you're getting great espresso just like the pros though. The pressure gauge and volume/time control on the espresso shots help you get perfect results, even with no experience.
We can never stress enough that the beans you use will make or break your coffee. The best coffee machine and barista on Earth can't make great coffee from terrible beans. When buying something like the Dual Boiler, get a good grinder and buy some great espresso beans (coffee beans produced and roasted with espresso in mind). Treat yourself to the coffee experience you deserve.
The trimmer is superb. I will always talk about the Razor Trimmer because it cannot be overstated how helpful it is in getting a great espresso. After tamping your coffee, put the trimmer in and rotate to remove any grounds that are sitting too high in the basket. This will ensure your coffee puck isn't too big and messing up the seal. So simple, so useful.
The other main feature is the temperature control for both the espresso and the steam. Being able to set your ideal temperature in 1-degree increments is what you need to get that perfect extraction and foam. At this price, you'd expect this level of customization, but it's still worth mentioning.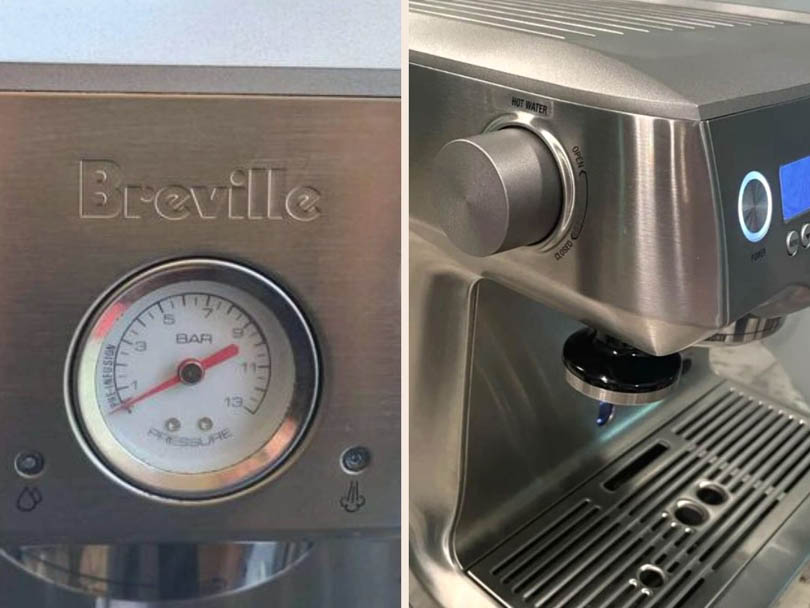 The everyday cleaning is very simple. The large portafilter is easily rinsed out after the coffee puck is removed. The milk wand wipes clean which you need to do after every use or gunk will build up fast. As long as you blast a little steam through after each use you shouldn't get any milk stuck in the nozzle itself.
The drip tray is quite large so don't let it get too full. There's a helpful little "empty me" sign that floats in the drip tray so you know when it's getting full though. There's nothing worse than trying to balance a full drip tray with discarded coffee water across your kitchen without spilling it.
The "backwash" cleaning will need to be done weekly. You simply put a tablet in the portafilter with the special basket, and the machine does the rest for you. It takes around 10 minutes and is incredibly simple.
The descaling, however, is not. It takes closer to 90 minutes and requires your attention for an annoying amount of that time. This only needs to be done every few months though, so don't let that put you off. I usually watched TV on my phone while having to descale my espresso machine.
This may feel like a lot of cleaning. But it's mostly just basic wiping down and rinsing that takes seconds, with the occasional deeper clean. It is also pretty common across all espresso machines to have this combination of small daily cleans with occasional big ones.
That said, it is expensive and you need a separate grinder. Though we highly recommend you check out the "Dynamic Duo" bundle with the Smart Grinder Pro as it is amazing value.
You can get the automated Barista Touch for less but it comes down to what you want from your espresso machine. If you want total control to pull your coffee and foam your milk to a professional standard, then the Dual Boiler is the right machine for you. If you want high-quality coffee with ease, then the Barista Touch is more your style.
Without having used it for several years, our Breville Dual Boiler review can't test longevity just yet. But with the reputation of the company, we expect this would be your espresso friend for a long time. Consider it a strong investment in your quality of coffee, and life. For the best results, we'd highly recommend getting the bundle with the excellent Smart Grinder Pro, however, if you've already got a great grinder then you're all set.
Don't forget to Buy your Breville Dual Boiler today
Don't have a grinder? Check out the "Dynamic Duo" Bundle
You Might Also Like
If you're a dedicated home barista looking to manually pull espresso shots without it costing a fortune, this Flair Classic review is for you

Traveling a lot gave us the perfect chance to do an in-depth Wacaco Picopresso review. A spectacular portable espresso maker for coffee lovers