Are you looking for a compact espresso machine? Two solid contenders are the Breville Bambino vs Bambino Plus. There are many similarities between the two Breville espresso machines, but there's a decent price difference. So how do you know which one is right for you?
For us, the Breville Bambino Plus is the better automatic espresso machine. The extra color options, superior milk wand, larger water tank, and automatic milk foaming make it well worth the extra cost. We'd only recommend the Bambino if you don't plan on foaming milk very often.
We put the two home espresso machines head-to-head and detailed our findings here. So read on as we compare the features, performance, and that all-important price tag of the two compact options.
This article may contain affiliate/ compensated links. As an Amazon Associate, we earn from qualifying purchases at no additional cost to you. For more information please see our disclaimer here.
At a Glance: Which Is Best?
the Bambino is for space and budget-conscious espresso lovers
Prefer Amazon? Click here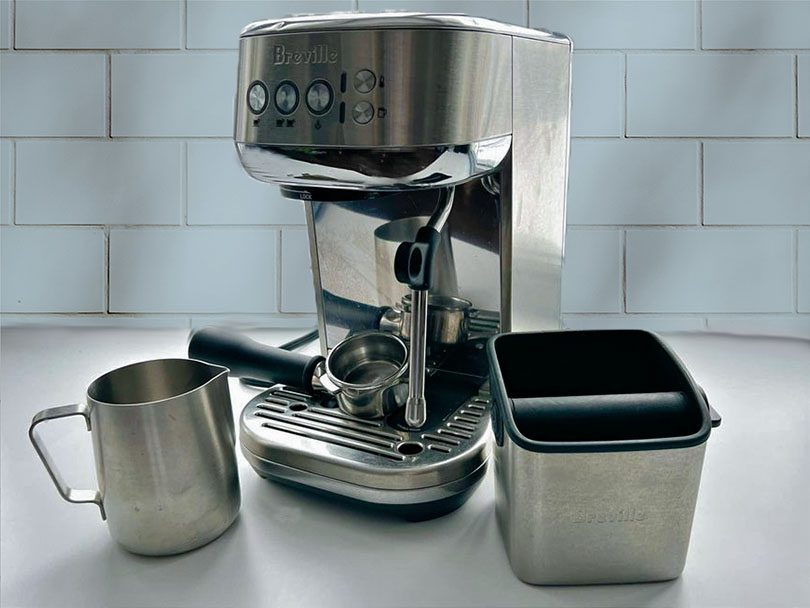 the Bambino Plus is for space and budget-conscious espresso WITH MILK lovers
Prefer Amazon? Click here
At just 6.3 inches wide, the Bambino is Breville's most compact espresso machine. So it's ideal for anyone with limited kitchen space, a small office, or even a dorm room.
The Bambino Plus is a little wider at 7.7 inches. But it's slightly less deep and they're both roughly the same height. (The overall dimensions are 6.3 x 13.7 x 12 inches for the Bambino and 7.7 x 12.6 x 12.2 for the Bambino Plus). So whilst the Plus is slightly bigger than the Bambino, it's definitely still more compact than many espresso machines.
This larger size also means the Plus has a 64oz water carafe vs the 47oz carafe on the Bambino.
When it comes to design, Breville doesn't stray away from its preference for simple, classic looks with either of these machines.
The Bambino is as simple as it gets with easy-to-use buttons to select 1 shot, 2 shots, or the steam wand. It's available in just one color – brushed stainless steel – that gives a premium finish to an affordable espresso machine.
The Bambino Plus offers a whole extra button for you to play with. The three main buttons are for single, double, and steam alongside the two smaller buttons for adjusting the temperature and foam level of the automatic milk.
It's also possible to choose between a wide range of 9 colors for the Bambino Plus. Although if you're looking to deviate from the classic brushed stainless steel, it's best to buy direct from Breville as third-party retailers often charge a lot more for certain colors.
Winner
The Bambino Plus has more color options and its slightly larger size is balanced by the larger water carafe. So, unless you're extremely short on space, you should be able to fit either onto your countertop. For us, that gives the edge to the Breville Bambino Plus over the Bambino.
The Bambino only offers manual milk frothing with a simple milk wand that only has a single hole for steam. This is heated to 266°F (130°C), producing excellent microfoam. However, whilst it's functional, it won't exactly blow your milk-colored socks off.
In contrast, the Bambino Plus offers both manual and automated milk frothing from a 4-hole wand.
The manual milk frothing works at the same 266°F steam temperature as the Bambino. But by having 4 holes, you not only get your foamed milk faster but that foam will also be better quality. However, the increased speed means you may need more practice to get it right.
We also recommend always using a milk thermometer to make sure you don't burn your milk.
When it comes to the automated steamed milk, you can choose from 3 temperatures – 122°, 158°, or 194°F (50°, 70°, or 90°C) – and either "low", "medium" or "high" on the foam settings. Now 194°F is far too hot to get the best flavor and foam. However, as a barista, I was frequently asked for "lava hot" lattes so there's clearly a demand for it.
Winner
This is an easy win for the Bambino Plus:
The automated milk frothing works extremely well and the manual wand is vastly superior to the Bambino. So if you drink any variation of an espresso and milk beverage, then the Bambino Plus is clearly the better option.
Both espresso machines have single boilers with Breville's ThermoJet® technology meaning they take just 3 seconds to heat up. It also means a very quick change between coffee and milk frothing.
They're both equipped with PIDs for extreme water temperature accuracy. Having a PID (Proportional Integral Derivative if you want to be specific) isn't common at this price and is a sign of really top-quality espresso machines. You can also customize the pre-infusion time and shot length to your heart's content.
Included in the box for both are single and double-walled filter baskets for both a single and double espresso shot. The dual-walled baskets are excellent for beginners or those using pre-ground coffee as they cover up mistakes, ensuring proper pressure and good crema.
Then, once you're confident in your grind, dose, and tamping, you can move to the single-walled baskets for better flavor.
If you really want to level up and test out your espresso skills, you can buy a bottomless portafilter (make sure it's 54mm) that will deliver maximum flavor but with zero safety net.
However you choose to brew, you can get great espresso from either the Breville Bambino or Bambino Plus.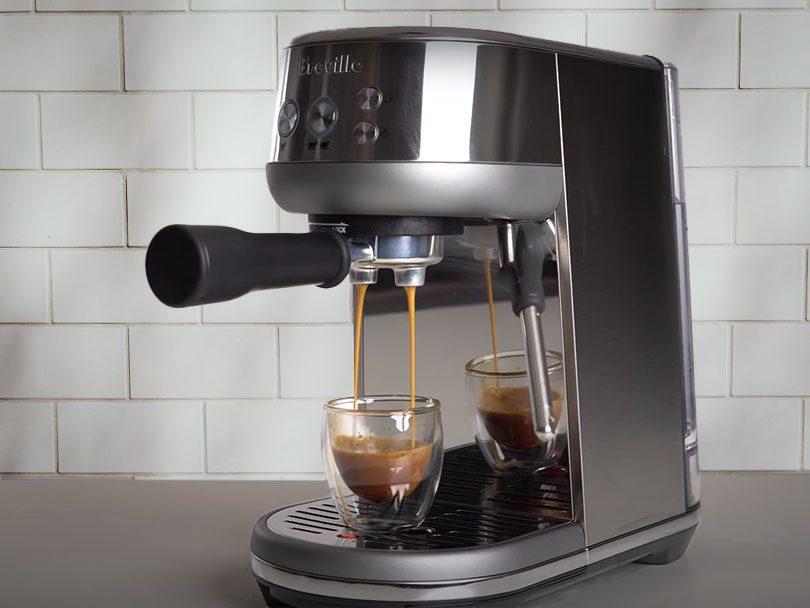 Winner
This round of the Breville Bambino vs Bambino Plus battle is a tie – they are both simple espresso machines when it comes to pulling tasty espresso shots.
The only slight benefit of the Bambino Plus is that it comes with a handy dose trimmer tool and a better tamper. But the extra accessories don't move the needle enough to justify putting it ahead of the basic Bambino model.
So does the automated milk make the Bambino Plus easier to use? In a word, yes.
Milk frothing isn't very difficult to do well. But it does require practice to not get huge bubbles that ruin the texture of your drink.
So having very good, automated milk makes getting that perfect cup easier. As long as your perfect cup requires milk, of course.
The negative side of this is that the Bambino Plus milk wand is harder to nail the technique in manual mode as it's more powerful. But it will give you better results when you do.
When it comes to brewing espresso and cleaning, these little espresso machines are identical. So on all other counts, ease of use is exactly the same.
Winner
The Bambino Plus is easier to use thanks to the automated milk frothing. So you never have to learn to steam your own milk if you don't want to. That's a big plus for a lot of people who just need fuss-free coffee.
On the upgraded model, the automated foam is great and is really simple to use. Or, if you want to manually foam your milk, it's a better wand to do that too. Ultimately, you'll get a better quality of milk for your latte art, flat white, cortado, cappuccino, or whatever you prefer.
The Bambino Plus also comes in a variety of colors for the same price – as long as you buy direct from Breville.
With all that said, if you simply want to concentrate on pulling espresso shots and will rarely use the milk frother then save yourself the money. Buy the excellent Breville Bambino espresso machine instead.
Which is Your Winner?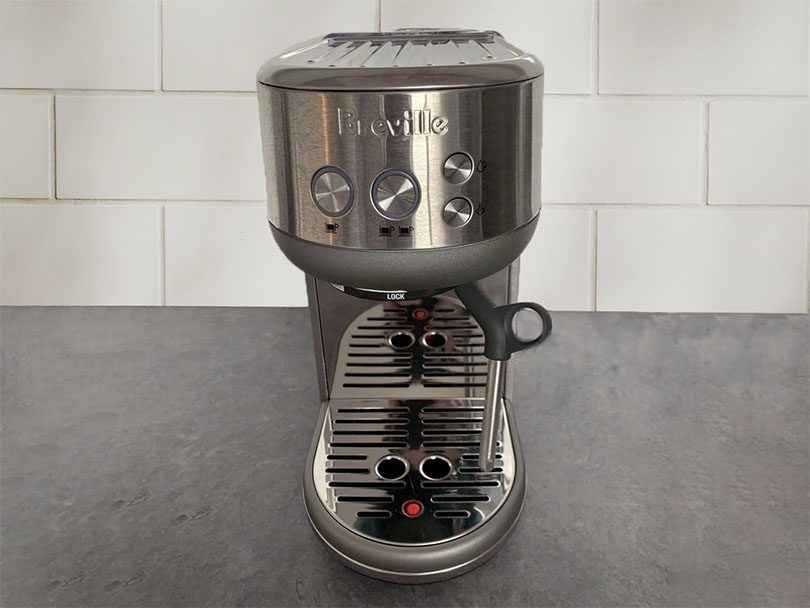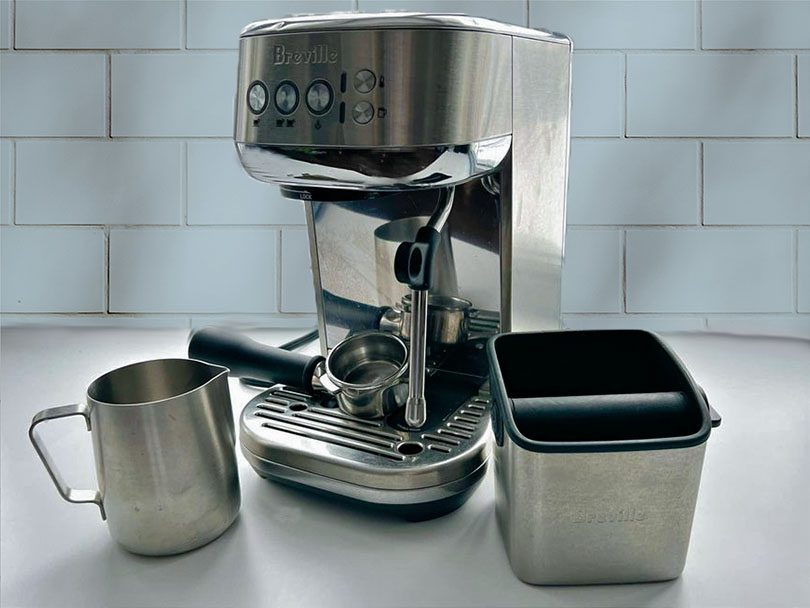 The main two competitors to both these machines are the Gaggia Classic Pro espresso machine and the DeLonghi Dedica Arte. Price-wise, from cheapest to most expensive they are the Dedica Arte, Bambino, Classic Pro, then the Bambino Plus.
The Gaggia Classic Pro is a semi-automatic espresso machine that is the darling of the espresso nerd world. Available in many different colors, it has stood the test of time as a great espresso machine for those who want to really hone their skills.
You can also upgrade it with PIDs and a pressure monitoring system if you like. But it's much less user-friendly than the Breville machines and not as pretty, in our humble opinion. If you really want to get into the weeds of espresso pulling though, or fancy modding your own machine, then it's a great choice.
The Dedica Arte is a DeLonghi manual espresso machine. Well, it's actually an automatic espresso machine but DeLonghi calls all their non-super-automatics "manual" for some reason. (Not sure of the difference, check out this guide.)
It's near identical to the Bambino, though a little smaller. But it doesn't perform nearly as well with espresso or milk. To be honest, unless you're a DeLonghi obsessive, we can't think of any reason to choose the Dedica over the Bambino.
The Bambino is best for the space and budget-conscious espresso lover.
The Bambino Plus espresso machine is for the space and budget-conscious espresso *with milk* lover.
So which one takes the win for you?
You Might Also Like
Beautiful, simple, and delicious espresso for around $1000? We had to test if such a thing was possible – read our Jura ENA 4 review to see

Jura ENA 8 vs Gaggia Babila is a battle of philosophies. Is the convenience of the ENA 8 superior to the precision of the Babila?