If you are looking to make coffee shop quality espresso, cappuccino, and latte from the comfort of your own home, then this Mr Coffee ECMP50 review is the one for you.
Mr. Coffee has built a stellar reputation since its inception in the 1970s. They are renowned for bringing coffee lovers great quality at home. And with the ECMP50, that great quality is brought to you at an affordable price.
ECMP isn't just a random code that Mr. Coffee dreamt up one day. It stands for the technology they use – Equal-Cost Multi-Path routing strategy – so we can see why they stuck with ECMP! To you and me, this means the espresso maker can brew two single shots at once. There is nothing more heavenly in a busy household on a frantic morning!
Here we break down our full Mr Coffee ECMP50 Review for you to work out if this is the top coffee machine for you. We have scoured the internet for all the expert reviews on this coffee machine to collate with our own. This means we have the most comprehensive espresso machine reviews you can find. Whilst not all home coffee experts give numerical scores, we have averaged these out. Therefore, you can get a consensus opinion on how good this coffee maker is, and know for sure if it is the right fit for you.
This article may contain affiliate/ compensated links. As an Amazon Associate, we earn from qualifying purchases at no additional cost to you. For more information please see our disclaimer here.
At a Glance: Mr Coffee ECMP50 Review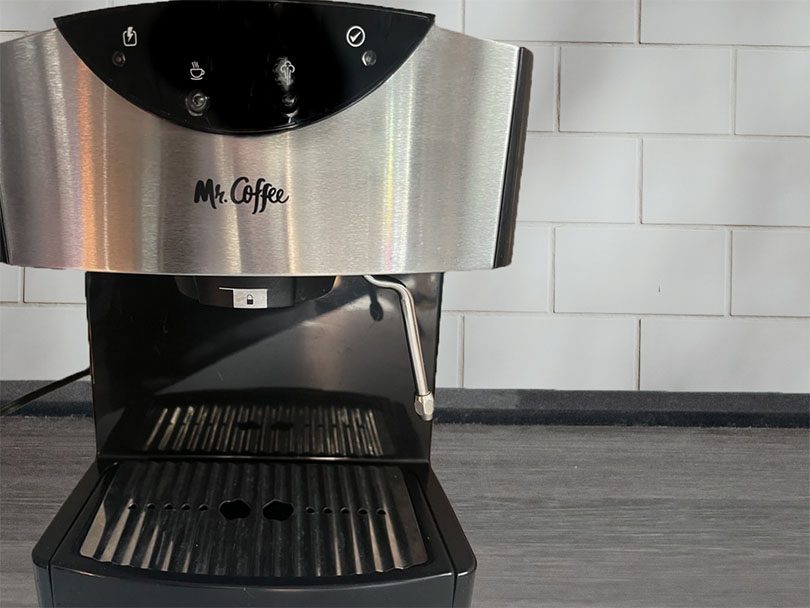 The Mr Coffee espresso machine ECMP50 is a great entry-level espresso maker. It is perfect for those looking for good espresso at home. Or for those who want to make cappuccinos or lattes alongside their espressos, all without breaking the bank.
It doesn't have the pressure or temperature consistency to make a truly great espresso. And it will struggle to get the lighter notes from medium or light roast beans. But it's compact, easy to use and clean, and very reliable. So for $100, it's a very good machine.
We feel the De'Longhi EC155 is a slightly better machine for the price as it's more compact and has a cup warming feature.
However, Mr. Coffee allow you to control the pour time on your espresso. This gives you a bit more flexibility and control. It also has a much bigger water reservoir. So it all comes down to what your priorities are.
Pros
3-in-1: Make good espresso, cappuccino, or latte
Drip catcher can be removed for cleaning
Thermal block heating mechanism means quick coffee
Dual shot brewing
Very quiet
Easy to use interface with LED indicators
Compact
Affordable price
Powerful milk frother
Tamping tool is very easy to use
Cons
Can only use ground coffee
Takes patience to adapt to brewing system
Lengthy and confusing instruction manual
Tedious cleaning process (every 40-80 brews)
No variable steam control
Coffee gets weaker with extended use, needing new parts
1. Thermal Block Heating System
Get your coffee even faster thanks to the thermal block heating system. This basically means fast brewing of your coffee, with the water being heated up very quickly. It also helps to keep a consistent water temperature, ensuring each cup of coffee is as good as the last.
2. 40oz Removable Water Tank
Taking countless trips to the faucet isn't exactly the most difficult task in the world. But it is an extra step between you and that much-needed coffee hit. So, the large, easily removable water reservoir on the Mr. Coffee ECMP50 is an added bonus.
At 40oz, you can power through a fair few espressos before you have to top it up. Plus, it's transparent so you will never be caught short.
3. Removable Drip Tray
This may seem simple, but having a removable drip tray makes cleaning a whole lot easier. Any spills from the portafilter can be easily mopped up, and it means you'll always have your machine looking pristine.
4. Simple Controls and Display
The LED lights display very simply in either green or red. This helps you to understand wait time, and know when it's ready to pour your espresso. All of the controls are very simple to use – great for beginners to espresso making at home.
Just to make things easier, the instructions manual isn't the most helpful either.
If you're a fan of fiddling around with these sorts of things to get your coffee just how you like it, then this is a big plus. Many coffee makers at this affordable price point won't give you any control at all.
The process of making your espresso is very simple. You simply tamp your grounds into the portafilter – either single or double shot. Then twist the portafilter into place and press the button for espresso. The LED light will go green and you turn the knob on the side to force the water through your coffee. Once you have the appropriate amount of coffee in your cup, turn the knob to shut it off.
Now, the whole process isn't as easy as super-automatic coffee machines where all you have to do is "push button and go". Or single-serve espresso makers that take pods. But, using the Mr Coffee ECMP50 is not complex either – once you get the hang of it.
The milk frother has a rubber sleeve on it so you can move it without burning your hands. Whilst this is a great health and safety feature, it actually makes it quite difficult to judge where it is in relation to the surface of your milk. This can cause you to have the dreaded big bubbles. But this is something you'll master fairly quickly if you use Mr. Coffee ECMP50 to make cappuccino or latte frequently.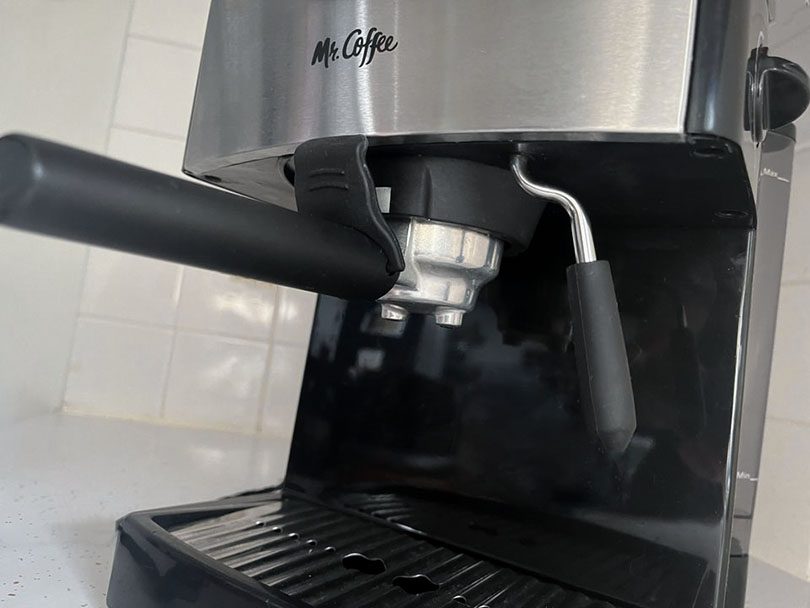 It also doesn't have a bean grinder attached so you will have to buy your coffee pre-ground or buy a separate coffee grinder. This comes down to your personal preference.
If you're happy getting your pre-ground coffee, either from the supermarket or a specialty coffee store, then this is no problem at all and it means you have an incredible diversity of types of coffee to choose from. However, ground coffee does "go off" a lot faster than beans.
Beans last for weeks, whereas ground coffee lasts around 1 hour. So we would always encourage you to look into a coffee grinder – there are budget options (like the JavaPresse) out there too.
If you're looking for good, not great, espresso then pre-ground will not be a problem.
Standing at 12.6″ tall by 11″ wide by 12″ deep, the Mr Coffee ECMP50 still falls under 'compact'. But it does leave a bigger footprint than the De'Longhi EC155 at the same price point.
One of the main reasons for the bigger size is the huge water reservoir which can hold 52oz of water to the maximum fill line. This is based on measuring out the water as we fill it as Mr. Coffee's literature claims it can only hold 40 oz. Either way, this dwarf's the De'Longhi's 34oz tank.
Whilst the water reservoir is removable, it's a bit of a pain to take out and refill. So we find it better to keep a water bottle on hand to refill the water tank rather than lugging it around.
Moving the machine around is also difficult as it's quite easy to misjudge where all the weight is and tip the water tank on the floor. When your slippers are wet, you will no longer appreciate the water tank capacity! If you're going to move the coffee machine, we'd recommend emptying the tank first or moving it without the water tank attached.
The ECMP50 Espresso and Cappuccino maker has a classic design – all silver and black, with a single portafilter and steamer. The controls are simple with 2 buttons on the front: "brew" and "steam"; and a flat knob on the side with 3 positions: "off", "brew", and "steam". The steam being either on or off is a bit frustrating as it's nice to have control to get that perfect froth. But you can master this with a little practice.
While this espresso machine is very well made and nothing feels "flimsy", it also doesn't set the excitement alight. It has a blocky style and 'café' look which, although it doesn't look bad per se, it's also not winning any beauty contests.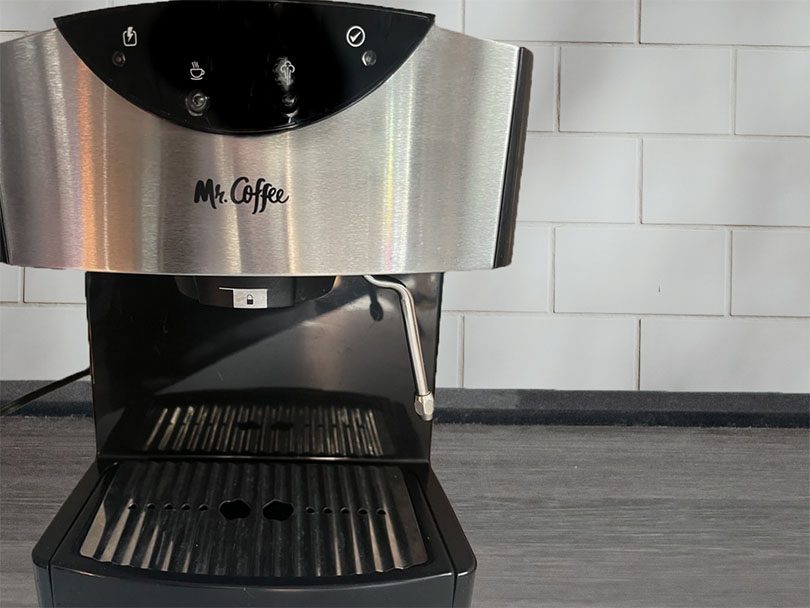 The performance of the ECMP50 pump espresso maker runs into some familiar problems seen across many of the entry-level machines. It just doesn't create enough pressure and the temperature control is inconsistent.
The vibration pump creates 15 bar pressure which, whilst excellent for this price point, isn't enough pressure for the best espresso.
The Mr. Coffee ECMP50 also won't get the best out of light or medium roast beans. Plus, you will also experience some variation in the quality of your espressos. But it needs to be said that the ECMP50 doesn't make bad espresso either. It makes a pretty nice espresso and if that's all you're after – a nice espresso at home whenever you want – then it's great.
So the Mr Coffee ECMP50 review of coffee quality is neither resoundingly good nor resoundingly bad.
Being an entry-level coffeemaker from Mr Coffee, the ECMP50 really doesn't come with any bells and whistles or extra fancy features.
Although not all espresso machines at this price point have a milk frother so we can count that as a bonus extra feature.
When cleaning, there is the common issue with espresso machines of needing a bit of space once you've taken the whole thing to bits. But it's certainly not complicated and doesn't take much time at all. So, we really have no real complaints about it.
Just make sure you have the space ready when it comes to descaling and cleaning time.
The drip catcher being removable for quick cleaning after use or each day is a bonus. This is the part you'll be dealing with most often, so it's great that it's super easy to clean.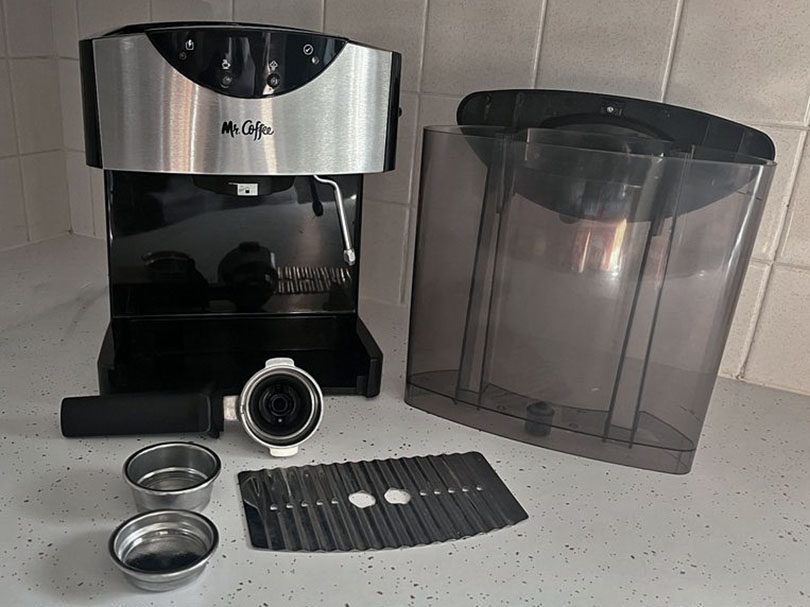 So should you buy the Mr. Coffee ECMP50 or the De'Longhi EC155? Well, let's compare the two to see:
The Mr. Coffee 2 shot pump espresso & cappuccino maker can do just that – make 2 shots. So, you can hurry up the process to both of you having your morning cup of coffee. Whereas, the De'Longhi EC155 espresso and cappuccino maker can make just one cup at a time.
The DeLonghi EC155 has a smaller footprint, making it easier to fit on your countertop
The water reservoir on the ECMP50 is much larger (52oz although advertised as 40oz) than the EC155 (34oz)
The DeLonghi EC155 can use either pods or grounds, but the Mr Coffee ECMP50 only works with ground coffee
Higher brew quality on the Delonghi EC155
Both have built-in milk frothers. However, the milk frother on the Mr Coffee espresso machine is weak and a little awkward to use
When stacked up next to each other, the DeLonghi EC155 coffee maker sneaks into the win for us (read our full review here). And, since you are paying the same price for both, it seems an easy decision. But, it really does all depend on what features you value most.
If you're after a decent espresso or café style coffee at home and aren't that interested in the nuance of different types of coffee, then the Mr Coffee ECMP50 dual shot machine is a great budget option. With minimal fuss, you will soon be drinking a good espresso.
Straight out the box, you will need to work out the best ground coffee to use with the semi-automatic espresso machine and master your milk frothing technique. But, very quickly you will be sipping on your favorite custom-made coffee drink from the comfort of your own home.
As the Mr. Coffee 2 shot pump espresso & cappuccino maker is basically the same price as the DeLonghi EC155 espresso maker, the latter would be our choice.
However, we hope this Mr Coffee ECMP50 review shows you that certainly won't be disappointed with this budget-friendly machine if that is your preferred brand.
Don't forget to Buy Your Mr Coffee ECMP50 Today
You Might Also Like
Beautiful, simple, and delicious espresso for around $1000? We had to test if such a thing was possible – read our Jura ENA 4 review to see

Jura ENA 8 vs Gaggia Babila is a battle of philosophies. Is the convenience of the ENA 8 superior to the precision of the Babila?