Sadly the DeLonghi EC155 has been discontinued. You can still find it sold on Amazon and other retailers but it tends to be very expensive for what it is. 
The DeLonghi EC155 is an excellent bargain espresso maker that can pull good espresso shots and foam decent milk. Its not going to set the world on fire and it won't give you pro-level drinks. But its amazing value for money and the coffee it does produce is pretty impressive.
We spent some time trying to coax the best espresso and milk we could to put together a comprehensive DeLonghi EC155 review for you. Budget machines always have compromises so read on to see if this espresso machine is ideal for you.
This article may contain affiliate/ compensated links. As an Amazon Associate, we earn from qualifying purchases at no additional cost to you. For more information please see our disclaimer here.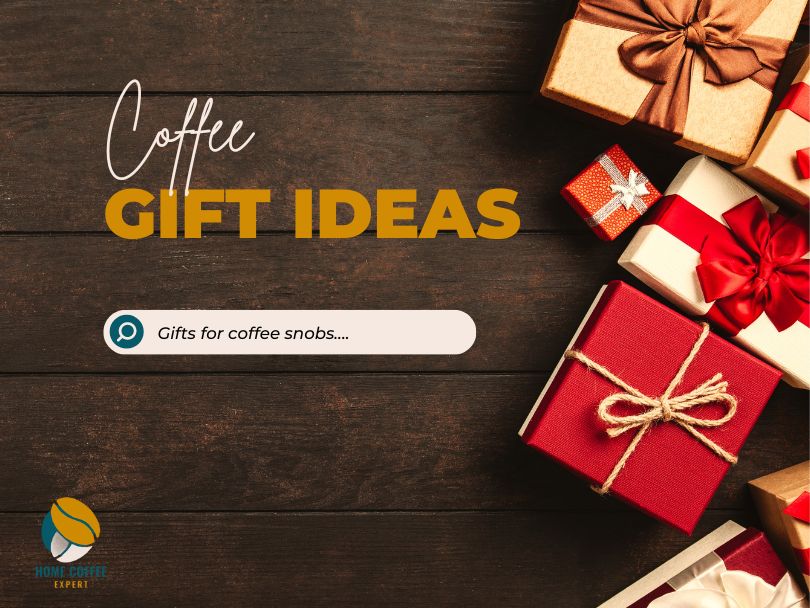 The holidays are coming. Which means stressing over the perfect gift is here too.
But stress no more. We've put together a list of all the best coffee gifts to please even the most discerning of coffee lovers in your life.
Check out our guide if they're on your 'nice' list. Or maybe be 'naughty' and buy something for yourself!
At a Glance: DeLonghi EC155 Review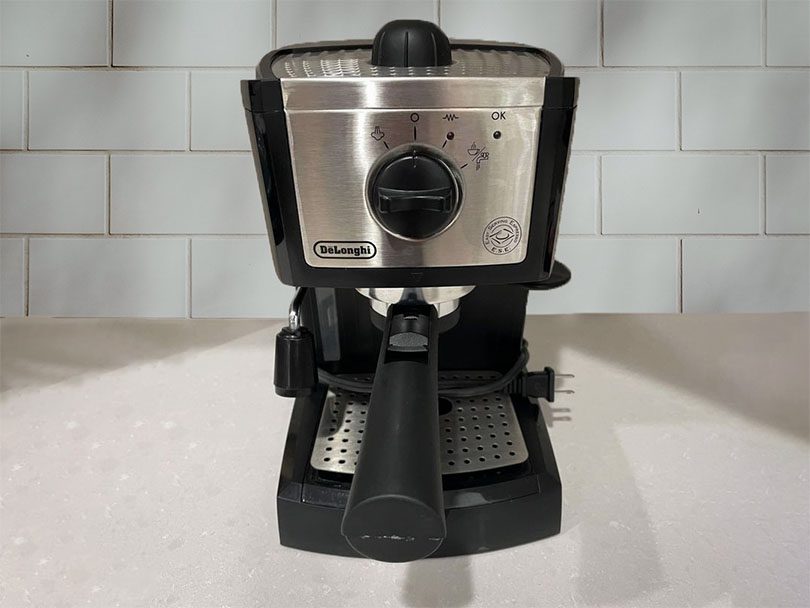 If you're in the market for your first espresso machine or shopping on a budget, the DeLonghi EC155 is a great well-rounded option.
As an automatic espresso machine, you can enjoy dark roast coffee, cappuccino, or lattes from the comfort of your own home.
DeLonghi espresso machines have a reputation for being well-made. And their budget offering, the EC155 15 BAR pump espresso maker, is no exception.
You can expect a classic design and simple interface which will satisfy most people who are simply looking for a good quality espresso. Good. But not great.
If you're looking for a more barista-esque, immersive experience, you will likely be frustrated by the lack of control over temperature and pressure. However, the EC155 is really aimed at the beginner home barista, not the expert or perfectionist.
Pros
15 bar pressure
Can use pods or grounds
Swivel jet milk frother
Great value for money
Good for beginners
Dual thermostats for steam and water consistency
Large water tank
Compact
Cons
Short frothing wand
Frothing wand on the left (not a con for lefties)
15-year-old design
Inconsistent espresso brewing
1. Self-Priming
Priming is the process of forcing water through the system to remove any air before you start using your machine. Why? It ensures you have the correct, consistent pressure and that your machine won't splutter at you.
With most espresso machines at the budget end, you have to do this manually. However, the De'Longhi EC155 15 BAR Pump Espresso and Cappuccino Maker has a self-priming feature so you don't have to worry about it before starting the espresso brewing process.
This means that it's always ready to go when you need your coffee. It's a great feature and one which is particularly useful for that sleepy first coffee cup of the day.
2. Use Pods or Grounds
Another feature to make life a bit easier is that, in addition to ground coffee, you can use E.S.E. pods.
E.S.E. stands for Easy Serving Espresso pods. Basically, a whole range of coffee options that are already ground, dosed, and packaged into helpful capsules, opening up the world of easy coffee opportunities for you.
Which of these options is best really comes down to what you prefer for making your espresso. It's a useful and uncommon feature that makes the EC155 a rare espresso machine find. It will keep your mornings quick and stress-free if you're in a hurry or if you prefer not to have to manually grind your coffee each time.
3. Easy-to-Use Dial
With the De Longhi EC155, there is no complex interface with gadgets and gizmos to get your head around. Instead, there is a simple system with one dial to control everything you need. So, it's the perfect home espresso machine for beginners and more advanced users alike.
4. Steamer Wand
As an entry-level espresso machine, a milk steam wand isn't a guarantee. So having one gives you greater flexibility and allows you to get your creative juices flowing. Using the swivel jet frother, you can create all your favorite milky espresso-based drinks from home. And you can work on your latte art to rival your favorite coffee shops.
Don't get us wrong, compared to single-serve, at the touch of a button machines, this isn't the easiest espresso machine. But as semi-automatics go, it's a clean, simple interface where you can control the amount of water used to pull your shot.
As the machine comes with a self-priming function, you merely have to turn it on and you are ready to go. With just a single dial for controlling your espresso output, there is little room for error once you've got the hang of it.
Having the flexibility to use E.S.E. pods as well as ground coffee beans is superb. The EC155 is definitely aimed at the amateur home barista, looking to easily enjoy espresso-based drinks without being tied to the big chains.
We got a decent espresso at the second attempt. This is partly due to the double walled filter baskets that help to iron out any mistakes with dosing or tamping.
If you're using pre-ground coffee then you'll almost certainly get a good espresso straight away.
The large water tank means you don't have to refill often. Plus, the water level indicator lets you know how much more coffee you can make before refilling.
It's worth noting that the frothing wand is a tad short which can make milk frothing awkward. Plus, the steam dial is on top of the machine which isn't ideal either.
Neither of these things bothered us while we were using the EC155, but it could be an issue if you want to try and froth a lot of milk in a large jug.
The biggest drawback is the steamer location on the left of the machine. If you are right-handed, it is very easy to accidentally touch the hot parts. Being right-handed, I did nearly burn myself on the wand a couple of times.
That aside. The steam wand is also pretty beginner-friendly. It isn't as powerful as professional wands so you won't get really great microform. It does make it a lot easier to get nicely foamed, if not perfect, milk.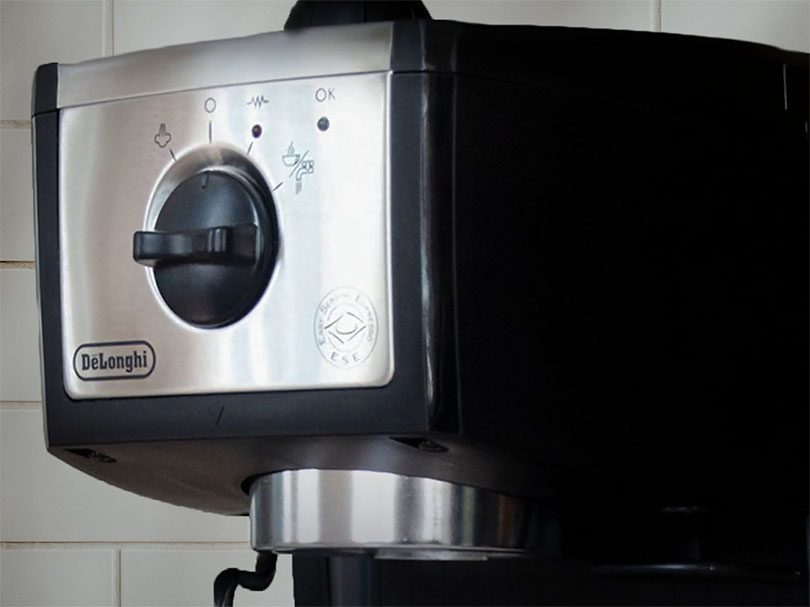 Unlike with a super automatic espresso machine, there is no built-in grinder. So, if ground coffee is your preference you will have to grind it yourself or buy pre-packaged ground coffee. For the best flavor and quality, we would always recommend buying a separate grinder and grinding just before brewing.
However, most coffee roasters will also happily grind them for you. Plus, they can give you tips on keeping your espresso grind fresh.
Having the option to use E.S.E. pods is a great addition too. If you don't feel like putting in any effort or you're in a rush, getting a high-quality coffee couldn't be easier. Also, the E.S.E. pods are better for the environment than some other types of pods. Although they're still not as good as using ground coffee alone.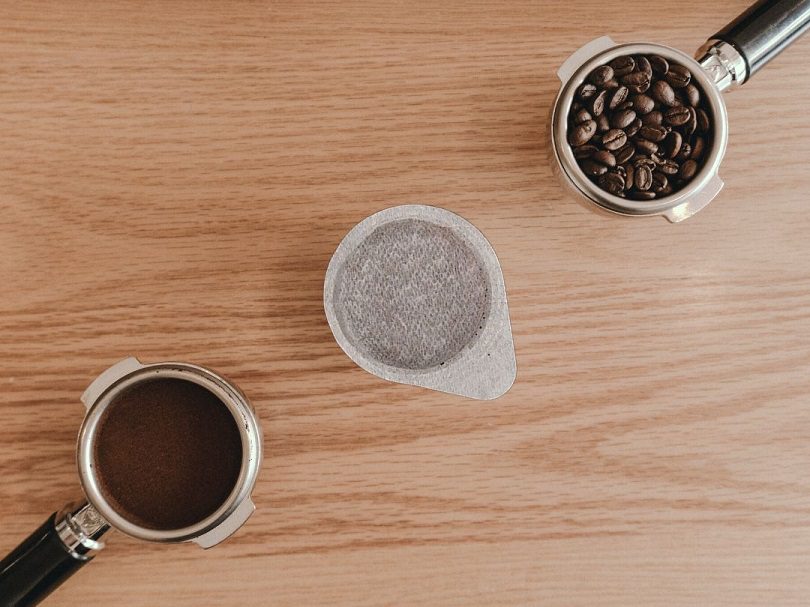 The Looks
Having first hit the market over 15 years ago, the EC155 looks and feels like one of the older espresso machine models. It's a pretty classic look though that should be at home in all but the most modern of kitchens.
If you're short on counter space, the De'Longhi EC155 is a compact, handy little espresso machine. It sizes up at 10.5″ high, 7″ wide, and 8.25″ deep and is also relatively light at 7lbs 2oz.
Plus, you can feel like a real barista thanks to the portafilter (the part you put the ground coffee into).
The downside is that there's quite a lot of plastic on the outside making it look a little cheap – which it is! Personally, I don't think this detracts hugely from the look of the machine but it comes down to personal preference. Honestly, if you're looking at this price point then all the machines will be mostly plastic.
As a beginner friendly espresso machine, the 2 dials for controlling both the flow of water and milk frother are easy to use and also fit with the more classic aesthetic.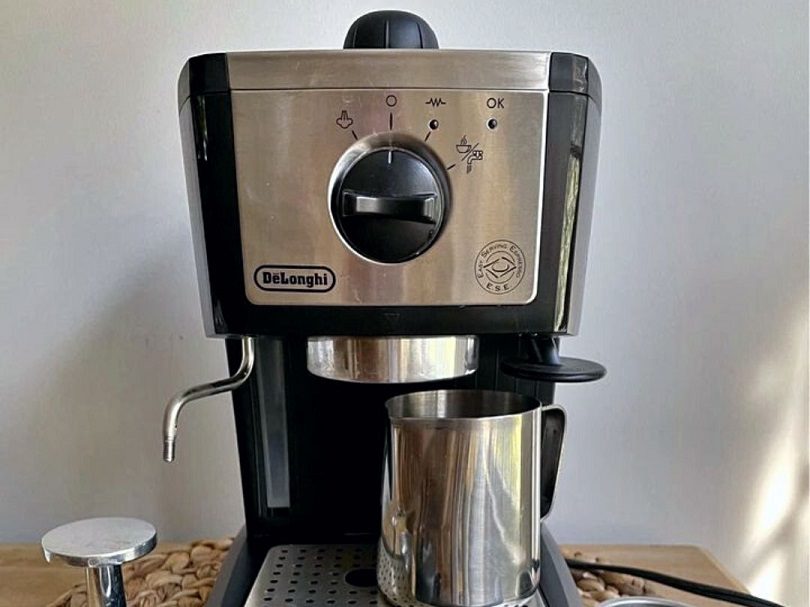 The Performance
The internal build quality of the DeLonghi EC155 pump espresso maker is excellent.
De'Longhi has opted for a stainless steel boiler instead of aluminum which is often found in inexpensive espresso machine models. The stainless steel, however, provides a more stable temperature for pulling more consistent espresso shots.
Plus, the 15 bar pump system brews rich-tasting espresso coffee thanks to the quality and consistency of the pressure. However it should be noted that this isn't enough pressure for extremely finely ground coffee. If you go too fine, you may cause the machine to clog. Unfortunately, if you're looking for that kind of performance, you need to fork out quite a lot more money.
You also need to be careful not to overtighten the portafilter. If you do, you might find yourself needing an engineer to take apart your machine just to remove the filter. After hearing reports of this I purposefully tried to see if I could get it stuck, I am committed to reviewing. I couldn't manage to get the portafilter stuck but maybe I'm just weak.
Overall, the De'Longhi EC155 looks and feels well put together. The big benefit of an espresso maker that hasn't changed much in 15 years is that they've had 15 years to ensure everything works well and lasts.
However, depending on how much of a caffeine hit you need, you can choose either the single or double shot portafilter.
The EC155 will never stand up to the more expensive machines in terms of espresso quality. It simply can't produce consistent enough pressure and temperature to pull truly excellent espresso. Even if you bought new portafilters.
This isn't a knock on it, this is just the reality of the entry level espresso machine market. They pull decent to good espresso with ease. And its ok to be happy with that.
The temperature control isn't the best. We found that pulling 3 or 4 shots in a row caused the later ones to taste a little thin and sour like it wasn't getting hot enough.
All that said, if you like to drink just one or two dark roast espressos, possibly with a bit of foamed milk, then this will be a very dependable espresso machine for you. And considering the price, the espresso is actually pretty darn good.
So, if you're reading this DeLonghi EC155 review for the million-dollar question – thumbs up or down for coffee quality? Our answer is: Up! You just have to work within the machine's limits.
However, the DeLonghi EC155 pump espresso machine does have a cup warmer which is a nice touch. In our (very humble) opinion, pouring a great espresso into a cold cup is a crime and should be treated as such.
Also, not all the best budget espresso machines have a milk frother. So we'll treat this as an extra bonus feature too. And the swivel jet frother really is one of the best features of this entry-level espresso machine.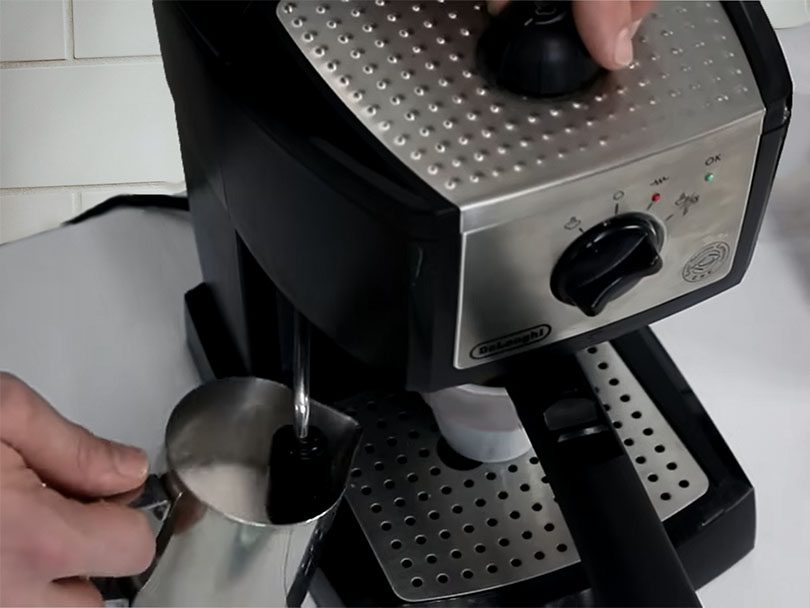 When it comes to cleaning the De'Longhi EC155 espresso maker there are just a couple of things to note:
Firstly, there are quite a few parts to clean so this will take up a lot of space when you are descaling. So while it's a compact, lightweight espresso machine you will need some counter space in order to give it a deep clean.
Also, there are no mechanisms for telling you when you need to descale your machine. However, to keep you right, a good rule is to descale every 100 espressos or so. Maybe set a reminder on your phone.
You may find that it just stops working one day if you leave it too long but this should be easily fixed once it has been descaled again.
The drip tray on which the coffee cups sit is removable. So any spillages can be easily cleaned up too.
Mr Coffee ECMP50
The closest contender to the EC155 is the Mr Coffee ECMP50. It is a tight contest between the two coffee makers, both at the same affordable price point. But, in the battle of Mr Coffee ECMP50 vs DeLonghi EC155, we feel that the DeLonghi comes out on top.
The two espresso and cappuccino makers are comparable in many areas. However, their main differences are:
The Mr. Coffee machine is dual shot compared to the single-shot De'Longhi
The DeLonghi EC155 has a smaller footprint, making it easier to fit on your countertop
The water reservoir on the Mr Coffee ECMP50 is much larger (52oz although advertised as 40oz) than the EC155 (34oz)
The DeLonghi EC155 can use either pods or grounds, but the Mr Coffee ECMP50 only works with ground coffee
Higher brew quality on the Delonghi EC155
The milk frother on the Mr Coffee espresso machine is weak and a little awkward to use
To take a deeper dive, check out our full Mr Coffee ECMP50 review.
Which is Your Winner?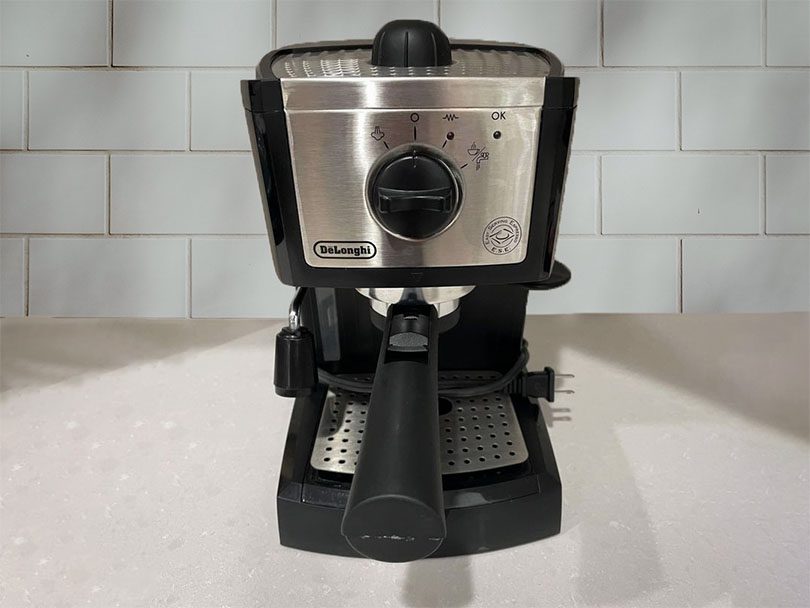 De'Longhi EC155 M Espresso Machine
The De'Longhi EC155 vs EC155M comparison is a pretty tightly run race. There are a few upgrades made to the original model that makes the EC155M the slightly better machine though.
All the great features you already loved in the EC155 are still there, but you can expect the following improvements:
Improved portafilter design that prevents the filter basket from falling out when you're tapping out the spent coffee puck
Stainless steel rather than plastic lining which removes any plastic contact with your cup of coffee
The drip tray has elongated draining holes rather than the polka-dot design of the EC155 which reduces run-off
The cup warmer is lined rather than dotted although we're not sure we really see the benefit here
An ever-so-slightly more ergonomic design of the dials
All-in-all the changes are marginal. So no matter which DeLonghi pump espresso maker you opt for, you will likely not really notice the difference. If you already have the EC155, there would be little point in 'upgrading'. But, if you are in the market for a great starter home espresso maker for the first time, we would pick the EC155M.
If you keep your eyes peeled, it's also possible to pick up the improved EC155M for a cheaper price than the EC155.
Not sure if the DeLonghi EC155 is right for you? Check out all of the best espresso machines from De'Longhi here to see how it compares:
If you're looking to make nice espressos or café style drinks like cappuccino or latte at home without breaking the bank, the De'Longhi EC155 has to be near the top of the pile. If not right at the very top.
The quality this great espresso maker offers you is high considering how little maintenance the machine is.
Sadly it's now very hard to find the EC155 at a great price as it's been discontinued. The DeLonghi Stilosa has taken the mantle as a great budget DeLonghi espresso machine.
We hope our DeLonghi EC155 review has convinced you of just how good this little workhorse is. You will struggle to find a simpler espresso machine for such a good price. It really is the perfect place to get into home coffee making.
Don't forget to Buy Your De'Longhi EC155 Today
You Might Also Like
If you're a dedicated home barista looking to manually pull espresso shots without it costing a fortune, this Flair Classic review is for you

Traveling a lot gave us the perfect chance to do an in-depth Wacaco Picopresso review. A spectacular portable espresso maker for coffee lovers