If you're battling between the Jura ENA 8 vs Gaggia Babila, this guide is for you. As one of Gaggia's top espresso machines, the Babila offers superb customization to get your perfect cup of coffee. Whilst in the middle of the Jura range, the ENA 8 retails at around the same price, offering simplicity and ease. So which machine is best?
'Best' all comes down to what you're looking for. As long as you're happy to fiddle with the settings, the Gaggia Babila is the better espresso machine. It has more flexibility to nail your coffee to your exact preferences. But those looking for great coffee and pure simplicity will prefer the Jura ENA 8.
These are very different machines in terms of style so they'll suit different types of coffee lovers. Having tested and loved both machines, we put them head-to-head for this in-depth comparison.
Let's see how they stack up:
This article may contain affiliate/ compensated links. As an Amazon Associate, we earn from qualifying purchases at no additional cost to you. For more information please see our disclaimer here.
Gaggia Babila
Design and Build Quality: 4/5
Ease of Use: 4/5
Coffee Quality: 5/5
Customization: 5/5
Ease of Cleaning: 4/5
Or read our full review
Jura ENA 8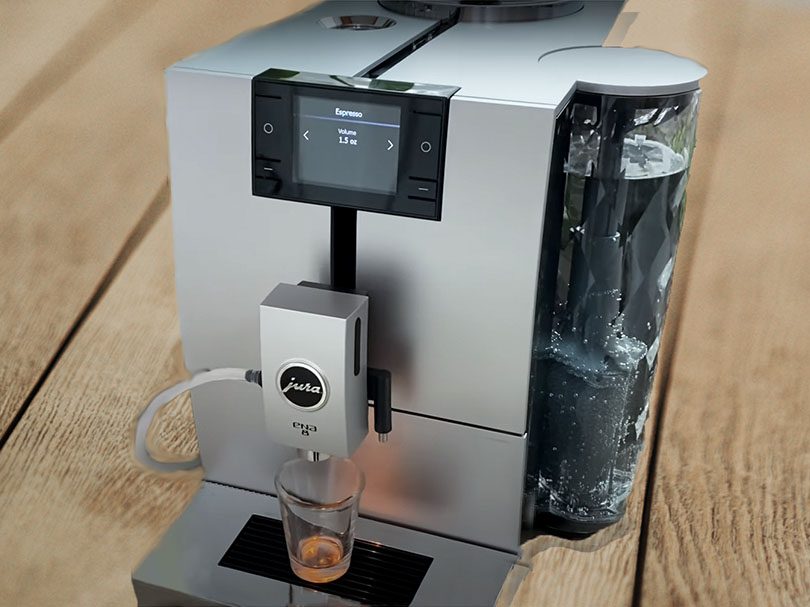 Design and Build Quality: 5/5
Ease of Use: 5/5
Coffee Quality: 4/5
Customization: 3/5
Ease of Cleaning: 4/5
Or read our full review
Gaggia Babila
With brushed metal, rounded corners, and chrome accents, the Babila certainly looks the part of a premium coffee machine. However, the old-fashioned buttons and LCD display detract from the looks a little. Not that they necessarily look bad, just a little dated in an age of beautiful color touchscreens.
It has a detachable milk container that slots nicely into a small opening covered by a chrome plate. My only annoyance is that there's nowhere to put this chrome plate while the container is attached so I live in fear that I'll lose it.
The use of ceramic makes a better coffee grinder in terms of accuracy and heat. But it's also more fragile so you have to ensure nothing gets into the grinder other than coffee beans or it will chip and be useless.
If you're short on space, the Babila is a pretty compact coffee machine (9.6 x 14.2 x 16.5 inches). At just less than 10 inches wide, it can squeeze into a corner of your countertop rather than dominating the whole space. You should also be safe if you have overhead cabinets too.
All Gaggia machines are still built in Treviso, just outside Milan. They've been making espresso machines since the 1940s and have built their reputation on quality. This commitment to the best has remained a cornerstone of the brand and success to this day.
So they're one of the brands we truly trust to produce durable coffee machines. Plus, there's a 1-year warranty if you run into any issues.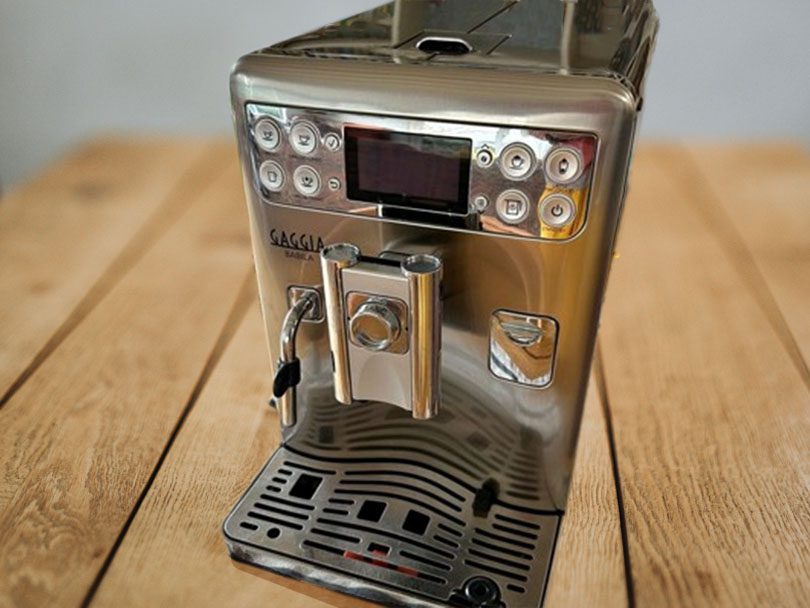 Jura ENA 8
If there's one thing you can rely on Jura to do, it's make stylish coffee machines.
The ENA 8 comes with a diamond-effect water carafe that looks a little like a crystal decanter. It has a beautiful big display and nice curved lines. Like all Jura machines, it's mostly plastic but this doesn't detract from the fact that it's really nice to look at.
Most Jura machines are chunky – a lot is going on inside, after all. But the ENA 8 is a relatively small machine at 10.7 x 12.7 x 17.5 inches. Whilst wider and deeper than the Babila, the ENA 8 is shorter. At 12.7 inches tall, this makes it a great choice for anyone with overhead cabinets that could get in the way of re-filling the bean hopper.
Jura's build quality never falters. You're guaranteed a premium look, feel, and build from a Jura espresso machine.
The ENA 8 is no different – all the parts feel well-made and put together. It's easy to find people who've been using their Jura machines for up to a decade without issues. In addition to the generous 2-year warranty, you can also choose to get a yearly service from an approved Jura engineer to keep it in good condition.
The Winner
For us, the more modern design of the ENA 8 sneaks the win here as they're pretty much even on build quality. Although, if you're a big hater of plastic then the brushed metal of the Gaggia will definitely be your preference. But the lovely screen, carafe, and general look of the Jura is our choice.
The extra year of warranty from Jura over Gaggia is a big plus too.
Babila
The great thing about machines with old-school buttons instead of fancy screens is that they're incredibly simple to operate:
There are buttons for the most popular specialty coffee drinks including espresso, cappuccino, and latte. For other drinks like ristretto, flat white, or latte macchiato, you have to navigate the menu. But this isn't complex. Pouring a double espresso, for example, just requires a double tap on the button.
There are a bunch of settings you can adjust like water temperature, adjustable coffee strength, pre-infusion time, and even flow rate. These are all easily accessed through the menu or with a dial.
My slight annoyance is that adjusting the milk or coffee volume is displayed as a bar with no units of measurement. So a little guesswork is required. But you can always adjust the volume the "old-fashioned way" by holding down the button and then pressing it again when you've got the amount you want.
Once you've set up your settings, the Babila will save them so you just have to push a button for your perfect coffee next time. The downside is that it doesn't have user profiles if everyone likes different styles of each drink. There's also no app connectivity to speed up fine-tuning your coffee.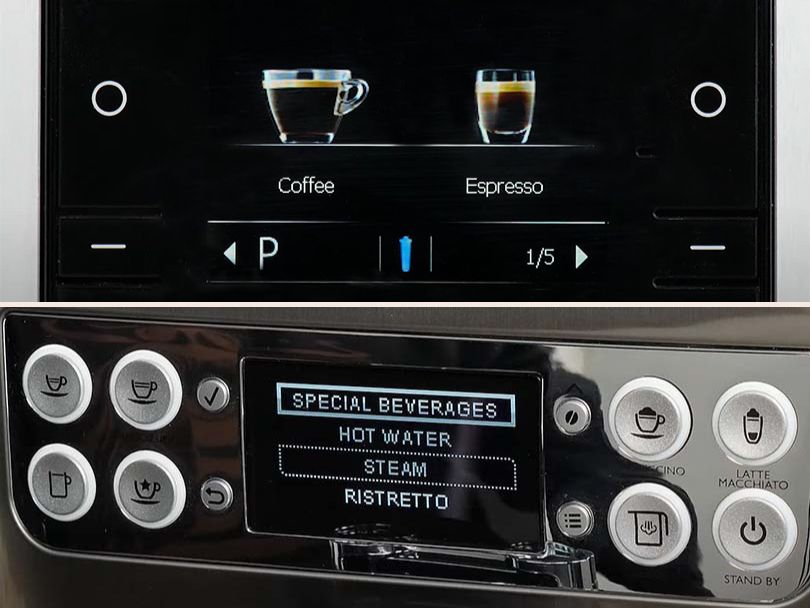 Jura ENA 8
Jura machines are generally so simple to use that you never even have to look at the instruction manual.
The ENA 8 is no different – the large display makes adjusting the strength, temperature, and volume settings incredibly simple. Even if you want to dig deep into the options, it's still a simple machine to operate.
Plus, there's the added bonus of being able to use Jura's mobile app though you have to pay extra for the Smart Connect (Bluetooth) dongle.
For those who didn't grow up with an app for everything, it can be a little more complex to use than the machine directly. But it does mean everyone can have specific settings saved to their phone (there are no user profiles on the machine itself). This makes it easier in a household with several coffee drinkers with different preferences.
The Winner
Based solely on the ability to use the app, the ENA 8 is the easier-to-use machine. The menu on both machines makes picking your settings for each drink simple enough. But the ability to have them adjusted and saved to your phone makes the Jura a cut above the Babila.
Both machines have 8 pre-programmed coffee drink options. Plus hot water and milk portion but we don't count these as distinct options. If you have a favorite espresso drink, make sure the machine you're leaning toward can make it:
| Drink | Jura ENA 8 | Gaggia Babila |
| --- | --- | --- |
| Ristretto | ✓ | ✓ |
| Espresso | ✓ | ✓ |
| Doppio | ✓ | |
| Lungo | | ✓ |
| Coffee | ✓ | ✓ |
| Cappuccino | ✓ | ✓ |
| Flat White | ✓ | ✓ |
| Latte Macchiato | ✓ | ✓ |
| Macchiato | ✓ | ✓ |
So unless you exclusively drink Doppio or Lungo, there's not really much between the Gaggia Babila vs Jura ENA 8.
Gaggia Babila
The Babila's ceramic burr grinder has 15 settings but even for longer coffees we find that the coarsest 5 settings aren't very good. That said, having 10 usable grind settings is not to be sniffed at and the grinder's accuracy is excellent.
You can choose from 5 strength options, 3 pre-infusion times, and 3 temperature settings. Whilst great in theory, all but the hottest produced pretty uninspiring results even when we adjusted grind, strength, and pre-infusion to try and compensate. Unfortunately, this is a pretty common issue across a lot of super-automatic espresso makers.
The real standout feature is the Babila's flow rate adjustment dial – something very few espresso makers have. It works by slowing down or speeding up the flow of water through the coffee puck so you can create a more intense espresso or a lighter lungo without having to dig through other settings. As it's just a dial, you need to remember where you set it which is a pain but still a tremendous feature to have.
There's also a manual steam wand in addition to the automatic milk options. While many people will probably never use this, it's a nice option to have. For example, the automatic milk may not be ideal for your favorite coffee but with a little practice, you should get a good microfoam from the manual wand.
Jura ENA 8
Whilst having the same number of coffee options, the ENA 8 also has 10 strength levels, 3 temperature levels, and adjustable volume for coffee and milk.
When it comes to grinding, the Aroma G3 grinder is one of the best available on super-automatic machines. It has 7 grind settings (all of which are actually useful), it's fast, quiet, and gives superb consistency.
All the settings on the ENA 8 are good – even the temperature ones that are often useless on other machines. That said, there's no way of adjusting pre-infusion and the ENA 8 doesn't have the intelligent pre-infusion (I.P.B.A.S) tech of the higher-end Jura machines. (For a high-end machine, see our Jura E8 vs Gaggia Accademia comparison.)
Jura's 3D Brewing and Pulse Extraction Process (P.E.P) work together for incredible flavor without adjustment though.
The milk and foam come in one style with no options to tweak it to your preferences. This may be slightly annoying if you prefer a flat white or latte as the milk is a little too foamy for those coffees. But for other drinks, the quality of the milk texture and foam is brilliant.
The Winner
This round has to go to the Babila for its ability to control the flow rate if nothing else. Plus the options to adjust the pre-infusion and to make custom milk (even if you have to steam it yourself) are also a big plus over the ENA 8.
Gaggia Babila
The coffee quality on the Babila is a tale of two halves… or two espressos:
On the standard settings, it's good. Not brilliant, but it's good.
However, if you spend the time to get your grind, dose, pre-infusion, and flow rate right, it can be truly excellent.
This isn't a knock on the Babila at all – getting great espresso from a super-automatic coffee maker sadly isn't a given. But for the "push button and go" crowd, this may be asking you to do a little too much work.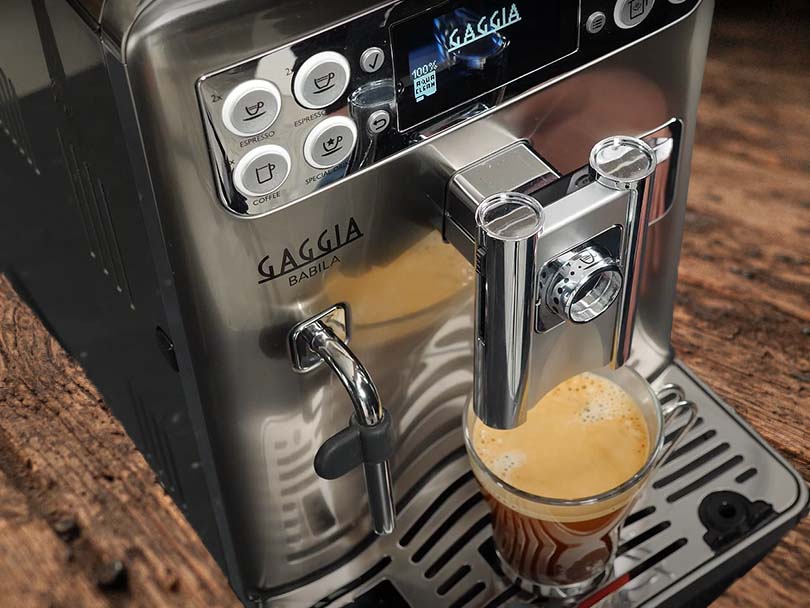 Jura ENA 8
The ENA 8 produces a great espresso. Yes, I know that taste is subjective but I've never had a bad espresso shot from this machine, and the same can't be said for all its competition.
On the factory settings, I generally find the espresso is too long. But reducing it to 1oz gives an excellent body and depth of flavor. You don't need to turn everything up to maximum either, which is great.
Whilst it offers the ultimate in easy espresso making, the ENA 8 can't reach the delicious heights of the Babila. It just doesn't have the same level of control to get perfect extraction and really nuanced shots.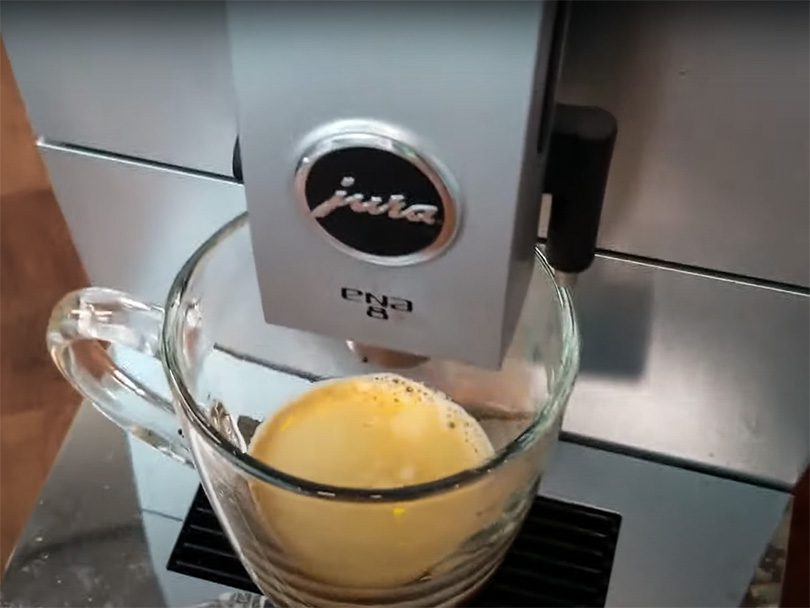 The Winner
The Babila easily takes this one – just as long as you're happy to work for it.
Whilst the coffee from the Jura ENA 8 is better out of the box, by tinkering with settings on the Gaggia Babila you'll get a far better espresso than the Jura can produce.
the Babila
Both the Babila and ENA 8 are low-maintenance super-automatic espresso machines.
Gaggia recommends cleaning the brew group with their branded tablets every month or so. Thankfully it's easy to remove and can be rinsed with warm water daily. Whilst not strictly necessary, it's good practice to keep on top of and will help keep your machine in peak performance for years to come.
The grounds bin, drip tray, and milk system also all need cleaning daily. But it's a 15-minute job (at most) to do. Most of the time is for the milk system which you really need to make sure is properly cleaned.
Descaling is a once or twice-a-year job depending on your water quality. The water filter successfully keeps the inside of the boiler free from mineral build-up for a long time. When you do need to descale, it takes 30 minutes and the Babila will talk you through everything – using the branded cleaning products, of course.
the ENA 8
Jura cleaning is like Jura everything else: incredibly simple.
Like all espresso machines, you still have to rinse the drip tray, grounds container, etc. But the hose for the milk system is so much easier to clean than a container. You can trust the automatic cleaning to keep it nice, but we still like to give it a good clean weekly to be sure.
One possible downside to all Jura machines is that you can't remove the brew group for cleaning. This is a sticking point for some people, but we've never had (or seen) any issues. So we choose to trust Jura's internal cleaning until proven otherwise.
Descaling is also an incredibly infrequent and simple task. But, just like Gaggia, Jura also ties you into their branded cleaning products (and it invalidates your warranty if you don't use them).
The Winner
The Jura ENA 8 is undoubtedly easier to clean. The milk hose system is much simpler cleaning-wise than having a built-in container (we put the hose into a dishwasher-safe milk jug).
The one caveat is that if you want to KNOW that your brew group is sparkly clean, then the Babila offers far better peace of mind. We're happy to trust Jura. But if that makes you nervous, a removable brew group is great – just a little more work.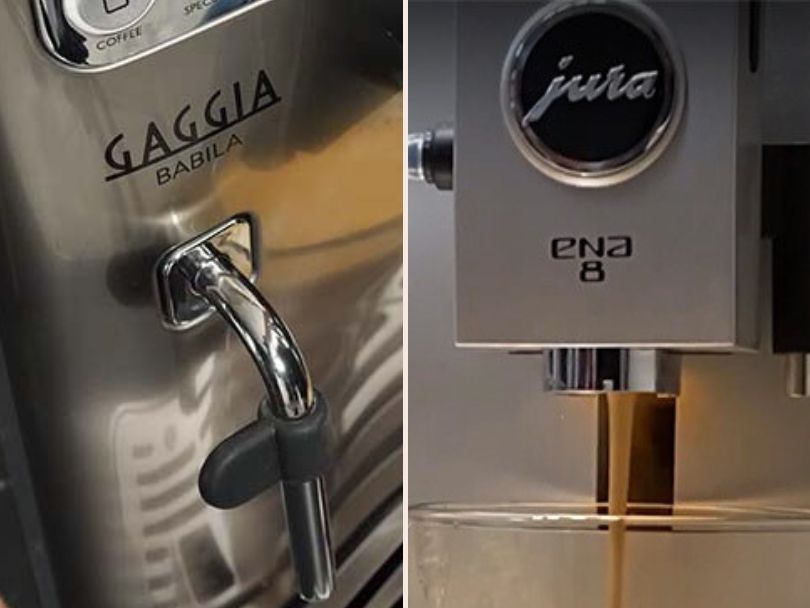 This is a tightly run race, but ultimately the Gaggia Babila is the better coffee machine.
While the Jura ENA 8 is easier to use and clean, the Babila can produce better coffee drinks. So it excels where it matters most. Yes, it may take a little more effort with the settings and clean-up, but it's worth it.
Now if you think more effort absolutely isn't worth it, then the Jura ENA 8 is the simpler machine. And it will still give you amazing quality coffee.
The 'best' machine out of Jura ENA 8 vs Gaggia Babila ultimately comes down to how much effort you want to put in. So which one will take pride of place in your home?
You Might Also Like
Beautiful, simple, and delicious espresso for around $1000? We had to test if such a thing was possible – read our Jura ENA 4 review to see

As two heavyweights of the super-automatic espresso machine market, see who comes out on top in the Gaggia Accademia vs Jura E8 battle