Choosing the perfect Jura coffee machine can be a daunting task. Even though it's a relatively small range, it can still be hard to know which is best for you. That's why we've test driven and compared the Jura E6 vs E8 in a head-to-head battle to see how they perform side-by-side.
When it comes to overall performance and versatility, the Jura E8 is the clear winner. Boasting a wider array of drink options plus customizable milk settings, every style of coffee lover will be delighted with the E8.
However, that's not a knock on the E6 which is still a superb machine. Especially if you exclusively drink black coffee and/or cappuccino. In this case, by opting for the Jura E6 you can save yourself some money whilst still indulging in great coffee at the touch of a button.
Dive in for a full breakdown of the features and key differences between these two amazing Jura coffee machines. By the end, you'll be fully armed with all the information you need to make an informed decision and take your home coffee game up a notch.
This article may contain affiliate/ compensated links. As an Amazon Associate, we earn from qualifying purchases at no additional cost to you. For more information please see our disclaimer here.
Jura E8
Thanks to its great looks, extensive range of coffee drinks, and impressive performance, the Jura E8 stands out as our top choice in the E6 vs E8 showdown.
The customization to get your drinks exactly how you like them is made incredibly easy. You can either choose directly on the machine or by using the JOE app on your phone. What's not to love?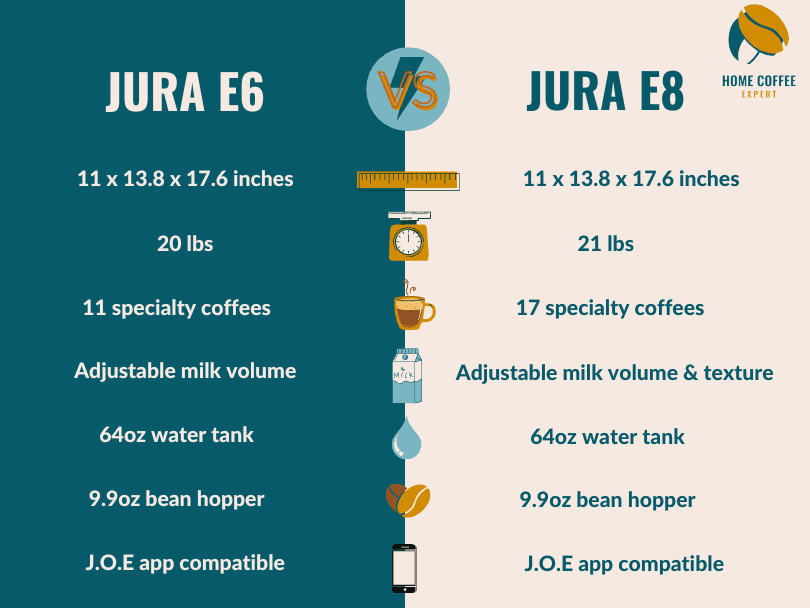 Whilst they're not Jura's best coffee machines (the Z series are the best with a hefty price tag to match), they do still have most of the top Jura brewing technology. This makes them great options for people who don't need all the extra gadgets of the Z series but still want quality coffee with ease.
Jura E6
The E6 Jura coffee machine has had a glow-up recently. It now boasts all the exciting abbreviated technologies of the E8:
You get intelligent pre-infusion (I.P.B.A.S.) to de-gas the grounds and get more flavor. Plus, there's 3D brewing, pulse extraction, the Professional Aroma Grinder, and optional WiFi Connect for integration with the app.
All this adds up to essentially the same espresso brewing capabilities of the E8.
What it still lacks are the drinks options and milk foam customization. The E6 only has 7 distinct coffee options, plus doubles, hot water, and milk foam. The milk-based options are limited to just cappuccino and macchiato as it can only produce one style of milk.
Whilst the milk and hot water are both measured automatically, you have to twist the dial to dispense them and then close again afterward. This isn't very common on automatic coffee makers, to be honest, and detracts a little from the 'fully automatic' status.
There are also different nozzles for milk and hot water that need changing depending on which drink you are making. Though you can just use the milk one as long as you're prepared for some splashing.
Jura E8
The Jura E8 automatic coffee machine has also been upgraded to have the latest Professional Aroma Grinder and all the internal goodies.
Where it really distinguishes itself is in the variety of drinks on offer and the customization of the milk foam.
With 13 distinct coffee options, again with doubles, hot water, and milk foam on top of this, you're getting a lot more variety. These include café favorites such as latte macchiato, flat white, and cortado. There is also a small dial on the milk dispenser to adjust the foam to your liking.
Coffee Options
First up we have the biggest difference that separates the Jura E6 vs E8:
The E6 can make 4 different black coffees plus cappuccino, cappuccino with an extra shot, and macchiato. These 7 could cover everything you need – I'm sure plenty of households only ever drink one or two things anyway.
But if you're looking for more flexibility, the Jura E8 has 13 drink options. On top of those offered by the E6, you get espresso doppio, cortado, flat white (plus extra shot option), and latte macchiato (plus extra shot option.) This, obviously, covers a lot more bases than the E6.
So if your favorite isn't made by the E6 or you like to mix things up, then the E8 is streets ahead.
Milk Customization
The E6 will only allow you to adjust the amount of milk dispensed. Everything else about the milk will be the same, hence cappuccino and macchiato are the only available options.
The E8 on the other hand comes with a small dial on the milk dispenser that allows you to adjust the amount of foam you get. This is critical for making drinks like cortado and flat white and will keep all but the pickiest milk texture fanatic very happy.
Ease of Use
Jura excels at making easy-to-use machines. Big bright displays and simple, intuitive operations often mean you never need to pick up an instruction manual.
But while a lot of the internal parts of the E6 and E8 are exactly the same, the way they dispense your coffee is quite different:
The Jura E6 coffee machine doesn't automatically dispense hot water or milk. Instead, you have to turn a dial. The machine will still measure the correct amount and prompt you to turn the dial on and off but you still need to stand there and do it. Life is very tough sometimes.
There are also 2 different nozzles for the milk/hot water dispenser, situated just behind the coffee dispenser. Being able to switch nozzles from hot water to milk means there's no cross-contamination which is particularly great if anyone has allergies. But, it's also annoying to constantly do. Plus they're small and therefore very easy to lose.
Changing them isn't mandatory, of course. So if you don't care about using the same nozzle, why bother? We regularly left the milk foam one on and had no problem dispensing hot water from it. Although it's a little splashy, it works fine.
The Jura E8 coffee machine is a little different:
At first glance, it looks like you need to move the cup between the coffee and milk nozzles, but fear not. There is a coffee nozzle behind the milk one. So for milk-based espresso drinks, sit your cup under that nozzle with the extra 1.8 inches of clearance. For just coffee (or with water), place it under the middle nozzles.
This is, obviously, a far more elegant solution and makes life easier. Assuming you're not too tired or hungover to remember which nozzle to put your cup under, of course.
Size and Build
Both the E6 and the E8 are 11 inches wide, 13.8 inches high, and 17.6 inches deep. They both have a 64 oz water carafe and a 9.9 oz bean hopper. Weirdly the E8 is listed with a 0.1oz larger bean hopper but both are 280g so I suspect someone isn't great at conversions.
The E8 is a whole 1lb heavier than the E6. Not sure why that would matter to most people, but you never know.
The only real size difference between these machines is the cup clearance under the spouts:
On the E6, there are only 4.4 inches of space for your mug. Whereas, the E8 has 4.4 inches under the coffee/ hot water spout, but 6.2 inches under the milk/ coffee spouts. (Both spouts can dispense coffee depending on your drink choice.) So if you're making a milky drink on the E8, you can use a 1.8 inch taller cup.
No matter which machine you choose, Jura coffee machines are renowned for lasting a long time. High build quality is one of the hallmarks of the Jura brand. So these are both luxurious coffee machines that should be with you for around a decade if properly looked after.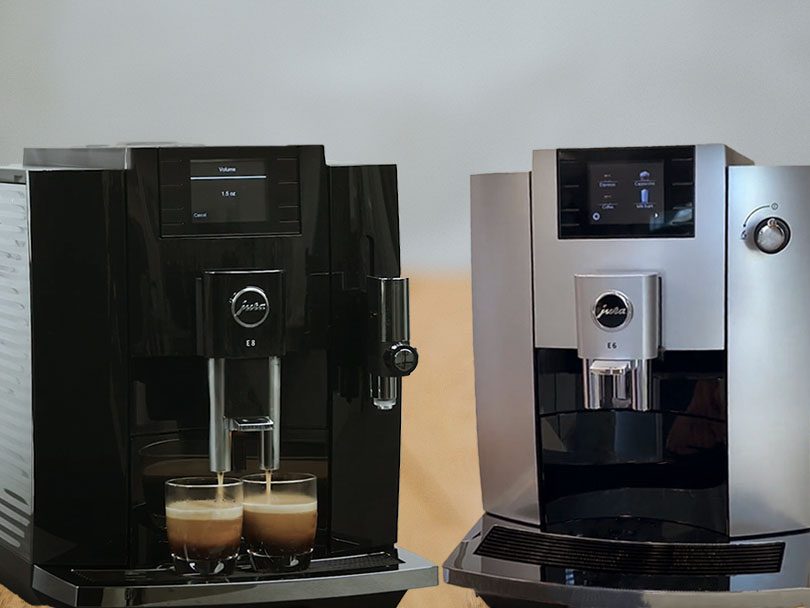 Coffee Brewing Technology
Where Jura really sets itself apart from other coffee machine brands is the brewing tech. This is what makes them worth the money, in our opinion. (If you're not sure, see how Jura stacks up against Breville or competitor, DeLonghi.)
Both the E6 and E8 have recently had upgrades to ensure they have *almost* all the newest brewing technology Jura has to offer.
This includes the Professional Aroma Grinder which is quieter and more accurate than the previous Aroma G3.
Then there's the low-pressure pre-infusion technology called I.P.B.A.S. Undergoing pre-infusion is critical for getting the full flavor from your coffee grounds. By wetting the puck under low pressure, the CO2 can escape, leading to sweeter and more flavorful espresso coffee.
Both machines feature Jura's 3D Brewing and the spectacular Pulse Extraction Process (P.E.P). Again, this is all about getting even extraction and full-bodied espresso shots. Each new bit of tech has noticeably improved the coffee quality over past models so it's not all marketing fluff either.
They also both have a larger brew group, with 10 coffee strength levels between 5-16g of ground coffee. This large dose is one of our favorite features and we think it's key in a quality home coffee machine.
Espresso Customization
In addition to using the same coffee brewing tech, both the E6 and E8 use the same grinder, the same coffee strength levels, the same temperature options for coffee and hot water, and the same volume options.
One thing to mention is that both these machines allow 0.5oz as the smallest volume dispensed. This means you can make ristretto, if you like, despite it not being an automatic coffee option. To do this, simply program your espresso to dispense 0.5oz with the strength on 9 (shown as 4.5 beans.)
While this isn't quite the flexibility of a traditional coffee machine, it is far better than many automatic coffee machines offer.
J.O.E. Connectivity
Both the Jura E6 and E8 are compatible with WiFi Connect and the J.O.E. app. But, much to our annoyance, the dongle you need to make use of the WiFi connection isn't included. So you need to buy it separately.
Once connected, the app is really good and allows you to easily navigate the options, customize your drinks, and order them to the machine. As neither the E6 nor the E8 has user profiles, this means everyone in a large house can have their own custom coffee recipes on their phones and there's no fighting over settings.
It's also superb if you're entertaining as you can add drinks to an "order" and then tell the machine to make them one by one. A really nice way to show off your beautiful new Jura coffee machine.
You can also get cleaning notifications and schedule automatic cleaning via the app. Which is great for those of us who are very forgetful.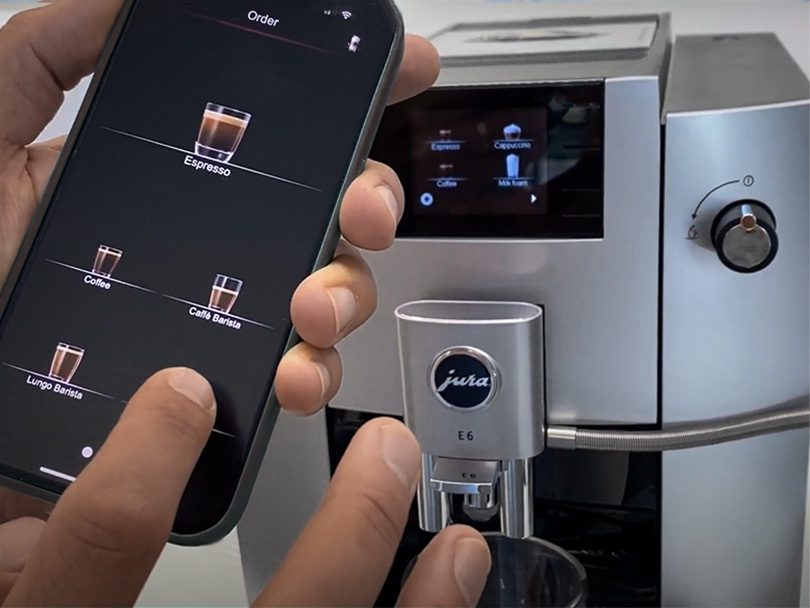 Cleaning
Across the full range, Jura uses water filters and their Intelligent Water System (I.W.S.) to keep descaling to a minimum. When the time comes, the machine will let you know and take you through the steps. Like many top-end espresso machine brands, they recommend only using their branded cleaning products.
The daily cleaning on both machines is mostly automatic – you just need to empty the pucks bin and drip tray, then rinse them yourself. It's also good practice to remove the milk dispenser nozzle and give it a good clean every day too, just to be sure.
The brewgroup is fixed inside all Jura coffee makers so you can't take it out to clean. Well, not without entirely dismantling the machine and voiding your 2-year warranty. But Jura claim their cleaning processes keep it in perfect condition and no one has managed to prove this isn't true. So we're happy to trust them.
You get more coffee options, better control over the milk foam, and truly "one touch" milk drinks. So for anyone who likes variety in their coffee life or who entertains a lot and likes to be able to offer variety, the Jura E8 espresso machine is a star.
That said, if you only ever drink black coffee or cappuccino then the Jura E6 espresso machine is a clear winner. Don't pay for things you won't use is a big mantra of ours. With the espresso quality and customization being the same, the E6 is a brilliant espresso machine for many people.
Overall, the Jura E range has excellent options for all sorts of coffee drinkers. The Jura E6 vs E8 battle comes down to how many choices you want or need in your daily coffee life:
The E8 is for those who believe variety is the spice of life and the E6 is for those with a favorite they go back to again and again.
Check the latest price of the Jura E8 at Amazon | 1st in Coffee | Refurbished Models
Check the latest price of the Jura E6 at Amazon | 1st in Coffee | Refurbished Models
You Might Also Like
Beautiful, simple, and delicious espresso for around $1000? We had to test if such a thing was possible – read our Jura ENA 4 review to see

Jura ENA 8 vs Gaggia Babila is a battle of philosophies. Is the convenience of the ENA 8 superior to the precision of the Babila?