If you want a decent espresso at home, but don't have lots of countertop space up for grabs, the Krups XP 344 Calvi Steam and Pump Compact Espresso Machine could be exactly what you need. Here we dive into a detailed Krups XP 344 Review, so brew a coffee, and let's get started:
The brand name behind your home espresso machine can make all the difference. And Krups is definitely a good option to place your trust:
They have been around since 1846, founded in Germany as kitchen appliance manufacturers. Come 1961 when they were known for high-quality, Krups started making top-end home espresso machines.
Their machines are beloved by novice home baristas and coffee experts alike. And, looking through their range, a great example of top-quality is the Krups XP 344 Espresso Maker.
Here you will find our complete Krups XP344 review and buying guide, so you can discern if this is the compact espresso machine for you. We have scoured the internet for all the reviews to collate with our own, meaning we have the most comprehensive review you can find. Whilst not all home coffee experts give numerical scores, we have averaged these out. Therefore, you can get a consensus opinion on how good this coffee maker really is and know for sure if it is right for you.
This article may contain affiliate/ compensated links. As an Amazon Associate, we earn from qualifying purchases at no additional cost to you. For more information please see our disclaimer here.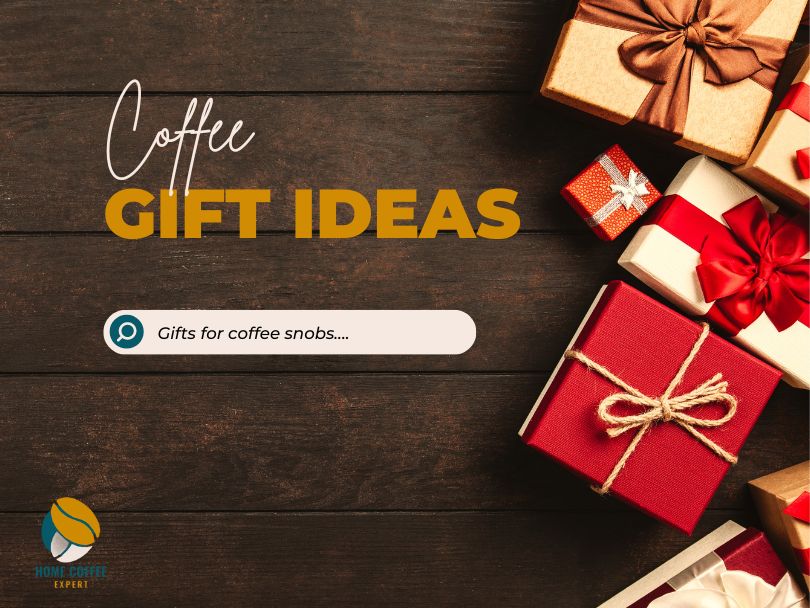 The holidays are coming. Which means stressing over the perfect gift is here too.
But stress no more. We've put together a list of all the best coffee gifts to please even the most discerning of coffee lovers in your life.
Check out our guide if they're on your 'nice' list. Or maybe be 'naughty' and buy something for yourself!
At a Glance: Krups XP 344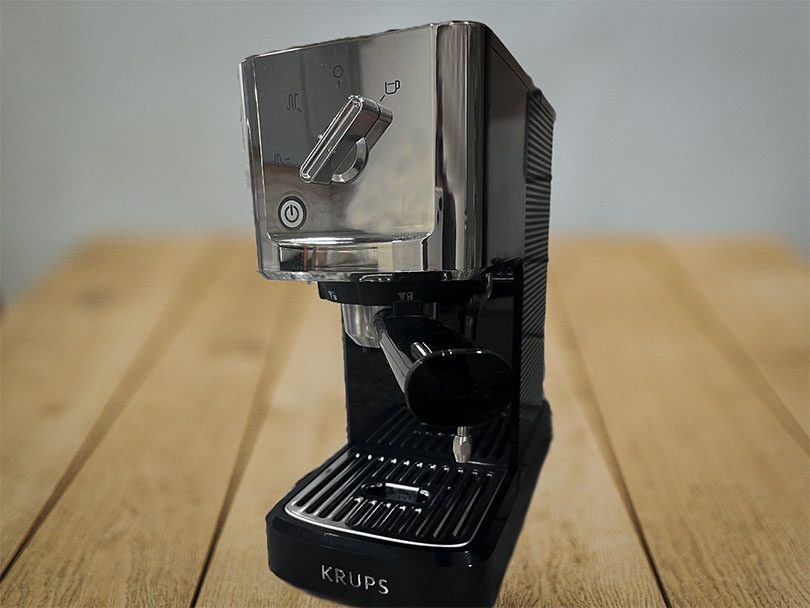 The Krups XP 344 Calvi espresso machine is a very solid semi-automatic option:
It is small, simple to use, and delivers a quality espresso.
That's not to say it's perfect though:
It has its issues, and you really need to buy a tamper and grinder to get the best quality espresso.
But for the price, it produces a very good espresso. Plus, the milk foaming wand is capable of producing professional-level results with practice.
If you don't mind doing a touch of fiddling, the XP344 is a very good compact coffee maker for your home or office.
Pros
Very easy to use
Small and compact
Low mess design
Good espresso
Quick to use
Attachments stored in the machine
Cons
Doesn't produce good crema
Annoying gap in drip tray
Cup warmer is pretty useless
No heat protection on milk frother
No hot water program
1. Thermoblock Heating System
This enables your coffee machine to brew your espresso in a mere 40 seconds after switching on. Espresso will be brewed at the ideal, constant temperature. And it allows you to swap from coffee to steam and back again in seconds. All pretty impressive compared to other budget espresso machines.
2. Professional Style Steam Wand
The hexagonal steam nozzle on the Krups Calvi is the same style as those used on professional espresso machines. This makes it possible to get superb microfoam without the big bubbles which other wands can cause on more budget espresso machines. Therefore, you can enjoy your favorite milk-based espresso drink, like cappuccino or latte, with ease.
3. Incredibly Small Footprint
Sizing up at just 6 inches wide and 11 inches deep, the footprint of the Krups espresso maker machine is smaller than an A4 sheet of paper. Perfect on small countertops.
The ground coffee is measured into the portafilter which auto-tamps as it is twisted in. You then twist the knob to the right to get the espresso to pour. And, being a semi-automatic espresso machine, you turn it back when you have your coffee.
To steam the milk, you simply twist the knob counter-clockwise. The steamer will start to heat up. And, after 15 seconds or so, the light will stop flashing, letting you know it's ready to steam your milk. All you need to do is turn it counter-clockwise one more notch to froth your milk, and back again to turn it off. For best results, you should use a stainless steel container for this.
So, while you do have to stop the espresso pulling manually, the single knob design makes the Krups an incredibly easy machine to use.
It also takes very little time to heat up and cool down between steaming and pulling espresso shots. So if you're making a few coffees in a row, it won't take all day. From start to finish this coffee machine takes around 4 minutes to make 2 lattes, which is very impressive at this price point.
The steaming wand will take some practice to perfect. It is very similar to professional steam wands which give superb microfoam but take a little bit of getting used to. So your first few tries might be a bit all over the place, but once you've got the hang of it you'll be a star home barista without even thinking.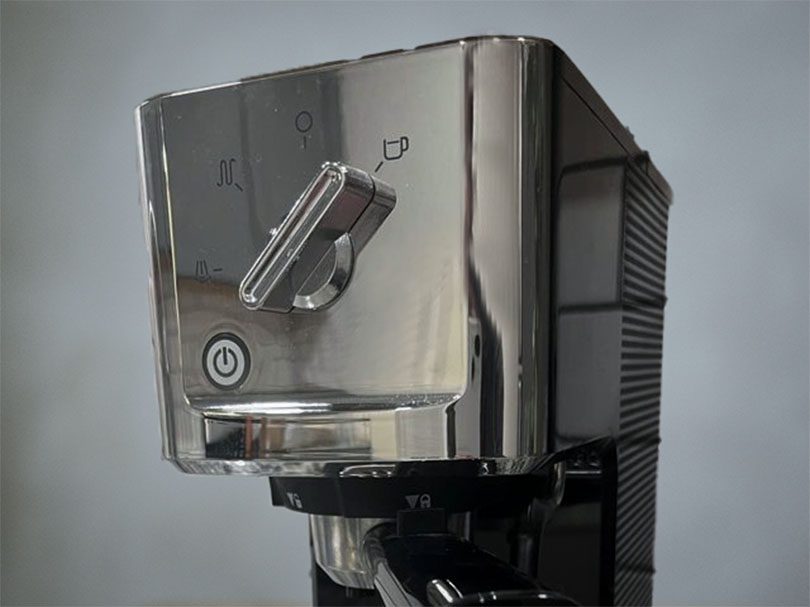 The Krups XP 344 only takes ground coffee beans.
It also does not come with a grinder attached. So if you're wanting freshly ground coffee for your morning espressos, you will need to buy a separate grinder.
You can, of course, just use pre-ground coffee. And this will work perfectly well – you just won't get the same quality of crema. Nor will the espresso taste as fresh and vibrant.
But this is purely down to personal preference. So, if you have a favorite pre-ground espresso coffee blend that you already buy, then it'll work just fine in your Krups espresso machine.
The Looks
The Krups XP 344 is a mere 5.9 inches wide by 11 inches deep by 11.25 inches high. This makes it about as compact as you'll find in an espresso machine with a 15 bar pump.
So if counter space is something you're concerned with it's a great option.
The design is simple and classic. While it's not going to be a kitchen feature piece, it will hardly look out of place either. It is mostly plastic – all budget espresso machines are – but it doesn't look cheap.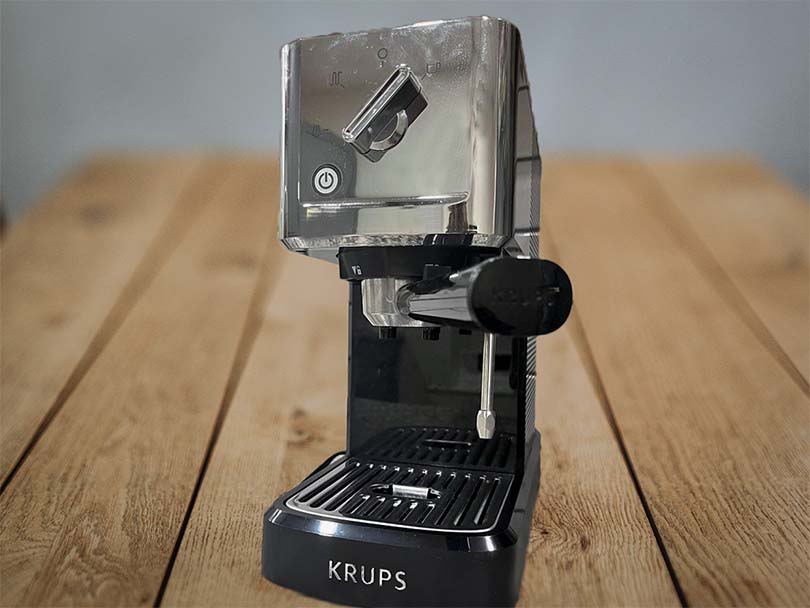 The Build
The thermoblock delivers a very consistent temperature for espresso brewing – key for a good espresso. Plus, it quickly heats up, allowing you to use the steam wand less than 20 seconds after making coffee, which is very impressive.
The 40 second wait time on the machine heating up is also impressive. And it will cool down after using steam in less than 30 seconds to be ready for coffee brewing.
All of this makes pulling shots of espresso and making milky drinks quick and efficient.
The auto-tamper is a bit of an issue:
It doesn't really tamp the grounds down hard enough and it leaves coffee grounds stuck to the showerhead (where the water comes from), which is annoying to clean. This has a very simple solution though: buy a tamper. Although an extra expense (around $10), you'll get a better espresso and less mess.
The water tank holds 37 oz. Whilst this isn't the biggest, it does keep it compact. The XP 344 water tank also isn't covered. So, you won't want to leave water in there overnight which is slightly annoying. It's easy enough to remove and fill/empty but if you have overhanging cabinets this could be a bit of a faff.
The Krups Calvi espresso machine also uses quite a lot of water:
It flushes excess hot water out to allow the quick heating and cooling between coffee and steam. So, you might find yourself filling the water reservoir and emptying the drip tray frequently.
Speaking of the drip tray, it's quite small and has large gaps. This allows the water through without splashing. But it also makes it tough to balance small espresso cups.
Thankfully, the machine barely shakes when the vibration pump is pulling a shot of espresso. So you don't have to worry about your cups vibrating and scratching the machine.
The Krups XP 344 does pull a good shot of creamy espresso. You can choose a single or double by using the one or two-cup filter baskets.
The vibration pump has consistent pressure and temperature. And the 15 bar of pressure is enough to get a good full-bodied shot out of dark espresso roast beans with a nice crema. Although this depends on how freshly ground your beans are.
That being said, 15 bars isn't really enough to get all the nuance of flavor out of medium or light roast coffee beans. Sadly, something with enough oomph to do that costs considerably more money. So it would be unfair to mark down the Krups for this.
If you don't buy a separate tamper, the espresso can be a bit weak. This is probably down to the auto-tamper not putting enough pressure on the grounds in the basket. So you end up with an under-extracted espresso.
As previously mentioned this is easily and cheaply fixed. But it does involve you buying something extra.
Another drawback is that the grouphead is plastic. As plastic isn't a good heat conductor, it doesn't always pass on enough heat to the filter and filter holder. To combat, you should run some hot water through the empty basket prior to use. This will give a better temperature and better flavor extraction.
As a budget espresso machine, bells and whistles aren't really what it's for.
However, not all espresso machines under $200 have a milk frother. Especially not one that works as well as this one. So that is definitely a plus.
Across Europe, Krups has released a newer Calvi espresso machine – the Krups Calvi Latte (XP345). Instead of the steam nozzle which you control, the new Calvi latte has a tube that you put directly into your milk container. It will then do everything for you. So it's a toss-up between ease of use and control.
Krups claim that you can heat cups on top of the machine. But, realistically, for this to work you'd need to leave them on there for quite a long time before using them which just isn't practical.
Cleaning your Krups machine after making an espresso is nice and easy:
The portafilter and basket can be washed out under the faucet. And the XP 344 leaves the puck nice and dry, making removal very easy.
If you don't buy a tamper, you have to clean the shower with a little brush as it gets covered in grounds which is irritating.
The Krups XP 344 also needs de-scaled more often than some other espresso makers due to the thermoblock design. This isn't difficult: it just involves running some cycles using only hot water and vinegar. In total, it takes less than half an hour to do. You'll have saved far more time than that with the quick heating and cooling functions.
For the milk wand, it's best to wipe it clean with a damp cloth after every use. If you don't, the milk residue will dry on it, making it a bit of a nightmare to get rid of. Usually, this would involve soaking the steamer overnight. You might want to do this occasionally anyway just to make sure none of the steam holes get clogged over time.
Whilst there are lots of positives, it isn't a perfect coffee maker:
You will want to buy a separate tamper to use alongside this machine, the drip tray is a bit irritating, and the water reservoir needs refilling more often than is ideal.
But for someone making one or two coffees in the morning or evening, and not looking to spend big bucks on an espresso machine, it does a very good job. It's clear to see why this compact model is Krups' most popular pump espresso machine.
Don't forget to Buy Your Krups Calvi XP 344 Today
You Might Also Like
If you're a dedicated home barista looking to manually pull espresso shots without it costing a fortune, this Flair Classic review is for you

Traveling a lot gave us the perfect chance to do an in-depth Wacaco Picopresso review. A spectacular portable espresso maker for coffee lovers