Are you short of space but have tall dreams of making incredible espresso drinks at home? Then this DeLonghi Dedica Deluxe review might hold all the answers:
We don't all have the space or spare cash for a big, fancy coffee machine. But lack of space doesn't mean you should give up on great-tasting homemade espresso. Now, there are plenty of super compact espresso machines, like the Dedica Deluxe, designed for the space-conscious coffee fiend. But do you have to compromise on quality to save on space?
Well, that's what we are going to break down in this DeLonghi Dedica Deluxe (EC685) review. It's one of the most popular compact espresso machines available but does it measure up to its own hype? We'll take a deep dive into all the pros, cons, features, and capabilities of this tiny but mighty machine.
Just keep in mind that it's aimed at beginner baristas who want to start pulling their own shots and not experienced pros.
This article may contain affiliate/ compensated links. As an Amazon Associate, we earn from qualifying purchases at no additional cost to you. For more information please see our disclaimer here.
At a Glance: DeLonghi Dedica Deluxe Review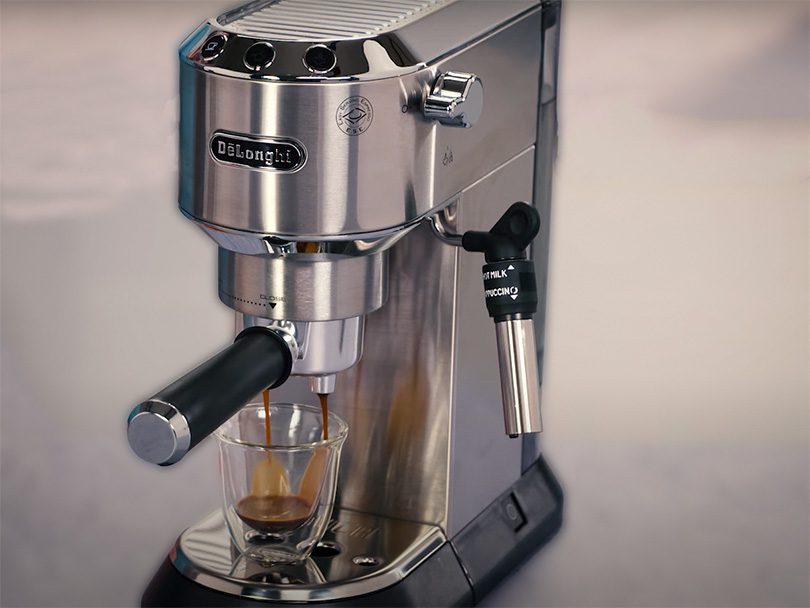 The DeLonghi Dedica Deluxe is a good-looking compact manual espresso machine that will fit in any kitchen. From it, you will get good shots of espresso and nicely foamed milk. All without breaking the bank too.
But it doesn't offer much scope for customization on the machine itself – of the 3 temperature settings only the highest is useful. But you can easily set the shot length to get espresso, ristretto, or long shot (lungo) – whichever is your preference.
When paired with a good grinder you can venture into the world of cafe style espresso coffee at home.
This is a machine for entry-level espresso pullers, but it really excels in this area.
So, if you're looking to complete a budget-friendly espresso setup then the Dedica Deluxe will serve you well. Just don't expect the world from it.
Pros
Very compact with a tiny footprint
Offers good value for money
Simple to use
Sleek looks
Good espresso and milk foam
Can use E.S.E. pods or ground coffee
Cons
Not suitable for experienced espresso pullers
The included plastic scoop/tamper is terrible
1. 15 Bar Pressure Pump
Pressure is what separates espresso machines from other types of coffee makers – 9 is the minimum number of bars needed to make espresso. So the high-pressure pump of the Dedica Deluxe allows for consistent, good extraction of your coffee grounds.
2. Customizable Shot Length
Sometimes espresso is the only thing that will hit the spot, and other times you might want a more intense ristretto or a more dialed-back long shot. But, no matter what you're craving you can simply push and hold the single or double shot button to customize the length of your drink (the amount of water that goes through the same amount of ground coffee).
Read next: How many ounces in a shot of espresso?
3. Three Temperature Settings
Low, medium, or high: when brewing espresso you can choose how hot you want to go.
4. Auto-Off Feature
We all know that moment: halfway to work then the panic sets in. Did you leave the oven on? Lock the front door? Thankfully, this reliable espresso machine has your back and will turn itself off after 9 minutes, 30 minutes, or 3 hours – whatever works best for you.
5. Milk Frother with Two Settings
With just a click, you can choose either "cappuccino" or "hot milk" from the manual milk wand.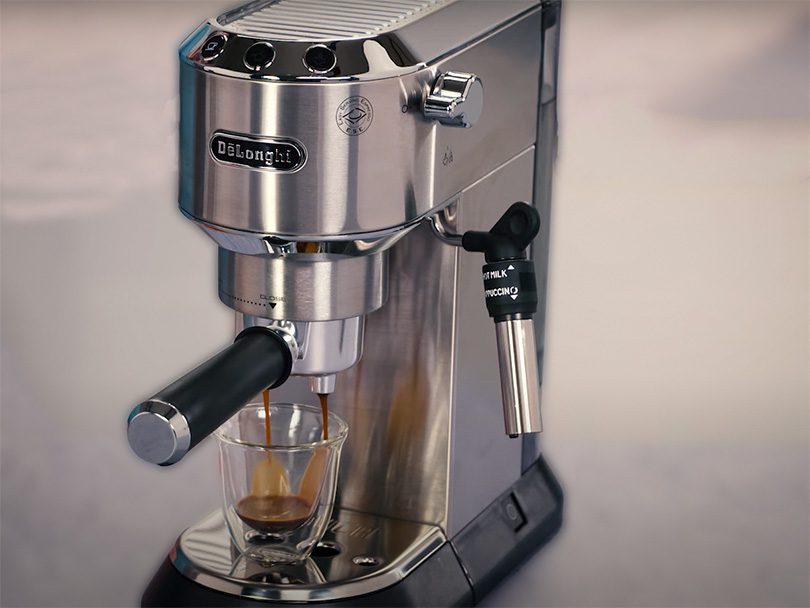 First, you set your optimal espresso temperature at one of the 3 settings (though only the highest setting gives the ideal espresso temperature).
Across the top, there are three buttons: the first two offer either a single or a double shot respectively. The third button is for the milk wand so keeps things nice and simple.
If you want to set the volume of your single or double shot simply hold down the button until the desired amount of water has run through. For best results, we recommend setting your cup on a coffee scale so you know when to stop. The Dedica Deluxe then saves this volume for next time, so you only need to do it once.
There is also a special filter basket for ESE pods if that is your preference, a common feature on entry-level espresso machines. The dual-walled filter baskets help ensure you get a good espresso shot even when things aren't perfect.
This makes it ideal an ideal choice for beginners as a first espresso machine or for casual espresso drinkers.
Just remember that there's zero help so the learning curve will be steep and mistakes will be amplified.
This means you don't have to worry about the position of the wand in the milk jug. But it also means you can't really get true microfoam.
If you're looking to make a latte, leave it on the "hot milk" setting. Or, if you want a cappuccino, put it on the "cappuccino" setting, obviously. Both will give you decent milk quality and work well.
But if you're a flat white aficionado then you'll likely be disappointed.
The frother isn't designed for really good microfoam or latte art. Without making some adjustments, we couldn't produce high-quality latte milk so it's likely you'll struggle too. If that's a deal breaker for you, the Dedica Arte has a different milk wand and is similarly priced.
So to simplify, cappuccino or latte drinkers should get the Dedica Deluxe. Flat white or more experienced milk frothers should get the Dedica Arte.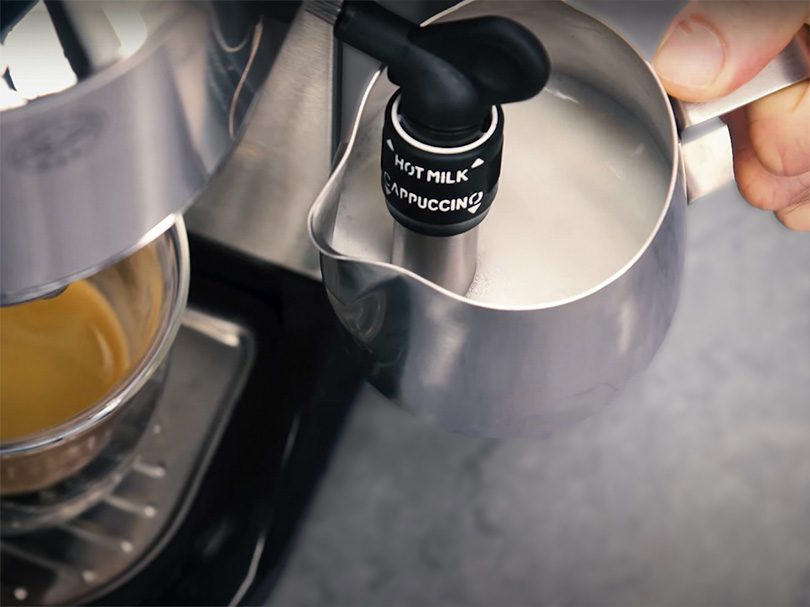 Pre-ground coffee loses much of its flavor through the evaporation of aromatic oils in the first 15-45 minutes after grinding. Even in a vacuum-sealed bag you're losing a lot of flavor by using pre-ground coffee and are unlikely to get good espresso.
We always recommend using the best possible, responsibly sourced, espresso beans and grinding them fresh.
A manual grinder like the 1Zpresso JX-Pro is perfect for espresso and won't break the bank. While you're at it grab a better tamper, the plastic one is terrible. If you're serious about your espresso shots, get a coffee scale too. All in, you can get the full espresso brewing experience for around $500.
The Looks
The Dedica Deluxe is a nice-looking compact manual espresso machine perfect for smaller homes. Thanks to the very slim profile (just under 7 inches wide), it'll neatly fit onto basically any countertop.
It only has the 3 buttons on top and a chrome lever for the milk wand. So there's not a lot to it, but the curves look sleek.
If you think you've seen this machine before it's because it's similar to the Breville Bambino – not a bad design to copy at all. Both are top contenders for the best and cheapest home espresso machine out there.
You can pick from a range of colors for the DeLonghi Dedica Deluxe – mostly neutrals and a red option. But the color versions aren't always easy to get hold of and some of them are a lot more expensive than the basic silver or black models.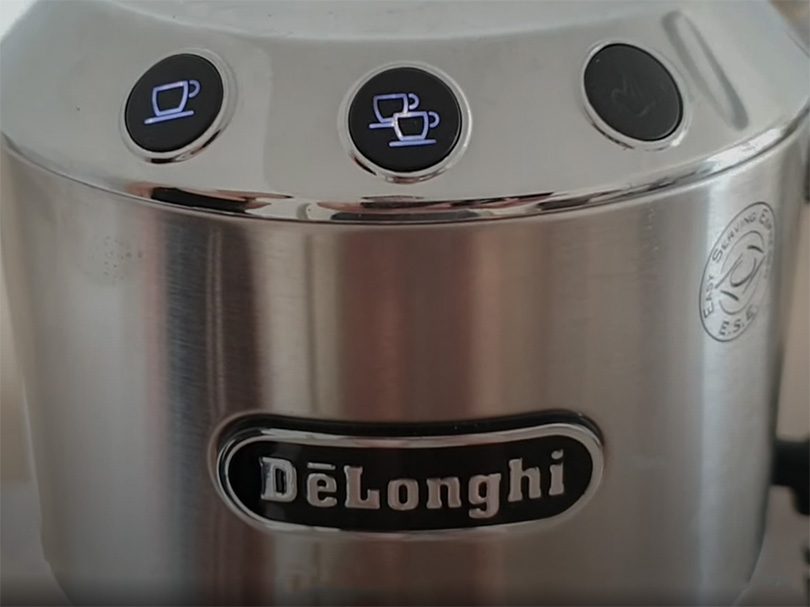 The Build
Similar to other DeLonghi espresso machines, the Dedica Deluxe comes with a 2-year warranty. It's also possible to get a third year by registering the product with DeLonghi. That's a lot of faith in their manufacturing standards.
The only thing that feels flimsy about the Dedica is the plastic scoop/tamper.
For casual espresso drinkers, it will work fine. But if you're looking to get into espresso pulling we recommend getting a proper tamper. Most home espresso machines, particularly budget-friendly ones, come with terrible tampers. So it's not a big knock on DeLonghi.
The water carafe is easy to remove and refill. At 35 oz it's not the biggest but then, neither is the machine. So be prepared to re-fill relatively frequently.
The dinky espresso machine is also very light. Generally, you expect some heft from an espresso machine which this doesn't have. So you'll need to hold it steady while attaching the portafilter or you'll move the whole machine sideways. It's not a negative, but can be a little disconcerting when you first do it.
To avoid any disasters, we prefer not to put anything brittle on the cup warmer on top.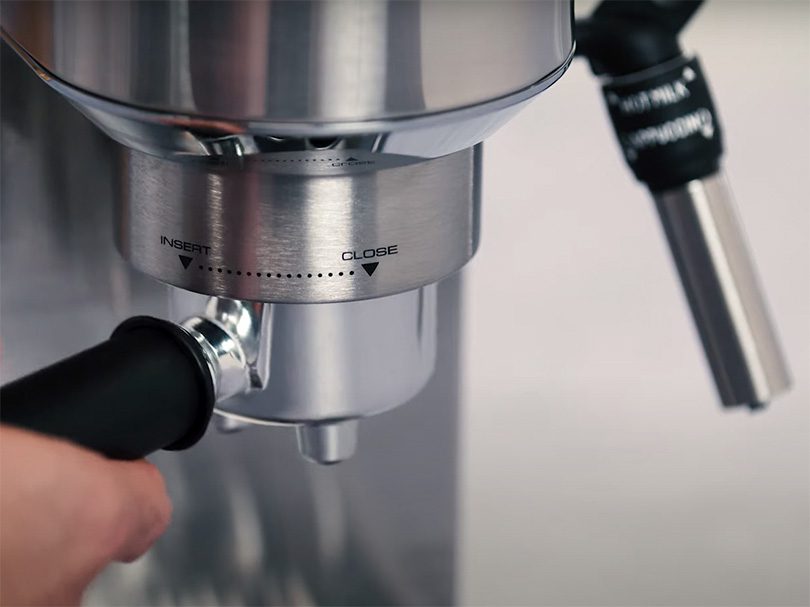 All you need to do is grind good quality fresh coffee beans, tamp them correctly, have the machine on the highest temperature setting, get a 1:2 ratio of coffee grounds in to brewed espresso out, brewed in around 20-30 seconds. Simple, right?
If that sounds daunting, don't worry the Dedica Deluxe has a few tricks to help you out. The double-walled filter baskets will ensure that you get a very drinkable shot of coffee with 1 or 2 scoops of pre-ground coffee (single or double).
Or, if you prefer to use ESE pods, then you'll get the same tasty result.
If you want genuinely good espresso from the DeLonghi Dedica espresso machine, you're going to have to work for it. But it's not difficult, especially using the double-walled baskets provided. Those looking to start their journey towards truly top-tier espresso at home will love the extra assistance to start. You can then graduate to single-walled baskets and finally a bottomless portafilter if desired.
Whilst a good first espresso machine, the Dedica Deluxe lacks the consistency to pull truly exceptional espresso. The portafilter is also a little small for this. If you're looking to start easy and move up to near professional espresso pulling we'd recommend looking at the Breville Bambino – a similarly compact semi automatic home espresso maker.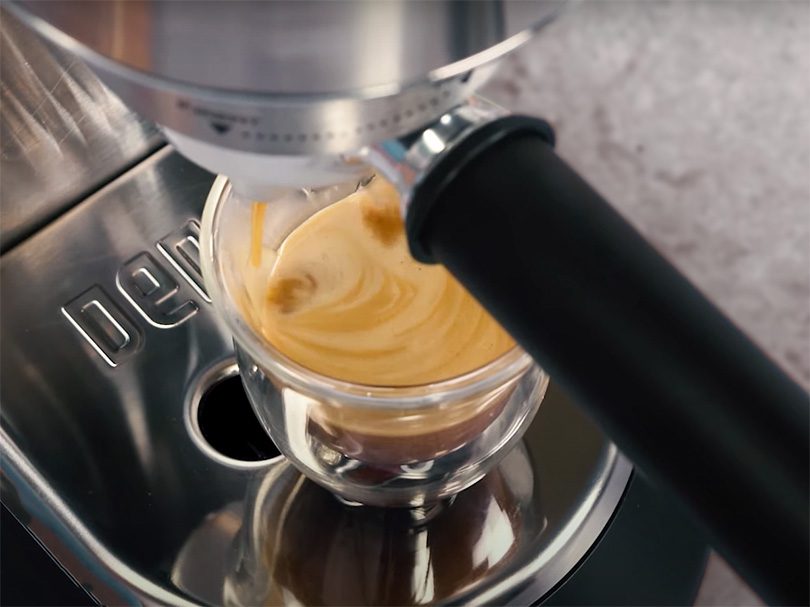 These extras are not essential – the Dedica Deluxe is a solid espresso machine, capable of getting some nice extraction straight out the box. But by making some small alterations, you can start exploring the nerdy world of espresso.
Get a Non-Pressurized Filter Basket
In the box, the Dedica Deluxe has pressurized filter baskets. When you're just getting started these are a great option as they can hide a multitude of sins. For example, uneven grounds, pre-ground coffee, or just an uncertain technique. By forcing the espresso through a single hole at the bottom, they force a false crema to appear on top of your shots.
But by upgrading to non-pressurized single-walled filter baskets, you need to dial in all aspects of the espresso brewing process yourself. So it's harder to nail but the quality of your espresso shots will skyrocket and might even rival those of your favorite coffee shop.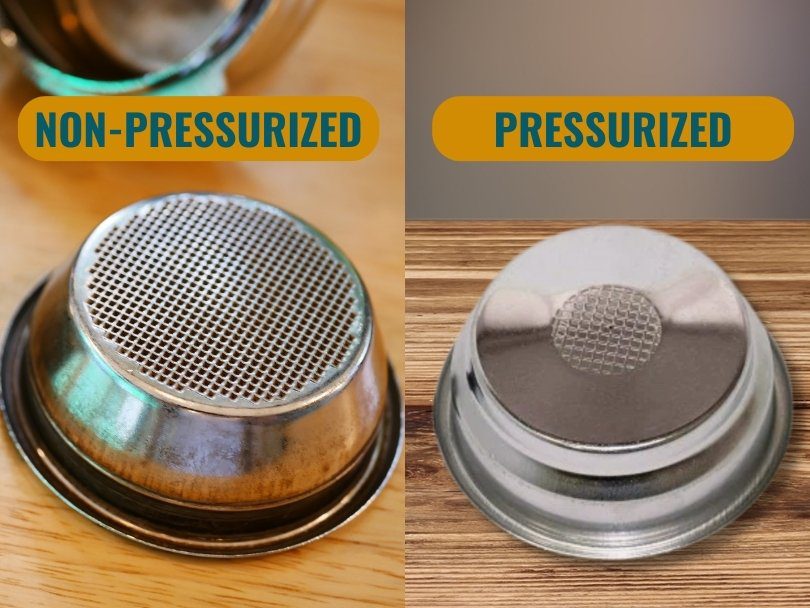 To fit the portafilter of the Dedica Deluxe, you'll need to opt for 51mm single-walled filter baskets. It's smaller than the usual (58mm) portafilter size so make sure to get filter baskets that will fit.
Upgrade the Tamper
Next up is another small purchase: a proper tamper. DeLonghi includes a combined coffee scoop/tamper. But it's a pretty bad scoop and a downright terrible tamper.
Use a Grinder
If you're looking for a quick and easy way to take your espresso from amateur to amazing, you need a quality coffee grinder. And one that is capable of handling espresso grinds too (finer than other brewing methods).
Coffee starts to deteriorate quickly after grinding. So that packet of pre-ground on your supermarket shelf is never going to taste as good as the stuff you've freshly ground yourself.
There are numerous different types of coffee grinder, from the basic to the astronomical. So don't fear, this doesn't have to cost the Earth.
For a low-cost grinder, we'd recommend looking at the JavaPresse. It won't be perfect and is better suited with the basic filter baskets included with the Dedica Deluxe. Or, if you're willing to spend a little more, the 1Zpresso JX Pro is incredible.
Improve the Steam Wand
The style of steam wand on the Dedica Deluxe is what is known as a panarello. Just like other elements of this machine, it's designed to help you get quality milk froth without fancy technique. But it's also pretty limited if you do want to practice or get into latte art.
The quickest and easiest way to improve the quality of your milk is to simply remove the panarello. You can twist and pull it off to reveal the silicone spout inside. It will come off easily as it's designed this way to help with cleaning.
What you will be left with is a shorter spout but you can use this to manually steam the milk with more control.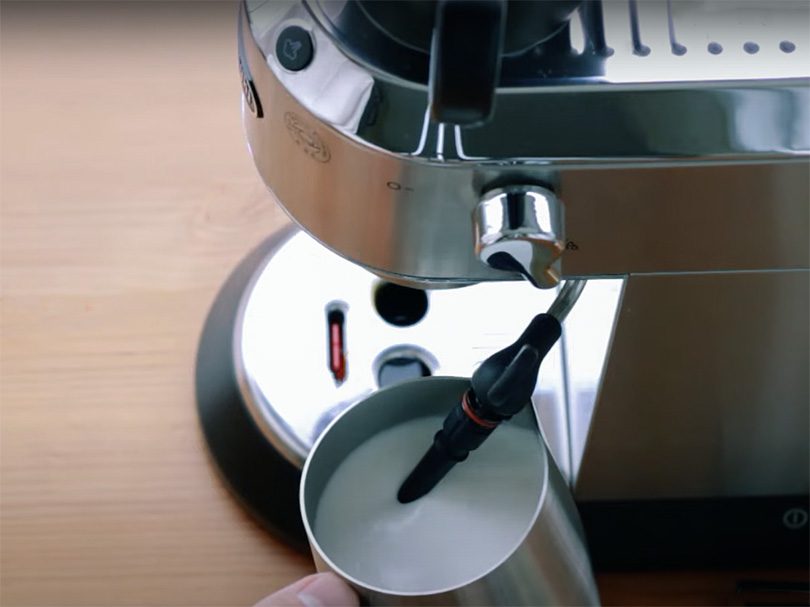 DeLonghi boasts 3 brewing temperature settings on the Dedica Deluxe. In theory, this sounds nice – tailoring your brew temperature to your beans or type of espresso drink. But the reality is that of the 3 settings (low, medium, and high), only the highest is actually useful.
The coffee brewed on low or medium is not hot enough and the extraction is poor as a result. You could maybe adjust the grind and tamping enough to get a decent shot, but why bother? Just put it on high and go.
The milk frother having two "settings" is also nice for the milk frothing beginner. These do actually work really well at creating either latte-style milk or cappuccino-style milk. So props to DeLonghi for that.
After every use, simply knock the used puck out of the portafilter, rinse the basket, wipe down the milk frother and you're done. At the end of the day, you can empty and rinse the drip tray and clean the shower screen too.
Overall the Dedica needs an extremely small amount of daily cleaning to keep it in good condition, which is ideal.
There are 3 water hardness settings – soft, medium, or hard – depending on your water supply. All these do is change the length of time before you're prompted to descale your coffee maker, something most espresso machines need occasionally.
Descaling will need to be done every few months. The process takes no more than 30 minutes and is very simple. DeLonghi has special cleaning fluid which is pricier than non-branded versions but whilst your machine is under warranty we recommend sticking to the branded stuff to avoid any issues.
It's a very low-maintenance machine, especially if you give it a little extra attention daily so there's no build-up on the milk frother or shower screen.
DeLonghi Dedica Deluxe vs Dedica Arte
First of all, some serial number housekeeping:
The DeLonghi Dedica Deluxe is the EC685 (the EC680 is an old, discontinued model) and the Dedica Arte is the EC885. All of DeLonghi's newer models start with the letters EC in their serial number. The letters at the end (like EC685M or EC685R) simply indicate the color – R for red, S for silver, BK for black, etc.
The two machines are basically identical. The price reflects this too. Two very affordable espresso machines. So what's the difference?
It's all in the milk wand.
The Dedica Deluxe has a milk wand with 2 settings, hot milk or cappuccino. So you don't need to worry about learning to steam milk correctly for your cappuccino or latte. This is obviously more restrictive for those looking to get good microform.
On the other hand, the Dedica Arte has a fully manual milk wand. You can still make your cappuccino or latte milk, and also microfoam for other espresso drinks like flat whites. But there's no helping hand. It costs $30-60 or so more for this feature – prices can fluctuate a little between the machines/colors.
As the Dedica series is really aimed at beginners, we prefer the automatic milk wand of the Dedica Deluxe. However, if you're looking to learn about espresso pulling and milk foaming on a budget, the Dedica Arte is a great entry level espresso machine.
Which One Is Your Winner?
DeLonghi Dedica Deluxe vs Breville Bambino
One of the biggest competitors for the DeLonghi Dedica Deluxe is the Breville Bambino.
They look eerily similar. Both have a very small footprint, simple operation, and great looks.
The Bambino is slightly more expensive than the DeLonghi, though sometimes they're almost the same price. The Dedica Deluxe seems to lurch between around $280 and $360 so avoid buying at the upper end, the price will come back down again.
Where they differ is espresso size:
The Breville has a 54mm portafilter designed for 18g of coffee. By comparison, the double shot basket of the DeLonghi will fit a maximum of 14g – the standard for a double shot of espresso in Italy.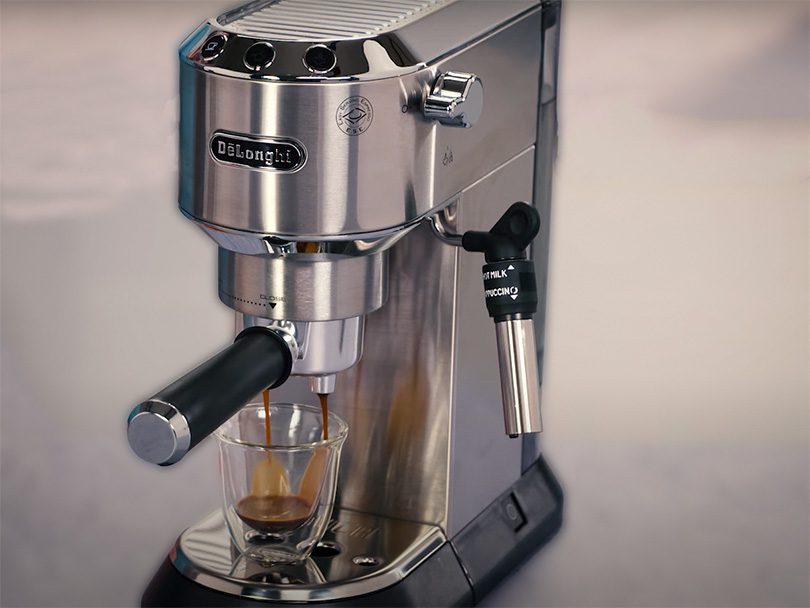 Choose Dedica Deluxe if you want:
A simple espresso machine that's compact and looks good
To pull no-effort, no-fuss shots
The most budget-friendly machine
Minimal effort when frothing milk
It offers fuss-free espresso pulling of good quality and has plenty of room for error. The helpful milk wand will get your favorite café-style drinks nailed in the first few tries. All this at a great price whilst looking good and taking up next to no space.
The only downsides to our DeLonghi Dedica Deluxe review are for those looking to move beyond simple espresso making.
If you're on a budget but looking to start pulling pro-level espresso at home, you'll be left wanting more. Instead, the Breville Bambino is the entry-level espresso machine for you.
We also wouldn't bother paying the extra for the Dedica Arte milk wand. Not when you can make some simple upgrades to the one on the Deluxe.
Overall, the Dedica Deluxe is a great little espresso machine for the casual or beginner espresso maker.
Don't forget to Buy Yours today
You Might Also Like
Beautiful, simple, and delicious espresso for around $1000? We had to test if such a thing was possible – read our Jura ENA 4 review to see

Jura ENA 8 vs Gaggia Babila is a battle of philosophies. Is the convenience of the ENA 8 superior to the precision of the Babila?