If you've been lusting after 1Zpresso's range of manual coffee grinders, we feel you. To help decide if it really is the best hand grinder for you, take a deep dive into our 1Zpresso JX Pro review.
Since you're here, it's a safe bet that you already know that grinding your own beans is the first step to leveling up your home coffee game. Regardless of your preferred brewing method, a good grinder will revolutionize your coffee quality, allowing you to ditch the pre-ground bag of coffee. And, as the JX Pro is portable, you can keep enjoying that great quality as you travel.
The Taiwanese company took the Asian coffee-loving market by storm with their manual coffee grinders. The full 1Zpresso grinder range focuses on quality and innovation. And, now, they are the top choice of hand grinders around the world, even winning a Red Dot design award for their intuitive designs.
We have scoured the internet for all the reviews on this manual grinder to collate with our own. This means we have the most comprehensive buying guide you can find. Whilst not all home coffee experts give numerical scores, we have averaged these out.
So read on for a consensus opinion on how good this grinder really is to know for sure if it is right for you. Then, if you're still not sure whether the 1Zpresso JX Pro is the right fit for you, check out our handy coffee grinder buying guide at the end of this article.
This article may contain affiliate/ compensated links. As an Amazon Associate, we earn from qualifying purchases at no additional cost to you. For more information please see our disclaimer here.
At a Glance: 1Zpresso JX Pro Review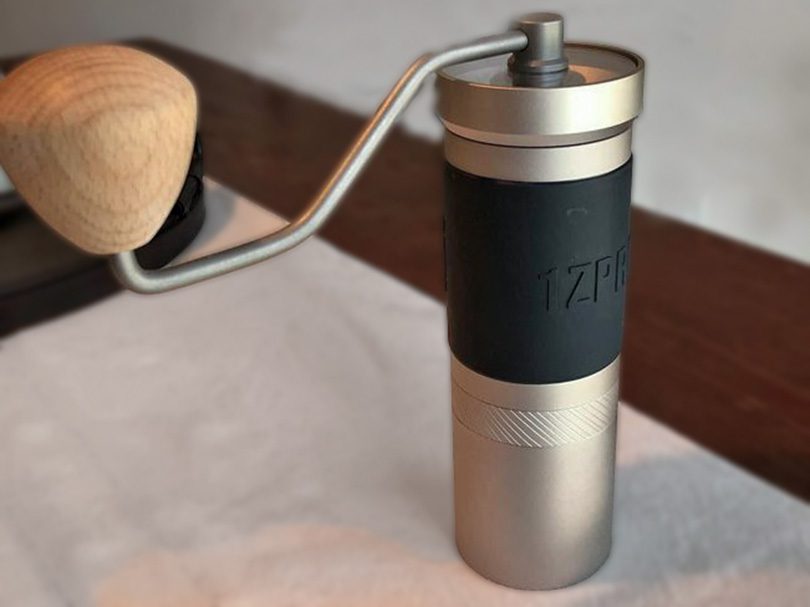 1Zpresso JX Pro
1Zpresso are a relatively young company, having launched in 2017. Since then, they have made a great name for themselves through crafting quality manual grinders. And the JX Pro is no exception.
This manual grinder performs on par with electric ones nearly triple its price. This really is all you need to know about this manual coffee grinder.
Regardless of your brewing method, the 1Zpresso JX Pro will give you the consistency and precision you need. Just as long as you're happy to weigh out your beans or grounds.
Pros
Clean and elegant design
Ergonomic grip and handle
Excellent grind consistency
40 stepped adjustment options on the easy-to-use grind adjustment dial
Quick grinding time
Great value for money
Quiet
Cons
Not the smallest or lightest grinder to travel with
Many high-end electronic burr grinders offer more precision (at greater cost)
Better suited to large hands, not ideal for those with smaller hands
1. 48mm Stainless Steel Conical Burrs
The 1Zpresso JX Pro manual coffee grinder has an excellent quality, large conical burr. The large size gives a good surface area for hand grinding beans to a high standard.
This is a burr quality similar to those in electronic burr grinders which are at least double the price.
2. Stepped Grind Adjustment Dial with 40 Settings
The adjustable grind selector has a high number of settings that allows you to make very precise adjustments. You can dial in the perfect grind for your espresso or pour over very easily using the knob on top of the grinder.
3. Very Fast Grinding
Even at the finest setting, it takes only 30 seconds or so to grind enough beans for your espresso or pour over. Even if it is slightly slower than an electric grinder, this is still much faster than most manual grinders.
4. Ergonomic Handle and Silicone Sleeve
The wooden handle feels nice in your hand, making the JX Pro a dream to use. Plus, the silicone sleeve around the grinder's body makes it easy to hold steady, even if you have smaller hands (although it's still not the greatest for little hands).
And it couldn't be easier to use the 1Zpresso JX pro manual coffee grinder:
The JX Pro's adjustable grind selector is located on the top, allowing you to control how fine a grind you are looking for. You simply fill the upper chamber with your coffee beans and turn the handle to your desired grind size.
The 40-step adjustments allow for very fine tinkering with how coarse you want your coffee grounds to be. Plus, it only takes 30 seconds or so to get the grind you are after (the exact timing depends on how fine you want your grounds).
The only ease of use issue is in precisely measuring your coffee grounds:
If you are looking for a very precise amount of grounds, you need to weigh your coffee beans beforehand to avoid wastage and for the best coffee extraction results. Doing so will require a separate scale.
This makes it a touch more inconvenient than some electric coffee grinders which will either grind a certain weight or for a very precise length of time. This process ensures you get the exact amount that you need.
However, this is a very small complaint in an otherwise very simple-to-use hand grinder.
Thanks to the variety of models available, you can be specific as to what you are looking for. Doing so will ensure you get your perfect coffee grinder.
Just check the letter following 1Zpresso (e.g. JX Pro) to know which series you are looking at:
• Q Series: Fits perfectly into the AeroPress plunger for ease of use. This small manual grinder is, in fact, the smallest model making it very compact and portable. (Examples: 1Zpresso Q2, previously Q1)
• J Series: The large capacity offers some of the best value in coffee grinding. Model variations for pour over (JX) and espresso (JE, JE-Plus, JX-Pro, and J Max). So, deciding between 1Zpresso JX Pro vs J Max vs JX comes down to your preferred coffee style – pour over or espresso.
• K Series: External grind adjustment dial with 90 clicks to intuitively and quickly set your ideal grind size. The specialized K Burr is heptagonal shaped, ideal for a variety of brewing methods (Examples: K-Pro, K-Plus, and the latest K-Ultra).
• Z-Pro Series: Red Dot Design Award Winner (2018) due to the introduction of the external adjustment ring, just like you would expect on an electric grinder.
Whilst the Q series has the smallest grinders, none are overly bulky. So, no matter which 1Zpresso coffee grinder you opt for, you are guaranteed a high-quality travel hand grinder.
This grinder sizes up at 2.2 inch diameter and 7.1 inches tall. And it weighs 1.7lb. So, while it certainly is compact enough to be taken traveling alongside your portable espresso maker, it is hardly small or light.
The design, however, is sleek and well thought out. The JX-Pro looks good without compromising the ease of use:
Gripping is made easy by the silicone sleeve. Plus, the wooden handle feels nice in your hand while you grind your coffee – no one wants callouses from hand grinding coffee of all things.
The extra weight does add to the feeling of the grinder being hardy and long-lasting. Many people, including us, report using their JX Pro for years with no issues whatsoever. Ultimately a manual grinder has a lot less that can go wrong than an electric one.
The only downside with this grinder – and this is true of all manual grinders – is that if you have any kind of wrist/ elbow/ shoulder issues, arthritis, or general muscle weakness, it can be difficult or painful to use. In this case, we would recommend an electric grinder if at all possible. It's also not the greatest for little hands – my wife is a petite 5″2 and struggles slightly.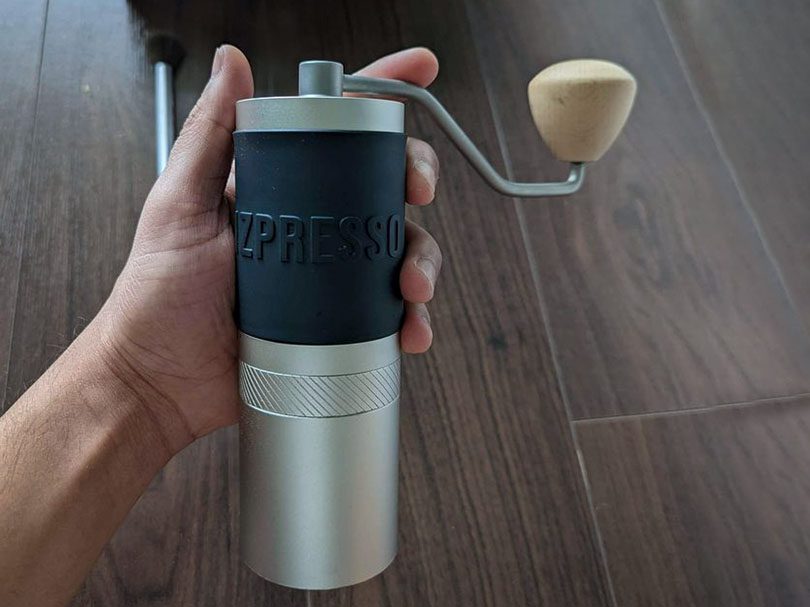 Psst.. Know you want a manual coffee grinder but not sold on the JX Pro? Check out the best manual grinders here:
Thankfully the 1Zpresso JX Pro does an excellent job of this – even at the finest and coarsest grind settings. So, it makes a wonderful espresso grinder as well as grinding for French press.
Most grinders will lose consistency at the coarser end of the spectrum. And, while this is still true of the JX Pro, the actual effect on your pour over or French press coffee is undistinguishable which is, ultimately, all that matters.
Having 40 stepped adjustments may not be enough for the serious espresso nut. But it should satisfy most people in producing the exact extraction time you are looking for.
There are also very few "fines" left inside the grinder after use, meaning each cup is made from all fresh grounds for the best taste – no poor quality coffee drinking here.
The downside here is you probably need to do this weekly. This ensures you're always getting fresh grounds and, therefore, better quality coffee. Plus, it prevents any build-up in the grinder itself which would shorten its lifespan.
When you put all the parts back together, the 1Zpresso JX Pro doesn't require calibrating. So, the whole process will only take around 15 minutes.
Cleaning any grinder is a pain. But, this is actually a bit easier than most electric coffee grinders as it's so simple to take apart and reassemble.
Just remember not to clean your grinder with water as this will damage the internal mechanisms. A brush and a blow of air is all it takes.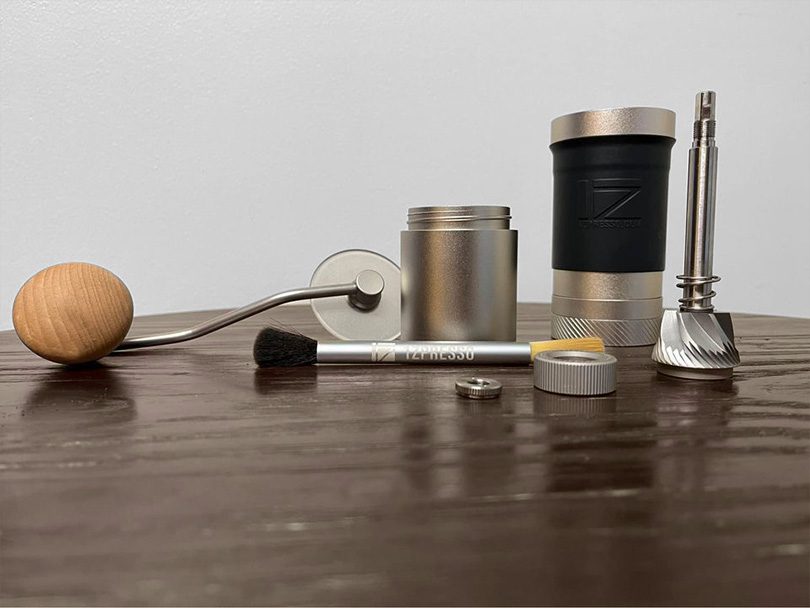 The only real downside to the JX-Pro is that it is a manual coffee grinder. But, that's kinda the point and if that is what you are looking for then you don't really need to look any further. Especially as it performs on par with many (more expensive) electric grinders.
You can certainly find cheaper hand grinders, like the JavaPresse Manual. But, you won't get the same longevity or consistency. Plus, it's still a lot cheaper than many electric grinders that offer comparable grind consistency.
If you've been looking for a quality grinder but have been horrified by the prices then this could be the one for you. There are very few cheap hand grinders out there that perform as well as the JX Pro, saving you from drinking poor quality coffee again.
Don't forget to Buy Your 1Zpresso JX Pro Today
Buying a coffee grinder can be confusing:
There are so many different types of coffee grinder out there from manual to electric, burr or blade. So, how do you know what you want?
Here we will lay out the top things to look for when purchasing a new coffee grinder. This will help you to work out if the 1Zpresso JX Pro is the right fit for you.
Burr or Blade Grinder?
The mechanism that actually grinds your coffee beans is either a burr or a blade. And they produce very different results.
A blade grinder works in the same way as your kitchen blender. In other words, it chops the beans to bits via rotating blades. It won't produce the best grinding results due to inconsistency but they are a cheaper option. As they need a lot of speed, it's not possible to get a blade hand coffee grinder.
On the other hand, burr grinders have two plates (burrs) that rotate, crushing the coffee beans. This process gives the best grinding results with a more uniform grind size and, therefore, a better quality cup of coffee.
It is the spacing between the burrs which determines the grind size.
Within burr grinders, you have a further choice: conical or flat burrs. Conical burr grinders direct the coffee through two cone-like ridges whereas flat burr grinders churn the coffee between two flat plates.
The latter creates greater consistency and gives you more control. However, flat burr grinders are more expensive and less forgiving, so really only seen in most commercial coffee grinders.
The 1Zpresso JX Pro is a conical manual burr grinder, with conical burrs being the top choice of most home baristas.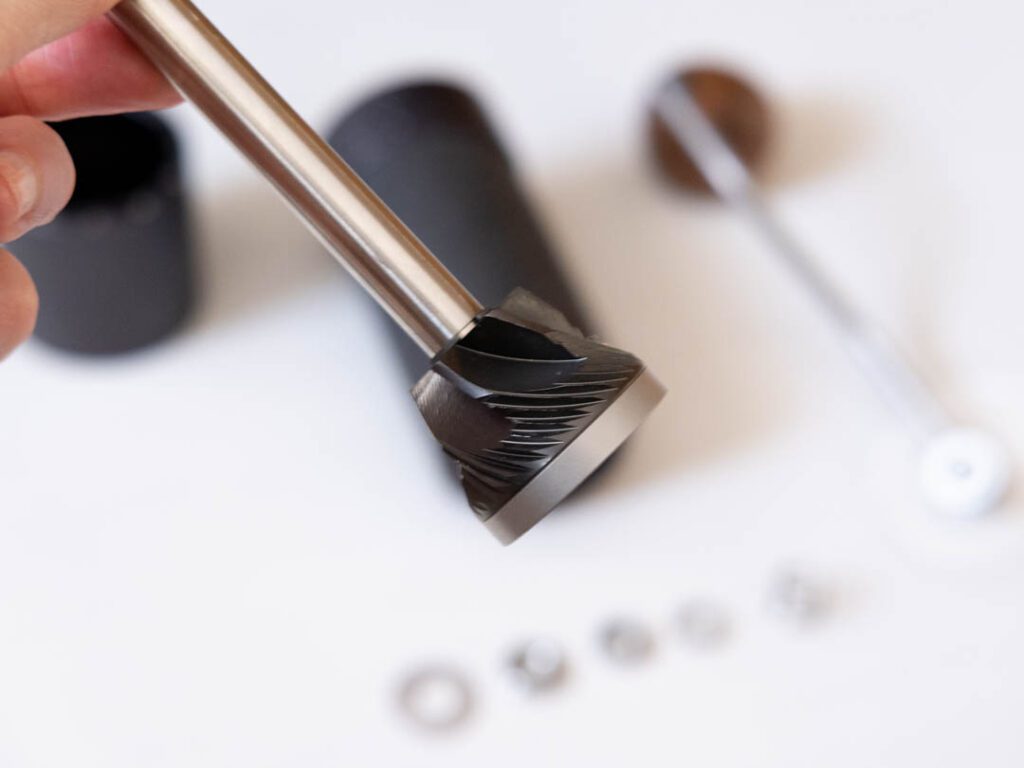 Grinder Capacity
Every grinder can hold a certain amount of coffee – some are very large, others much smaller. Since it is best to grind the coffee beans directly before using them, you really only need the capacity to match how many cups you regularly make:
If it's just for you, then a small-capacity grinder will work a treat. Or, if you regularly entertain or have a big coffee drinking family, then you will need something bigger so nobody misses out.
On the 1Zpresso JX Pro, the capacity is 35g. Whilst there are other manual grinders that hold more beans, it is still enough for you and a couple of friends.
Speed
If you're looking at an electric coffee grinder, the speed will be listed as RPM (revolutions per minute). On manual grinders, like the JX Pro, this isn't a concern – you dictate the speed.
That said, the smoothness of the mechanism will dictate how easy and fast your hand grinding experience will be. And there is no fault there when it comes to the 1Zpresso JX Pro. Depending on how fine a grind you are after, it will take around 30 seconds.
Size
The physical size of a coffee grinder will vary depending on its capacity and component parts. This will make a difference depending on where you want to use it.
Many manual grinders are portable so you can get your coffee hit on the go. This is one of the benefits outlined in this 1Zpresso JX Pro review.
On the other hand, an electric coffee grinder will need access to electricity. You will also need to dedicate some amount of counter space to it. So, it really comes down to how much spare space you have in your kitchen.
You Might Also Like
Find the perfect gifts for coffee snobs in your life. From budget-friendly to high-end, there are gift ideas for every coffee lover

The biggest sale of the year is here and we've hunted down the best Black Friday coffee maker deals so you don't have to. Get prepared here!