If you've fallen in love with the idea of a siphon coffee maker (also known as a vacuum coffee maker), you're in good company.
A favorite of some of the world's best baristas and growing in popularity for home brewers, the flavor of siphon coffee is hard to beat.
Dipping your toe in these new and intriguing waters can be daunting at first. So, we have everything you need to help you pick the best siphon coffee maker for you.
This article may contain affiliate/ compensated links. As an Amazon Associate, we earn from qualifying purchases at no additional cost to you. For more information please see our disclaimer here.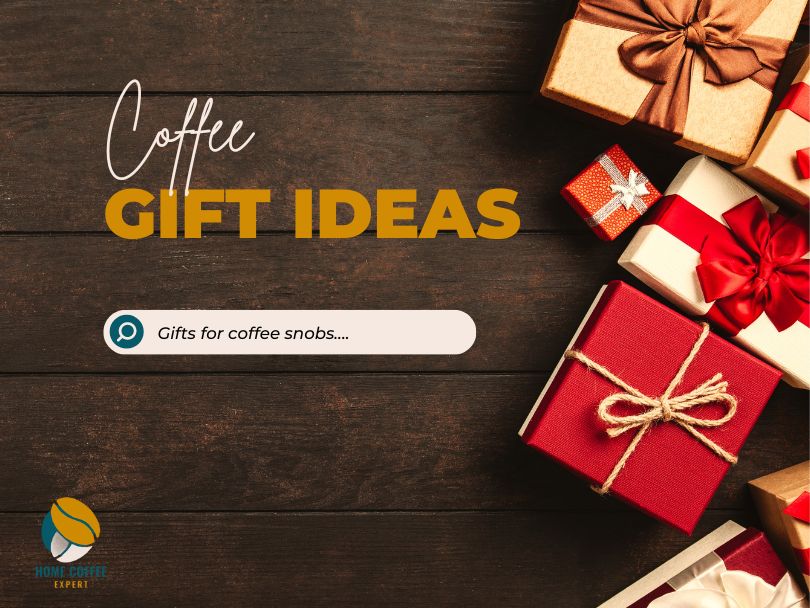 The holidays are coming. Which means stressing over the perfect gift is here too.
But stress no more. We've put together a list of all the best coffee gifts to please even the most discerning of coffee lovers in your life.
Check out our guide if they're on your 'nice' list. Or maybe be 'naughty' and buy something for yourself!
Quick Summary: Top Siphon Coffee Makers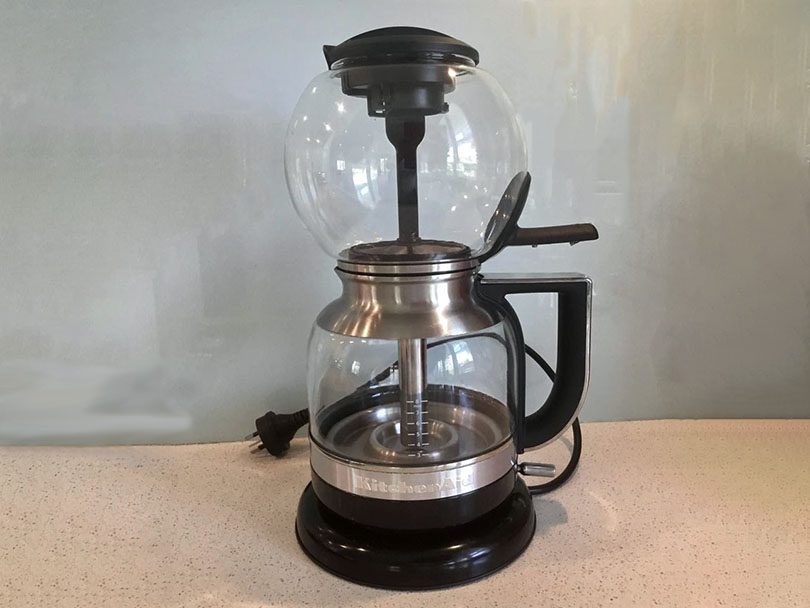 Image
Product
Details
Cost ($$$$$)
Yama Glass Stovetop

6 x 6 x 10 inches
5 cup capacity

$$$
Bodum PEBO

12.5 x 10.3 x 7.8 inches
8 cup capacity

$
KitchenAid KCM0812OB

17 x 15 x 10 inches
8 cup capacity

$$$$$
Hario Coffee Syphon Technica

14 x 6.2 x 4.3 inches
5 cup capacity

$$
Yama Glass Tabletop

4 x 4 x 16 inches
5 cup capacity

$$
Diguo Belgian Balance Syphon

17 x 14 x 6 inches
17oz capacity

$$$$
1. Yama Glass Stovetop Siphon Maker – Best Overall
Pros
Inexpensive compared to most siphon brewers
Quality design with heat resistant borosilicate glass
Easy to use and clean
Doesn't take up too much counter space
Dishwasher safe
Works on regular (non-induction) stoves
Makes good-tasting coffee
Fun to watch
Cons
Plastic parts don't hold up well to heat on the stove
Glass can crack if heat is too intense
Only makes a few cups
Not as well-engineered as some alternatives
Uses cloth filters that can be inconvenient to clean
Yama Glass is a Taiwanese company that specializes in beautiful hand-blown glassware for coffee and tea brewing.
Their range includes some incredible-looking contraptions for all kinds of coffee and tea making. And their range of vacuum coffee makers is no exception:
They are made using special heat-resistant borosilicate glass which is light and crystal clear but has a low coefficient of thermal expansion. In other words, it doesn't expand and contract very much when heated and cooled. This makes it ideally suited to being heated and cooled repeatedly. Whilst it's thin, it's designed to survive frequent heating and cooling – just not intense heat. Anything from a medium heat and below is great.
This combined with the wallet-friendly price makes their stovetop coffee siphon perfect for your first taste of siphon coffee brewing. It will work on a stove just as long as it isn't induction.
The 8-cup stovetop coffee siphon from Yama Glass is a strong budget option for those looking to try out siphon coffee making. Or, there is the 5-cup option if you need less coffee brewed each time. 'Cup sizes' doesn't refer to the size of drink you are most likely looking to drink so think of the two options as being either 1 or 2 mug sizes.
The cup of coffee produced, however, tastes great. That, paired with the cool looks and good price, makes it a very good choice for the best siphon coffee maker for beginners.
2. Bodum PEBO – Best Siphon Coffee Maker on a Budget
Pros
Exceptionally well built with high-quality materials
Makes four to eight cups
Easy to use and clean
Temperature is perfectly calibrated
Fun to watch
Great design – will look great in any kitchen
Can purchase with a burner or use on the stove
The filter is reusable
Cons
The filter is plastic
Not for people in a hurry
Coffee tends to come out milder than with other siphon coffee makers
The brewing process takes practice to perfect
Handle can get hot
Expensive if you get the stand and burner
The Bodum PEBO is another very well-made and relatively easy to use siphon coffee maker. It is perfect for anyone looking at the entry-level market.
You can choose to buy this brewer with the burner and stand if you prefer. But this doubles the price.
Or, you can also get an electric version which ups the price considerably again. This option does offer more control and is a lot easier to use though.
We like the Bodum PEBO vacuum coffee maker for its size – 4 to 8 cups – and entry-level price. This makes it a great option for those looking to brew a lot of coffee at once and get a great-tasting brew without spending a fortune. Just keep in mind that it does take time and practice to get it perfect.
The plastic filter is not ideal. So, you'll want to replace it with a metal or glass filter instead.
Plus, it is only a good budget option if you buy it without the burner and stand.
But if you want to have that superb, smooth siphon brew without spending too much and you aren't bothered about it looking like a chemistry experiment, then the Bodum PEBO ticks all the boxes.
3. KitchenAid KCM0812OB Siphon Coffee Brewer – Best for Families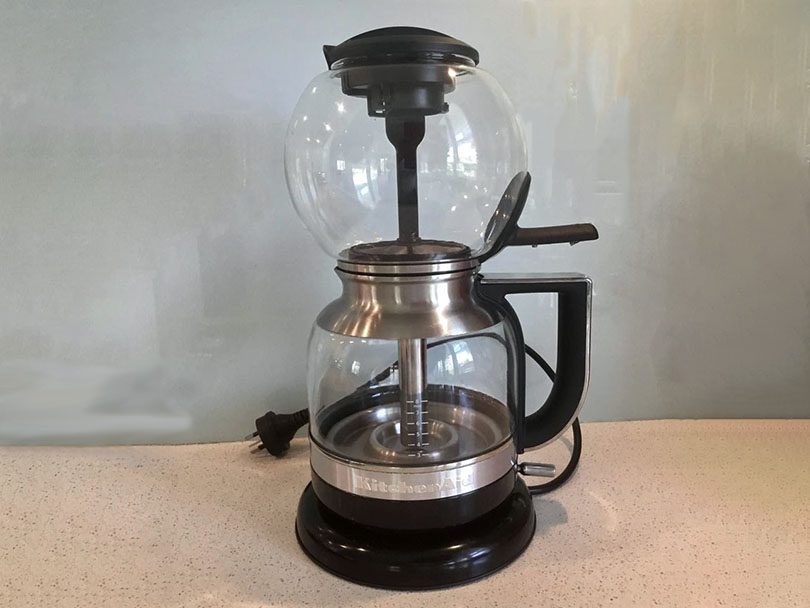 Pros
Easy to use
Pours nicely with no drips
Brews a liter of coffee in just under six and a half minutes
Cloth filters are reusable, and also comes with a stainless steel filter
Dual-purpose lid
All parts fit together easily and securely
Versatile size capacity
Sleek design
No open flames or burners required
Great tasting brew
Great fun to watch
The sturdy base prevents accidental spillages
Automated coffee brewing process
Cons
The cloth filter is a bit fiddly to attach
Coffee grounds are not easy to empty
Difficult to clean, particularly the large glass brew unit
8 cup maximum is actually 5 mugs worth
When the last cup is poured out, there are some coffee grounds in the cup
Not dishwasher safe
On the more expensive end
Rather bulky and heavy, requiring a lot of shelf or counter space
KitchenAid products always look great. They are designed to be left on display and not ferried in and out of cupboards for use.
Their KCM0812OB siphon coffee maker is no exception:
The electric heating element makes it very simple to use compared to other siphon brewers. Although it is a trade-off between control and convenience.
But where this brewer excels is on busy mornings when the whole family wants coffee. The KitchenAid makes the task easy and rewards you with the smooth consistency siphon coffee makers are well known for.
We just wish it was easier to clean. It also doesn't come cheap and is a little bit of style over substance.
That said, if you're after siphon made coffee but you don't want to fiddle with burners or the stove, then this is an excellent solution. It looks great in either silver or black, makes good coffee, and simplifies a complex process.
4. Hario Coffee Syphon Technica
Pros
5-cup capacity is ideal for making small amounts of coffee
Produces coffee with minimized bitterness
Parts are durable and easy to clean
Perfect for anyone who likes to tailor-make their coffee
Easy to use
Simple, elegant design
Made of heat-resistant borosilicate glass
Stand-alone system that is both entertaining and functional
Cons
The cloth filter can be a hassle to clean
The included alcohol burner is not as efficient as butane
Requires experimentation and guesswork to get ideal results
Can be time-consuming
Hario is a much-loved and trusted name, known for making exciting coffee products. And the Coffee Syphon Technica is no exception.
Ignite your inner "mad scientist" as you watch the alcohol burner heat the water into the top chamber for brewing your morning cup.
Don't get us wrong, it's not perfect:
The alcohol burner is slower and less precise than a butane one, though you can always just buy a butane burner separately. And you'll need a bit of trial and error to get it just right.
This said, it looks amazing, is very simple to use, and is fairly easy to clean.
If you want a siphon coffee maker because they look great as well as brewing a terrific cup of joe, then this should be near the top of your list. The fully self-contained Hario Technica coffee siphon is a great conversation piece that can be used to brew superb coffee.
If you use a kettle to add already hot water to the bottom chamber before heating, it doesn't take too long to brew. Although it's certainly not quick.
We file this one under "easy to use but difficult to master":
You'll need to fiddle with your grounds to water ratio to get everything just right. But this does mean that you have complete control over the brewing process which can be a huge plus – as long as that's what you want from a coffee maker.
The vacuum brewing method gives a delicious, clean cup of coffee that you will reach for time and time again.
5. Yama Glass Tabletop Ceramic Siphon
Pros
Elegant, vintage design
Brews the perfect cup of coffee – better than a French Press
Great craftsmanship, made with premium hand-blown, heat-resistant glass
Comes with reusable cloth filters and a scoop
Perfect for making coffee in small batches
Alcohol burner means slower brewing for better taste
Cons
Alcohol burner means it takes a long time to brew
Filters need replacing after frequent use
Can be challenging to use if you have not used alcohol burners before
Small capacity
Yama Glass knock it out of the park with a second brewer appearing in our list of best siphon coffee makers.
Their Tabletop Siphon with ceramic base is another of their incredible looking contraptions. But also one that doesn't have an eyewatering price like some competitor models.
It's really only suitable for one or two people brewing coffee. Plus, the alcohol burner means it takes some time to brew so it's best to add pre-heated water to the bottom vessel. But the results are great and it really does look fantastic.
Even if you decide that siphon coffee brewing isn't for you, it will work nicely as an ornamental talking piece – it looks like a plush 19th-century chemistry experiment. Great engineering backs up the elegant design too.
This is a marriage of the quality construction Yama Glass is known for with a classic design style.
6. Diguo Belgian Luxury Royal Family Balance Syphon
Pros
Great conversation piece: the stunning design will wow your guests and the unique mechanism is fun to watch
A very consistent machine, that (once started) is relatively automatic and easy to use
Most of the machine is made of metal, so it is not as fragile as other, plastic, vacuum brewers
Exceptional craftsmanship
Cons
The handle is a little flimsy, so you need to take care when pouring
Over time the seal can weaken
Luxury price for a luxury design that doesn't mean better-tasting coffee
One of the big selling points of the siphon coffee maker is that they look great. Not only do they make delicious coffee, but they can also be conversation pieces.
And the Diguo Belgian Luxury Royal Family Balance Syphon coffee maker certainly achieves this.
This is a very intricate looking contraption that would probably baffle anyone trying to work out what it's actually for.
You can choose between 3 colors: gold, rose gold, and silver depending on your personal taste. Then you can sit back and watch the fun balance mechanism at work.
You may feel this is a classic "style over substance" piece. But you would be wrong as it actually makes good coffee – good, but not the best. And, unfortunately, you don't have the same level of control as some of the competition offers.
Plus it is quite expensive, comparatively.
But if design and ease of use are more important to you than tinkering, then it's a great purchase. On the flip side, if tinkering and the final product are the most important things for you, then give the Luxury Royal Family Balance siphon coffee brewer a swerve.
But, other than looking cool what does it actually do?
Well, a siphon coffee maker is a full immersion brewing system.
In other words, a constant heat source is used to create a vacuum (siphon). It is this vacuum that moves the water from one chamber to the next.
Once in the upper chamber, the coffee grounds steep in the hot water. The resultant brew then drains back down to the bottom chamber, ready for you to enjoy.
Percolators and Moka pots are other types of coffee makers that work on exactly the same principle. The only difference is that they have a third chamber between the two in the siphon coffee brewer.
Brewing takes place in the next (upper) chamber. Here, your coffee grounds become slowly immersed in the water.
Whilst this is taking place, a small amount of water remains in the lower chamber. This remains on the heat, maintaining the pressure and stopping the water from coming back down during the brewing process.
It takes a couple of minutes to finish brewing, depending on the exact vacuum brewer being used. But, once the immersion has finished, the temperature starts to drop.
This slowly reduces the pressure causing the brewed coffee to pass through the strainer and down the siphon tube.
All that's left to do is decant from the lower chamber and enjoy your fresh cup of siphon coffee.
Measure out your coffee: You need to use a medium grind – think sand on the beach for consistency. The exact amount of coffee you need depends on your siphon brewer and how many cups you're making. But roughly 7g per 100ml is a good starting point.

Heat your water: The water can be heated in the maker from room temperature but this will take a lot longer. And, depending on your heat source, could be very inefficient. We'd recommend heating in a kettle first. Place the bottom chamber containing the water over the heat source (either the stove or included source if a tabletop device)

Prepare the filter: Rinsing the filter in hot water before using will help with temperature conservation and flavor. Once you've rinsed the filter, secure it in place in the top chamber.

Place the top chamber: This needs to be sat on top of the bottom chamber once the water nears boiling. This should be when a few small bubbles appear NOT when it reaches a rolling boil. Ensure the top chamber is secure.

Lower the heat: Take the heat right down once the water starts rising up the siphon. You're looking for a brewing temperature of 93ºC/ 200ºF. Having a digital thermometer that instantly gives temperature makes this part a lot easier.

Add coffee: Once the water has finished rising to the top chamber add the ground coffee and give a few back and forth paddles to fully saturate the grounds.

Enjoy!: The completed brew will filter back down to the lower chamber. You can decant from there, sit back, and enjoy the fruits of your labor.
To get your grind consistency right each time, you will need a great grinder. Check out our grinder buying guide to help you pick the right one:
Total Immersion of the Grounds
Having the coffee grounds immersed in water during the whole process – just like AeroPress and French press – generally produces a light and clean brew.
The immersion allows all the nuanced flavor of the coffee bean to come through into the cup. Using other extraction methods can result in losing some of these more delicate flavors.
A Vacuum
After steeping, your coffee is actively pulled through the grounds and filter thanks to the vacuum in the lower chamber. This vacuum (as opposed to relying on gravity) helps get every possible soluble oil from the grounds.
The result is a very pure flavor in the finished brew.
Consistent Heat
Unlike French press and AeroPress, the heat delivered through the water to the grounds is consistent throughout the brewing process.
Having the water at a consistent temperature gives you greater control over the extraction, helping to brew a more complex cup.
The Visuals
Ok, so the aesthetics aren't going to make you a better quality cup of coffee. But siphons are comfortably the best-looking coffee makers available, filled with excitement and intrigue.
Who doesn't want to have a contraption taken straight from Snape's potions class or a steam-punk chemistry lab on their kitchen counter?
If you have any friends that don't like your siphon coffee maker, they aren't friends you need.
Stovetop or Standalone
The heat source is an important factor when considering your siphon coffee maker:
No vacuum coffee maker will work on an induction stove as they are made from glass. So if that's what you have, you'll need a standalone/tabletop siphon.
If you're looking for a cheaper coffee siphon then the stovetop versions are your best bet. Just be careful not to turn the heat up too high as this can crack the glass.
Maintaining a very even temperature is what makes siphon coffee taste so good. And standalone electric siphon coffee makers are the best at this. However, they are a lot more expensive so be prepared to shell out a lot more if you're looking for real precision in the water temperature.
You'll find two types of burners in the standalone variety: alcohol and butane.
The alcohol burners generally aren't adjustable and take much longer to heat the water. Although this slower heating means it's easier to have the water at the right temperature for brewing.
The butane burners, on the other hand, heat the water much faster and are adjustable. But they also take more practice to get right as it's much easier to overheat the brewing water.
Filters
Most siphon coffee makers will come with cloth filters that are washable and reusable though you may eventually need to replace them.
Many people prefer stainless steel or glass filters for this reason.
The one thing you really want to avoid is a plastic filter. Whilst there is no evidence it interferes with the flavor of your coffee, many experts refuse to let their coffee touch plastic at any time during the brewing process.
The flip side of this argument is that one of the most popular coffee makers in the world – the AeroPress – is entirely plastic. So we'll leave it to you to decide how much of a difference it really makes.
How Many Cups are you Making?
How many people are going to be having coffee each time?
2? 3? 5?
An important thing to bear in mind is that the cup measurements on many of these machines are espresso size cups and not the mugs most people drink coffee from.
Siphon brewing takes time. So you don't want to be doing 2 or 3 cycles each morning to get everyone set up for the day.
What Other Equipment do you Need?
The best siphon coffee maker would benefit from a few other pieces of equipment to make the best coffee.
Whilst none of these are requirements to make coffee with a siphon maker, they will greatly improve your coffee experience:
1. Coffee Grinder
To get the best out of your beans they need to be freshly ground – siphon coffee requires a medium grind similar to beach sand.
This means that most grinders will be able to provide you with the grind size you need. Check out our coffee grinder guide for everything you need to know.
But if you're just after a grinder that will do the job and not bump up the cost of your set up too much, then the JavaPresse Manual will do the job nicely for you.
2. Kettle
Even if you're using a stovetop siphon, having a kettle to preheat your water will make everything run a lot faster for you.
And, if you're using an alcohol burner, it's almost essential. Otherwise, you will be waiting 20 minutes for your coffee in the morning.
3. Instant Digital Thermometer
This is one for those who want to get heavily into the precision of siphon coffee brewing.
Having an instant-read digital thermometer will allow you to ensure the water is a perfect 200ºF/93ºC for your siphon coffee maker.
The Yama Glass Stovetop Coffee Siphon gets a massive tick in both boxes. The appealing design works in perfect harmony with the functionality and ease of use. And it does all this without sacrificing flavor. What's not to love?
If you're a large coffee-loving family or you regularly kick back with a coffee and a big group of friends, the KitchenAid KCM0812OB electronic coffee siphon is a top choice. It can brew large quantities with ease – no dramatic learning curve involved.
So, that's our recommendation for the best siphon coffee maker. Now all that's left is to pick the one that's right for you and enjoy the delicious tasting coffee.
With a similar aesthetic but more wallet-friendly price tag, you can't go wrong with the Bodum PEBO. Although only if you're happy with using a stovetop coffee siphon as purchasing the separate burner and stand double the price.
If you're still not sure which one's for you, we've included the top things to look at to help you understand which brewer meets your needs:
You Might Also Like
Japan has a reputation for beautiful design and engineering, and Japanese coffee makers are no exception. Discover what makes them so special

A guide to all styles and types of coffee maker including espresso machines, drip brewers, capsule machines, siphons and French press.