The Land of the Rising Sun has a reputation for quality design and engineering. And quite rightly so. Anywhere that makes chefs spend 5 years learning to cook rice knows about dedication and perfecting a craft.
Whilst tea has a long history and huge cultural significance in Japan, coffee has become very popular over time. After all, this is a nation that values working insanely long hours. And, just like most other things in Japan, the dedication to making excellent Japanese coffee makers has grown with the growth in coffee consumption.
We're going to take you through the best Japanese coffee makers available. From single cup pour overs to intricate syphon coffee makers, you will be blown away by the beauty of both the coffee and the design.
This article may contain affiliate/ compensated links. As an Amazon Associate, we earn from qualifying purchases at no additional cost to you. For more information please see our disclaimer here.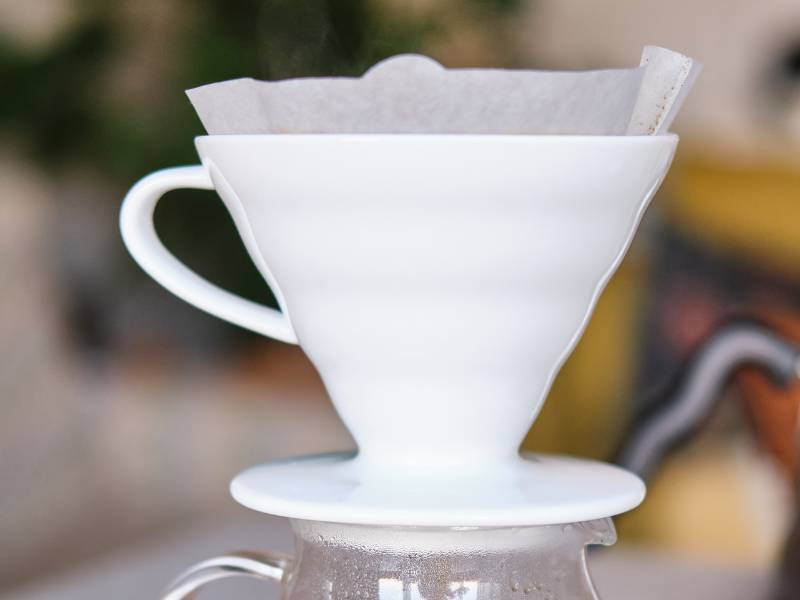 Image
Product
Details
Cost ($$$$$)
Hario V60

Pour over
Various sizes that can handle 1-6 cups
Easy to use but difficult to master

$$
Hario Technica (Glass)

Siphon coffee maker
5 cup capacity
Moderately difficult to use

$$$$$
Hario Mizudashi

Cold brew coffee maker
Available in 2 sizes: 2.5 or 4.5 cups
Very easy to use

$
Kalita Wave

Pour over
Available in 2 sizes: 1-2 or 3-4 cups
Easy to use but difficult to master

$$$
Hario Woodneck

Drip coffee
Available in either 2 or 4 cup sizes
Easy to use

$$
ZERO Japan Ceramic Coffee Dripper

Pour over
1 cup capacity
Easy to use

$
Whilst you can get pretty much every type of coffee maker you can think of from Japan, there are some that are more famous than others. Namely, their drip coffee machines, pour over cones, siphon coffee makers, and cold brew coffee makers.
So, if you're after a top espresso maker then Japan is not the country for you. But if you're a fan of any of these methods, then some of the best coffee makers on the market are Japanese-made.
Each of the most popular Japanese brewing methods focus on a slower process with particular attention to water temperature and flow rate. As a result, they take more time to master so they're not as beginner-friendly as a 5-cup drip coffee maker or French press, for example.
However, if you give them the time, you will be rewarded with a phenomenal cup of coffee that highlights the more complex, nuanced flavor profile of your chosen type of coffee beans.
So, read on as we break down the best options for each brewing method.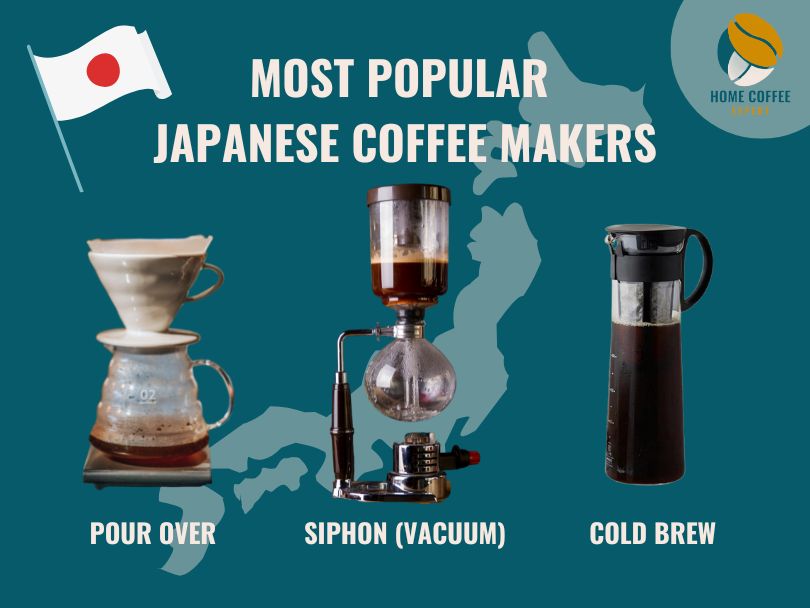 However, outside the Japanese coffee market, these are not the best drip coffee makers available. Especially considering you usually have to import them from Japan which pushes up the prices.
But let's not get disheartened because what Japan does do very well is the pour-over coffee maker.
At first glance, it doesn't seem like much thought or engineering needs to go into a pour over cone. After all, you just need to put a filter in. But it has been refined to an artform by many Japanese coffee maker companies. So now there is a vast range of aesthetically pleasing and excellent pour over devices available for you to buy – no matter where you are shopping from.
Pour over cones aren't just great for hot coffee. You can also use yours to make the perfect Japanese iced coffee drink by allowing your coffee to drip over ice.
Hario V60 Ceramic Coffee Dripper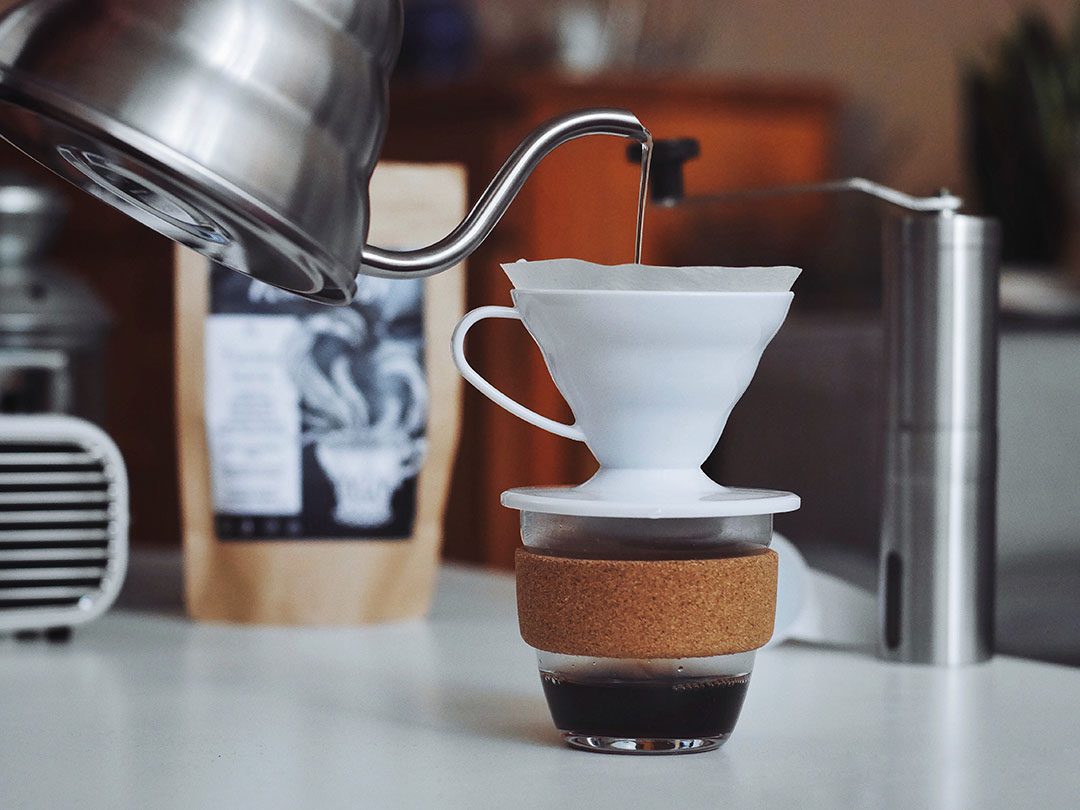 Pros
Cheap
Makes delicious coffee from any ground coffee beans
Can brew some of the best tasting coffee you'll find
Available in a range of colors and materials
Easy to clean
Cons
Difficult to master the brewing technique
Requires other equipment to really get the best out of it
Need to keep a stock of V60 coffee filters
Hario's name is synonymous with great coffee-making equipment. And the Hario V60 is one of the most popular pieces of coffee-making gear in the world. It's easy to see why this Japanese coffee maker is so well-loved:
You can choose from a variety of materials and colors (metal or ceramic are the most popular). Plus there is a range of kits that include extra filters, a serving jug, or accessories like stands. If you can think of it, you can almost certainly buy it. But, let's not get carried away – all you really need is the V60 dripper cone and the coffee filters.
This makes the Hario V60 dripper a very cheap coffee maker to buy. And, as an added bonus, it's easy to store and travel with (if you have a metal version).
By using this Japanese coffee dripper you can brew some of the most complex and delicious cups of coffee. It doesn't matter what whole coffee beans or roast you prefer, the V60 can handle it.
So, at this stage, you might be thinking you've found the one, the only coffee maker you need. The only downside is that it is very hard to truly master the pour over method, even for professionals. (Hint: Check out our Hario V60 Recipe for easy-to-follow steps including a coffee-to-water ratio calculator).
Making pour over requires your complete focus for the entire brewing process. And, if you change coffee beans, you will need to make subtle changes to your technique. Whilst there are slightly easier options like the Chemex, making great pour over is a craft. So, if you aren't interested in doing that, then this isn't the best Japanese coffee maker for you.
But, once you've mastered the skill, the Hario V60 ceramic coffee dripper offers excellent value for money. It's a cheap product that creates great coffee at home.
Kalita Wave Drip Coffee Maker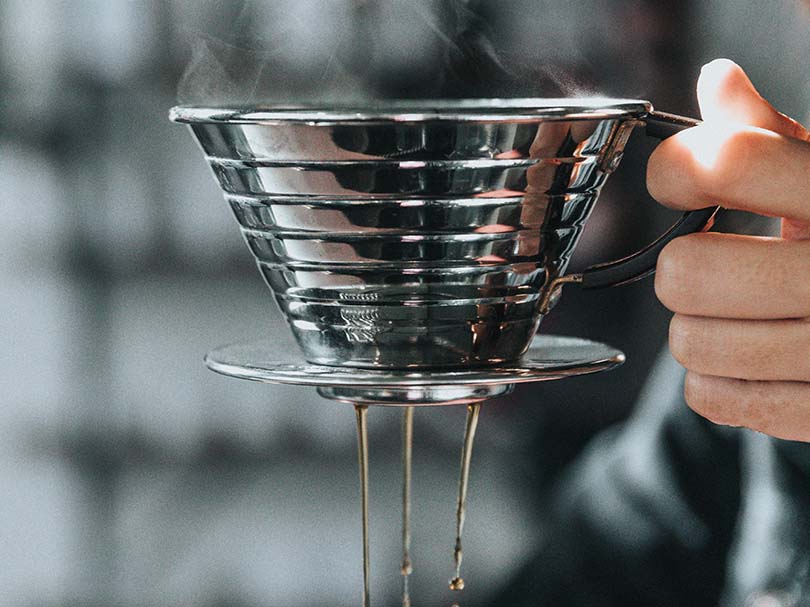 Pros
Easy to use pour over coffee dripper
Makes a great cup of coffee from all beans and roasts
Cheap
Easy to clean
Small and durable
Cons
Filters are easily damaged
Less flexibility than the competition
Did the Hario V60 review put you off making pour over coffee at home? If so, fear not!
There is, of course, an easier way to slide gently into the world of pour over coffee brewing if you don't have the time or desire to perfect such a nuanced brewing process. This is where the Kalita Wave steps in. And it's an ever-popular coffee dripper for this exact reason.
Using the Kalita Wave is like making pour over coffee with the training wheels on. So, if you're new to this brewing method and intimidated by the Hario V60, then this is the Japanese coffee maker for you.
You can buy the Kalita Wave in a couple of different sizes and various materials. Although the classic stainless steel model tends to be longer-lasting as it's less easy to break or damage.
When using the Kalita Wave you have a much greater margin for error than the Hario V60 ceramic coffee dripper. This is because it restricts the water flow out of the filter. Plus, the ridged edges keep the air flowing and helps you keep the temperature right.
If you find the flavors of pour over a little too "delicate", then the Kalita Wave could be your answer. It brews a slightly stronger coffer than more traditional drip coffee makers.
That said, it does have limitations on the grind size you can use. And it will pretty much always brew a stronger cup than other similar drip coffee cones. But these are small downsides that can be overlooked
Overall, the Kalita Wave offers up a great budget option in a classic design that will keep everyone happy. It's a strong contender for newbies to the pour over coffee world. Plus, it's so cheap that you can easily graduate to the V60 if you feel more confident in your skills after 6 months.
Hario Woodneck Drip Pot
Pros
Great design
Good for both pour over beginners and experts
Makes a rich, full-bodied brew
Re-usable filter which is better for the environment and your wallet
Available to buy in 2 sizes
Cons
The coffee filter needs special storage
Brewing style doesn't suit lighter roasts
The Hario Woodneck Drip Pot falls somewhere between a pour over and traditional drip coffee maker. Whilst it looks like a Chemex, the resulting brew resembles a French press coffee, yet it's easier to clean. Confused?
Thankfully using the Hario Drip Pot is very simple for beginners and for coffee pros alike. You can expect a rich, full-bodied cup of coffee, better suited to darker roasts.
Plus, it will look great on your countertop. The slightly odd shape attracts interest and the wood accent gives a more rustic look, not the chemistry lab vibe of siphon coffee makers. As an added bonus, the filters are reusable too.
The Woodneck features a wide opening at the bottom, similar to the Hario V60. However, the V60 requires a level of precision that only comes from a lot of practice. Whereas the Woodneck filter controls the flow much better, giving you a much larger margin for error.
Whilst this makes the Woodneck better for usability, it does mean you won't be able to enjoy the light and zesty coffee of a more delicate roast. Instead, it accents the rich, chocolatey tones of the coffee thanks to the slower extraction style that is closer to steeping.
You will also have to store the filter in a tub of water in the fridge. But that's hardly a chore, especially as it means you don't need to buy endless paper filters.
Unfortunately, buying the Hario Woodneck will set you back a lot more money than a pour-over cone. However, this is still a top choice for Japanese coffee makers so shouldn't be overlooked.
If you like a darker roast or a more chocolatey coffee then the style you'll get from your drip pot coffee maker will be very pleasing. Even though it costs more than pour over cones and some French press coffee makers, it's still not expensive. And it looks 100x better. So, we think it's good value on looks alone.
ZERO Japan Ceramic Coffee Dripper
Pros
Beautiful, eye-catching design
Easy to use for beginners and pros alike
Peek-holes to prevent overflow and splashes
Ergonomic handle
Ceramic holds heat but not odors
Cons
Only fits small cups with a maximum 3.5 inch diameter
The ceramic is fragile
ZERO Japan embody everything that makes Japanese coffee makers so special. They are beautifully made by hand in the Mino area of Japan – an area that has been the center of ceramic production and artistry since the 7th century. So they truly are masters of their craft.
The eye-catching, unique design not only looks stunning but also works incredibly well.
Our favorite parts of the design are the beautiful ergonomic handle and 'peek-holes' on the base of each side. Not only does this allow the coffee to drip through at the optimal speed, but they also allow you to check the level inside the cup and for the steam to escape. This eliminates overflow and any splashes when you remove the coffee dripper.
Being made of ceramic is both a blessing and a curse. On the positives, it's what makes it such a beautiful coffee maker but also allows heat retention. But, on the negatives, it's fragile so you need to take care not to drop or knock it.
The main drawback is that it's designed for smaller cups. Anything with a diameter bigger than 3.5 inches and the ZERO Japan coffee dripper will just fall in.
Overall, these are small annoyances for an incredibly affordable coffee dripper that will add a pop of beauty to your coffee setup.
Siphon brewing can produce incredibly complex and rich coffee due to the total immersion of the grounds, like a French Press or AeroPress. But it has the added bonus of consistent temperature control, like the pour over method.
These glass contraptions look very complex but are actually relatively easy to use. Plus, they look absolutely incredible whilst in use, giving the feel that coffee brewing is some arcane knowledge that only a few possess, and you're one of them! We've picked our favorite coffee syphons from Japan.
Read Next: Best Siphon Coffee Maker
Hario Glass Technica Syphon Coffee Maker
Pros
The 5 cup size is ideal for two "mugs" of coffee
Heat resistant borosilicate glass
Easy to clean
Makes a rich, well-balanced cup of coffee
Great design which will be a showstopper on your kitchen counter
No need for an external heat source
Cons
Time-consuming to use
The cloth filter is difficult to clean
You will need to practice to perfect the technique
Those clever people over at the Japanese coffee brand, Hario, also make a siphon coffee maker.
Boasting its own alcohol burner to heat the water, the Hario Technica Japanese coffee siphon looks like it walked straight out of a science experiment and into your home.
Where you benefit is getting total control over the brewing process so you can tinker with all the different aspects to your heart's content. Change up the grind size, temperature, and coffee-to-water ratio to get your perfect cup of coffee.
The only downside is that the alcohol burner is quite slow at heating the water. So we tend to give it a "jumpstart" by using pre-heated water from the kettle. But as a self-contained coffee maker, this is a great option.
Don't get us wrong, using a classic siphon coffee machine isn't the easiest way to make coffee. And you could definitely argue that it isn't the best way to make coffee either.
But that's not really the point with the Hario Technica because it makes brewing coffee fun.
It's fun to play around with the ratios of coffee and water, the grind, and the temperature. And it's fun to watch the water bubbling up then being sucked through the grounds. You can feel like an alchemist trying to create gold out of base metals… or just someone working to perfect the flavor extraction from your favorite beans. It all depends on what brings you joy in the coffee brewing process.
Even if you don't use the Hario Technica every day, having a syphon coffee maker makes an excellent ornament. Then, you can bring it out whenever you have time to play.
A cold brew coffee maker works by immersing your coffee grounds in cold or room temperature water for an extended period of time. This slow extraction produces a totally different style of coffee compared to hot brewing.
What you get is not an iced coffee where a regular cup of coffee has been left to cool, then drunk with ice. Instead, the brewing process produces a less bitter, smoother cup of coffee. And you can batch make your cold brew coffee so you always have some waiting in the fridge.
Not all coffee beans are created equal.
If you want to get the best out of your Japanese Cold Brew Coffee Dripper, you need to start with the best coffee beans for this style of brewing.
Hario Mizudashi Cold Brew Coffee Pot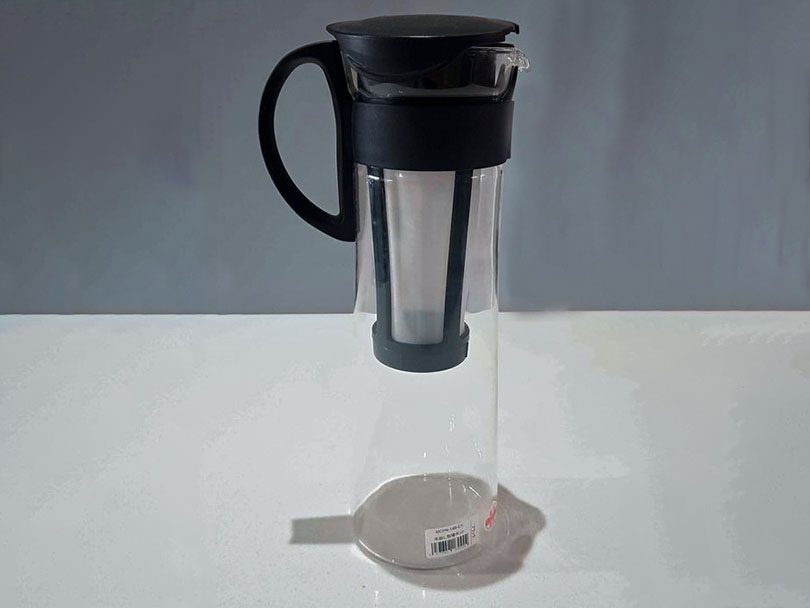 Pros
Very easy to use
Re-usable filter – cost-effective and better for the environment
The coffee pot fits nicely in your fridge
Makes ready to drink cold brew
Cons
Takes some tweaking to get right
Low capacity compared to making cold brew concentrate
If you're bored of seeing Hario products, then you're in the wrong place. Hario is top dog when it comes to Japanese coffee makers.
On those hot summer days when your morning is crying out for an icy coffee, you need the Hario Cold Brew Coffee Pot. Making cold brew coffee at home doesn't need to be complex nor does it require messing about with funnels and filters. Instead, you can simply add ground coffee and cold water to the Hario Mizudashi and you're done.
The Mizudashi comes with a reusable mesh filter and easily fits in your fridge thanks to the compact design. So, this Hario coffee maker is ideal if you're looking for the ultimate convenience in cold brewing.
Using the cold brew coffee pot makes a ready-to-drink cold brew coffee, rather than a concentrate. So, you can simply pour a cup and go, rather than worrying about dilution. Or, you can pop it in a whipped cream dispenser and make nitro cold brew coffee.
Some people do prefer to make cold brew concentrate as this means you essentially get double the amount of finished coffee. However, when all you need to do is fill a basket and chuck it in the fridge, doing it twice as often isn't exactly a chore.
One thing to bear in mind is that you'll need to tweak your cold brew recipe as the grounds can't move as freely as they would in a standard mason jar. So, you may need to grind slightly finer in order to get the same punch. But, after making a couple of batches, you should nail it.
It may seem odd to buy a specific cold brew coffee maker when you can just use some big jars and coffee filters. But what we love about the Hario Mizudashi is how easy and cheap it is, it's purpose-made, and you can always have self-contained, ready-to-pour cold brew on hand. Plus, the low price makes it cheaper than a couple of big mason jars and coffee filters. So, it's a win-win.
What about the Yama Glass Siphon Coffee Maker?
If you've been shopping around, searching for information on the best Japanese coffee makers, you will almost certainly have come across Yama Glass. So, why do we not include the Yama Glass Siphon Coffee Maker here?

Simple. Yama Glass is a Taiwanese coffee company, not Japanese.

Don't get us wrong, Yama Glass makes incredible coffee makers. In fact, they feature more than once on our list of the best siphon coffee makers. Not only can you expect delicious, rich syphon coffee but you can also get a superb Yama Glass cold brew maker. Their products make great coffee and look amazing too. But they are definitely not Japanese coffee makers. 
What is Japanese Coffee Culture?
Japan has a rich history, culture, and customs surrounding tea. In fact, the Japanese tea drinking ceremony dates as far back as the 9th century.

Coffee, on the other hand, was originally viewed with skepticism. Due to its foreign origins, coffee was associated with Western identities. However, in the 1960s it grew in popularity amongst business workers.

Around the world, coffee shops hold social significance. And the same is true in Japan where they were the meeting place for political movements throughout the late 20th century.

The third wave coffee movement has shifted focus back to artisinal coffee brewing methods and specialty coffee beans. This has helped popularize traditional Japanese coffee brewing methods globally in more recent years.
Whilst Hario makes a range of other coffee products, which are almost universally excellent, the V60 will remain the flagship of Japanese coffee making for a long time. This is thanks to its simple perfection and the nuanced flavors you can draw out of your favorite coffee beans.
Generally, Japanese coffee equipment is simple and elegant. The focus is placed on the user to perfect their technique, seeing it as an art form and integral skill, rather than doing everything for them. Which is, weirdly, the complete opposite of Japanese toilets.
Whether you love pour over, syphon coffee, or cold brew, you will be blown away by the quality of Japanese coffee makers.
You Might Also Like
Naming your new furry friend is a tall order. But if you love coffee as much as your pup, get inspired by one of these Coffee Names for Dogs

The Kyoto Latte is an incredible addition to the coffee world from % Arabica's flagship store in Japan. Discover what makes it so special