Coffee is precious – many people have worked hard to get those coffee beans/grounds to you. So it would be very rude to waste them. That's why 5-cup coffee makers are so helpful – two big mugs of coffee is the perfect amount for many.
To help find your perfect coffee-making companion, we've sought out the best 5 cup coffee maker. And at the top of the list is the Capresso Mini Drip – a two-mug masterpiece for all your caffeine needs.
So let's dive into the list:
This article may contain affiliate/ compensated links. As an Amazon Associate, we earn from qualifying purchases at no additional cost to you. For more information please see our disclaimer here.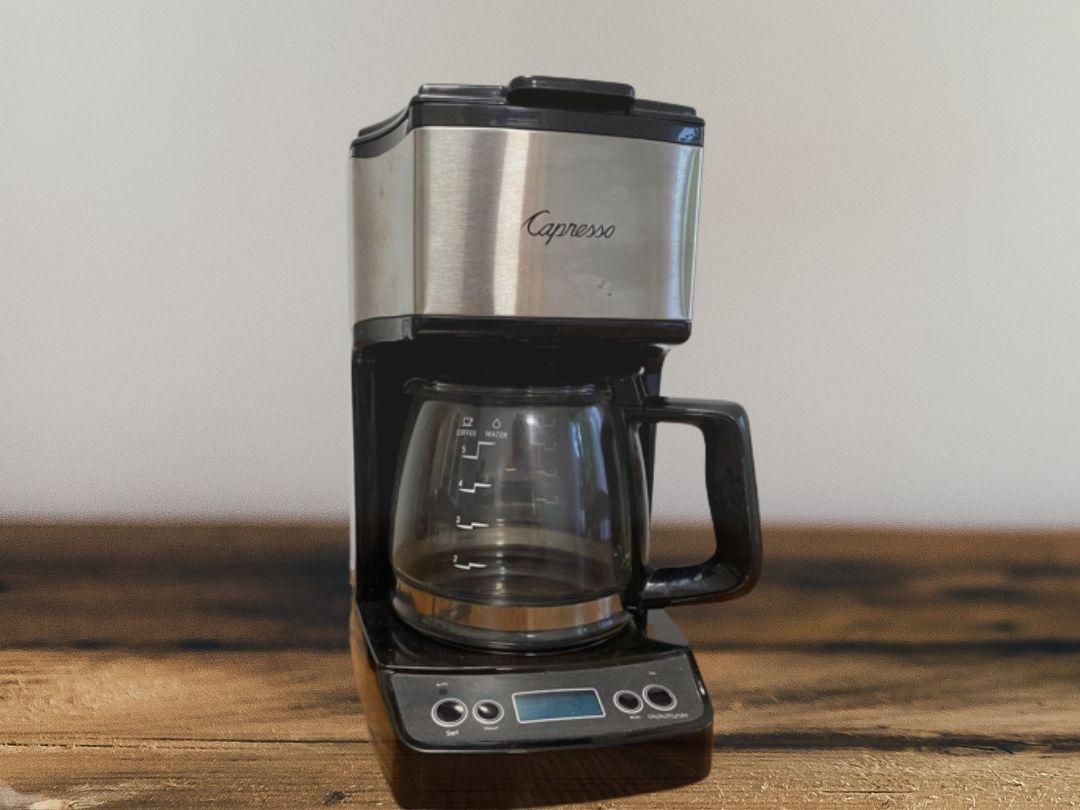 Image
Product
Details
Cost ($$$$$)
Capresso Mini Drip

Multiple water nozzles for even extraction
"Goldtone" reusable filter basket
Pause brewing function
Programmable

$$
Holstein Housewares 5 Cup Coffee Maker

Available in 4 bright colors
Reusable filter basket
Pause brewing function
One button operation

$
Bonavita 5 Cup Coffee Maker

Showerhead design for even extraction
Thermal stainless steel carafe
One touch operation
Pre-infusion mode allows grounds to "bloom" for better coffee

$$$$
Zojirushi Zutto

Charcoal water filter
Very compact
Removable water tank
Automatic keep warm function

$$$
Black and Decker 5 Cup Coffee Machine

Permanent filter
Pause brewing function
One touch brewing

$
Mr. Coffee 5 Cup Programmable Mini

Time delay to brew later
Dishwasher safe filter basket
Pause brewing function

$$
Amazon Basics 5 Cup Coffee Maker

Reusable filter
Anti-drip carafe
1 year warranty

$
1. Capresso 5 Cup Mini Drip Coffee Maker
Pros
Fast brewing time
Reusable "Goldtone" filter
Hot plate with "auto shutoff"
Brews good coffee
Has a pause function which can be used to "bloom" the grounds
Easy to program
1 year warranty
Cons
Permanent filter allows fine sediment through
More expensive than some options
Can't adjust auto shutoff time
So our top choice is a great all-rounder. The Capresso 5-cup mini drip coffee maker delivers on all fronts of functionality, ease of cleaning, and taste. First of all, it can brew a cup in a hurry. It takes around 1 minute for the first cup to be brewed, so in 2-3 mins, you have a mug that you can grab a full 5 minutes for the full pot. 
There are multiple water jets to give a more even extraction from the coffee grounds, and yes you can use the pause function to allow your coffee to "bloom." The "gold filter" means no disposables are needed but this is also a negative for some as you will get some fine sediment in the finished brew.
Being a programmable coffee maker, you can set it to brew ready for you waking up and the digital display makes it pretty easy. We don't like this as it means you've got coffee grounds sitting and losing flavor but appreciate for some this is a must-have feature.
The carafe looks nice and the hot plate keeps your coffee at a good temperature without burning it. A particular annoyance of many coffee drinkers and common in drip coffee makers.
Overall it's a great coffee maker. Small, easy to use, good coffee. It's still under $40 so while more expensive than other 5-cup coffee makers, it's not actually expensive.
2. Holstein Housewares 5-Cup Coffee Machine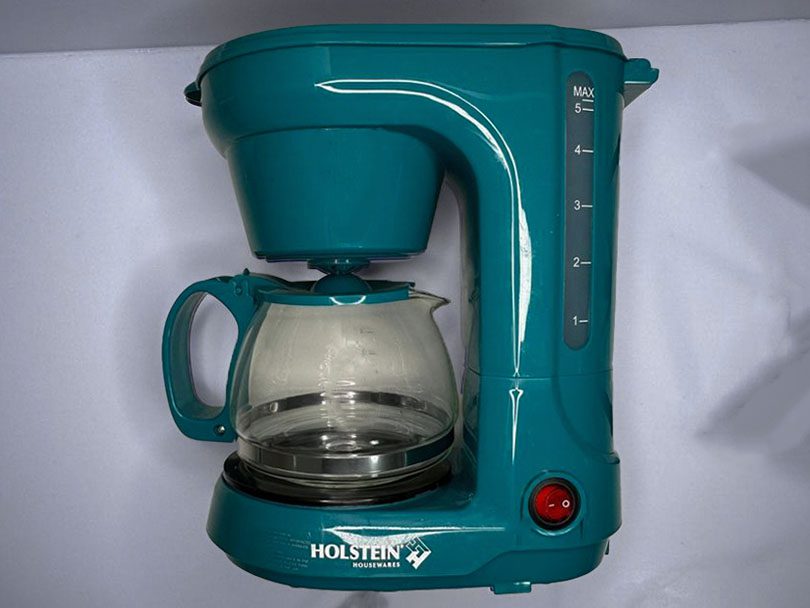 Pros
Good value for money
Looks great
Has a pause button
Easy to use and clean
Makes a good coffee
Permanent filter
Cons
Limited functionality
No auto shutoff on the hotplate
Not everyone is as boring as I am and is happy with a black and silver coffee machine. The Holstein Housewares 5- cup coffee maker adds a serious pop of color to your kitchen with an array of eye-catching pastel colors to choose from. It's not just about the looks either, the coffee from the Holstein is rich and aromatic and the keep warm function doesn't burn it either.
We like a reusable coffee filter, the design of the filter on the Holstein 5-cup coffee machine makes it easy to clean but awkward if you want to augment it with paper ones for a sediment-free brew. Simplicity is what they've gone for, no time delay function, and no auto-shutoff for the hot plate so it's very much a "push button and go" machine. There is a pause button to allow you to sneak a cup, or let the grounds bloom a bit, so it isn't entirely without features, but it is one of the more basic models available.
It's also one of the cheapest, so a solid coffee maker that looks great and is ideal for 1 or 2 people, and is easy to use and clean. If those are all the boxes ticked, then fantastic. This is also a good option for those looking for a smaller size coffee maker that still looks great.
3. Bonavita 5-cup Coffee Maker
Pros
Excellent coffee
Stainless steel carafe
Easy to use
Easy to clean
Brews quickly
Cons
No programmability
Expensive
The Bonavita 5-cup coffee maker produces the best coffee on our list. Why isn't it at the top then? Well, it's quite expensive and it has very limited functionality for all that extra cost.
The good stuff, it has a pre-infusion as standard so it allows the coffee to bloom before brewing. The water is kept at a very consistent temperature during extraction for better coffee. The carafe is a thermal stainless steel one, so no danger of burning the coffee once brewed and it will keep your joe hot for around 2 hours.
The downside, it's a "push button and go" machine. No delay timer, no pause feature, and no hot plate to keep the coffee warm. It also doesn't look the best and is bigger than many of the other machines and requires paper filters. A real outlier in the 5- cup coffee maker market.
So why would you buy this coffee machine? If you want a one-touch coffee maker that brews superb drip coffee quickly, this is the one. Top of the best 5-cup coffee makers on quality brewing alone. The coffee is substantially better than on cheaper models and if that's all you care about, honestly it's pretty much all I care about, then job done.
4. Zojirushi Zutto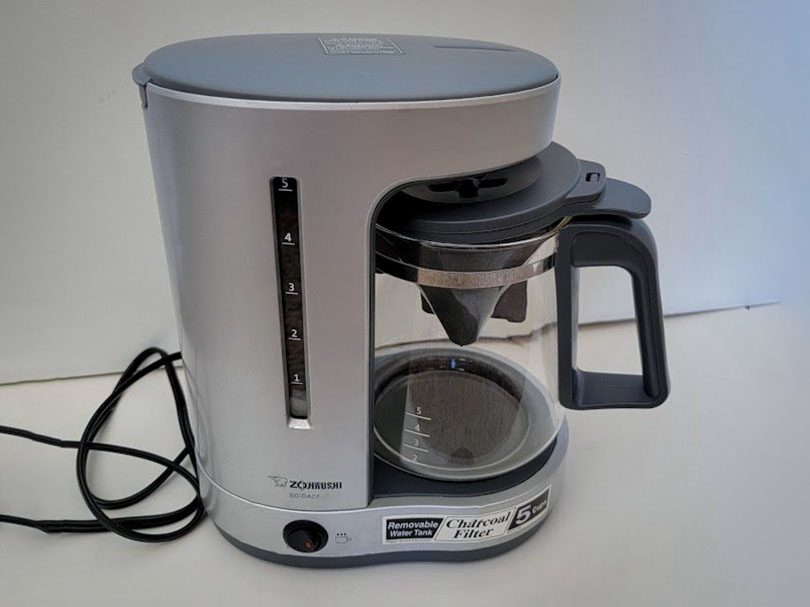 Pros
Great looking
Hot plate doesn't burn coffee
Charcoal water filter
Cons
Expensive
Limited functionality
Zojirushi may be a relatively unknown name in the coffee west but they've been around for over 100 years and make some really great products.
Zojirushi has incorporated the filter basket into the carafe to save space, making the Zetto one of the most compact 5-cup coffee makers available. The removable water tank may not be for everyone, if your machine sits under cabinets then this could be annoying. But it does come with a charcoal filter that lasts around 2 years, meaning cleaning your Zojirushi is very simple. 
There is a hot plate "keep warm" function for those who like to come back later for more coffee but there the extra functions end. No auto-off, no delay timer, no pause button. We don't like the loss of the pause button in particular due to our love of letting our coffee "bloom" but this is quite an expensive machine to do so little.
The design is sleek and very pleasing to the eye. The coffee is really good too and Zojirushi has a reputation for high-quality manufacturing. There are pluses and reasons for the extra cost that puts it above other drip coffee makers.
5. Black and Decker 5-Cup Coffee Machine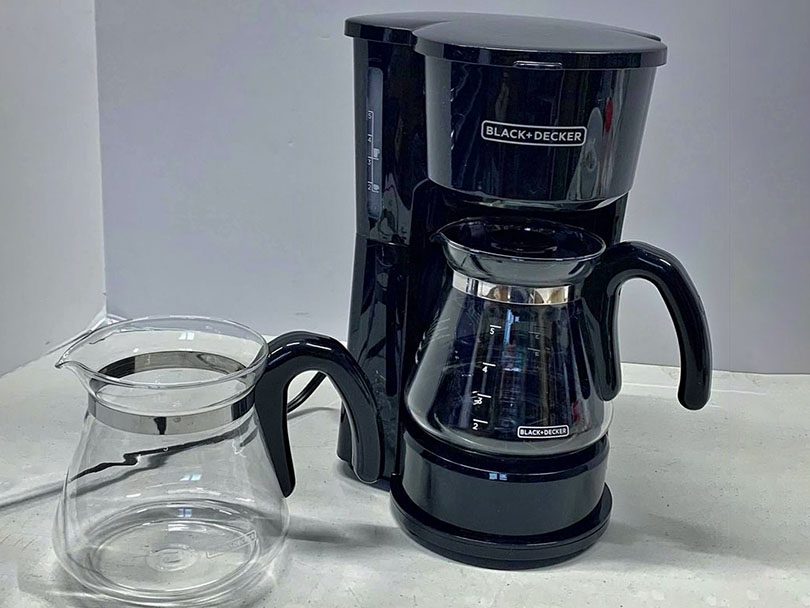 Pros
Nice design
Easy to clean
Reusable filter
Pause brewing feature
Hot plate
Good build quality
Cons
Bulky for a 5 cup machine
Coffee is a bit weak
Hot plate can burn the coffee
I'm always slightly surprised to see Black and Decker coffee machines, my brain can't get past the idea that they make power tools. They also make coffee machines though, we've already looked at their battery-powered coffee maker, and now is the turn of the 5-cup drip coffee machine.
I like the design, the full black and glass looks quite nice and if you wipe it down frequently it really does look the part. It has a reusable filter, which we like, as well as a pause function and a hot plate. So far so good. The filter basket is also dishwasher safe to make cleaning even easier.
It is quite bulky for a 5-cup machine though, not as big as the Bonavita 5-cup but certainly larger than several on the list. The hot plate has a tendency to be a bit too hot and can burn the precious coffee. Speaking of the coffee, we found it a bit weak for our tastes. We adjusted the grind a bit and got a decnt cup but not great and if you aren't grinding your own coffee then this is annoying.
Good value and very well built but a few issues push it down our list.
6. Mr. Coffee 5 Cup Programmable Mini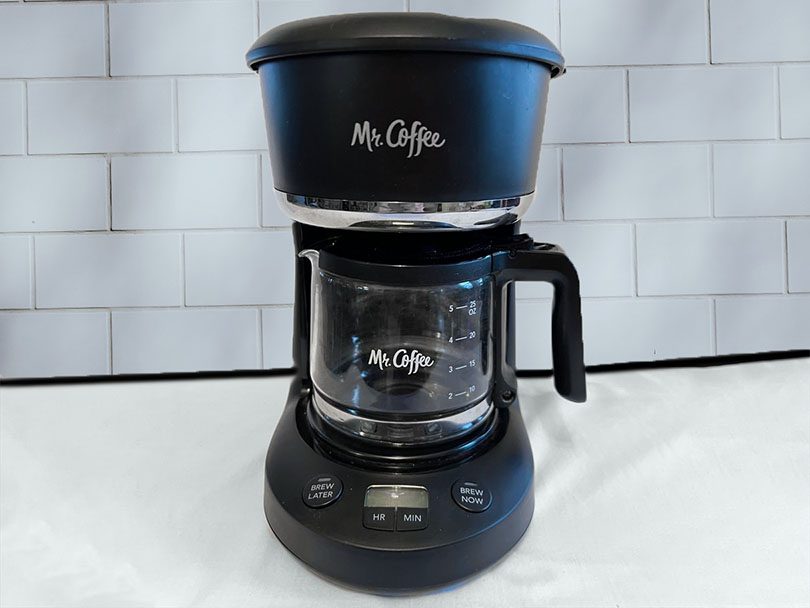 Pros
Very compact
Dishwasher safe, reusable filter
Good coffee
Hot plate auto-shutoff after 2 hours
Time delay function
Pause brew feature
Good value
Cons
Extra features only worth it if you use them
Filters are difficult to replace
This machine would yo-yo around our rankings based on it's current sale price. When it's on sale, you can get a solid, programmable 5-cup coffee maker for around $35 which should last you a good few years. That's really good. At full price, however, it's more expensive than the Capresso and not as good.
Lot's to like about this machine in general, the filter works well and makes a good cup. The hot plate doesn't burn your coffee either, though some people report having issues with it turning itself off before the 2 hours is up.
If you're thinking you don't need the hot plate or the time delay, try the Mr. Coffee switch. A user-friendly Mr. Coffee model that is great value for money without the bits you don't need.
7. Amazon Basics 5 Cup Coffee Machine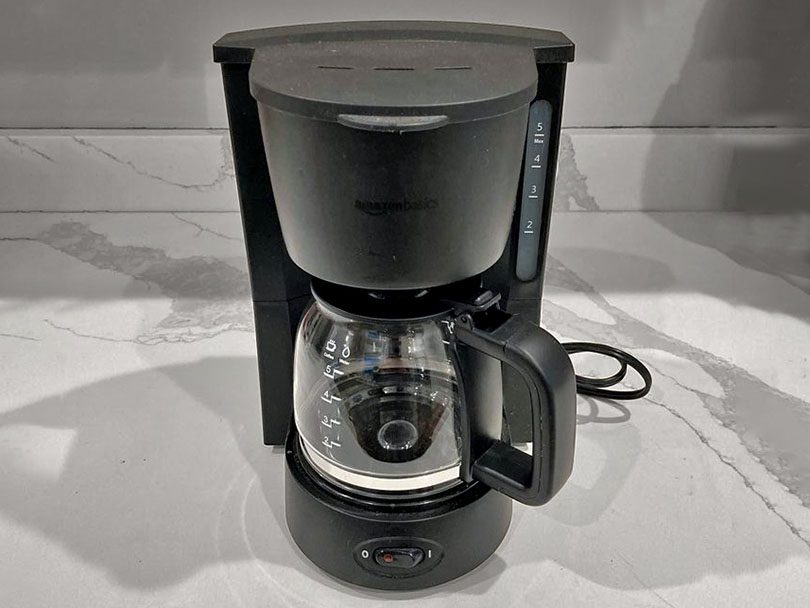 Pros
Very cheap
Looks nice
Pause brew function
Reusable filter
Hot plate
Cons
Limited functionality
Slow to brew
Needs paper filters for good coffee
Amazon continues to branch out its "Basics" range and has produced a very cheap coffee maker which makes a decent cup of coffee. Doing this for under $20 is really rather remarkable and it has a couple of tricks too. There is a brew pause button and a hot plate for keeping the carafe warm. It has a reusable filter so you don't need to use disposables, though if you want a good cup of joe you'll probably need them.
The looks are pretty good too, unspectacular but not "cheap" either. Certainly won't look out of place in most people's kitchens. For those who are reading this and thinking " I just need something that makes 2 cups of regular coffee" then this could be the ideal choice.
We really feel you need paper filters to get a good brew from it though, just something to consider. It's also quite a bit slower than the others. You're looking at 10 mins to brew your pot, so that pause button maybe becomes more useful.
Looking to try some great coffee for your new machine? Check out our picks of the best Costa Rican coffee for incredible flavor
Filters
The 5-cup coffee maker is generally a drip coffee machine. The water is being dripped through the coffee grounds, which sit in a filter, and into the carafe below. This means you have 2 options, either there is a permanent filter that can be cleaned and reused, or you have to use disposable paper filters.
We personally prefer the reusable filter, as long as you still get great coffee. Cleaning them is usually very easy, some are dishwasher safe too. You also don't have to pay for paper ones or look at the growing pile of used paper filters you're throwing away/recycling.
This isn't for everyone, some prefer the paper filter as you just chuck the whole thing in the compost, yes you can easily find compostable coffee filters. They aren't expensive and it means a lot less cleaning of your machine. Definitely not a total negative.
Brewing Temperature
The temperature at which the flavor is extracted from your coffee beans will make a huge difference to the overall flavor. Most 5-cup coffee makers will use the same system for heating the water and to pretty much the same temperature too.
The heating plate under the carafe is a different matter and if the heating plate burns your coffee by being too hot, or allows it to go cold then it's a pretty pointless feature. It's sadly quite common for drip coffee makers to suffer from overly hot hotplates.
Some more expensive drip coffee machines will allow you to alter the brewing temperature with a couple of different settings, but these tend to cost quite a bit more.
Carafe
There are two things to think about when it comes to the material your carafe is made of: looks and function.
Looks are important, we want a great coffee maker to sit on our countertop and look nice. Glass carafes are generally nicer to look at, you can see how much coffee is left in them too. Most drip coffee makers have glass carafes for this reason. They are a bit fragile, for people like me who drop things, and they don't keep the heat in from your freshly brewed coffee.
So if you're someone who likes to brew a batch and sip throughout the day, glass may not be the best material. Though with a 5-cup coffee maker that's not really possible purely on volume produced.
Thermal stainless steel carafes do the job much better, they keep your coffee hot and they're sturdier for long-term use. This means less energy keeping the coffee hot and less chance of dropping it and having to try and find all the glass shards you've just sprayed all over the kitchen. It's sadly not very common to see a stainless steel carafe on a smaller coffee maker.
They just don't look as nice, there's a slightly industrial feel to them which isn't to everyone's taste. You also can't see how much coffee is left in them, which may lead to some nasty surprises of the coffee being gone.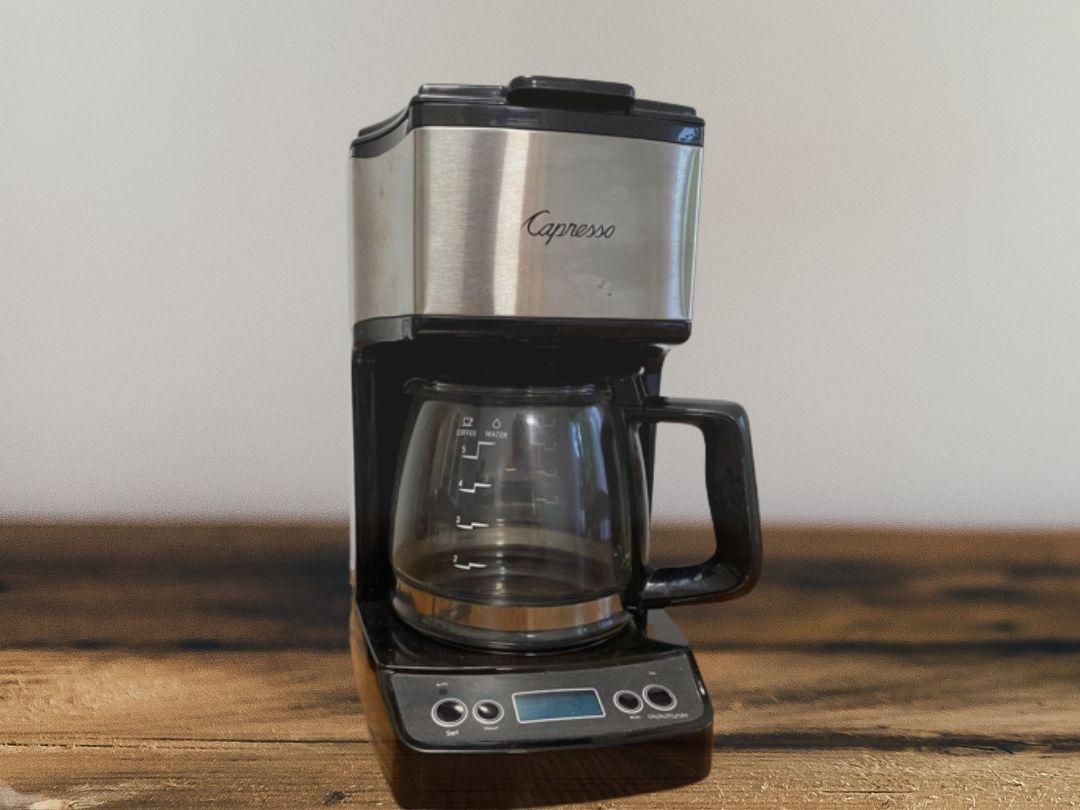 Programmability
How many settings can you adjust on your 5-cup coffee maker? Normally these smaller machines have fewer functions and settings, more "push button and go" type machines. There are a couple of features that you will find in a fair few of them though.  
A time delay function is a common feature, set up your coffee machine and your coffee will be brewed and ready come morning. This is nice for those with little time in the morning, but having coffee grounds sitting ready to go for hours does damage the flavor of the brew. 
Most coffee makers of this type come with a "pause" function. This can be used to grab a cup while it brews the rest or, if you're feeling fancy, you can pause just after brewing starts to allow the coffee to "bloom". This is when the grounds release all the gases that are trapped inside them upon first contact with water. It greatly improves the flavor profile of your coffee. But that does mean fiddling with your machine while you might be needing to be doing other things.
Cleaning
How easy is it to clean your coffee machine? Could be the best 5-cup coffee maker in the world but if it's a nightmare to clean, not sure I'd buy it. If you're using disposable filters then all you need to clean are the carafe and water tank, assuming the machine will flush water through to clean the inside. We all hope to see "dishwasher safe" on these components, but if you don't have a dishwasher or they can't go in it, you want them to be easy to clean.
Accessories
What else do you need to really get the best from your coffee machine? Ideally, nothing, though the only machines that come with built-in grinders use blade grinders so your own coffee grinder would help.  
If you want foamed milk or nice, uniform, freshly ground coffee then you'll have to fork out extra for these toys. Something to keep in mind when considering the prices. Most drip coffee makers assume the use of pre-ground coffee.
Budget
How much are you willing to spend? If you currently grab a brew from a coffee shop then a coffee machine will quickly become a money saver, but you have to pay upfront for a couple of weeks of coffee first.
Generally, more expensive machines will have more features and look better. The crucial thing is "do they make better coffee?" often the answer is "no". We try and find the best machines that actually perform to their price tag, not just the ones that look great on a website. 
Looking for something just a little smaller? Check out our recommendations for the best 4 cup coffee maker instead:
What do you want? Do you want really good coffee from your drip machine? Then get the Bonavita 5 cup. Do you want a basic model that'll do the job and you're on a tight budget, Amazon basics will do that. Looking for a pop of color and still get decent coffee? Then the Holstein is your machine. We recommend the Capresso as the best 5-cup coffee maker because it ticks the most boxes and makes good coffee for a good price. A machine that most will be delighted to have and will be your coffee buddy for a good few years. But there really is something for everyone.
You Might Also Like
Making delicious coffee requires delicious coffee beans. So if you're in the market for the best coffee for Chemex, look no further

Find the perfect gifts for coffee snobs in your life. From budget-friendly to high-end, there are gift ideas for every coffee lover