Do you want the ease of a single-serve coffee machine but the flexibility to use any coffee beans? If so, this DeLonghi Magnifica Evo review is for you.
The DeLonghi Magnifica range contains a line-up of immensely popular low to mid-range super-automatic espresso machines. Promising simple, good coffee at an affordable price has served them well. Plus, they're built to last – my in-laws have been happily using their machine for years.
Even compared to the other Magnifica models, the DeLonghi Magnifica Evo provides a significant step forward in the design and features. There's a fancy new milk system and a more modern display which brings the machine right up to date.
But are the new features any good? Or is it all just window dressing? That's what we're here to break down in this DeLonghi Magnifica Evo review. We take a deep dive into all the pros, cons, features, and capabilities so you can decide if this is the right automatic espresso machine for you. Our review is for the model with LatteCrema milk frother but you can buy the cheaper model with just a manual milk wand if you're mostly a black coffee drinker.
This article may contain affiliate/ compensated links. As an Amazon Associate, we earn from qualifying purchases at no additional cost to you. For more information please see our disclaimer here.
At a Glance: DeLonghi Magnifica Evo Review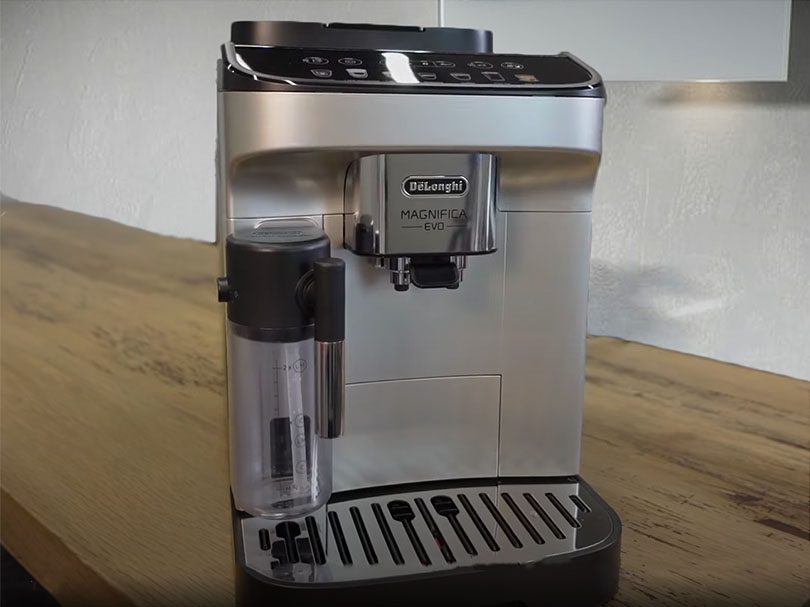 The DeLonghi Magnifica Evo is a straightforward super automatic coffee maker for straightforward people.
There are easy-to-use buttons along the top for selecting your drink or, if you want something custom, there's the My Latte option. It's compact, a good price, looks good, and can do coffee over ice.
Instead, the Magnifica Evo is better suited to someone graduating from an automatic coffee capsule machine.
They've clearly copied the Philips LatteGo design with the milk carafe, but it's really good. So (other than Philips) who cares? Being able to add exactly the amount of milk you need is nice, leaving no wastage.
If you want "one touch" latte or cappuccino, this is a fantastic coffee maker.
Pros
Great value for money
Coffee is consistently good
Easy to use
High-quality LatteCrema milk system
Compact
Iced coffee option
Cons
Limited customization options
No user profiles
The display is quite basic
1. Six "One-Touch" Coffee Options
DeLonghi advertises the Magnifica Evo as having 7 one-touch coffee recipes but one of them is hot water and we're not sure that counts. What they do have though are five classic espresso drinks (espresso, cappuccino, latte macchiato, long coffee, and iced coffee) and a custom "My Latte" button.
2. 13 Grind Settings
The built-in conical burr grinder puts you one step closer to that perfect espresso. Compared to other DeLonghi espresso machines, 13 grind settings is very generous.
3. LatteCrema Milk System
De'Longhi's proprietary milk system, the LatteCrema, consistently produces excellent milk texturing and foam from both dairy and oat milk. Using the My Latte customization settings, you can add only the amount of milk you need so there is no waste. In between uses, it can be easily removed and stored in the fridge.
4. Adjustable Coffee Temperature & Strength
You can choose between 3 coffee strength options and 3 temperature settings to customize your coffee exactly how you like it.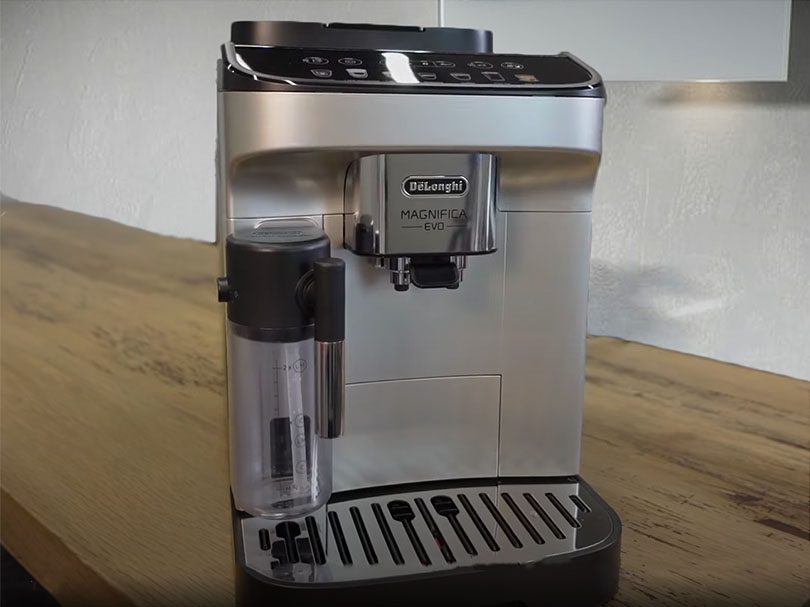 Simply push the light-up button on the top to get your drink of choice. A quick push will get you the pre-programmed option, holding the button for longer allows you to customize the settings of that drink.
The "My Latte" button allows you to make a fully customized coffee where you can set the amount of milk you want by adding only the amount you need to the carafe. As a helpful guide, the milk carafe has a scale with recommended quantities marked out for different drinks. This is a really good design feature so you can get exactly the amount of milk you need to fit into your favorite cup.
Our frustration with using "My Latte" is that it only saves the most recent coffee recipe. So, if you have multiple people wanting their own take on the popular coffee options, then you'll have to reprogram it each time. Frustrating but getting user profiles usually adds a hefty additional price tag.
However, the Magnifica Evo wasn't designed for amateur home baristas looking to customize their drinks. Instead, it's a simpler approach to getting good coffee at home.
Simply set it up, push a button and go.
This is DeLonghi's philosophy for this machine and it executes it extremely well. There are enough settings so you can get a great coffee from it. But if you plan on tweaking settings a lot, it can be a bit of a hassle and probably not the espresso machine for you.
The excellent, but noisy, grinder has 13 settings to get the ideal grind for your favorite espresso beans. You can easily change your settings using the grind adjustment dial inside the bean hopper.
When you first set up the Magnifica Evo, we'd recommend reducing the factory grind setting to the third finest (what would be 2 but isn't numbered) for the best results. Just keep in mind that you should only change the grinder settings whilst it's running.
Our next top tip is to only use the best quality, fresh coffee beans you can get your hands on. Ultimately, if you put cheap beans into your espresso machine, you will get coffee that tastes cheap out.
As with almost all automatic coffee machines, there is a bypass chute allowing you to use it in pre-ground coffee mode. This is very useful if you occasionally want to use decaf coffee beans or just try something a little different. But always be careful not to put too much pre-ground coffee into the chute as it can jam the machine.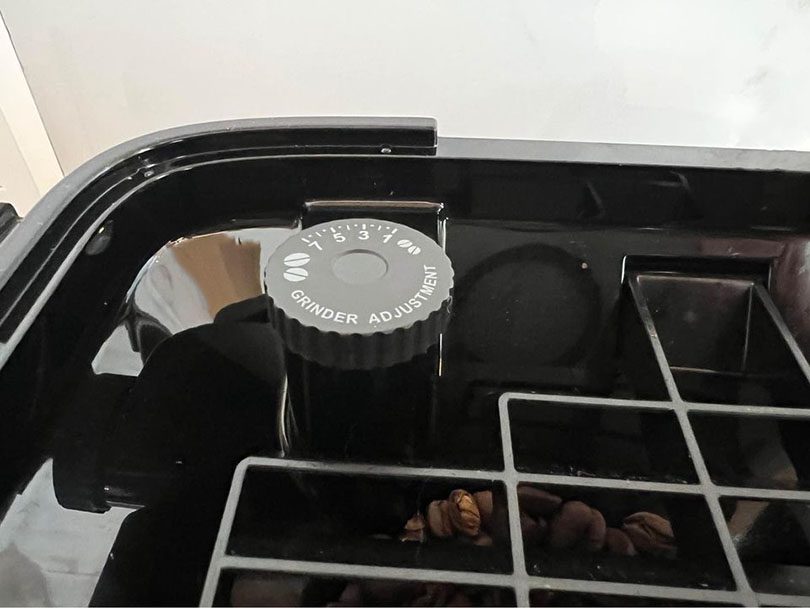 The Looks
Some DeLonghi models look a little "90s fax machine" to me, for those old enough to remember the 90s and fax machines. But the Magnifica Evo has taken a big step forward in looks with the backlit color buttons on the top.
Combining clean lines with a compact size is a good recipe for making a sleek, good-looking espresso maker. Whilst the LatteCrema milk container on the front spoils the aesthetic slightly, this can be stored in the fridge when you're not using it.
So, whilst we'll admit that the Magnifica Evo isn't winning any awards for innovative design, it does look good.
At only 9.5 inches wide it's pretty compact. However, the 14.2-inch height is more in line with some of the biggest coffee machines and may cause issues when filling the bean hopper if you have overhead cabinets. But if you're careful it should be fine.
The water carafe is front-loaded so there's no need for extra headroom to accommodate it.
Unless you have very narrow countertops, you shouldn't have an issue with the 17.3-inch depth.
The Build
As standard, DeLonghi coffee machines come with a 2-year warranty. There is also the option to make that 3 years if you register your DeLonghi machine. Before even looking at anything else, that should tell you how they feel about the build quality of their products.
The Magnifica Evo is mostly plastic. But when looking at auto coffee machines at this price point, they're almost all mostly plastic. Stainless steel isn't cheap after all. However, all the parts feel well made.
The design and manufacture of the milk container mean it slots nicely into place. Similarly, the drip tray and water tank fit well and don't feel breakable. Or at least not without considerable effort.
The conical burr grinder is stainless steel and should last you around 10 years without any difficulty.
You can also remove the brew group for cleaning and to make sure nothing nasty is building up in there. This is very helpful for the long-term health of your DeLonghi and is not a given on all top coffee machines.
But it won't be bringing out the delicate flavors and nuance of specialty coffee beans.
So this is a coffee maker for people who want simple, hot coffee similar to the espresso bars of Italy. Whether that's espresso, long black coffees, or milk coffee options.
If you're looking to try out lots of different single-origin beans and carefully dial in your machine for each, then the DeLonghi La Specialista series or the DeLonghi Dedica Deluxe will be better options for you.
The pre-set coffee options will vary depending on whether you choose the Magnifica Evo with LatteCrema (ECAM29084) or with the manual milk wand (ECAM29043).
On the former, you can choose between espresso, cappuccino, latte macchiato, long coffee, iced coffee, your custom "My Latte", or simply hot water. But, with the more basic Magnifica Evo model, you choose between espresso, coffee, long coffee, americano, or iced coffee, plus the option to use the steam wand.
Looking for no-fuss good coffee at a touch? The Magnifica Evo is a magnificent coffee machine.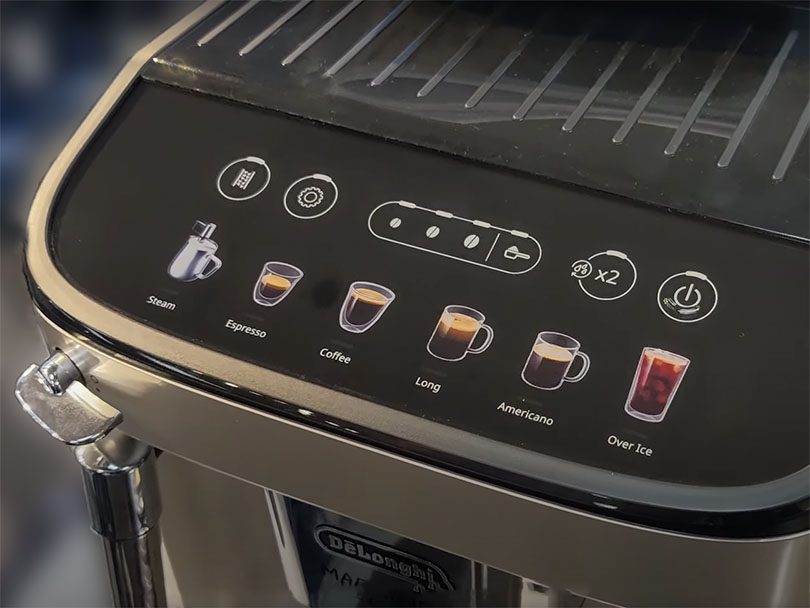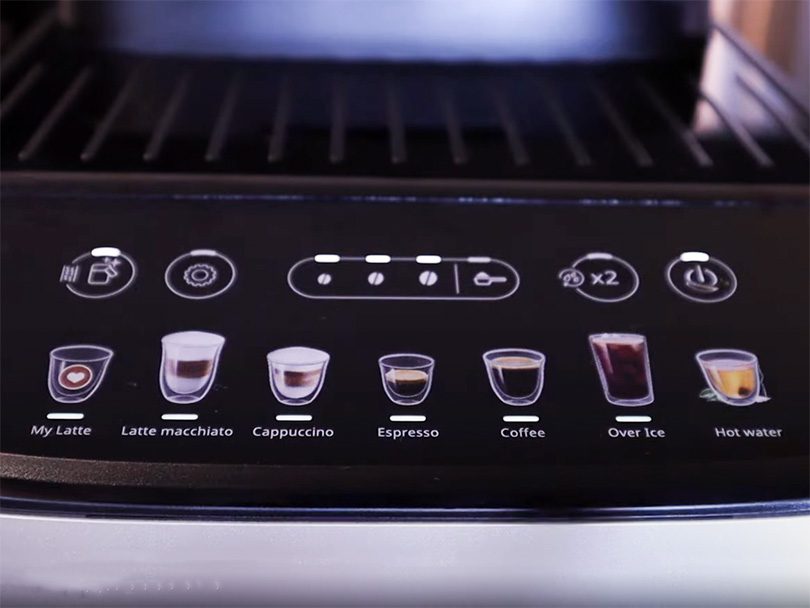 This DeLonghi Magnifica Evo review has focused on the model that includes the milk system (ECAM29084 review) as we feel it's absolutely worth the extra $100 to get it. But it is slightly frustrating you can't get hot milk sans coffee with the LatteCrema system though.
Don't get us wrong, the basic Magnifica Evo model with manual milk wand is still an excellent machine. But if you're looking at drinking a lot of black coffee we'd implore you to spend the extra on the DeLonghi Dinamica. It has a lot more options for getting your espresso or milk-free beverage perfect.
However, if you want cheap, reliable, good-quality black coffee with minimal fuss. The DeLonghi Magnifica Evo is still a good option.
Where the LatteCrema system comes into its own is the intuitive feature to use only as much milk as you need. The markings on the side of the carafe act as a guide and you can add as much or as little as you want. Then the machine will froth until it's detected there's no milk left. Whilst this may upset the purists looking for the right coffee-to-milk ratio for their chosen recipe, it does put the flexibility in your hands.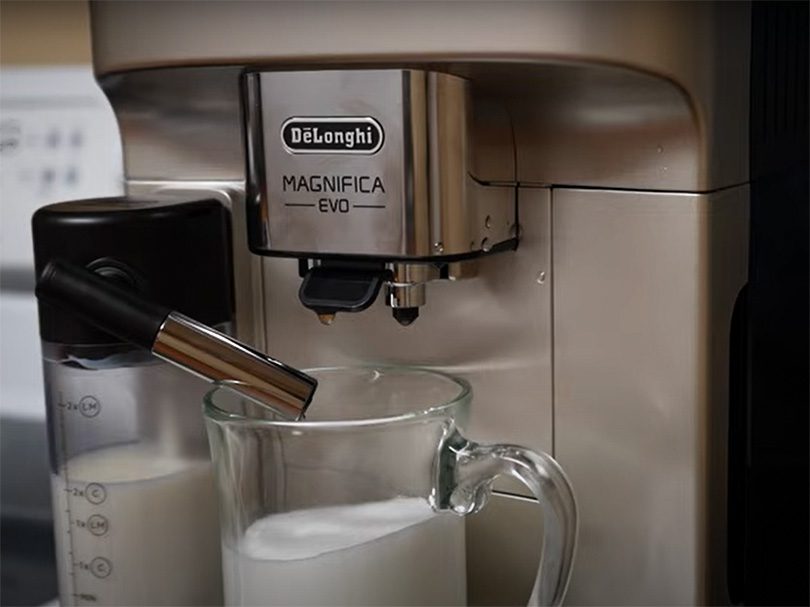 When making iced coffee, DeLonghi recommends brewing on the strongest setting. The result is a noticeably cooler coffee that is designed to be diluted a little with ice.
For a little more precision, we prefer to dilute it with a little cold water and use non-melting whiskey rocks. This means every sip is as delicious as the last rather than super strong at the beginning and really thin, watery coffee toward the end.
That said, the over-ice function works nicely. It makes a really delicious iced coffee, so kudos to DeLonghi. Bonus points for having actually useful instructions too.
The new milk carafe looks suspiciously like the one on the excellent Philips 4300 LatteGo. But if you're going to copy designs, copy good ones.
The "My Latte" option on the Magnifica Evo automatic coffee machine with LatteCrema allows you to create a custom coffee. As an added bonus, you can use only the milk you've put into the carafe (with a tiny bit left over).
So if you prefer just a touch of milk, that's an option. Or if you like a glass of milk discolored by coffee, you can do that too. This is great if you're worried about milk wastage which is common in other fully automatic coffee machines.
There are, kinda, helpful lines up the side for measuring the milk. But you're probably going to have to do some experimenting with whatever cup you use to get it right.
The milk container, drip tray, and puck container can all be easily removed and rinsed. This should be done daily at least. And the milk container should be cleaned after every use.
The water filters will keep descaling to a minimum, but yes, all automatic coffee machines need descaling from time to time. The whole process takes around 45 minutes but, depending on your water hardness, it may not need to be done more than twice a year.
DeLonghi recommends only using its branded descaling products to avoid any issues. Whilst this does leave you locked into a more expensive brand it also avoids you voiding your warranty.
The brew group is easy to remove and rinse out. This is where the grounds are tamped and your coffee is extracted so it's crucial you keep it clean so you can keep your coffee tasting delicious. Again though, this is a two-minute job at most.
Remember to brush or vacuum out the grinder every few weeks too. You can get away with ignoring a lot of these jobs, the machine looks after itself to a certain extent. But for quality and safety, you should deep clean the Magnifica Evo every week.
The Philips 4300 LatteGo.
Whilst it's slightly more expensive than the DeLonghi Magnifica Evo, it is a marginal difference. It also doesn't look quite as sleek but it does have some great features that the Evo doesn't.
User profiles may be the most helpful thing you get on the Philips 4300 LatteGo that sets it apart. If there are up to 3 of you who all love a latte macchiato, but slightly differently, you can all have your preferences saved. This means one-touch customized drinks for everyone (well, 3 of you) which is a great feature for an affordable automatic coffee maker.
The Philips display makes customizing easier too. The central LCD display surrounded by buttons makes selecting your drink and preferences simple. A nice big button to switch profiles is also very welcome.
Where it suffers is the lack of an "Over Ice" coffee option and the ceramic grinder won't have the same longevity as the DeLonghi's stainless steel one. But in a household of several coffee drinkers, it's the better option.
Which One Is Your Winner?
It's straightforward to use, has superb build quality, makes good quality coffee and textured milk, and is easy to clean. That's a whole lot of positives.
Compared to some of its toughest competitors, the Magnifica Evo lacks some features such as user profiles and a more intuitive screen. But it also offers "Over Ice" Coffee and has a superior grinder. So our DeLonghi Magnifica Evo review can't be too negative.
As with all the best automatic coffee machines, how good it is boils down to what features you're actually going to use:
Never drink coffee with milk? Don't get the Magnifica Evo with the LatteCrema system, opt for the basic model instead.
Are more than two of you planning to use it? Then the user profiles on the Philips 4300 LatteGo will be better for you.
But if you're looking for a first home coffee machine or to take a step up from a single-serve pod coffee machine, this is a great option. Compared to a single-serve, you will get pretty much the same level of ease. But with better coffee, better choice of coffee beans, and better for the planet.
Don't Forget to Buy your DeLonghi Magnifica Evo with LatteCrema today
You Might Also Like
Beautiful, simple, and delicious espresso for around $1000? We had to test if such a thing was possible – read our Jura ENA 4 review to see

Jura ENA 8 vs Gaggia Babila is a battle of philosophies. Is the convenience of the ENA 8 superior to the precision of the Babila?