Are you a novice espresso maker looking to hone your skills? If so, this Breville Barista Express Impress review is for you.
When shopping for a high-quality coffee machine, Breville should always be in the line-up for consideration. They already have a superb line-up of espresso machines all focused on delivering exceptional quality coffee. And their newest addition – the Barista Express Impress – is no exception. It's an interesting option, offering up a set of features that aren't often found together.
So read on to discover what makes this machine so impressive and how it fits in with the other Breville espresso machines.
We have scoured the internet for all the Breville Barista Express Impress reviews to collate with our own so we have the most comprehensive review you can find. Whilst not all home coffee experts give numerical scores, we have averaged these out. Therefore, you can get a consensus opinion on how good it really is and know for sure if this is the right machine for you.
This article may contain affiliate/ compensated links. As an Amazon Associate, we earn from qualifying purchases at no additional cost to you. For more information please see our disclaimer here.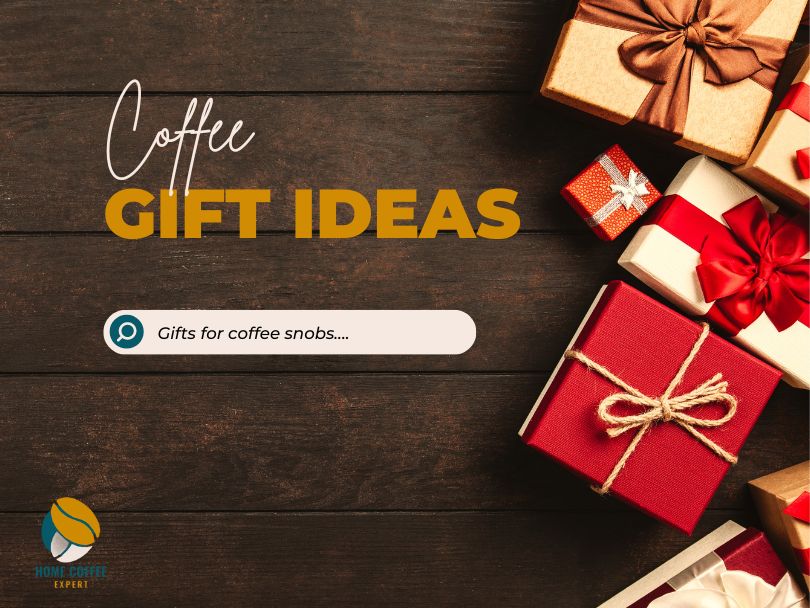 The holidays are coming. Which means stressing over the perfect gift is here too.
But stress no more. We've put together a list of all the best coffee gifts to please even the most discerning of coffee lovers in your life.
Check out our guide if they're on your 'nice' list. Or maybe be 'naughty' and buy something for yourself!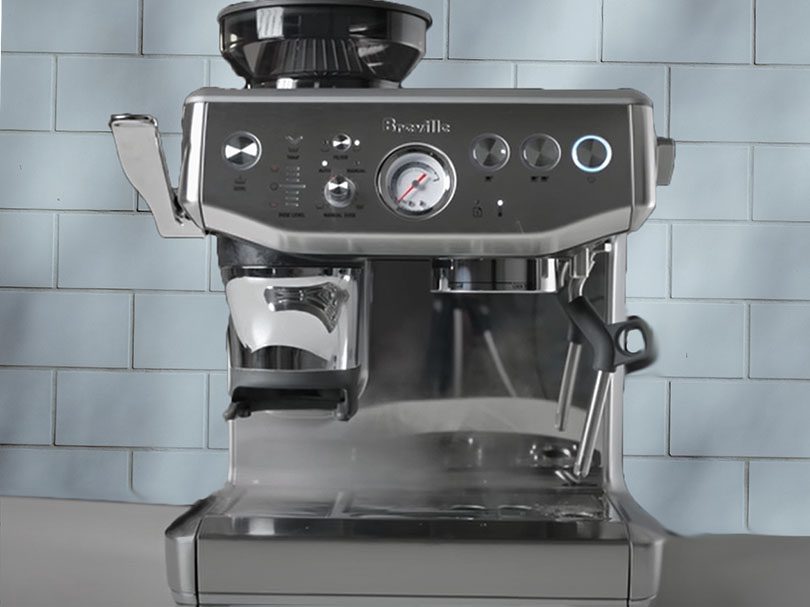 Breville Barista Express Impress
The Breville Barista Express Impress has some significant improvements over the popular Breville Barista Express coffee machine whilst still retaining many of the much-loved features. The grinder now has 25 settings instead of 15 and the milk wand makes it easier to create excellent microfoam.
The big difference, certainly for beginners, is the dosing and auto-tamping that eliminates a lot of first-time errors. It means you can focus more on your grind settings, extraction pressure, and extraction time to perfect your espresso.
For the more experienced, the loss of auto-tamping may be a downside. However, the Breville Barista Express Impress still allows you to take control over a lot of the process.
It's around the same price as the Barista Pro, but is more aimed at beginners looking for more control but a shallower learning curve.
Pros
Perfect dosing and tamping (automatic)
In-built grinder with 25 settings
Good espresso performance
Upgraded milk frother from the Barista Express
Still lots of control for espresso enthusiasts
Less mess than other comparable espresso machines
Cons
Large footprint so need lots of space
54mm portafilter (58mm like a commercial espresso machine/other Brevilles would be better)
1. Automatic Tamping
The intelligent dosing system not only delivers an optimal 22lbs (10kg) force through the ground coffee and a 7° twist every time, but it also learns your preferences. So, any issues with your previous dose and tamp will be adjusted the next time to deliver a perfectly prepared coffee puck.
2. Built-In Grinder With 25 Settings
The new Barista Express Impress has 25 grind settings which is a significant upgrade on the Barista Express. More settings means more precise extraction and even more delicious tasting coffee.
3. Adjustable Brew Temperature
You can perfect your espresso extraction thanks to the PID controlled water temperature. (Fancy tech that gives you an insane level of control over the temperature and not something that's regularly found even on the best coffee machines.)
4. Volumetric Shot Control
You have the choice to either manually time each shot of espresso or to set the precise water volume for the perfect extraction.
With a machine set up to allow you to customize your espresso shot as much as possible, there will always be some trial and error. The great thing about the Barista Express Impress is that it removes on of the toughest things to get consistently right – tamping pressure.
Most baristas rely on muscle memory of tamping the perfect espresso coffee puck over and over again. For everyone else, spending that much time to get the perfect coffee puck just isn't realistic. So, having a perfect dose and tamp as a starting point allows you to dial in the grind size and other settings knowing that one thing is constant and correct.
It also eliminates nearly all very bad results from the machine. The espresso quality may not be perfect first (or even second or third time) but it won't be terrible either.
Adjusting the settings is very simple with clear buttons and dials. You also have a pressure gauge so you can check your extraction and volumetric control. Plus, the milk frother is an upgrade on the Barista Express. With just a little bit of practice, you will produce a good microfoam with no issues.
So, if you are looking for to learn espresso making with the easiest home espresso machine, the Barista Express Impress is a very good option.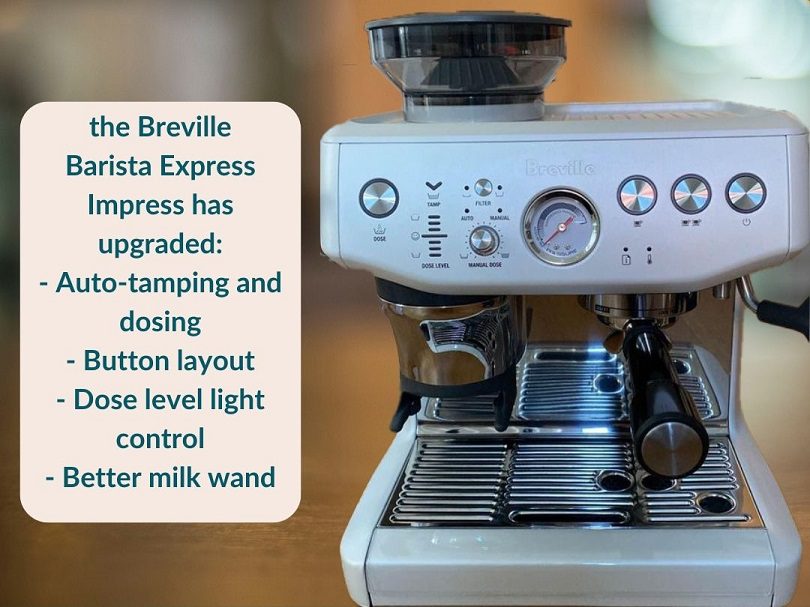 Having 25 grind settings means you get a good range of adjustment of grind sizes. Breville recommends starting at 13 which gives a lot of leeway in both directions. The Barista Express, on the other hand, recommended starting at 5 so there wasn't much option to have more finely ground coffee.
Breville espresso machines excel at third-wave specialty coffee which, for the best results, really need you to grind directly before extracting your espresso. But, the Barista Express Impress does give you the option to use pre-ground coffee if you prefer or need to switch things up as a one-off.
When manually dosing and inputting pre-ground coffee, you can still use the machine's auto-tamp for the coffee puck preparation. They also supply their Razor precision trimming tool to remove any excess ground coffee. Whilst it's a bit of a waste to pre-ground coffee in such a good home coffee machine, it is useful feature for the occasional decaf or flavored coffee (like these from Lifeboost).
The Looks
Espresso makers made by Breville are instantly recognizable by their "classic" design with portafilters and milk frothing wands. Only available in brushed stainless steel, the Barista Express Impress has a timeless finish that will fit with most people's kitchen styles.
I have to admit, I'm not crazy about the huge auto-tamping pod. It makes the left-side of the machine feel a little crowded. But this seems to be more common on the newer Breville espresso machines.
The lights are really helpful for showing if you have enough ground coffee and when your basket is filled perfectly. This feature is so good that I'm happy to overlook the slightly weird aesthetic – but maybe that's just me.
Another fantastic feature is the big pressure gauge that allows you to judge your extraction. Plus the buttons and dials all fit really nicely into the overall design. My only gripe here is the order of the buttons:
If this is your first espresso machine from Breville you probably won't ever notice. But if you're upgrading your current machine, you will notice that the buttons for power, and single or double cup espresso extraction are in a different order than previous models like the Dual Boiler and Barista Express.
One other thing to be aware of is that Breville espresso machines tend to be pretty big – there's a lot of features to fit in afer all. At 12.9" by 14.9 by 16.1", the Barista Express Impress is far from the largest coffee machine but it still demands a decent amount of your counter space.
Psst… If the classic design doesn't do it for you, see how Breville and their machines stack up against their top competitor, Jura:
The Build
One thing you can guarantee with all Breville coffee machines is that they are built to a very high standard. And this is no exception.
Stainless steel is the main material used which everything look and feel durable. The portafilter is well made and the Razor trimming tool is an excellent addition. One thing we would like to see is a professional 58mm portafilter instead of the 54mm one. But nothing is perfect, I guess.
The previous Barista Express model was released around 8 years ago and many coffee lovers are still using that machine daily. There's no reason to believe this one won't survive as well as long as you give your espresso maker regular care.
The Thermocoil heating system works well although it isn't doesn't heat up as quickly as the Thermojet system on some of the higher end models. With just a single boiler you also have to wait between coffee and milk frothing but it's not really noticeable unless you're making lots of milky barista-style coffee drinks at at one time.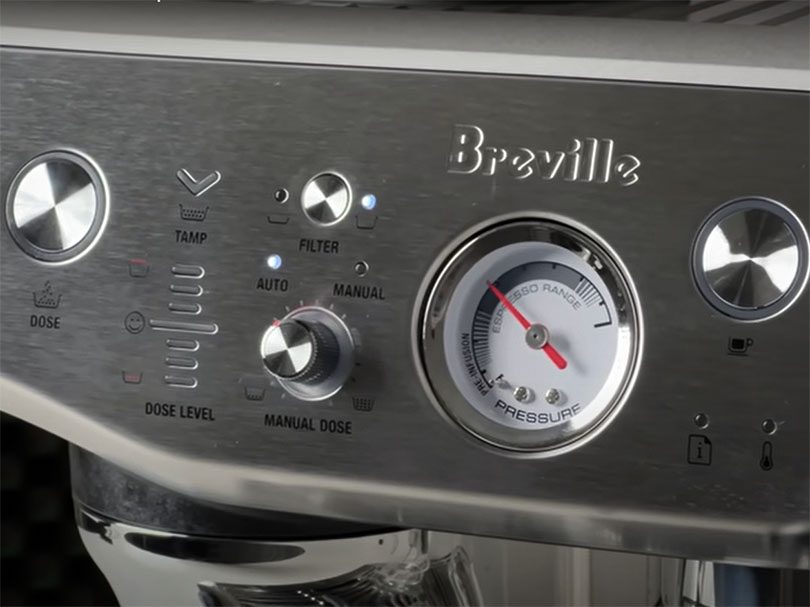 Thankfully, you can expect the same quality coffee as we've come to love from Breville. With the dosing and tamping handled and perfect every time, you're almost guaranteed an "OK" espresso at worst.
This may not sound like much, but "OK" as a baseline is actually really good. So, even if you only have a little espresso experience, you'll soon be making good, excellent, and then fantastic espressos at home. Once you've dialled in your machine, the automatic tamping means one of the easiest bits to mess up is taken care of.
Consistency will suddenly be very easy – the kind of consistency you buy a pod coffee machine or super-automatic for, but with way more control. It's a great hybrid solution for the inexperienced espresso puller who wants to be really involved in their coffee making.
There are buttons to choose between the double and single espresso option. So, if you are a fellow bleary-eyed coffee addict first thing in the morning, your much needed caffeine is only a few button presses away. There is ample space for a second espresso cup or, if you want a bigger sized espresso and choose the double option, you can also fit a taller standard coffee cup under the spout.
This might be standard, but compared to the Bartista Express, the milk wand on the Breville Barista Express Impress espresso machine feels much better. It heats the milk nice and fast, is much smoother and easier to generate quality microfoam, and it can handle non-dairy milks such as oat milk way better than the previous model.
Yes, you'll need to practice your milk frothing skills. But this isn't complicated and you'll feel like a pro in less than a week.
This machine is targeting a very specific group of people: those who want to be able to tinker with and perfect the art of espresso brewing, but who still want (or need) a little helping hand.
For most people, tamping isn't something they really play with. So having the machine consistently do it for you isn't really stifling your creative freedoms. It also frees you up to adjust all the other factors knowing that it is a constant.
Perfect for experimentation.
The pucks come out of the portafilter nicely and a quick wipe down is all that's needed on a daily basis.
Around once a week, you will need to backwash the machine with a cleaning tablet. This usually takes around 5-10 minutes and is a simple process.
Descaling, however, is always the big job with espresso machines and the Breville Barista Express Impress is no exception. It can take 30 mins to descale your machine but this doesn't need to be done more than once a month, unless you use your espresso maker excessively.
One of the big pluses of the Breville design is that the brewing unit, portafilter and brewhead are all accessible so you can make sure they're properly cleaned. Super-automatic machines have the brewing unit inside the body and some don't even allow it to be removed so you can never be 100% sure they're properly clean.
This is probably not an issue at all. But if you're concerned about possible nasties lurking inside your magic coffee box, the Breville Barista Express Impress offers more peace of mind.
It's not a cheap machine, but it bridges a gap between semi-automatic and super-automatic machines. This position makes it an offering that should appeal to lots of coffee lovers.
Combined with great design, looks, and Breville's quality construction, this is can be a great espresso friend for years to come.
The main takeaway from our Breville Barista Express Impress review is to ensure you have enough space to fit this beast of a machine, and that you are happy taking charge of a lot of the espresso making process. As long as you tick those boxes then you certainly won't be disappointed with the quality of espresso drinks you'll be able to make at home.
Don't forget to Buy Your Breville Barista Express Impress Today
You Might Also Like
If you're a dedicated home barista looking to manually pull espresso shots without it costing a fortune, this Flair Classic review is for you

Traveling a lot gave us the perfect chance to do an in-depth Wacaco Picopresso review. A spectacular portable espresso maker for coffee lovers