It's no secret that 1Zpresso is one of our favorite companies making some of the best manual grinders out there. When they released their latest in the JX range, the J Max, we had to check it out and see how it compared to the other 1Zpresso grinders.
To help you decide which of their excellent grinders is right for you, we have the ultimate 1Zpresso JX vs JX Pro vs J Max showdown. What are the differences and which one is best?
We've got the complete guide to help you pick between these amazing coffee grinders, so let's dive right in:
This article may contain affiliate/ compensated links. As an Amazon Associate, we earn from qualifying purchases at no additional cost to you. For more information please see our disclaimer here.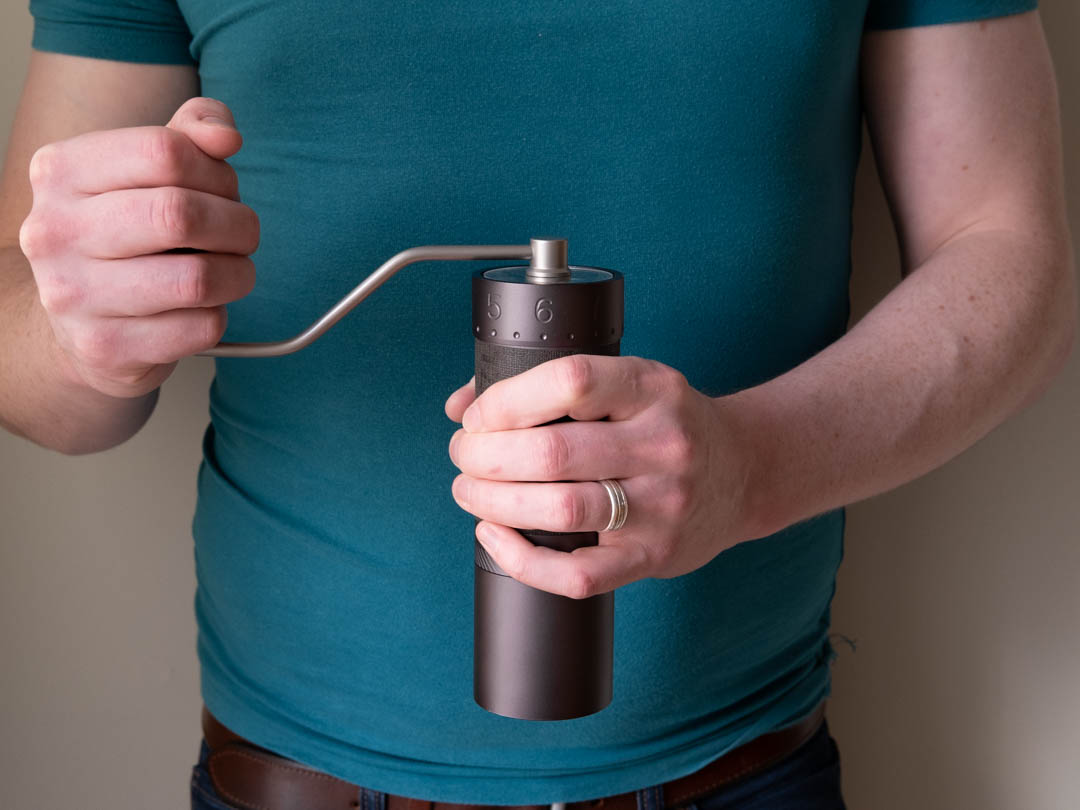 Image
Grinder
Details
Brewing Method
1Zpresso JX

2.24 x 6.69 inches (7.09 inches with handle)
Weighs 1.51 lb
30-35g capacity

Pour Over
1Zpresso JX Pro

2.48 x 7.09 inches (7.48 inches with handle)
Weighs 1.72 lb
30-35g capacity

Espresso
1Zpresso J Max

2.36 x 7.48 inches (7.87 inches with handle)
Weighs 1.68 lb
35-40g capacity

Espresso or Pour Over
The Taiwanese company has taken the coffee-loving market by storm. Having listened to the pain points experienced by fellow coffee obsessives, they have created some of the best manual coffee grinders in the world. Their designs are intuitive, innovative, and just plain beautiful. So great, in fact, that they have won the prestigious Red Dot design award.
They have an extensive range of popular portable hand grinders so there is almost certainly an option to suit your needs. The J series is our favorite as the larger capacity and smooth burrs make this range the best hand grinders for the widest range of people.
Are there more affordable hand grinders out there? Sure. But they also don't look as fantastic, feel as ergonomic, or produce as consistent ground coffee. So is the drop in price worth the drop in quality?
Being more stripped-back, relatively cheap ceramic burr grinders, both the 1Zpresso JX and JX Pro come with just a cleaning brush included. If you want a case for protection or travel, it will cost you extra.
The J Max feels a little more luxurious with a "cleaning blower" and cylinder case alongside the brush. It's not much of a difference but if you're looking to take your grinder away with you then having a case included is a nice extra to come as standard.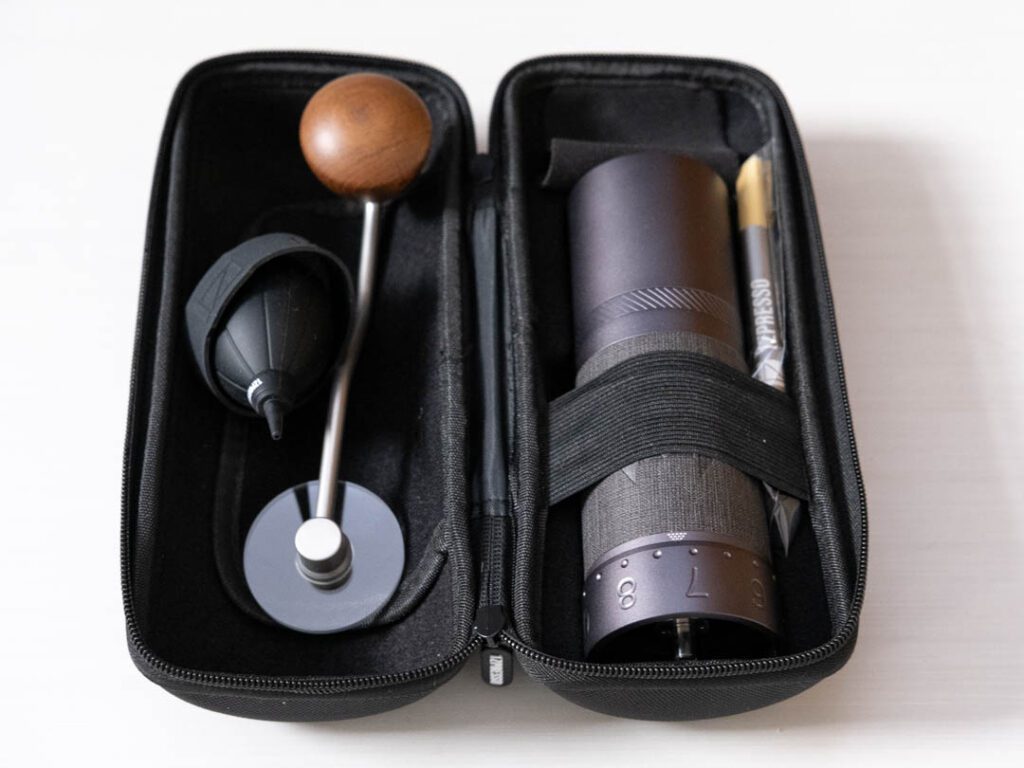 They are all roughly the same diameter (ranging between 2.24 and 2.48 inches). The J Max is the tallest at 7.5 inches and the JX is the shortest at 6.7 inches, with the JX Pro falling in the middle of the two.
As you'd expect with the size being so similar the weight is nearly identical too. The JX is 1.5 lb and the JX Pro and J Max are slightly heavier at 1.7 lb.
The grounds capacity of the JX and JX Pro are both 30-35g, which will do most people, to be honest. Living up to its name, the J Max has a slightly larger capacity of 35-40g. Realistically that's around 1 more espresso – hardly game-changing stuff.
So, size isn't really a factor when weighing up your options. Being a manual grinder, you do need to have a good range of motion in your hands/wrists. If you have particularly small hands like my wife you might struggle with the bigger J Max in mid-air. But she has no problems once stabilized on a flat surface.
Where they differ is that the J Max has titanium-coated burrs rather than the stainless steel ones of the JX and JX Pro.
What does this mean for you?
Titanium-coated burrs are much more durable and will last up to 5x longer than stainless steel ones. So, investing in the J Max manual coffee grinder is an investment in a much longer future together. A relationship that will never let you down.
We have also seen claims in coffee forums (not by 1Zpresso themselves) that titanium-coated burrs cut down on static that keeps fines stuck in your grinder. But this is a purely anecdotal claim which we can't find any reason for. Regardless, the burrs on all of the JX, JX Pro, and J Max are high-quality so you shouldn't suffer from static as long as you take good care of your grinder.
The JX Pro and the J Max have the same design in terms of the burr being attached to the central shaft to help with stability and consistency of grinding. The JX has a slightly different design which can cause the grind consistency to struggle at the coarser end of the spectrum.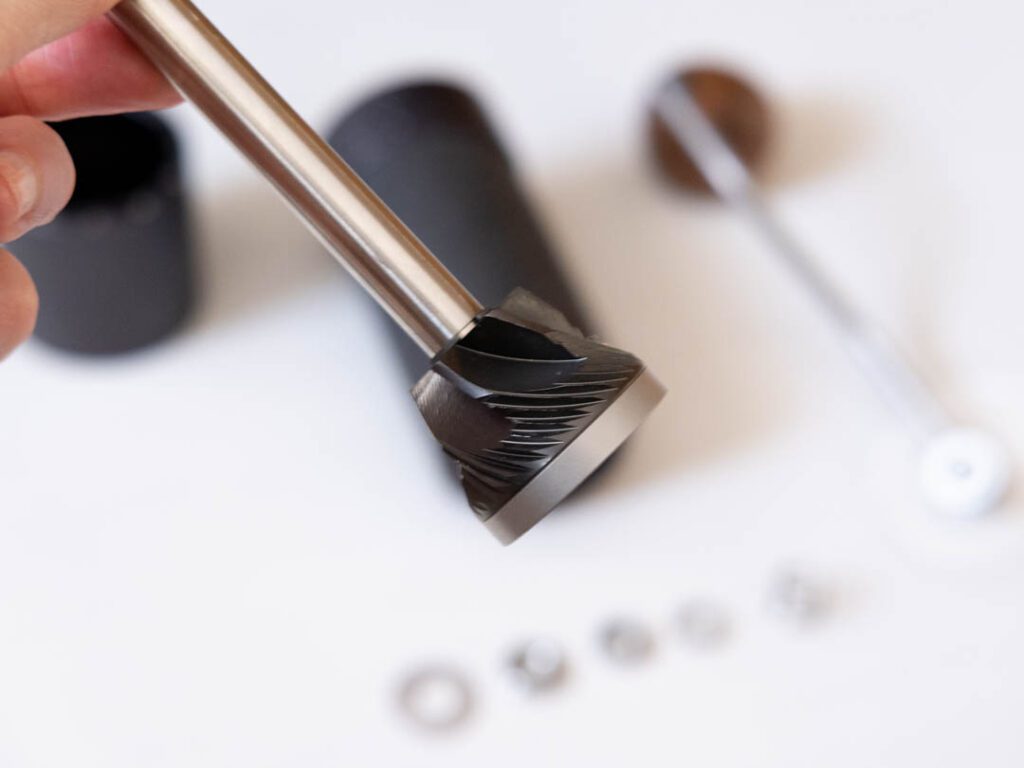 So the JX has the least number of settings of the three grinders with 30 clicks in a full rotation. Each move of the internal dial being a 25 microns difference in grind size.
Next is the JX Pro which has 40 clicks in a full rotation but over 200 clicks of range total! Each click of the top adjustment dial is 12.5 microns. This is obviously an insane increase in grind size accuracy from the JX and allows much finer dialing in of your grinder. This makes it especially useful as a dedicated espresso grinder.
The J Max offers the greatest precision of any of the grinders from its external adjustment dial. With an 8.8 micron per click adjustment level and over 400 clicks in total – 90 per rotation – you can really fine-tune your grind size for whatever style of coffee you're brewing. The J Max will even grind fine enough for making Turkish coffee if that's your thing.
Like most things in life, you have to spend more to get more. There is a significant price difference between the JX and the J Max – around $70. But you get a whole lot more control over grinding your coffee for that extra money. If you're debating between the JX Pro and J Max with a $40 difference, the extra precision and durability win out for us.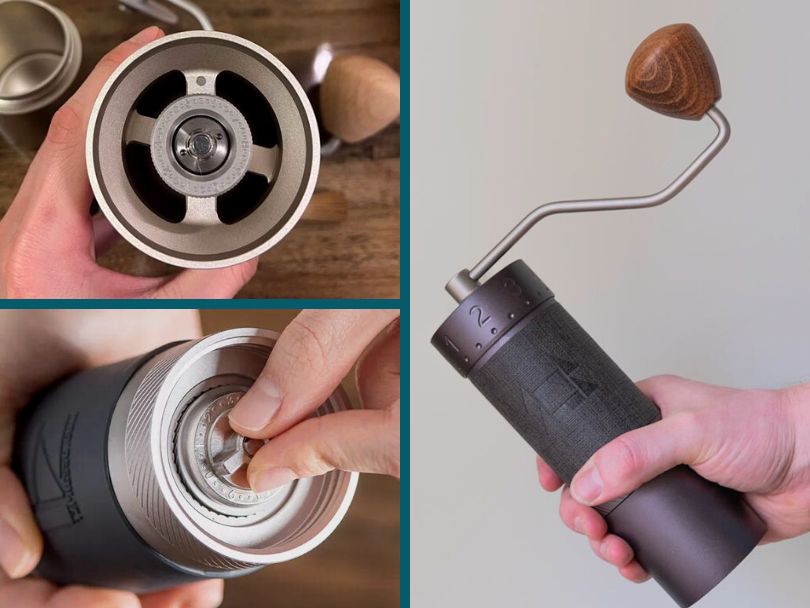 The JX Pro and J Max are equally easy to use as the grind size dial is on the outside or top of the grinder. You simply fill the upper chamber with the amount of beans you want to grind then crank the handle. The JX is slightly more inconvenient, but not necessarily difficult, to use as the grind adjustment dial is underneath the burr.
The 1Zpresso J Max also benefits from having a magnetic release on the grounds container. You still need to twist the container so it's not quite as effortless as the JE-Plus, one of 1Zpresso's other hand grinders. But it is still better than the regular screw method.
There are 2 possible ease-of-use issues with each of these grinders:
The first is that you need to weigh your beans separately. This means you need a scale to weigh your beans on.
Most people already have an electronic scale somewhere at home if you're happy not to get the precision of decimal places. But a dedicated coffee scale won't set you back too much money and will give you much more control. That said, it is still more work than some electric grinders.
The second is that whilst the dials have numbers around the outside, you can rotate them multiple times. For example, the J Max has 90 marked points but 400 odd settings.
Unless you're regularly going to go from espresso to French press, this probably won't bother you. But you'll need to note how many clicks you turned from finest or coarsest or the total in between your various settings. Otherwise, you'll end up getting the wrong grind sizes.
Each coffee grinder in the JX range is very good in this respect. Although they all get slightly less consistent at the coarsest settings, this is true with almost all grinders.
The JX does stand out as being slightly worse than its big brothers. Both the JX Pro and J Max have the same design – a central pillar attached to the burr for added stability. But because the JX doesn't have this, the grounds are less consistent in size.
None of the grinders suffer with "fines" – very small grounds, being stuck in the burrs. This means you're always getting the freshest coffee and the mechanisms don't get bunged up with coffee grounds, affecting your grinders lifespan.
Similar to other manual hand grinders, you need to have a bit of space when you decide to clean it. To avoid losing any of the parts, you will want to lay them all out and take care as some of them are pretty small.
This may seem a bit of a pain but there are many manual coffee grinders that can't be taken apart and cleaned. Honestly, this is so much worse than dismantling and cleaning out your grinder every few weeks. If you can't clean it out properly, you will get a build-up of old coffee grounds which will affect the quality of your cup of joe and will eventually slow down the effectiveness of your grinder. 
Remember you don't need to use water to clean your grinder. Simply brushing it will get the job done and it'll take probably less than 20 minutes in total. Easy.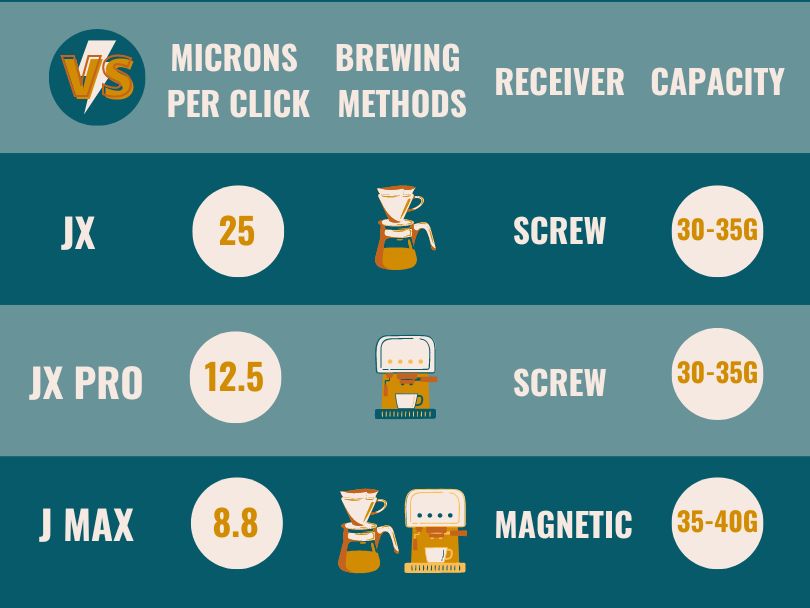 The first thing to consider when making any purchase is always the price. You can pick up the JX for $30 cheaper than the JX Pro and $70 cheaper than the J Max. But the difference in quality between the JX and the other two means that the extra spend is worth every cent. 
So the real question is whether the J Max is worth the extra cost over the JX Pro.
Whilst the J Max has an extra 5g capacity, I don't feel this is "make or break" when it comes to the two grinders. The real point of difference is their precision and how you are planning to brew your perfectly ground beans:
The much larger grind range and incredible 8.8 micron increments make the J Max an ideal espresso dedicated grinder. If you're looking to dial in your espresso with extreme precision, then the J Max is absolutely worth the extra money. Many electric grinders will cost you double for the same level of functionality so, in that respect, you're saving a lot of money for what you're getting.
If you're a casual coffee drinker just looking for a good quality coffee grinder for your home set up, the JX Pro is a superb piece of kit and will do a brilliant job. We love our JX Pro but for the top dog in the battle of 1Zpresso JX vs JX Pro vs J Max – the J Max will always come out on top. The super precise grind size, lovely carry case, and suitability for a range of brewing methods make it our go-to when grinding at home.
Want More 1Zpresso Reviews?
Take a deeper dive into the world of 1Zpresso with our individual product reviews:
You Might Also Like
Find the perfect gifts for coffee snobs in your life. From budget-friendly to high-end, there are gift ideas for every coffee lover

The biggest sale of the year is here and we've hunted down the best Black Friday coffee maker deals so you don't have to. Get prepared here!