If you are looking for an affordable way to bring lattes, cappuccinos, mochas, and espressos into the comfort of your home, the Hamilton Beach Espresso Maker (40715) could be just the ticket.
Read on for our complete Hamilton Beach Espresso Maker Review to uncover a budget-friendly way to enjoy coffee shop quality at home.
Hamilton Beach prides itself on bringing European cafe culture to the comfort of your own home. But in the easiest way possible:
Their machines are shining examples of no-fuss, no-frills espresso making. So if you are looking for a simple, does-what-it-says-on-the-tin coffee maker then you are in the right place.
This is our complete Hamilton Beach Espresso Maker review (40715) and buying guide, so you can discern if this is the budget-friendly coffee maker for you. We have scoured the internet for all the Hamilton Beach espresso machine reviews to collate with our own. This means we have the most comprehensive review you can find. Whilst not all home coffee experts give numerical scores, we have averaged these out. Therefore, you can get a consensus opinion on how good this espresso maker really is and know for sure if it is the right one for you.
This article may contain affiliate/ compensated links. As an Amazon Associate, we earn from qualifying purchases at no additional cost to you. For more information please see our disclaimer here.
At a Glance: Hamilton Beach Espresso Maker Review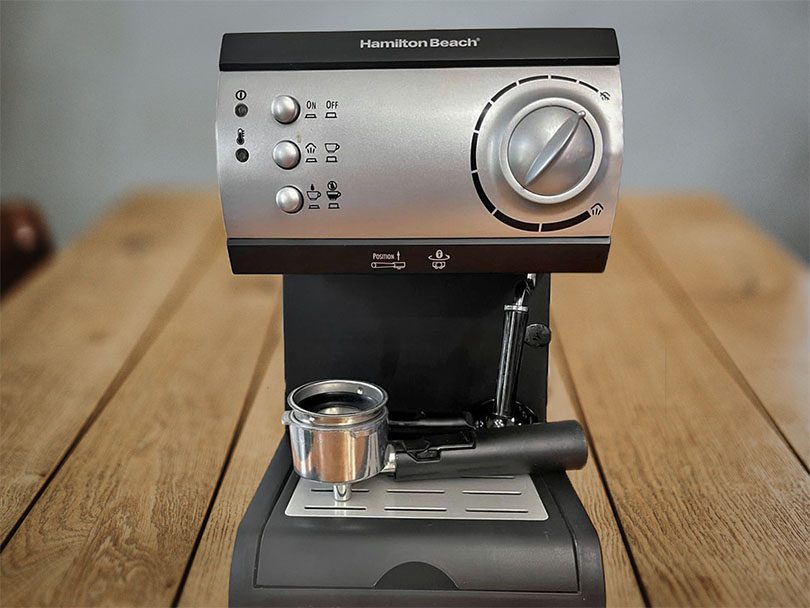 Hamilton Beach's 40715 is not the most elegantly designed espresso maker in the world. But it certainly does the job of brewing good, if not great, espresso at a great price.
If you want the ability to use soft pods or grounds; to pour 2 cups at a time; and to make a latte or 2, then it's a very good option. Particularly considering the budget price.
Plus, the 5-year warranty makes the Hamilton Beach Espresso Maker a very solid purchase for the long term too.
Pros
Easy to use and clean
Removable water tank with a 40oz capacity
Produces decent espresso
Can use pods and ground coffee
No-fuss frothing wand
Cafe quality right at home
One button to start
5-year warranty
Excellent build quality and durability
Matte finish cup stand keeps the machine looking newer for longer
Cons
Small boiler capacity (45oz)
Crema filter construction – artificially creates the crema without enriching the flavor
Confusing buttons and indicator lights don't help
Steamer can produce too many big bubbles
1. Can Use Grounds or Pods
This feature can make your life that bit easier. In addition to being able to use ground coffee, you can also use E.S.E. in the Hamilton Beach model 40715.
E.S.E. stands for Easy Serving Espresso pods.
It really comes down to what you prefer for making your espresso. This is a useful feature if you're in a hurry or if you prefer not to have to grind/tamp your coffee each time.
2. Two Cups per Brew
You can look at this as either a positive or a negative depending on how much coffee you really need to make at a time. Perfect if you want a double espresso shot for yourself, or you're making coffee for two of you. However, it can become cumbersome if you are brewing coffee for a larger crowd.
3. Single Button Brewing
Getting your coffee couldn't be simpler. All you have to do is press one button and off you go. The Hamilton Beach Espresso Maker is aimed at beginners to home espresso-making, so there is nothing complex to contend with here.
4. 5 Year Warranty
You can use your Hamilton Beach Espresso Maker 40715 safe in the knowledge that they have your back for 5 years. If anything goes wrong, the lengthy limited warranty has you covered.
However, the buttons could be easier to operate:
Each button has 2 positions – pressed in or not. And the difference between these 2 positions is minimal so can be easily confused. Plus, there are only two indicator lights – one to say the machine is on and the other indicates the machine is ready for whatever function you have selected. But it doesn't indicate what that function is. You do get used to it fairly quickly but it would be a lot easier to understand if it had a couple more LEDs.
The adjustable gauge on the steam wand, helpfully located on the right of the machine, gives you more control over the milk frothing. Although the switch between pulling an espresso shot and steaming milk does take a bit longer than we'd like.
But all in all, it's a simple machine. And it's particularly easy if you are using pods as it's a "push button to go" operation that is as simple as they come.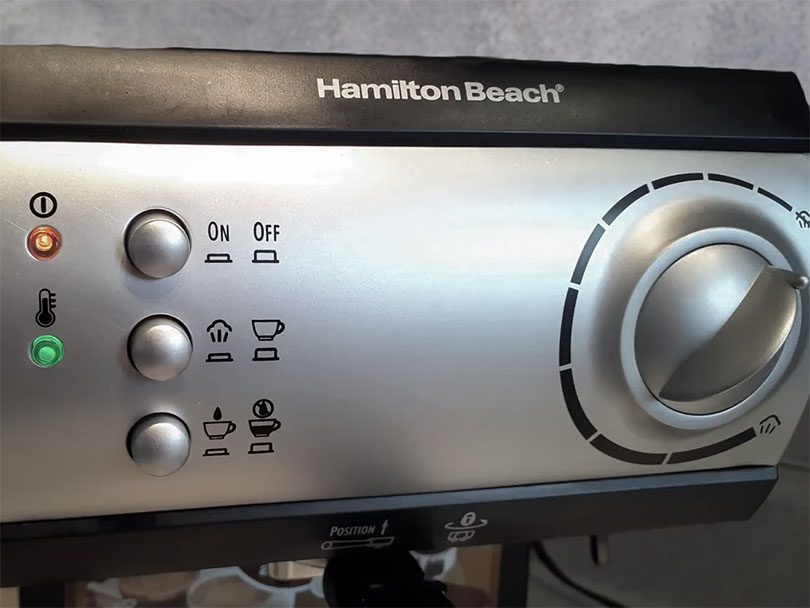 Generally, the Hamilton Beach espresso machine works best with a slightly coarser grind than a regular espresso grind. So keep that in mind when grinding your beans or buying coffee grounds at the store.
If pods are your preference, then you have complete flexibility as the Hamilton Beach 40715 will work with any E.S.E pods.
Standing at 13″ tall by 8.2″ wide and 12.3″ deep means it's quite a big machine. Though it does come with a big water container which is useful. But if counter space is a concern for you, you'll definitely want to measure up before purchasing this espresso and cappuccino maker.
As with most espresso machines under $100, the Hamilton Beach espresso maker is mostly black and silver plastic on the outside. But that's not a big drawback and it means the exterior doesn't get too hot.
A nice feature is a matte finish on the cup stand. Most machines have a metal cup stand which can get scratched as the cups vibrate when the pump pulls the espresso shots. This matte finish, however, keeps your coffee machine looking newer for longer.
The water boiler is aluminum, which isn't the best for keeping a consistent temperature. But it does mean the espresso maker is quite light.
Also, Hamilton Beach offers a 5-year warranty. This is superb and incredibly rare. So it is a true testament to the build quality of their espresso makers.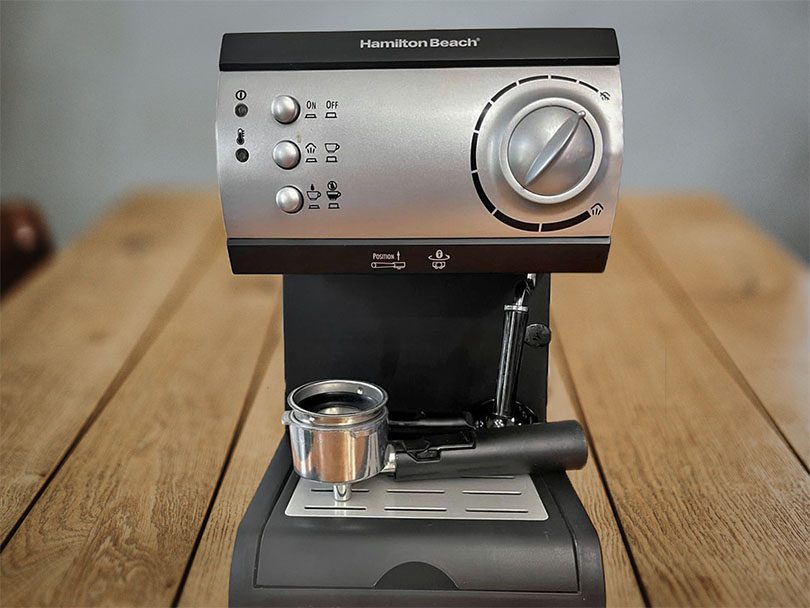 Firstly, the portafilter with pressurized filter baskets creates a nice crema. Hamilton Beach's powerful 15-bar Italian pump has enough oomph to get good espresso out of most beans. It will, however, miss the nuances of light or medium roast as vibration pumps are not as consistent in delivering pressure. However, the 15 BAR pump is standard in espresso makers at this price point.
We highly recommend running an espresso through the portafilter empty before brewing as this will help with the quality. With all machines at this price, you will get "good" espresso, not "great" espresso. But, for many people, good is good enough so it isn't always necessary to split hair on such things.
The milk frother works pretty well, once it's warmed up. Although it can be a bit aggressive and create big bubbles. With a bit of practice, you'll be frothing a nice microfoam for your cappuccinos and lattes.
Having a milk wand is not a standard addition in the budget market, so definitely a plus. It allows you the option for making cafe-style drinks like cappuccinos, lattes, and mochas from the comfort of your own home.
The ability to use pods or grounds is also a bonus. So if you can't really be bothered with grinding your beans, you can just chuck a pod in, press the button, and off you go.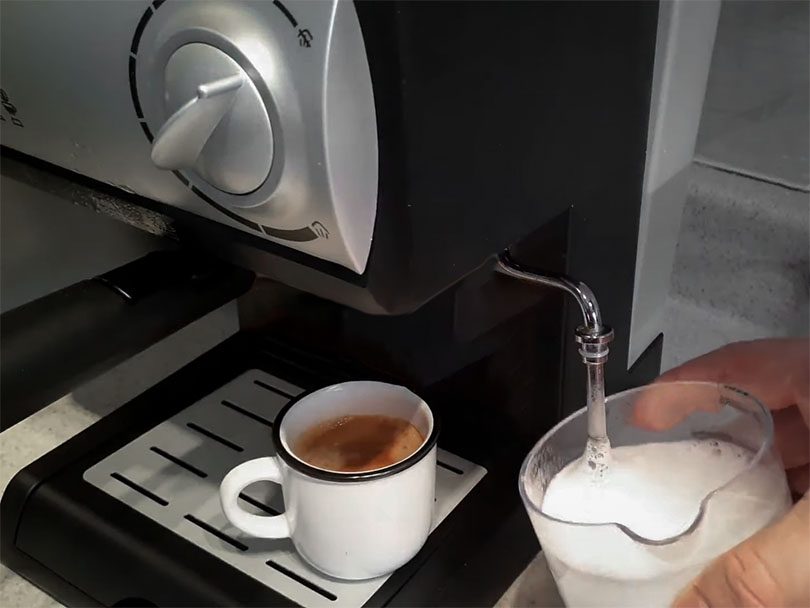 The machine does need to be descaled. However, the descaling only needs to be done every few months, depending on water quality and usage.
You might need a bit of space for everything to be laid out after washing. But it's still straightforward enough.
There isn't a dramatic difference between the two machines. However, to start with the Hamilton Beach Espresso and Cappuccino Maker 40792 is a more compact model than the 40715. The interface is also more stripped back. Whilst this is pitched at making things even simpler, we would argue that it has little to no benefit – maybe even making things worse.
The 40792 also has a cup warmer. This is a nice little feature as putting espresso into a cold cup is a sin no espresso lover should want to commit.
The mechanism for locking the portafilter in place has been altered in the 40792. This is with a patented 'Slide and Lock' system. Again, it feels a little unnecessary as portafilter systems are fairly standard across all espresso machines.
The Espresso and Cappuccino Maker 40792 comes in at a slightly higher price point than the 40715. In our opinion, whilst it has some nice additional features, they don't justify spending any more money. You would be just as well buying the 40715.
The design is a bit old-fashioned and it's quite big but that's very much a personal preference, so you may disagree. The 5-year warranty is a big plus point for this machine. This is not something you'll see on many espresso machines at any price point. Plus, the ability to pour 2 cups at once is another small plus in its favor.
So to conclude our Hamilton Beach Espresso Maker review – this is a good option on a budget, for good (not great) espresso, plus the option for cappuccino and latte.
Don't forget to Buy Your Hamilton Beach Espresso Machine 40715 Today
You Might Also Like
Beautiful, simple, and delicious espresso for around $1000? We had to test if such a thing was possible – read our Jura ENA 4 review to see

Jura ENA 8 vs Gaggia Babila is a battle of philosophies. Is the convenience of the ENA 8 superior to the precision of the Babila?