In the Dominican Republic, coffee is more than the power source for a busy day. It is an essential way of life:
Almost everyone drinks coffee and to refuse the offer of a cafecito is likely to offend.
But, unlike many coffee-producing nations, very little Dominican coffee is exported. This isn't because it's not delicious (spoiler alert: it is!), but because they drink so much of it themselves that there's not much left for the rest of us to get a look in. Domestic consumption is so high that each person consumes 8.15lbs (3.7kg) per person per year which is higher than in Italy!
Only about 20% of the coffee grown on the island is actually exported. So we've done the leg work and tracked down the best Dominican coffee beans for you to try. But, before you do, read some more about what makes it so special.
This article may contain affiliate/ compensated links. As an Amazon Associate, we earn from qualifying purchases at no additional cost to you. For more information please see our disclaimer here.
Image
Product
Details
Volcanica – Dominican Red Honey

Medium roast
From Ramirez Estate, Cordillera Central
Flavors of strawberry, stone fruit, chocolate

Café Kreyol Ramirez Estate

Light roast
From Ramirez Estate, Cordillera Central
Flavors of toast, walnuts, sugarcane, and vanilla soy milk

Fresh Roasted Coffee, Cibao Single-Origin

Medium roast
From Cibao
Flavors of baked apples, vanilla, grapes, spices

Café Santo Domingo

Medium/Dark roast
Dominican blend
Flavors of roasted nuts, dark chocolate, citrus
Whilst the country may be small, she is mighty when it comes to growing coffee. The tropical, mountainous landscape lends itself to the production of complex premium coffee beans. So you can enjoy a range of coffee flavor profiles from around the island.
The farming of coffee plays an important part throughout the Dominican Republic. It not only caffeinates the local population but is also a vital economic resource. Of the 50,000 Dominican coffee producers, the majority are small-scale and family-owned. In fact, 92% operate farms less than 3 hectares in size.
Typically, the coffee farms can be found at high altitudes between 2,000 and 5,000 feet. Growing under the harsher conditions at altitude means the trees take longer to grow. This results in more complex, flavorful coffee cherries. Additionally, 98% of the coffee is shade-grown under a canopy of pine, macadamia, and guava trees.
Depending on which region you buy from, you can get full-bodied coffees with tastes of nuts, chocolate, and an earthiness that is excellent for espresso drinks. Whilst elsewhere you will find more lively, bright, and fruity coffees that are superb for pour over. The cluster of famous regions in the south all produce more mild, mellow coffees with lower acidity and a very clean finish.
So, one thing is for certain:
No matter what you like, you can find great Dominican coffee beans to suit your style.
Thanks to the wide variety of coffee-growing regions, there are several Dominican coffee brands and blends to choose from. The reputation for quality added to the low availability can mean your beans will cost a bit more than those from larger exporting countries. But these exciting, delicate beans are worth trying.
To help you find the best coffee beans, we've put together our top choices for the most flavorful and highest-quality coffee beans and brands out there:
Volcanica Dominican Red Honey Coffee
What to Expect:
Roast Level: Medium Roast
Region: Ramirez Estate, Cordillera Central
Varietals: 100% Arabica
Processing Method: Red Honey Processed
Tasting notes: Strawberry and stone fruit, mild acidity, and smooth chocolate
Important notes: This micro-lot Dominican coffee is organically grown and Kosher certified
Hailing from the Jaracoa sub-region of Cordillera Central, Volcanica's Red Honey Coffee comes from a single estate. Not only does the Ramirez Estate produce incredible tasting coffee, but they also ensure fair wages to all the workers.
This whole bean coffee is organically grown then red honey processed which adds sweet fruit notes to the delicate character of the coffee.
Red honey processing (often called the pulped natural process) means that the coffee cherries are partially de-pulped and left to dry in the sun without washing. The golden sticky mucilage of the remaining cherry darkens in color on the outside of the beans. And the result is a unique, fruitier coffee.
Volcanica medium roast these coffee beans which shows off the best of the island's flavors. It is a great option if you're looking to try coffee from the Dominican Republic for the first time or if you prefer a fruitier style of coffee.
Cafe Kreyol Ramirez Estate Organic Coffee
The Ramirez Estate is represented for the second time with the Cafe Kreyol offering. And with good reason. The estate is a well-rounded jewel in the Dominican Republic's coffee industry.
Their social agenda is second to none with donations for books and computers in the local schools and rural areas. They even built and funded a school so children didn't have to walk over 15km each way for their education.
Not only do they pay all of their employees fair wages (roughly 300% higher than Fair Trade requires) but they also help Haitians obtain legal residence in the Dominican Republic. By doing, the Haitian immigrants can receive the higher wages too.
The coffee itself marries up Cafe Kreyol's sustainable mission with high-quality coffee. As a light roast, you get to taste more of the origin and bean's natural characteristics. With nowhere to hide, it's easy to tell that these are truly exceptional coffee beans.
The result of the high altitude, shade-grown, and red honey processed beans is a brightly acidic coffee with a touch of sweetness from the honey process. It is complex and well-balanced with flavors of walnuts, vanilla, and sugarcane. To really get the best from these coffee beans and taste the subtle beauty, brewing methods that use a paper filter are the best option.
Fresh Roasted Coffee, Cibao Single-Origin
Fresh Roasted's Cibao coffee is made from 100% Red Caturra (an Arabica varietal) grown on a single family-run farm. The medium roast coffee beans allow the region's delicious character to shine through. So, if you're looking for something smooth and mild to make the mornings less painful, this is the one.
Having Direct Trade, Fair Trade, and USDA Organic certifications, this coffee has been produced in the right way for the planet and the people growing coffee in the Dominican Republic.
It is wet processed so the clean, bright style of the island comes through nicely on the palette. Once brewed, you can expect low acidity with sweet notes of baked apple and vanilla with some sweet spices. The coffee flavors really shine through when used for pour over.
Café Santo Domingo
Probably the most iconic and popular Dominican coffee brand, Café Santo Domingo has been produced by the Perello family for 75 years. Today, it is much loved by both Dominicans and coffee drinkers around the world.
The Tostado en Grano, like all their coffees, is a blend of beans from all over the island. Most notably from Cibao and Barahona, but also from Neyba, Sierra Sur, and Noroeste. Blending them together provides consistency of flavor rather than showing off any particular region.
Whilst this is a whole bean coffee, if pre-ground coffee is more your thing, the Santo Domingo ground coffee (Molido) is an excellent option.
You get a very full-bodied and punchy cup of joe, with flavors more commonly associated with most dark roasted coffee beans. The complex toasted nut flavors appear towards the end and the citrus acidity sings away in the background, without ever really becoming a prominent part of the flavor.
If you're a coffee nerd looking to taste regional variation, this isn't the one for you. But, if you've been to the Dominican Republic and loved the coffee, then this is the stuff you need. Plus, it holds up well to any brewing method so you can go wild.
The reason is that Dominicans love their coffee so much. Now, the Dominican Republic sits around 15th in the world in coffee consumption per capita. This is ahead of nations such as Italy, France, and the USA.
So, only 20% of all the coffee produced reaches the global export market. Of this, around half is shipped via Puerto Rico as a gateway to the US market. The rest is destined for Europe and Japan.
In recent years, many Dominican Republic coffee farms have obtained organic certification. This has helped bring more revenue into the industry whilst also helping protect the coffee farmers in the long run.
Coffee has been an important part of the Dominican culture and economy since 1735. At this time, colonials brought coffee to the Spanish-controlled half of the island of Hispaniola – what is now the Dominican Republic.
By the time of the revolution in 1791, coffee had become the second most important crop in the Dominican Republic, after sugar. Although both relied heavily on slavery which was particularly brutal even by the standards of the time.
Throughout the 1800s coffee's importance continued to grow. And, by 1880, the southern mountains of Valdesia had become the primary production area.
It was much later – 1956 – before coffee from Dominican Republic reached the export market. And, even then, it was only coffees from specific areas.
Bani, Ocoa, and Valdesia were the main regions that exported their coffees with a focus on regionally specific, single-origin coffee. So the farmers had to become more organized and in 1967 a mill was opened. Upon opening, it had 155 members who processed their coffee separately, ensuring the provenance of their beans for export.
The coffee price turmoil of the late 20th century decreased the dependence on coffee as an export product, as was the case for so many coffee-producing nations around the world. Many farmers opted to diversify into avocados and beans but most kept some coffee trees for when prices recovered.
Now, Valdesia has protected its origin name under the brand Café de Valdesia, making it the only coffee to have a protected designation of origin (PDO) from the European Union. This means that anytime you see a Café du Valdesia label, you know you are getting premium coffee beans.
The climate in the Dominican Republic is slightly different from many other coffee-producing countries:
It doesn't have clear seasons in terms of temperature or rainfall. This means that coffee production takes place, at some level, all year long. That said, the main harvest season tends to fall between November and May.
When you pick up a bag of coffee from the Dominican Republic, it will often tell you which region they came from. So, to help you understand what this means for quality and flavor, this is a quick overview of the main coffee regions. Although there may be as many as 25 distinct coffee-producing areas around the country: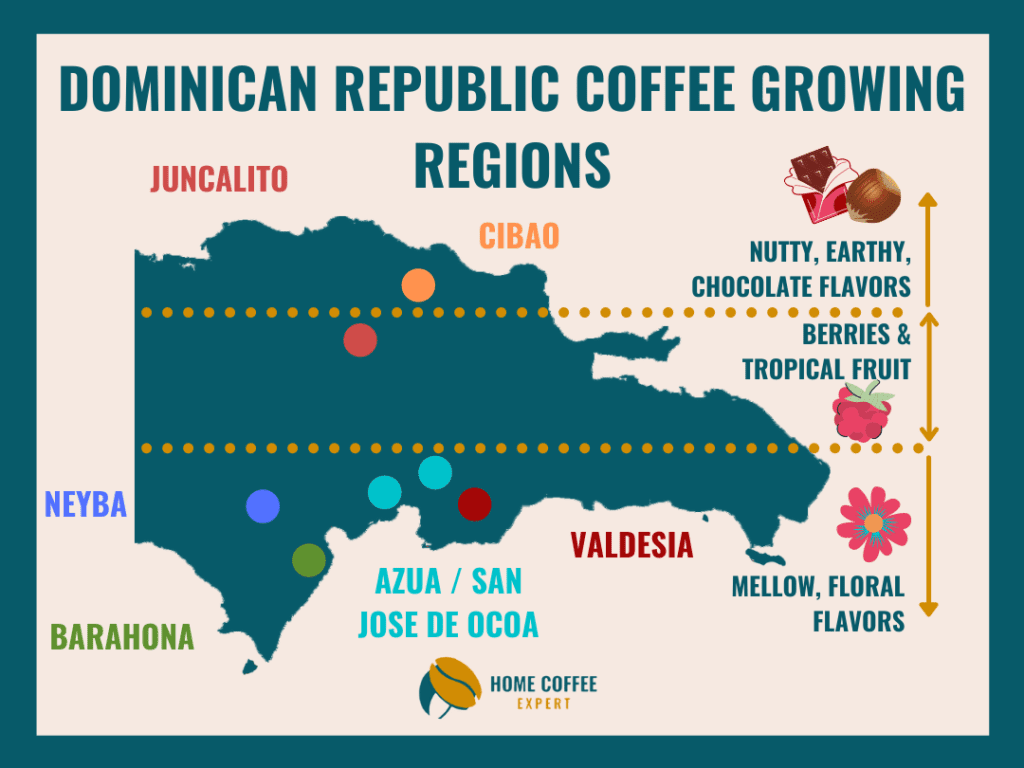 BARAHONA
The coffee-growing region of Barahona is located in the southwest of the island, in the Bahoruco mountain range.
Agriculture, particularly coffee, dominates the landscape in Barahona – it is the main commodity grown here. As a result of the geography and hard work, this region has established a reputation for producing particularly high-quality coffee.
Here, the Arabica varietals Typica (80%) and Caturra (20%) are grown at altitudes varying from 2,000 – 4,300 feet above sea level. Thanks to the steady year-round temperatures, coffees from Barahona show off deep, rich flavors and acidity.
CIBAO
Cibao Valley
Literally translated, Cibao means "place where rocks abound", specifically referring to the valley between the Central and Septentrional mountain ranges in the north.
In this area, coffee is grown alongside rice and cacao. And, being a valley, it is one of the lowest growing regions in the Dominican Republic. Flavor-wise, you can expect full-bodied coffees with hints of nutty, earthiness.
Despite being a valley, the coffee farms are found at altitudes between 1,300 and 2,600 feet above sea level. Here, they grow 90% Typica and 10% Caturra coffee plants.
Cibao Altura
Not all coffee from Cibao is grown in the valley. Instead, Cibao Altura Dominican coffee refers to specific areas in the region that are higher in altitude (2,000 – 4,900 feet above sea level). Here, the same varietals are grown but in different proportions – 30% Typica and 70% Caturra and with more complex flavors.
JUNCALITO
Juncalito is located in Cordillera Central (the Central Mountains) which are, you guessed it, in the center of the country. As home to around 1500 coffee producers of all sizes, it is one of the most important coffee-growing areas in the Dominican Republic.
The mountain range here is the highest in the country, often referred to as the "Dominican Alps". The conditions are favorable for growing perfect Dominican coffee thanks to the altitude and pleasant, cool climate. However, the geology of the region is completely different from the surrounding areas:
Here, the coffee is grown on granite substrate, rather than the calcium which dominates the other growing regions. As a result of these unique conditions, Juncalito is famous for creating coffees bursting full of tropical, fruity flavors.
The farmers operate at higher altitudes, usually ranging from 2,000 to 4,900 feet above sea level. They mainly grow 3 Arabica varietals: 30% Typica, 65% Caturra, 5% Catuai.
NEYBA
Neyba is located in the southwest of the island and is a relatively low, flat region. So, the primary focus is on growing grapes, plantain, and sugar. However, there are still coffee farms located in the Sierra del Neyba mountains, taking advantage of the higher land.
The coffee farms vary in height from 2,300 to 4,600 feet above sea level. Growing a 50:50 split of Typica and Caturra, you can experience complex coffees with brilliant acidity and slight sweetness.
SAN JOSE DE OCOA / AZUA
San Jose de Ocoa and Azua fall under two different provinces within the Dominican Republic. However, they border each other and share many of the same characteristics when it comes to growing coffee. And, at one point, San Jose de Ocoa was a part of the Azua province.
You will find both coffee regions in the south of the island.
Thanks to the surrounding mountains (1500 – 5500 feet above sea level) with abundant fertile soil, you can expect savory, robust coffee beans whilst still being relatively mellow. Holding temperatures in the 90s throughout the year, both are ideal locations for growing Dominican coffee.
VALDESIA
Valdesia is by far the best known of the growing regions in the Dominican Republic. The coffee from this area is so widely regarded for its premium quality that it is the only coffee to have a PDO (Protected Designation of Origin).
The good reputation and protected status mean you tend to pay a slightly higher price for Valdesia coffee compared to other regions on the island.
It is within the southern Valdesia area that Baní can be found – another well-established name in the coffee world.
The region is incredibly wet, experiencing a significant amount of rainfall year-round. This means that the soil is moist and extremely fertile. The end result is coffees with a more mellow, soft flavor profile that is low in acid.
Coffee farms can be found between 1,600 and 3,600 feet above sea level and grow 40% Typica and 60% Caturra beans.
Most coffee from the Dominican Republic undergoes wet processing. In other words, the coffee cherry fruit is removed before drying. Processing this way helps maintain the delicate notes and clean finish of the coffee and doesn't add any heady, sweet fruit flavors that may over-power the lighter acidity.
You will find some honey processed and natural processed coffees from the Dominican Republic. However, these are very much the exceptions, rather than the rule.
Do you want to know more about Coffee Processing?
Take a deep dive into all the different methods of processing coffee, and how they affect the flavor of your cup of coffee.
This is great news as you can have total flexibility and find something to suit your preferred tastes and brewing method – you don't have to adapt to fit the beans. So, whether you are after an intense, chocolatey dark roast or prefer a fruity, citrus light roast, there is a Dominican coffee brand just waiting for you.
Get to grips with all the different roast levels, what they taste like, and which is best for you in our complete guide:
Once brewed, the coffee is served in demitasse cups with so much sugar it's best not to think about it or your dentist will start crying. A cassava cookie sometimes accompanies the coffee, or it is simply drank on its own.
The routine of lunch, coffee, nap, work is an established part of the lives of almost everyone on the island. Although how anyone naps with that much sugar in their system is beyond me.
Precious little Dominican coffee makes its way off the island for export. So, if you can find some, it's absolutely worth trying for the mild flavors and delicate acidity.
If you're lucky enough to have visited the stunning country then you may already be a convert to the Café Santo Domingo coffee laced with sugar to keep you bouncing all through the day.
You Might Also Like
Naming your new furry friend is a tall order. But if you love coffee as much as your pup, get inspired by one of these Coffee Names for Dogs

The Kyoto Latte is an incredible addition to the coffee world from % Arabica's flagship store in Japan. Discover what makes it so special