Decisions are hard. If I'm going out to eat, I NEED to see the menu in advance or I'll never be able to choose. So how do you pick between an espresso and a drip coffee maker?… You don't! This DeLonghi All-In-One Review is the answer to all your combo coffee-making needs.
The DeLonghi COM530M/COM532M combination coffee maker promises the best of both worlds. Perfect for indecisive people or for families trying to please everyone. But it comes at a price. So is it worth the investment?
In this expert review of the DeLonghi All In One, we're going to take a deep dive into all the pros, cons, features, and capabilities. Then you can decide if it's the answer to all your coffee needs.
This article may contain affiliate/ compensated links. As an Amazon Associate, we earn from qualifying purchases at no additional cost to you. For more information please see our disclaimer here.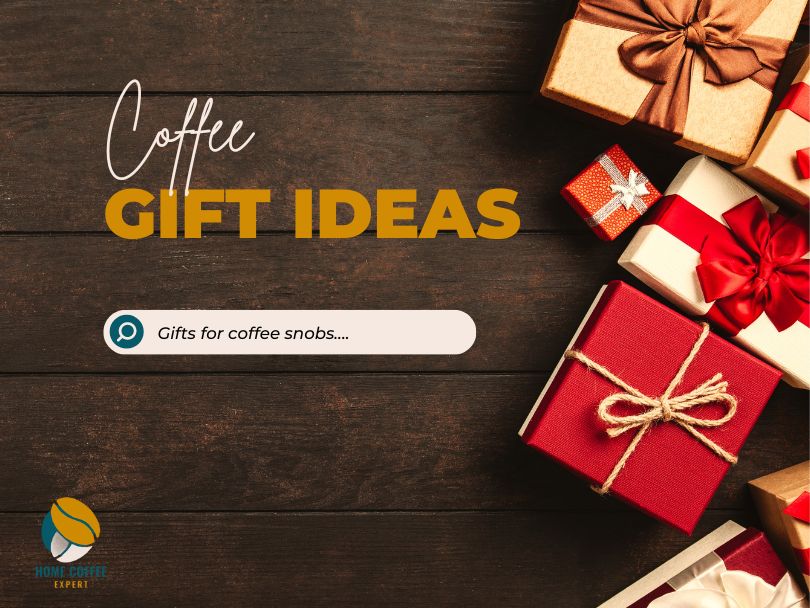 The holidays are coming. Which means stressing over the perfect gift is here too.
But stress no more. We've put together a list of all the best coffee gifts to please even the most discerning of coffee lovers in your life.
Check out our guide if they're on your 'nice' list. Or maybe be 'naughty' and buy something for yourself!
At a Glance: De'Longhi All-In-One Review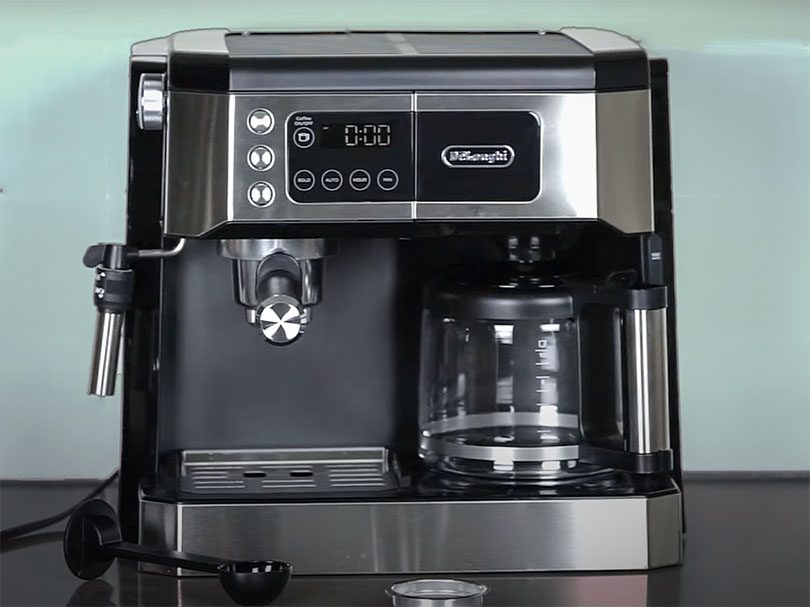 The DeLonghi All In One is for the casual coffee drinker who enjoys a pot of coffee throughout the day and only the occasional cappuccino or latte. If you're seriously into your espresso then this isn't the machine for you.
What you will get is a nice espresso, decent milk foam, and a good pot of coffee.
For a foamy cappuccino or latte, the milk wand works nicely. And the double-walled filter baskets deliver a nice flavorful shot of espresso with good crema. When making a pot of drip, the reusable gold filter leaves a nice, clear, and tasty coffee.
I have no idea why they don't include a milk jug, but they're not expensive. The plastic tamper is a bit rubbish too, but these are small issues.
Overall, this is the best DeLonghi combi coffee machine. Good coffee from one appliance that's very easy to use and covers almost all bases – all at a reasonable price.
Pros
Good value for money
Relatively compact
Good espresso and drip coffee
Helpful steam wand
Dual boilers
Espresso can be made from ESE pods or ground coffee
Reusable drip filter
1. Dual Boilers
Having two separate heating systems allows you to brew drip coffee and make espresso at the same time. Great for those busy mornings when you both want something different.
But, the All-In-One coffee maker won't allow you to make espresso and steam milk at the same time. So you'll still have to wait a little longer if you want a milky espresso drink.
2. 15 Bar Pressure
Pressure is the all-important factor that separates espresso machines from other types of coffee makers. You need a minimum of 9 bars of pressure at the filter basket but a lot of the pressure is lost by the time it gets there. So, by generating 15 bars, you get consistent pressure where it matters and a rich, syrupy espresso.
3. Digital Display and Touchscreen
Compared to previous generations, DeLonghi has made big improvements to the look and user interface of the COM532M and COM530M. Using the simple touchscreen and buttons, you can program your drip coffee or set a timer for the future for.
4. Manual Milk Wand
Choose between hot milk and cappuccino foam settings on the manual milk wand to get great quality milk for cappuccino or latte (only available on the COM532M). But, if you're a flat white lover, you will likely struggle to get something you're happy with.
On the COM530M, there is only one milk setting – it's either on or off.
5. Spill-Proof Filter Coffee Carafe
Thanks to an excellent spill-proof coffee carafe, not a single drop of your precious coffee will be wasted.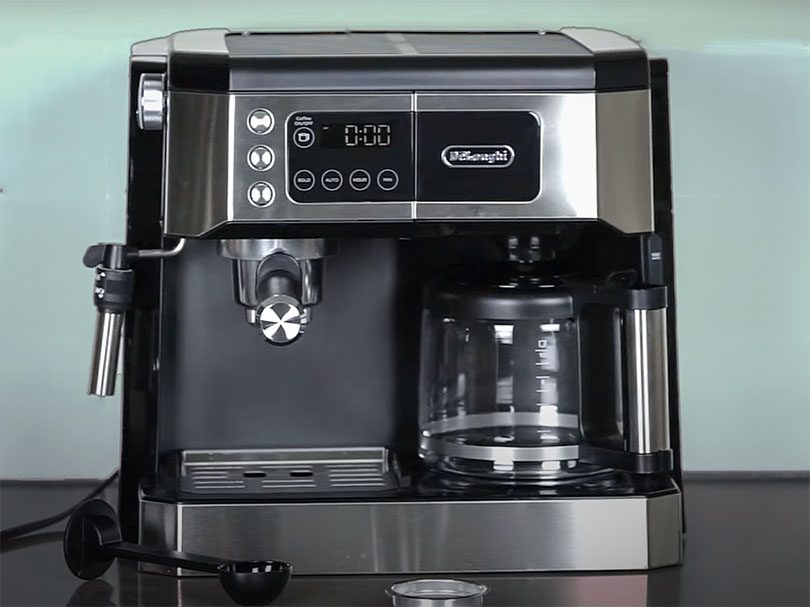 Espresso
The (left) espresso side is operated by 3 buttons on the front and a knob on the side for the steam wand.
To use, you first need to measure, grind, and tamp your ground coffee into the portafilter then simply twist it into place. You'll need to hold the side of the machine to stop the whole thing from moving whilst doing this.
For best results, we recommend grinding fresh before brewing but I appreciate that means having a whole extra device. So you can use pre-ground instead – just look/ask for espresso grind size.
Push the top button to heat the water for espresso. The light in the middle will flash while heating and, after 1 to 2 minutes, it will stay on to indicate it's up to temperature. Then push the middle button to start extraction.
Control of the brewing process is left up to you so you'll have to time your shot. For a 1oz shot of espresso, somewhere between 20 and 30 seconds is ideal for a good balance of flavors. Simply push the middle button again to stop the flow and you have your espresso coffee.
If you're going to foam milk you need to push the bottom button, which will similarly flash until it's hot enough. After around 1 minute the light will stay on and you can turn the knob on the side to steam milk. Always froth your milk after making espresso to avoid burnt, nasty coffee.
On the COM532M, the milk wand has 2 settings – hot milk or cappuccino foam. Hot milk is good for lattes and foam is good for cappuccinos. Simply hold the wand under the surface of the milk until it is hot. Until you get the hang of it, a milk thermometer will help you to avoid burning the milk.
Drip Coffee
The drip coffee side is even easier.
The reusable coffee filter swings out from the front of the machine. Simply put one scoop of coffee for each "cup" you want to brew into the filter. Then pour the amount of water you need into the channel next to the filter which funnels the water to the water carafe at the back of the machine.
A full pot of coffee is 10 cups with each cup being around 4oz. For this, you'll need 10 tablespoons of ground coffee and the easiest way to measure the water is to fill the carafe to the "10 cups" line and pour it all into the machine.
To brew, simply push the "on" button on the touchscreen next to the clock. The coffee maker will brew around 1 cup per minute so you'll have to wait 9 to 10 minutes for a full pot. If you get impatient, you can pull the pot out at any time which will automatically stop the coffee from coming through. Then pop it back in to restart.
If you need something a little more punchy, there is also a "bold" feature. This essentially pours the water over the grounds more slowly and in short bursts. It's only recommended for brewing 1-4 cups of coffee, and the flavor it produces is definitely bold. So if you try to do this with a full pot, you'll get horrifically bitter and over-extracted coffee.
The hot plate stays on for 2 hours automatically. But if you want to turn it off, simply press the drip coffee "on/off" button on the touchscreen.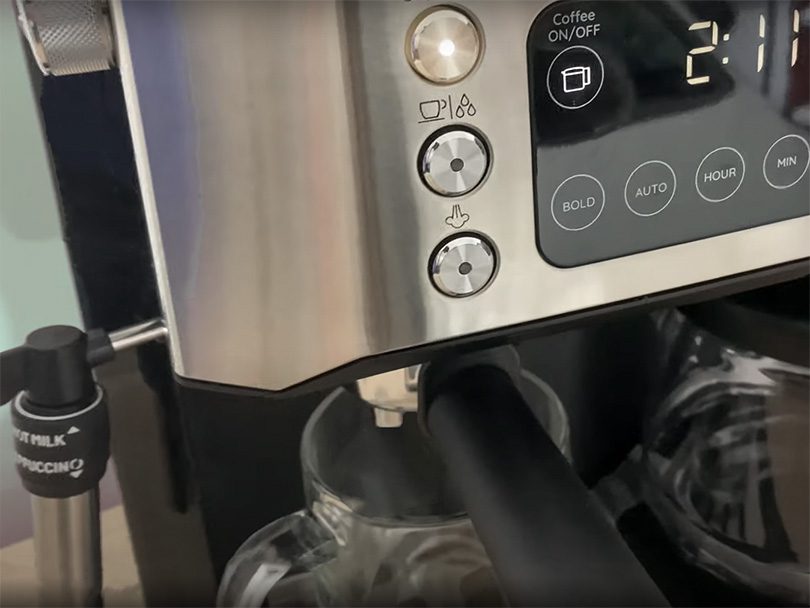 There isn't an in-built grinder, so you'll have to take care of the grinding yourself. Given the price and the range of grind sizes needed to cover both brewing methods, it makes sense that this isn't included.
We always recommend using freshly ground coffee to ensure you get the best flavor from your DeLonghi combination coffee machine. But this is slightly more complex when you need finely ground for espresso and much coarser for drip. More complex but very doable.
Manual coffee grinders are much cheaper than electric ones if you're looking for a budget-friendly setup (and they take up less room). Even a basic grinder can help you get the best coffee from your combination coffee maker.
The Looks
When it comes to looks, the DeLonghi All In One is a little on the utilitarian side.
One big upgrade on the COM532 over the previous model, BCO430, is the touchscreen and display. It brings the machine into the modern era tech-wise, but also drastically improves its looks. Less '90s office appliance', more 'modern kitchen gadget'.
It's not bad looking, just not great either.
A lot of plastic is used in the design, but budget coffee makers usually have this (although also some premium ones). The glass coffee pot looks nice and overall it's not something to be ashamed of on your countertop. It's definitely a big upgrade on previous DeLonghi combi coffee machines.
The All-In-One is also fairly compact considering it needs to have two boilers and space for 2 water carafes. I mean, it's probably about the size of an espresso maker and a 10-cup drip machine smushed together. However it only uses one outlet, and we all know how precious those kitchen outlets are.
The Build
We like DeLonghi espresso and coffee machines as they're always well-built. They even come with a 2-year warranty to reinforce this.
A lot of the All-in-One is plastic, which makes it lighter and cheaper. But this does mean that when you're doing things like twisting the portafilter into place, you have to hold the machine to stop it from moving. That's not really a negative, just something to remember.
The buttons for the espresso and the touchscreen for the drip coffee are nice, well-designed, and easy to use.
Maybe our favorite thing about the build is the drip coffee filter swinging out at the front. This gives you easy access to fill the filter and pour the water into the channel that leads to the tank at the back of the machine.
The "no drip" glass coffee pot looks nice and actually works pretty well at eliminating drips. There's nothing worse than precious coffee going everywhere when you're trying to pour.
So while it doesn't feel that solid, the design and build are certainly as good as any drip machine and budget espresso maker. Most combination coffee makers won't give you 2 years warranty either.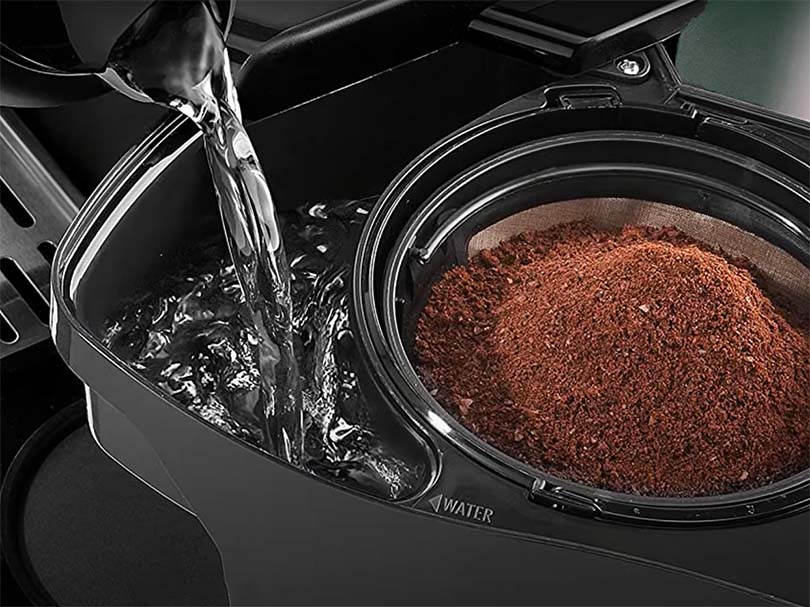 But, just like all machines, you get out what you put in. So, if you use cheap pre-ground coffee, you'll end up drinking cheap-tasting coffee. Which might be what you like of course and you do you.
The double-walled baskets on the espresso side will help iron out any slight issues with the dose and tamping. But you're not going to get the nuanced espresso shots that you would from De'Longhi's best espresso machines. Instead, what you'll get is an easy-to-pull, good-quality espresso. Especially if you use freshly ground espresso beans.
On the coffee maker side, it's a similar story.
We like the "bold" setting for those days when a regular caffeine hit just isn't enough. But the regular setting is just fine too. You'll get good coffee quality in around 10 minutes for a full carafe. Again, this isn't pour-over quality, but it's not meant to be.
There are two different models of the All-In-One and the only difference is in the manual milk wand. The COM530M has a basic wand that is either on or off and the COM532M has two settings on the wand – hot milk or cappuccino. These can be adjusted via a switch at the top of the nozzle.
Our DeLonghi All-In-One review is of the COM532M as that's the model we got our hands on.
On this machine, the idea is you just need to submerge the wand in milk on your preferred setting and it will do the work. Which it does quite nicely for cappuccino or latte.
But professional-level microfoam this is not.
Although it's also not meant to be. A nice foamy cappuccino or a creamy latte are both very achievable with good results. Hassle-free.
If you want to try your hand at being a home barista, you can remove the cover from the milk wand. It comes away easily (to help with cleaning) and allows you to use it as a normal manual steam wand with more control – but also needs more skill.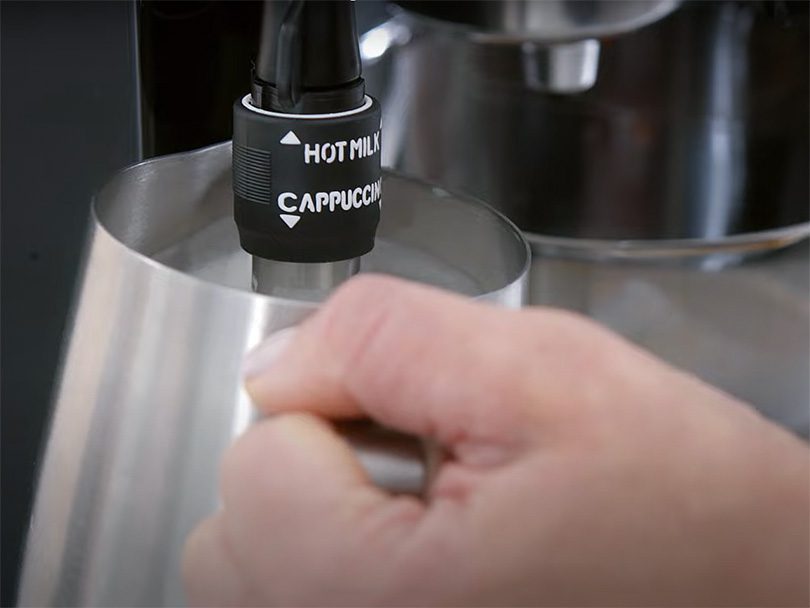 The "bold" function for brewing stronger coffee is a really nice option for people, like me, that enjoy an extra strong flavor. This essentially slows extraction by adding water to the grounds in bursts. This reduces the flow rate of the water through the grounds, increasing the strength.
It only works for up to 4 cups. But this is a good thing – if you tried to do this with a full 10-cup pot, the extraction would be so slow you'd mostly get a pot of extremely bitter coffee. Not enjoyable at all.
The drip coffee maker also has a delay timer of up to 24 hours. So you can fill your machine up before you go to bed and wake up to ready-brewed coffee. We prefer to always grind fresh, but not everyone has the luxury of time in the morning.
After brewing your espresso you just need to knock the used coffee puck out of the portafilter, rinse, and you're done. If you used the milk wand, you'll need to give it a wipe down after every use. But it also comes apart really easily so you can make sure no milk gets stuck and goes nasty.
The filter coffee side is equally simple.
The gold-tone permanent coffee filter lifts out, you can then dump the used ground beans. You can either rinse the filter or put it in the dishwasher on the top shelf.
All elements of this simple coffee maker can be easily rinsed or they're dishwasher safe. The only time-consuming element is that you'll need to descale your De'Longhi coffee machine occasionally. But the water filter should keep this to a once or twice-a-year job.
Being able to produce decent coffee in both styles, simultaneously is really useful, especially for larger groups or families.
No, it's not perfect. It's not going to brew the best coffee with perfect professional milk. But we hope this DeLonghi All-In-One review has convinced you that it will do a nice job of making delicious coffee with no fuss and easy clean-up.
It's roughly the same size as having multiple coffee makers, but it saves a vital power outlet. It is also better than a lot of other coffee machines – combination or not. So it's absolutely worth having if you were looking to have espresso and drip in your life.
Don't forget to Buy Yours today
You Might Also Like
If you're a dedicated home barista looking to manually pull espresso shots without it costing a fortune, this Flair Classic review is for you

Traveling a lot gave us the perfect chance to do an in-depth Wacaco Picopresso review. A spectacular portable espresso maker for coffee lovers