Buying an espresso machine can be a very expensive experience. With prices running into thousands of dollars, it can be a bit daunting for the espresso newbie to get started. In our Breville Cafe Roma review, we look at a more budget-friendly option from a fantastic manufacturer. Can the Café Roma make great espresso? Is it suitable for someone starting out on their coffee journey? We answer all the questions you have.
Here you'll find our complete Breville Café Roma review. We've scoured the internet for all the reviews to collate with our own, meaning we have the most comprehensive espresso machine review you can find. Whilst not all home coffee experts give numerical scores, we have averaged these out. So, you can get a consensus opinion on how good it really is and know for sure if it is right for you.
This article may contain affiliate/ compensated links. As an Amazon Associate, we earn from qualifying purchases at no additional cost to you. For more information please see our disclaimer here.
Breville Café Roma Review – In Brief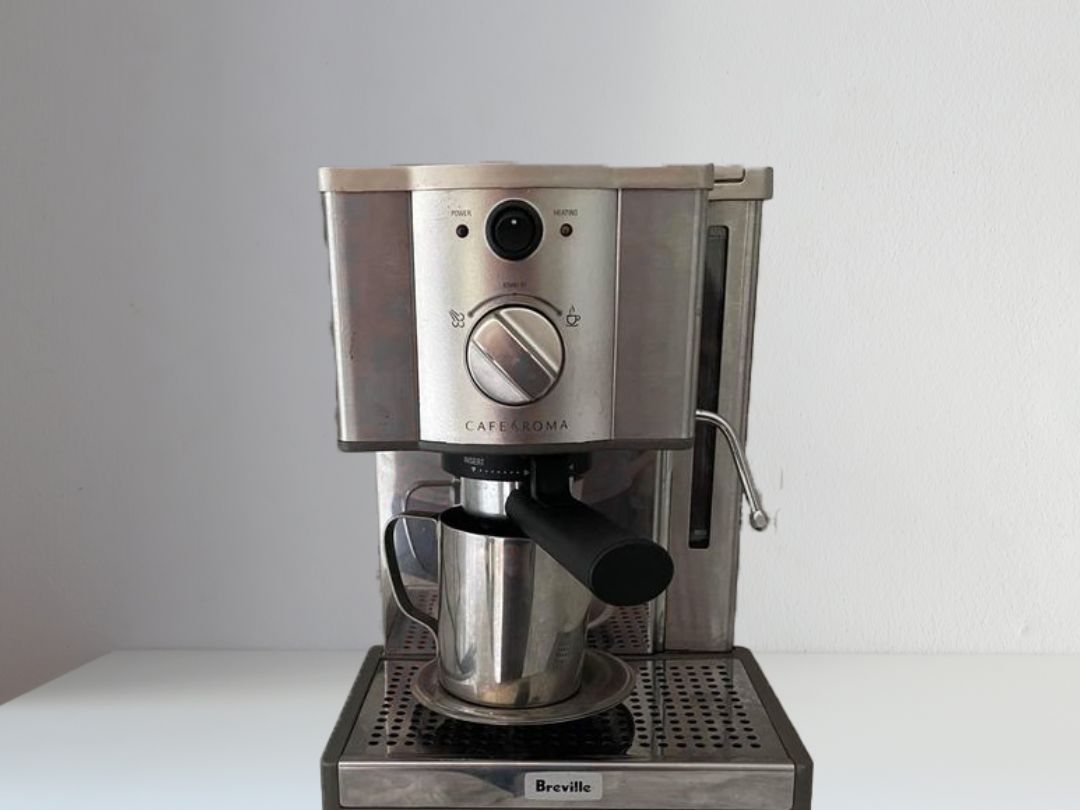 Breville Café Roma
The Breville Cafe Roma espresso maker esp8xl is for the beginner home coffee maker. Someone who wants a solid, reliable machine that can make café quality drinks but doesn't cost the Earth and is simple to use. It ticks a lot of boxes in that you can make single or double espresso, use ground coffee or E.S.E. pods, and you can steam your favorite style of milk.
The downsides are that with a cheaper espresso machine comes compromises. You won't get the layers of flavor from your espresso that a more expensive machine can. The milk can be steamed to a good quality microfoam, but not professional level. The Cafe Roma doesn't use the pre-infusion, large dose, and precise temperature controls of the more expensive Breville espresso makers.
For around $200 the Breville Cafe Roma espresso maker is a solid machine that's easy to clean and look after, easy to use, and reliable. It looks pretty good too and is compact enough to fit in most kitchens. We think it does a really good job for the coffee lovers it's aimed at. Which is all you can ask of a product at the end of the day.
Pros
Very affordable
Simple to use
Double walled baskets for great crema
Good Steam wand
Premium quality construction
Easy to clean and maintain
Cons
Can brew a little cold
Doesn't have the "4 keys" features
1. 15 BAR Pump
15 BAR vibration pump allows consistent pressure in the filter basket for excellent flavor extraction.
2. Dual-Walled Filter Baskets
Dual-walled filter baskets help to maintain consistent pressure and generate better crema, perfect for beginner espresso makers.
3. 40.6oz Water Reservoir
A large water reservoir means you won't be constantly refilling it. It's also removable for ease of filling.
4. Steam Wand
High-pressure steam wand for making cappuccino and latte.
5. Stainless-Steel Design
High-quality stainless steel espresso machine looks great and is very durable
6. 1-year Warranty
Breville includes a 1-year warranty on their espresso machines, though it should last well beyond that.
You do have to manually tell it when to stop, same as many espresso machines. But we all have stopwatches on our phones, if not our wrists, so timing 20-25 seconds is not complicated. It's obviously slightly harder if you're using ground coffee. Then you need to weigh it and tamp it down before fitting it to the machine and turning the dial.
The dual-walled filter baskets help even out any mistakes when it comes to pulling your espresso shots too, it should almost always generate a great crema. If you're timing your espresso and it's thin, acidic, and weak, you need to add more coffee or grind it more finely. If it's very bitter, then slightly less coffee or a slightly coarser grind should do the trick for you.
Milk steaming is manual and you don't really get any assistance there. But milk frothing for a latte or a cappuccino really isn't difficult. Get a thermometer so you don't burn your milk and watch a couple of YouTube videos and you'll be a pro in no time at all. The steam isn't good enough to make a truly professional-level cappuccino, latte, or flat white. But it will make a decent foam and a nice milk texture.
We always recommend using freshly ground coffee, the volatile oils that add so much of the flavor to your espresso evaporate within 45 minutes of grinding. This means the fresh ground will always taste better than pre-ground coffee.
We appreciate that this means buying an extra piece of kit. There are some really good manual coffee grinders available, even at the budget price. Just make sure you get one designed for grinding espresso.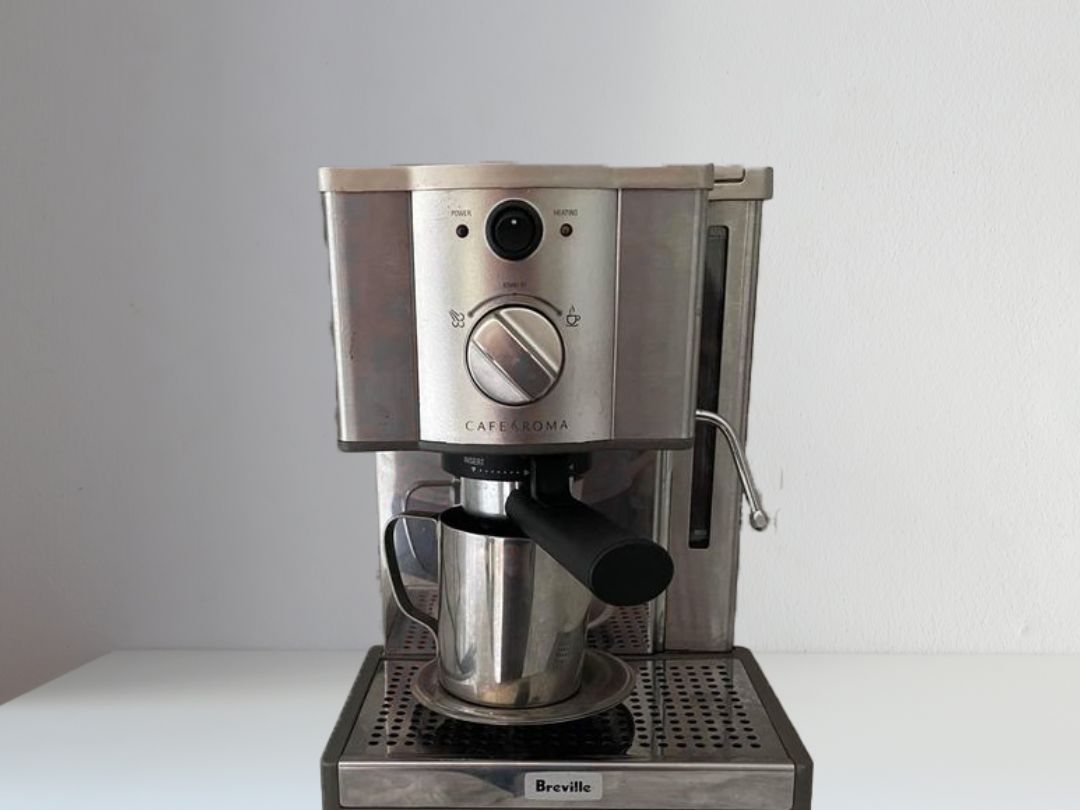 The Looks
The budget espresso machine market is flooded with black plastic machines accented with stainless steel. The Café Roma is a nice change being mainly made from brushed stainless steel, giving a more premium feel to your budget machine. You still have plastic elements, but they're very much in the minority and don't spoil the overall aesthetic.
I'm not a huge fan of the big dial on the front. Yes, it means it's very easy to use, but it just doesn't look as nice. I'd prefer two buttons but then maybe the front would look really weird and empty. It's not a deal breaker by any stretch and pretty standard on the more entry-level espresso machines.
This is also a really compact machine. It's 9" x 9" x 12" so even the smallest kitchens should have space for a good espresso machine. If you want to use the warming tray on the top of the machine, you'll need to check the clearance with your cabinets, but it should be fine.
Being able to see the water level from the front of the machine is also a nice touch as it's not so common on entry-level models. Overall the simple design will work pretty well in almost any kitchen.
The Build
It's worth spending more on a Breville because the build quality is so high. The Cafe Roma espresso maker doesn't disappoint in this area either. Being mainly stainless steel everything feels sturdy and well made. Even the plastic elements feel pretty solid.
The one issue we have is that the espresso maker is too small for large mugs. So if you're making a latte or something to go in a tall cup, you need to pour the espresso into a small cup first.
There are some who say you can't make lattes as you need to wait for the boiler to heat up to steam the milk. I don't think this is fair as it isn't that slow. You can comfortably make yourself a latte with this machine.
The thermoblock boiler works admirably, heating up quickly and switching between coffee and steam with a perfectly reasonable waiting time. You'll find machines costing thousands with only one boiler that makes you wait between coffee and milk. It would be very harsh to criticize the Café Roma for such a thing.
Not convinced the Cafe Roma is the right espresso maker for you? Check out our picks for the Best Espresso Machines under $200
Premium Breville espresso machines have their "4 keys formula" for great espresso. Which are a large dose, consistent temperature, low-pressure pre-infusion followed by consistent 9 BAR extraction, and 266F steam for milk.
The Café Roma espresso maker does not benefit from these features, which is why it's half the price of the Breville Bambino, their next cheapest offering. The Café Roma is not aimed at the espresso aficionado who wants to make expert-level coffee at home. This is for someone who wants to make a good coffee to replace their *insert generic coffee shop name* in the morning. Or someone who wants a decent coffee but can't afford these top-end machines.
In the end, you can absolutely make an espresso coffee or latte/cappuccino that's as good as Starbucks with the Café Roma. You won't be able to make one as good as the specialty independent coffee shop sadly.
The semi-automatic espresso machine is loved by many for the control it gives the user. The expensive version of this is something like the Breville Dual Boiler BES920XL espresso machine. But the affordable versions are great for those who just want espresso with no fancy features.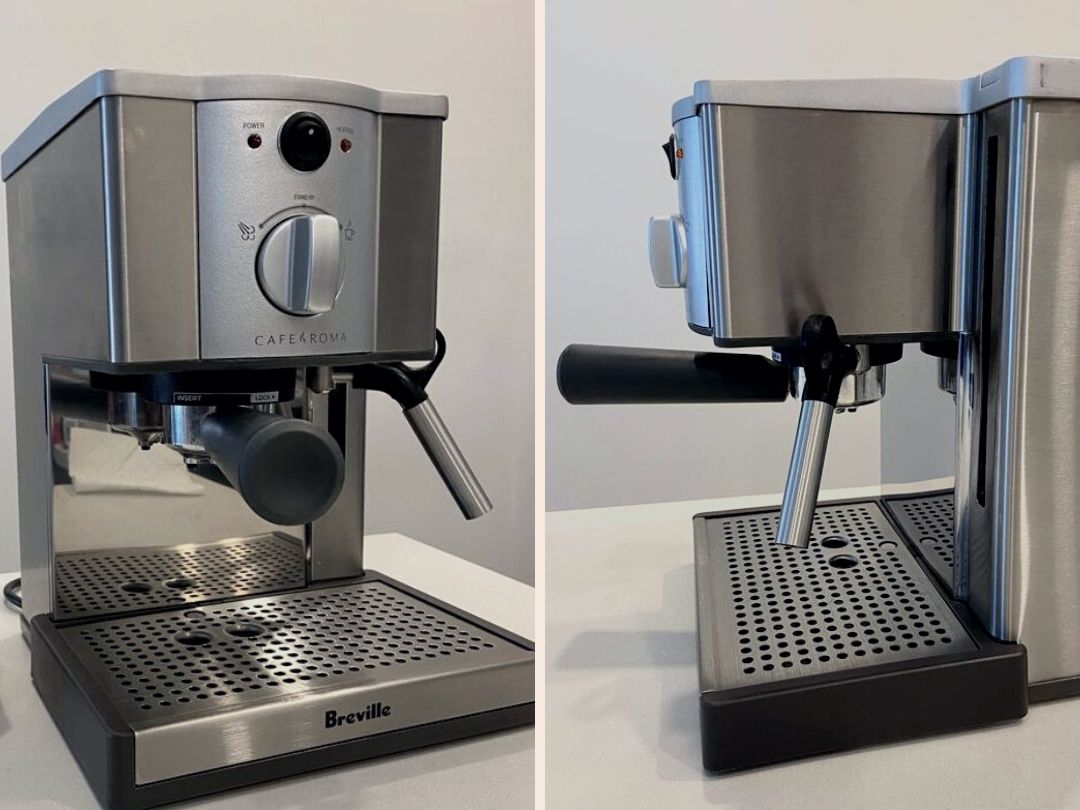 There will be deeper cleaning needed every couple of months. The thermoblock boilers that are ubiquitous on these budget-friendly machines eventually start to clog with mineral deposits from the water. This can block the narrow channels and stop them from working. Thankfully descaling only takes 20 minutes or so every couple of months.
The drip tray has no warning when it is getting full, so keep an eye on it or you'll be wiping up coffee water from your counter. Milk wands can get pretty nasty pretty fast if you don't clean them after every use. But a warm, damp cloth will keep it clean so just have one to hand. It's really all very easy and doesn't take much time at all. Typical espresso machine cleaning to be honest.
It's not really fair to compare two machines with such different prices. The Bambino heats up faster, makes better espresso and milk, and looks better. For the price difference, we'd expect nothing less.
This is about what you want. If you want to make espresso and cafe drinks that rival those of a pro but are short on space, then the Breville Bambino is a really good espresso maker and will serve you well.
You have to be willing to measure your grounds, tamp, etc preferably after grinding your beans yourself. You can of course just use E.S.E. pods and make life incredibly simple for yourself, though the quality suffers. To get the best from the Café Roma you need to get a grinder too.
That is the tradeoff. Cheaper machines can't make as good espresso or milk foam. Are you happy with good but not great? Is the $200 dollar saving to the Bambino worth it for the quality dip? This is what our Breville Cafe Roma review comes down to. This is a fantastic espresso machine that should last a good 5 years or so with no issues. Much cheaper than a daily latte at global coffee giants
Don't forget to Buy your Breville Cafe Roma today
You Might Also Like
Beautiful, simple, and delicious espresso for around $1000? We had to test if such a thing was possible – read our Jura ENA 4 review to see

Jura ENA 8 vs Gaggia Babila is a battle of philosophies. Is the convenience of the ENA 8 superior to the precision of the Babila?