The number of unique espresso drinks is constantly expanding. But on a recent trip to Japan, we discovered one that we instantly fell in love with – the Kyoto Latte. There are probably more latte variations than any other coffee but the balance and flavor of the Kyoto one really stands out.
The Kyoto latte was created by % Arabica in Kyoto and consists of a shot of espresso topped with steamed milk that's mixed with a splash of condensed milk. The slight sweetness in the milk really brings out the chocolate and fruit notes of their signature blend of coffee beans, making a delicious drink.
Within 1 sip, we were hooked. So we had to dig deeper into our new discovery and see how similar it is to other latte variations around the world. And, most importantly, how we can keep drinking them.
This article may contain affiliate/ compensated links. As an Amazon Associate, we earn from qualifying purchases at no additional cost to you. For more information please see our disclaimer here.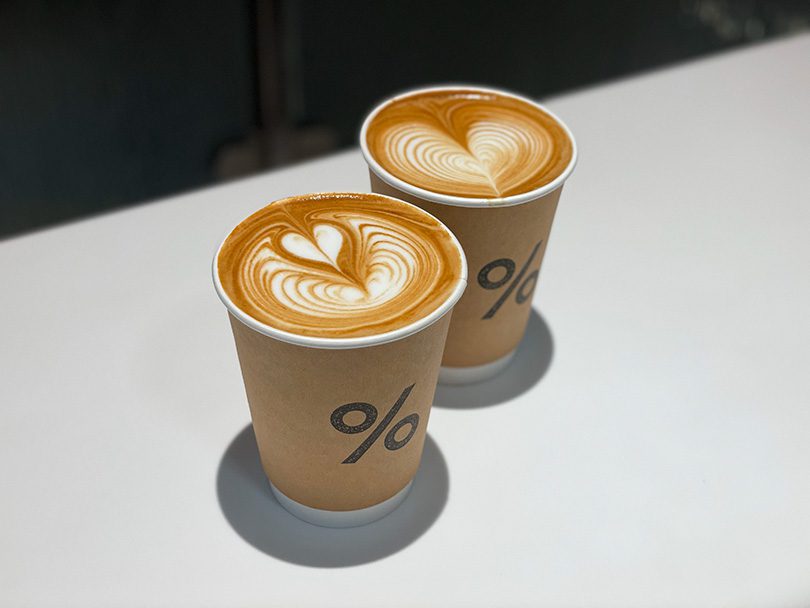 A Kyoto latte is a single shot of espresso with textured milk that has a small amount of condensed milk added for sweetness. It's % Arabica's own creation and a strong rival to the more traditional caffè latte found in coffee shops around the world.
The exact proportion of condensed milk in the original recipe is unknown. But the subtle sweetness of the Kyoto latte suggests that it's not more than a tablespoon.
This is not to be confused with Kyoto-style cold brew (or simply Kyoto-style coffee) which uses slow drip coffee from a siphon coffee maker. As opposed to the latte version which is an espresso drink.
The Kyoto latte started at the flagship % Arabica store in the Higashiyama district of Kyoto. Founder, Kenneth Shoji, opened his first coffee shop in Hong Kong following an earthquake that destroyed his house in Fukushima prefecture in 2011. Yes, THAT Fukushima earthquake.
He then bought a coffee farm in Hawaii and started trading green coffee beans from around the world. The dream was to "see the world through coffee".
And so the flagship % Arabica store opened in the beautiful historic district of Kyoto in 2014. This was after years of trying to persuade world latte art champion, Junichi Yamaguchi to become Head Barista.
Across all % Arabica stores, they use custom espresso machines built in Seattle to give their baristas more control over extraction. This combined with the beautiful minimalist Japanese design creates a fantastic coffee experience that is truly unique.
These two popular latte variations differ in more than just their origins:
A Spanish latte, or café con leche, is made with nearly equal parts espresso, steamed milk, and condensed milk in a 1:1:1 ratio.
The result is a rich and sweet coffee with big chocolate and caramelized sugar flavors. It's a great hangover cure or perfect for those who like sweeter coffee in general.
Whilst the Kyoto latte uses the same three ingredients – espresso, milk, and condensed milk – the quantities are very different. Using just a small amount of condensed milk, it has a more subtle sweetness. This still brings out the chocolate and caramelized sugar flavors from the espresso but the overall taste isn't too sweet.
The Spanish version is a more clearly defined drink that can be found in coffee shops globally. But the Kyoto one is exclusive to % Arabica. Just to be confusing, they actually use the same quantities of espresso, milk, and condensed milk in their stores but use their Single Origin beans in the Kyoto latte and a blend in their Spanish latte. Because nothing in the coffee world is ever that simple.
If you want to try this great drink, you can visit any % Arabica store in the world. Currently, there are 162 stores to choose from with many more on the way.
At the moment, most of their stores are located in the Middle East and East Asia but they're spreading rapidly. You can check their locations and planned new stores here. If one opens near you, just keep in mind that it's not uncommon to see long queues outside as they're so popular.
For those in North America and Europe, there aren't many to choose from yet. At the time of writing, there are 2 in New York,1 in Los Angeles, and 2 in Toronto. In Europe, there are only 4 stores and they're all located in London.
We hunted down two of their stores in Singapore but the Kyoto lattes didn't live up to the quality of their Japanese stores. I suspect it's a combination of different milk as a starting point and a little staff training needed. But maybe we were just unlucky.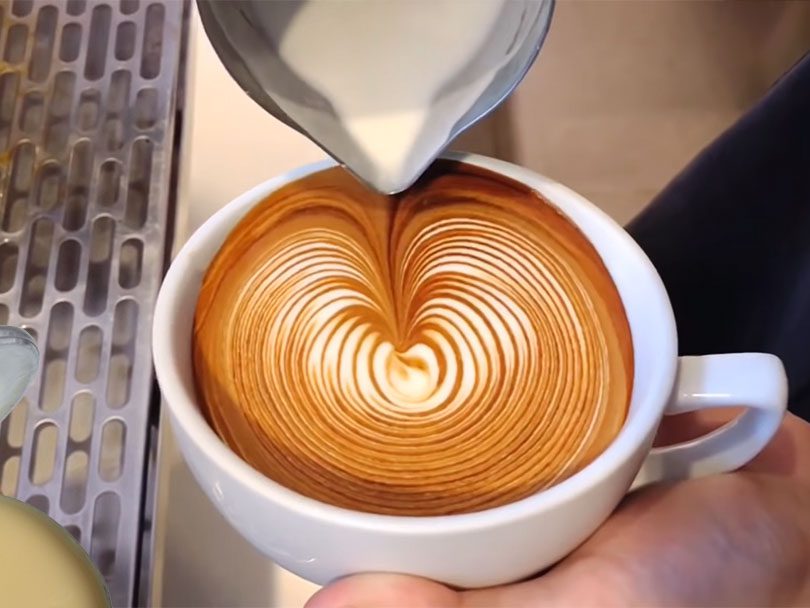 If you can make a traditional latte, you make a Kyoto one. It's very simple though it might take a little tweaking until you nail the correct amount of condensed milk.
You'll need an espresso machine with a milk steaming wand.
To start, try adding a tablespoon of condensed milk to your regular milk (per portion) before foaming. As it's a relatively small amount, it doesn't make too big a difference to the foaming process.
The reason we aren't giving exact measurements is that the fat content and natural sweetness of your milk play a big role. We've done a LOT of experimenting (when I say we're obsessed, I really mean it) and any time we've used a different brand of milk, we've had to alter the quantities again.
So it's a fine line but once you nail it, you'll know.
The indulgent sweetness of the condensed milk is what really sets this drink apart. We've tried one variation that mixed sugar into the milk before frothing and it didn't come close to the original. The balance wasn't right, the sweetness sunk to the bottom, and it went a little grainy.
Also, make sure not to confuse evaporated milk with condensed milk. The latter is sweetened which is crucial here.
The Kyoto latte is an espresso drink variation that sits somewhere between the traditional Italian version we're all familiar with and the much sweeter Spanish latte. This one was created in Kyoto, Japan at the flagship % Arabica store.
Made with a touch of condensed milk, its subtle sweetness has completely stolen our hearts. And we're sure it will steal yours too.
You Might Also Like
Naming your new furry friend is a tall order. But if you love coffee as much as your pup, get inspired by one of these Coffee Names for Dogs

The short answer to 'what is magic coffee?' is a double ristretto with textured milk (but no foam). But you can read the in-depth answer here