How something looks is important. It can be the best product in the world but if it looks dreadful, why would you want it?
The Kalita coffee grinder line is about more than just looks. Especially the KH-3 Retro One:
Here the Japanese company, Kalita, has made an excellent budget hand coffee grinder mill. If you are a lover of AeroPress or pour over coffee, then this is the grinder for you.
You've got to want the retro aesthetic. But the iron and wood materials feel great and have a sense of style which is often missing in the manual coffee grinder market.
So, if this sounds like what you're looking for then this Kalita coffee grinder review will help you decide for sure.
We have scoured the internet for all the reviews on the KH-3 to collate with our own. This means we have the most comprehensive buying guide you can find. Whilst not all home coffee experts give numerical scores, we have averaged these out. Therefore, you can get a consensus opinion on how good this grinder really is, helping you decide if it's right for you.
Then, if you're still not sure if it's the right fit for you, check out our handy guide for grinder shopping at the end of this article.
This article may contain affiliate/ compensated links. As an Amazon Associate, we earn from qualifying purchases at no additional cost to you. For more information please see our disclaimer here.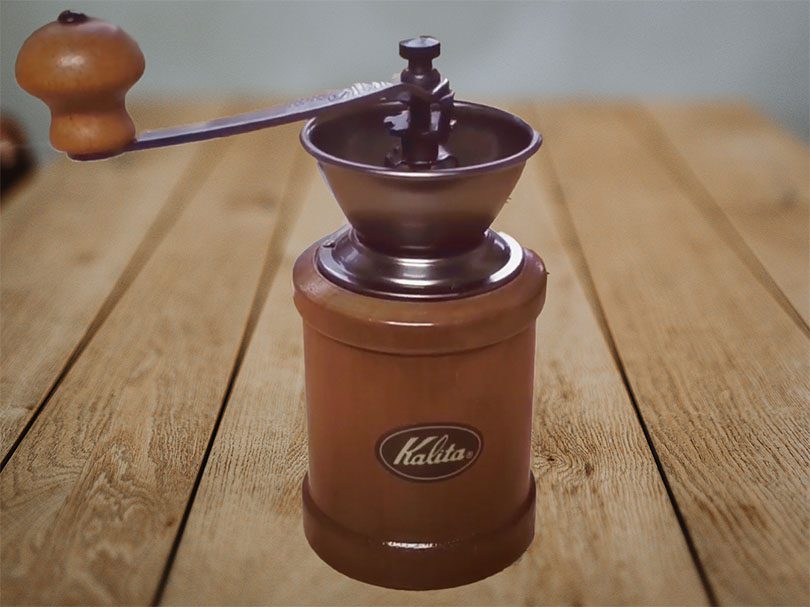 Kalita KH-3
Sometimes how something looks is just important as how it functions.
The KH-3 Retro one certainly ticks both those boxes:
It looks fantastic with its wood and iron components. Plus, the grind consistency is great – especially at the finer settings.
And it can be yours for a budget price. In fact, it costs not much more than a questionable quality blade grinder.
There are, however, a couple of issues to be aware of:
You need to be careful to completely dry the iron after cleaning otherwise it will rust. The beans can also end up everywhere if you try grinding too quickly.
But, overall, it's a good budget option that no one will look at and think "that looks cheap".
Pros
Great retro wood and iron design
Grind settings are easily adjustable
Easy to clean
Good grinding consistency at finer settings
Superb value for money
Cons
Iron parts can rust if not properly maintained
No hopper lid so beans can escape
Voarse grind settings are inconsistent
1. Cast Iron Burrs
Burrs made from cast iron maintain their edge superbly over time. They also don't generate as much heat as stainless steel burrs do, preserving the precious oils from your coffee beans.
2. Solid Wood Body
As well as looking great, the wooden body provides good protection for the grinding mechanism. So, if you decide to take your manual grinder on your travels, it will stand up to the rough and tumble of the road.
3. Easily Adjustable
The grind settings can be adjusted with great ease. So it's no hassle to grind coffee of different sizes to suit your preferred coffee maker.
Everything else about the use of the Kalita coffee grinder is very straightforward.
It's easy enough to change the grind settings to suit your favorite type of coffee maker. And, being a manual grinder, there aren't any complex settings to play with.
The combination of cast iron and wood gives a beautiful "antique" look that will fit right in with the rest of your kitchen if retro is your style.
At 7″ tall by 4″ in diameter, it is still a very compact grinder. Although, due to being made of iron and wood, it weighs 1.23 lbs. So, whilst it feels nice and sturdy in your hands, isn't the best when it comes to traveling.
The cast iron burrs are very sharp and don't create as much heat as stainless steel ones do. The downside, however, is that they are very heavy. They also need to be kept dry or they will rust. So you need to be more careful when cleaning your grinder.
Having a solid wood body protects the burrs in case of any accidental drops. And many people will be pleased with the lack of plastic in general.
So, if your choice of coffee brewer is an espresso machine, Moka pot, AeroPress, or pour over then you will get a good consistency that will result in a delicious brew.
Sadly, consistency starts to get a bit more erratic as the grind gets coarser. Therefore, it's not really ideal as a grinder for French press as it's a little too inconsistent at this point to get really good coffee from French press brewing.
The only maintenance issue is due to the fact that the burrs and other parts are wrought iron:
This means if you want to wash them in water, you'll need to dry them immediately or they will rust.
Instead of water, the best way to clean the burrs is just with a soft brush. You need to brush away all the particles that have been lodged in the grinding mechanism before reassembling.
If you also want to use the KH-3 Retro One to grind spices, you'll need to clean it much more thoroughly in between. Failure to do so will result in leftover residue contaminating the flavor between spice and coffee.
The most important thing to remember when cleaning the Kalita KH-3 is to ensure everything is completely dry when you have finished.
The Kalita KH-3 certainly ticks a lot of boxes when it comes to the budget manual grinder. But if you're not entirely convinced it's the right grinder for you, then there are a couple of good alternatives at the same price point.
Javapresse Manual Coffee Grinder
The JavaPresse Manual is our favorite coffee grinder in the budget range (full review here). It can handle everything from espresso through to French press, though it excels at the coarser settings and isn't for the espresso fiend, it's compact and easy to use.
The JavaPresse has ceramic burrs which give excellent grind consistency and don't generate heat while grinding, but they are more brittle. If anything gets into your grinder that is harder than a coffee bean you can chip them which will cause issues.
Its looks aren't up to the Kalita's high standards, not that it looks bad with its stainless steel design, it just doesn't look as good. But if you're grinding for anything coarser than espresso, this is the best budget grinder available.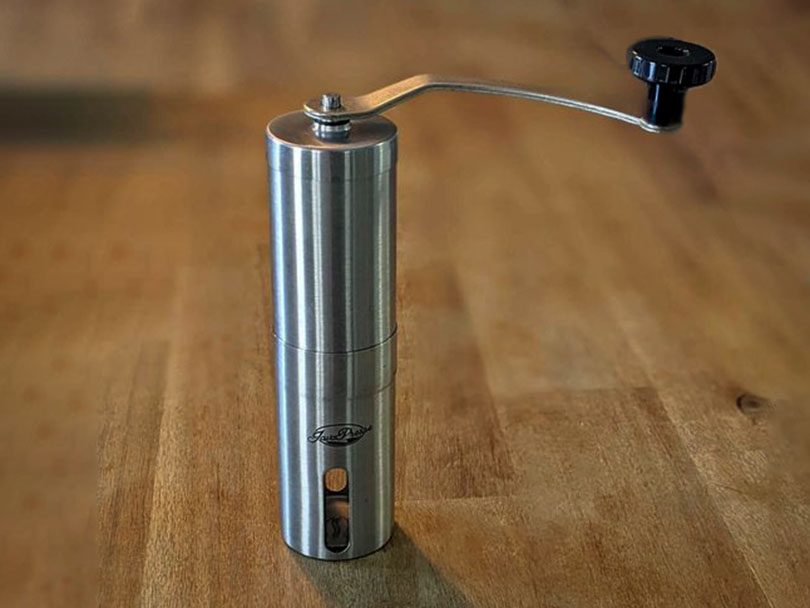 Hario Ceramic Column Coffee Grinder
If the looks are what really attracted you to the Kalita KH-3 but aren't sure it's the grinder for you then we suggest the Hario ceramic column coffee grinder. With a similar wood and metal design, it has that retro feel if not quite as "oldy worldly" as the KH-3.
Like the JavaPresse, the Hario uses ceramic burrs for grinding and therefore has the same potential long-term issues with chipping. This grinder is more consistent at the finer settings, though doesn't have the precision for real espresso drinkers.
There are reports of the screw that attaches the handle to the grinder becoming loose or breaking, this doesn't appear to be a consistent issue but it appears more than once so something to consider.
We don't feel the Hario is quite as good-looking as the Kalita but the ceramic burrs make cleaning a lot easier and you don't have to worry about coffee beans flying everywhere as you grind. Hario make a lot of manual coffee grinders and has a great reputation for quality and there's no reason to believe the ceramic column grinder is any different.
If you like the Kalita but don't fancy cast iron burrs, then the Hario is a great option for you at the same price.
But looks on their own don't make a good coffee grinder. It needs to function well too.
This is where the Kalita KH-3 Retro One comes into its own:
As long as the retro, antique looks of the Kalita coffee grinder are your "thing", then this is a great, high-performing grinder. Fine to medium grinds are where it really excels. But if you are looking for coarse grinds, this isn't the one for you.
Overall, Kalita has put together an excellent budget hand coffee grinder we are sure you'll love. It's a thumbs up on our Kalita KH-3 Review.
Don't forget to Buy Your Kalita KH-3 Retro One Today
You Might Also Like
Find the perfect gifts for coffee snobs in your life. From budget-friendly to high-end, there are gift ideas for every coffee lover

The biggest sale of the year is here and we've hunted down the best Black Friday coffee maker deals so you don't have to. Get prepared here!