A super automatic espresso machine with no milk frother? Seems a ridiculous concept but the very clever people over at Jura felt it was worth doing when they designed the Jura A1 espresso machine. Jura know quite a bit about top-end espresso machines too.
But is the Jura A1 coffee machine worth splashing out for with its limited functionality? Is the coffee good enough to justify owning this beautiful piece of auto-barista magic? In our Jura A1 review we unpack everything you need to know about this little gem and how it stacks up vs its competitors.
We're fully caffeinated so let's get started.
Here you'll find our complete Jura A1 review and buying guide. We've scoured the internet for all the reviews to collate with our own, meaning we have the most comprehensive espresso machine review you can find. Whilst not all home coffee experts give numerical scores, we have averaged these out. So, you can get a consensus opinion on how good it really is and know for sure if it is right for you.
This article may contain affiliate/ compensated links. As an Amazon Associate, we earn from qualifying purchases at no additional cost to you. For more information please see our disclaimer here.
The Jura A1 has now been discontinued (we're not over it yet either.) Whilst you can't buy it on the high-street anymore, it's still possible to pick up a bargain in a second-hand or refurbished model.
But don't despair, the Jura line-up still has plenty of options to knock your socks off including the Jura E4 which is also a black coffee specialist. Check them all out here:
At a Glance: Jura A1 Review
Jura A1
The entry-level model of the Jura range, the Jura A1, is for the minimalist coffee drinker. You're really only compromising on the level of customization, and there is still plenty of that available for lovers of programmable coffee drinks.
If you're an espresso or black coffee drinker then we'd almost guarantee you'll be able to get the coffee exactly how you want it from the Jura A1 espresso machine. Plus, you'll get it really quickly and with minimal energy used. All whilst looking fantastic (the machine but probably also you).
Due to the brewing speed, couples don't need to worry about the single, height-adjustable coffee spout. But if you're looking at 4 or more people brewing coffee, it may become a bit tedious doing one at a time.
Compact design and outstanding quality brewing make this the best Jura coffee machine for those who drink black specialty coffees. And it's certainly the best super automatic espresso brewer you can buy for less than $1,500.
Pros
Very quick brew cycle
Slim, compact design
Easy to clean
Makes exceptional espresso, ristretto, and lungo
Very energy efficient
Cons
Single spout
No milk frother
1. Stainless Steel Stepless Grinder
Jura's Aroma G3 grinder allows you to get the perfect grind for your espresso.
2. Ristretto, Espresso, and Lungo Functions
3 one-touch buttons for all your black coffee needs
3. Adjustable Volume and Strength
Customizable settings allow you to brew the perfect coffee every time.
4. 37oz Water Tank
Enough water for 37 espresso before needing a refill.
5. 4.4oz Bean Hopper
Beautifully inlaid on the top of the machine for easy access.
6. P.E.P. technology
Jura's patented "Pulse Extraction Process" for superior flavor extraction.
7. I.P.B.A.S.
Another Jura acronym meaning Intelligent Pre-Brew Aroma System. It is a nifty piece of technology, designed especially for shorter coffees, mimicking the skill of a Barista on a manual espresso machine.
8. Self-Cleaning and Descaling
Jura's automatic cleaning programs make keeping your coffee machine in top condition easy
But most people don't buy a Jura coffee machine for the factory settings. Instead, you've got a dial to adjust the grinder next to the bean hopper – finer for stronger, more bitter coffee; coarser for a lighter brew. Then you can choose from 2 strength options, 1 bean (7g) or 3 beans (10g). You wanted 2 beans? Well, tough apparently.
There is much more choice when it comes to the amount of water though. From 0.5 Fl oz to just under 3 Fl oz, by playing with strength and water volume you can add doppio into the mix with ease. The ultimate one-cup coffee machine.
Once you've finished fiddling with all the coffee strength settings you can save them so you need only push the button to recreate the perfect coffee for the rest of time. You might have a problem fitting larger coffee mugs under the spout, but this really isn't the machine for brewing a big 16oz brew to take on your commute. Very much a "perfect coffee with breakfast/for breakfast" machine.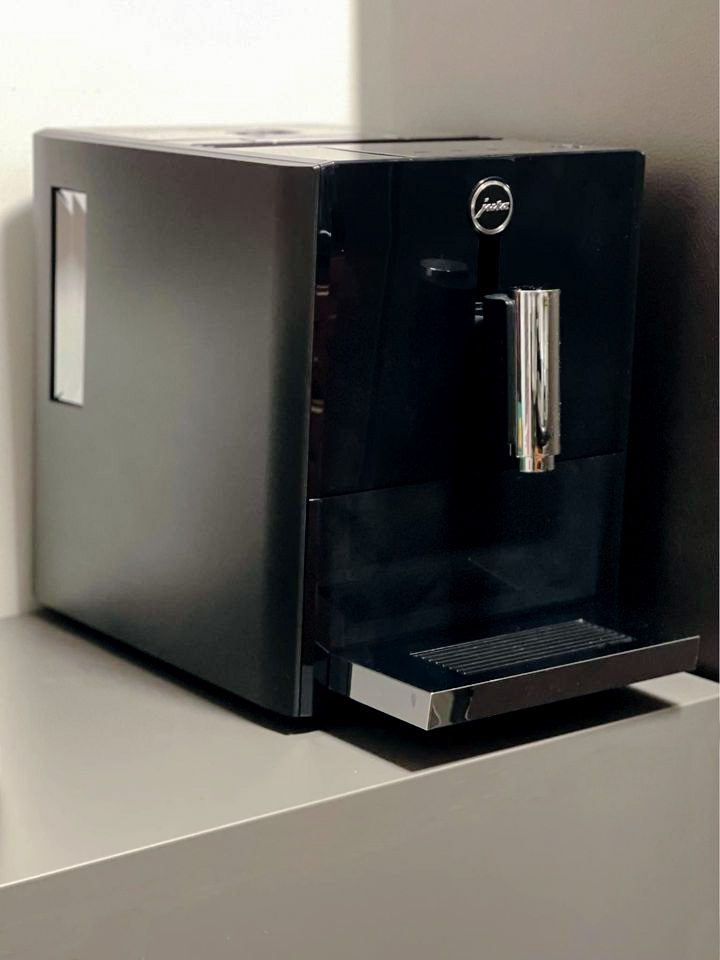 The Jura A1 espresso machine is designed for using whole coffee beans and the stainless steel Aroma G3 grinder is quiet and very good for getting those perfectly uniform grounds for brewing. If you want to know more about coffee grinders, we have a full breakdown for you. It does also have a chute for using pre-ground coffee. This may seem a bit silly but most super automatic machines have this feature in case you want decaf or something so you don't need to empty the beans hopper to do so.
You do have to measure your own coffee grounds out for this though, not exactly difficult but compared to how easy everything else is I guess it's kinda irritating. But you'll need to do the same for all machines like this so not a negative on the Jura A1.
To get the most out of your shiney new espresso machine, you need the best beans
Check out the top choices from experts throughout the coffee industry
The Looks
The Jura A1 coffee machine is a stripped-back, minimalist machine with a beautiful stripped-back, minimalist design.
It comes in white or black. Personally, I'm a big fan of the piano black to suit most kitchen designs. And, as it doesn't need to accommodate milk frothing system or container, it has very sleek lines and is incredibly compact. The minimalism doesn't just stop there though as the buttons on the top and grinder dial are also understated and nice to use.
Overall, the whole design screams class and sophistication without needing any flashy extras.
The Build
The outside is made from plastic, but Jura coffee machines are built to last and to work seamlessly. Weighing in at a solid 9.2kg, you don't get all that machinery without some heft. But it still remains incredibly compact at 12.7" high by 9.7" wide by 17.5" deep. This can legitimately be described as a compact coffee machine and will slide nicely onto most countertops.
Whilst the brew group is not removable (as is standard with Jura), they do have a reputation for quality in the coffee machine industry for a reason. So it's not something we worry about.
The stainless steel G3 aroma grinder is built to last, probably about a decade of normal use. Plus, it is much quieter than most while coffee bean grinding. Thanks to the slower grind speed, heat build-up is reduced which preserves more of the delicious oils from your coffee beans.
Everything from the water tank to the drip tray feels like it's been well put together and your money isn't disappearing into the profit margin of a shoddy manufacturer. All Jura machines are made in Europe. Now since some of the most advanced tech we use is made in Asia these days, like most Apple products, for example, I don't buy into "built in Europe means better quality". Build quality comes from the standards of the manufacturer, this is where Jura stands out as exceptional. Irrespective of where the coffee machines are made.
Small Size not an Issue
Being a small machine, you will need to refill the bean hopper and water tank more frequently than on larger ones. The Jura A1 was designed for making a few coffees a day, not blasting out 20 espressos. With this in mind, it's the perfect size. If you have more coffee drinkers in the house, prepare to empty and refill more often.
You will not be able to get a super automatic espresso machine that makes better ristretto, espresso, and lungo than the Jura A1.
We didn't need to turn every setting to "strongest" to get a deep, rich, full-bodied, delicious espresso coffee bursting with flavor. The ability to minutely adjust the grinder is ideal for those of us who change coffee beans all the time and the minimal strength and water settings are more than enough.
The coffee is also hot, and I mean properly hot. This is a nice surprise as super automatic machines have a weird tendency to produce lukewarm coffee.
It only does one thing, well 3 technically. But it does it to perfection. One important note is that no matter how good it is, it is not a miracle machine. If you use low-quality coffee beans, you'll still get low-quality coffee.
Not sure the Jura A1 is the one for you?
Compare Jura machines, with individual reviews, to find your perfect match
The Jura A1 coffee machine differs in that it's had all the optional extras removed, leaving you with a sleek, coffee brewing block of perfection. That is the whole point of the espresso machine. But ultimately it all boils down to definitions of these things and what you expect for the price range.
The fancy tech in the brewing mechanism, self-cleaning, and customization options could all be considered bells and whistles on other coffee makers or a more budget machine but are very much standard at this price point. For a super automatic coffee maker, this is as minimal as it gets.
The downside of the Jura A1 is that the water tank and drip tray are quite small so will need filled/emptied and cleaned more frequently than other Jura coffee makers. This is on the basis of you making the same number of coffees as with a larger machine too.
If you're a 2 or 3 coffee a day type, you'll find you won't need to clean all that frequently and as all the components are relatively small, it's very easy. The grounds bin only holds around 9 coffee pucks so you can work out from that how often you'd need to empty it.
Some people take issue with the fact that the brew group can't be removed to be cleaned separately. This seems a legitimate concern as lots of nasty things could build up in there over the years. This doesn't appear to be an issue with Jura customers and is not a problem you see cropping up. You can get it fully serviced by Jura every couple of years just to make sure too.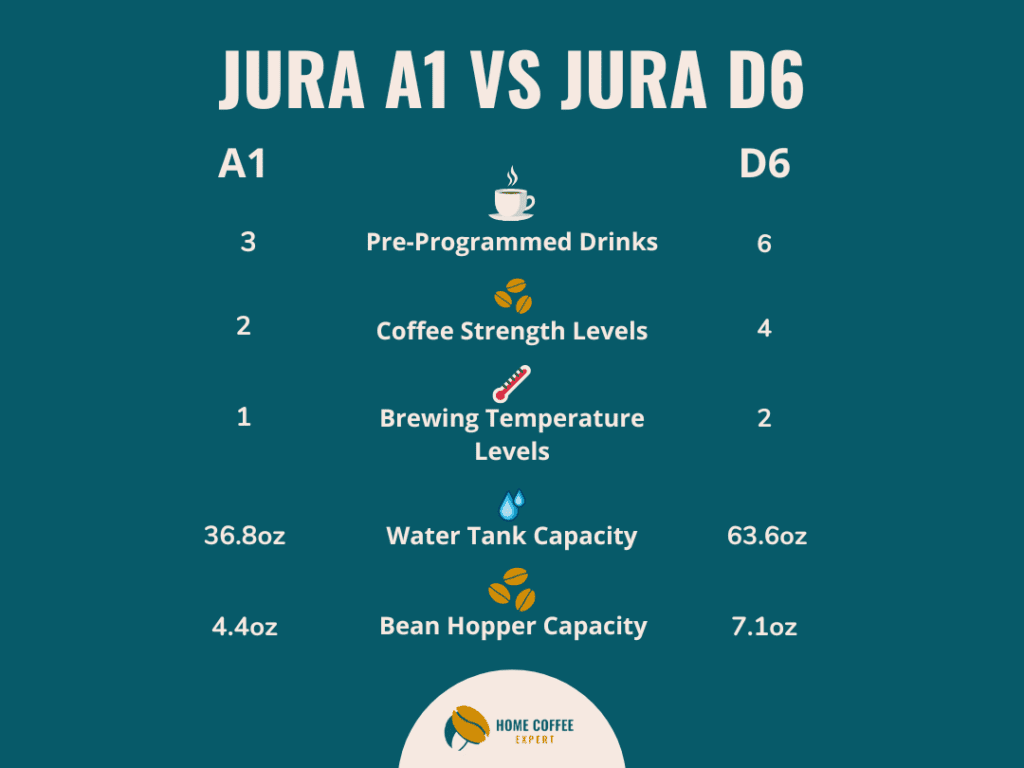 Considering these Jura coffee makers are nearly the same size and weight, the Jura D6 has a far larger water tank and bean hopper. It can also hold near double the number of used coffee pucks before needing emptying. All very helpful things.
Jura will claim the D6 has 7 specialty drinks, but this includes 2x espresso, 2x coffee, hot milk, and hot water so really it's 3 programmable coffee drinks. Espresso, coffee, and cappuccino. This kind of sleight of hand to give the impression of more coffee options is industry-wide. Always read what the drinks are, never accept the number quoted as the real number. Being able to pour 2 coffee drinks, albeit not ones with milk, at a time is a useful feature and should be mentioned as a plus over the Jura A1.
The milk frother only has 1 setting, cappuccino. Which is a bit annoying for so much money, certainly above the Jura A1 coffee maker, personally I'd want at least 2 different coffees with milk.
More coffee strength settings and the ability to adjust the brew temperature and water temperature are all great, it also connects to their app so all this can be done on your phone and drinks can be saved to your profile. Which is cool. The coffee isn't really any better than the A1 though, it also uses an older version of their grinder as it's an older model.
Issues with the D6
For some reason, you can't clean the milk spout immediately after use without going into manually clean it through the menu. If you wait 10 minutes you can do it with a push of a button but this delay is very puzzling and not helpful for keeping your milk wand clean.
You also can't use pre-ground coffee, this is very unusual for a super automatic coffee maker. Maybe a very minor annoyance, but an annoyance nonetheless.
A1 vs D6 Result
All in all, $200 for some cappuccino foam is a bit much for me. You can buy a good electric milk frother for $50, if you're thinking you'd love the A1 but want to have a foamed milk option. A much better solution than shelling out $200 more for a machine that doesn't make better coffee and only offers one extra drink option.
Jura Espresso machines are the Rolls Royce of the super-automatic espresso machine world. They have a pricetag to match this. However, all that quality manufacturing means that refurbshed Jura coffee machines can save you a bit of money whilst still performing as well as if you bought them new.
We recommend going to a trusted seller of refurbished machines, like 1st in coffee, which give a 1 year guarantee on top of rigorous testing to ensure the Jura espresso machines are working like new.
You can save a few hundred dollars and no one would be any the wiser that your awesome espresso machine isn't brand new.
That's a lot of money for something that doesn't even foam your milk. However, if you're a black coffee/espresso drinker like me, the allure of a sexy black mini-temple to your morning brew could well be worth it. It's a "treat yourself" or someone you love type of machine, as are all Jura super automatic espresso machines really.
Ultimately, if it stops you from grabbing a coffee on your way to work because you have an awesome machine at home, it will eventually save you money. A stressful morning no longer involves expensive coffee drinking sprees, just pushing a couple of buttons.
What if I have guests and they want a flat white? It's so hard to care about such hypotheticals with perfect espresso at the touch of a button. I guess if you want to be a really good host you can buy an electric milk frother to cater to these people. Or they could just drink espresso like a normal person and fully appreciate your great coffee machine and coffee beans.
Our preferred stockist for Jura machines is 1st in coffee and you can buy your Jura A1 here
The Jura A1 is also available on Amazon, if you prefer, and you can click here to buy your Jura A1
You Might Also Like
Beautiful, simple, and delicious espresso for around $1000? We had to test if such a thing was possible – read our Jura ENA 4 review to see

Jura ENA 8 vs Gaggia Babila is a battle of philosophies. Is the convenience of the ENA 8 superior to the precision of the Babila?