Have you ever heard the expression "buy cheap, buy twice"? This can be very true when it comes to coffee grinders – and an easy mistake to make when starting your coffee brewing journey as there are so many options available.
But with the Chesnut C2, you not only get a (relatively) budget-friendly grinder but also a high-quality option that is built to last. In this Timemore C2 review, we break down what makes it so great and the places you have to compromise.
Timemore is a relatively new Chinese company. They were set up by some coffee lovers who wanted to make premium-feel coffee grinders and other accessories at a budget price back in 2012.
The Timemore Chestnut C2 manual coffee grinder certainly meets these criteria:
The design is very sleek and modern and would fit in nicely with most modern-style kitchens. Or, it is portable enough to be taken on the road if you travel frequently. And you can expect premium quality grind results thanks to the high-quality, stainless steel conical burrs.
We have scoured the internet for all the reviews on the Timemore Chestnut C2 to collate with our own. This means we have the most comprehensive buying guide you can find. Whilst not all home coffee experts give numerical scores, we have averaged these out. Therefore, you can get a consensus opinion on how good this grinder really is, helping you decide if it's right for you.
This article may contain affiliate/ compensated links. As an Amazon Associate, we earn from qualifying purchases at no additional cost to you. For more information please see our disclaimer here.
At a Glance: Timemore C2 Review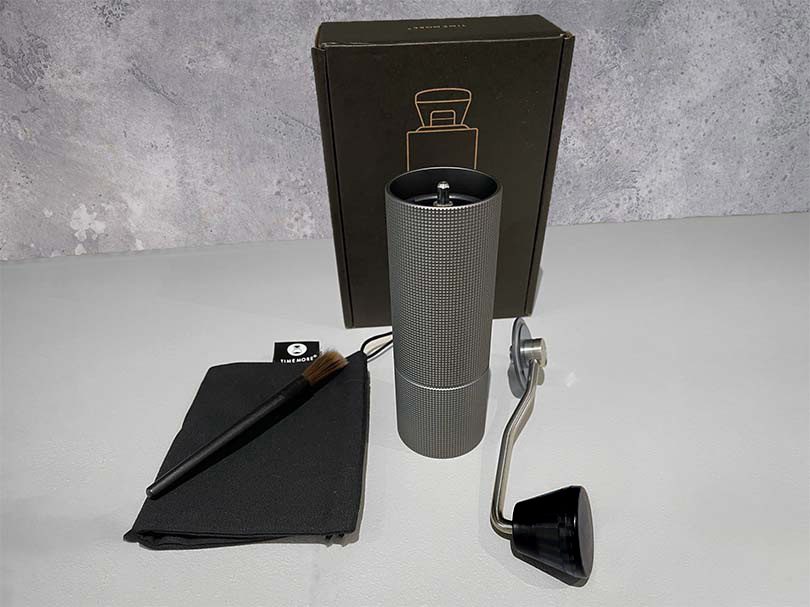 Timemore Chestnut C2
The Chestnut C2 by Timemore is a very good budget option for anyone who uses an AeroPress, pour over or French press coffee maker.
It's fairly light – weighing around 1lb. And, whilst it's not the smallest hand grinder, it is certainly portable.
That said, it is not without limitations:
Changing grind settings involves some guesswork. And it can't grind consistently enough on the espresso grind size settings to satisfy the espresso nerd.
If you're looking for a quality grinder and don't drink espresso, you won't find better than the C2 for the price.
Pros
Incredibly fast
Grinding mechanism is very smooth
Lightweight (15.2 oz) and portable (7.6 inches tall by 5.6 inches in diameter)
Excellent consistency at coarser settings
Easy to grip whilst grinding
Superb value for money
Cons
Not suited to fine espresso grinding
Sounds a bit cheap and clunky
No numbers on the settings adjustment dial
1. 38mm Stainless Steel Burrs
High-quality stainless steel burrs are fairly standard in manual hand grinders and will be more durable to the rough and tumble of life on the road. However, they do tend to come with a higher price tag than ceramic burr grinders.
2. Textured Aluminum Body
If you plan to take your grinder on the road, weight is everything. So, the aluminum body of the Timemore Chestnut C2 grinder is a great feature is it keeps the grinder lightweight and perfect for travel.
The textured outside not only looks good but also feels nice in your hands as your grind.
3. Incredibly Fast Grinding
No matter what setting you use, the mechanism is very smooth so you can enjoy quicker coffee grinding with minimal effort.
For context, if you're on a coarse French press setting, you can grind 1g of beans per second. This is insanely fast for a manual grinder.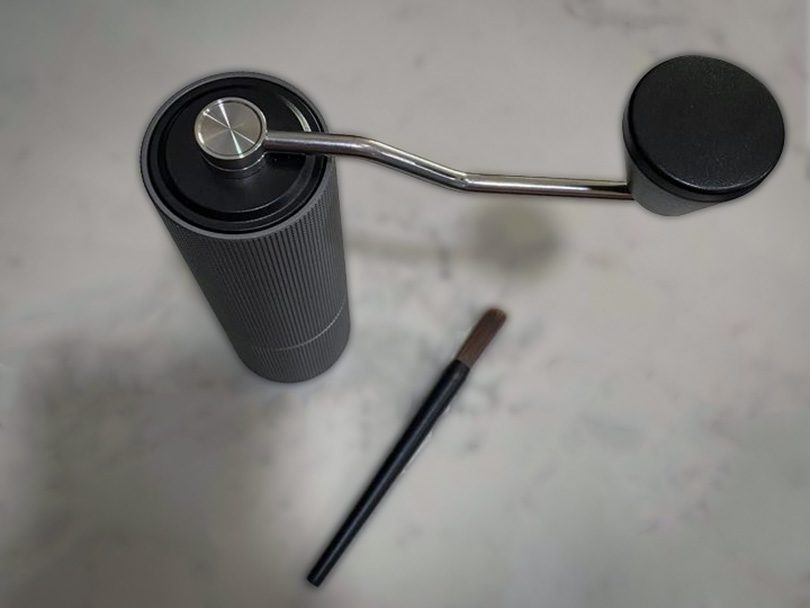 The bean hopper is large enough to make it fairly easy to put your beans in. It holds 30g of coffee beans which is enough for 3 coffees – not bad for a portable grinder.
As an added bonus, the Timemore C2 grinds incredibly quickly. So if you have a big coffee drinking family and need quite a lot of grounds, it won't take all morning.
Adjusting the grind settings is simple enough – there is a grind adjustment knob located under the burrs. The only downside is that there are no numbers on the dial. Instead, it works off a 'click system' broken down by a series of dots as you can see here: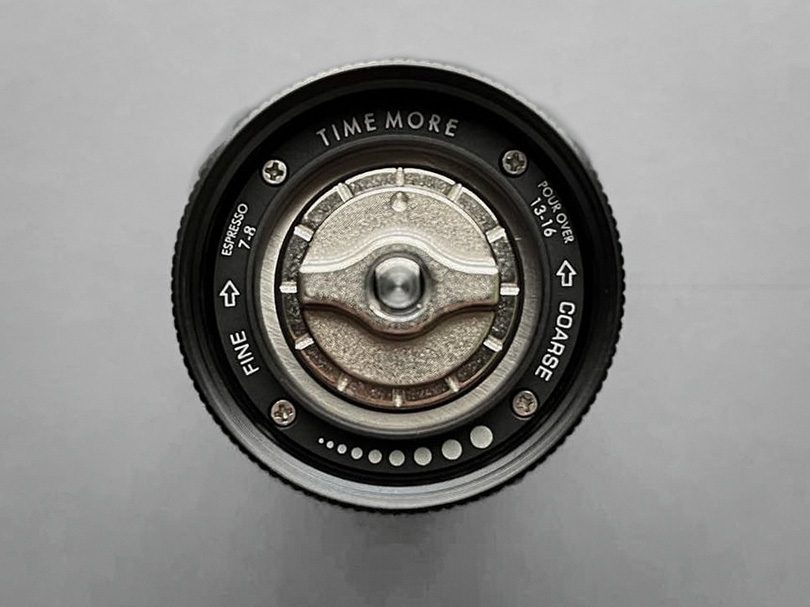 So, to find your preferred grind settings, we recommend turning the knob fully clockwise until it can't turn anymore. This is the finest setting and, from there, you have to count the number of clicks as it gets progressively coarser. If like us you're easily distracted before caffeine, you may want to find your settings and never change them.
As a guide, Timemore offers up their suggested grind size. Depending on your exact coffee maker, this may just take a little playing around to get it spot on:
Espresso: 10-14 clicks
Pour Over: 18-24 clicks
French Press: 25-27 clicks
Whilst a little frustrating, the lack of numbers is a common issue on most manual grinders – they're not really designed for flipping back and forth. Instead, they are better for sticking to the preferred grind settings for one person and one style of coffee.
The textured aluminum is modern, minimalist, and feels great whilst grinding.
There are some plastic bearings on the inside to help stabilize the burrs. Whilst some coffee experts really dislike the use of plastic near their coffee, even the most premium coffee grinders tend to contain plastic somewhere. This helps cut down on the weight, increasing portability.
At 7.6 inches tall and 5.6 inches in diameter, it isn't exactly a compact grinder. It also weighs just under 1lb so it isn't the lightest either. That said, it's hardly bulky and if you wanted to throw it in your bag for a weekend away it isn't going to eat up all your space.
The thin aluminum helps keep the weight down but won't offer the same protection as stainless steel. So the Timemore Chestnut C2 isn't ideal for long-term travel where it'll probably need to deal with some rough handling along the way. Instead, there are many other more premium coffee grinders up to that task (like the 1Zpresso JX Pro).
It's also available in white or black if you prefer. But, for us, the grey textured option is comfortably the best looking.
Those 38mm stainless steel burrs do an excellent job at coarse and medium settings. So, it is superb grinder for French press, drip, pour over, or AeroPress.
However, it starts to struggle at the finer espresso grind size settings. So, if your preferred coffee maker is a Moka pot or espresso machine, you would be better off thinking about a different grinder option.
There are limitations on all manual grinders. So without spending quite a bit of money you won't find one that works well across all grind sizes. If you don't brew espresso, this will work very nicely for you.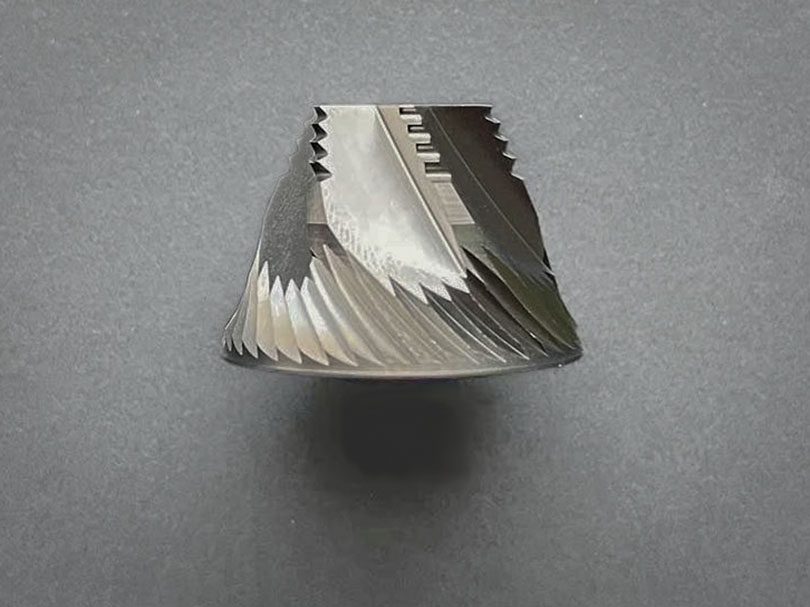 Want a manual coffee grinder but not sure the Timemore C2 is for you? Check out our top picks for all occasions:
Timemore Chestnut X
The Chestnut X is their top-of-the-range grinder, launched following a successful Kickstarter campaign. The unique design includes patented burrs and a foldable handle. Taking the grinding world by storm, the design won them the Good Design Award 2020.
What makes the Chesnut X so great is the engineering of the unique burrs allowing for super-fine adjustments. But, being their flagship model, it comes with a big price tag to match.
Timemore Chestnut G1
The Chestnut G1 is Timemore's original model and winner of the Reddot Design Award 2017.
With a beautiful wood and aluminum body, the G1 is very similar to the top-of-the-line X. But this model doesn't offer the same kind of fine grind adjustment settings. Although it does have the same excellent grind quality we expect from Timemore.
Timemore Chestnut Slim
As the name would suggest, the Chesnut Slim is a slimmer model – a full 1/4″ less in diameter than the others. Although it is also 1" taller so a trade-off has been made in that respect.
That said, it does make it easier to transport as it can fit inside other items in your bag. In terms of capacity, it is smaller too – holding 20g of beans compared to the 30g of the full-sized models.
Timemore Chestnut Nano
If you're a traveler, the Chestnut Nano has been designed with you in mind.
It has the same diameter as the Slim, but the Nano is a full 2" shorter than the other models. To be this small, it does hold considerably less than the Slim or G1/C2. So, realistically, it's only for single-person use.
It's easy to disassemble. And cleaning the coffee grind chamber and burrs couldn't be easier – there is a soft brush included which you use to remove any leftover coffee particles. This helps to dislodge them and a blow of air (either a gentle blow from you or using an air duster) will knock the particles right out.
Just take care to only use the brush/air when cleaning, not water. The use of water can damage the burrs, can cause rust, and ultimately will shorten the lifespan of your grinder.
The earlier versions of the grinder had a slight issue with static. But they have come a long way since then and changed the material of the hopper which has solved that problem. So your Chestnut C2 won't get clogged up.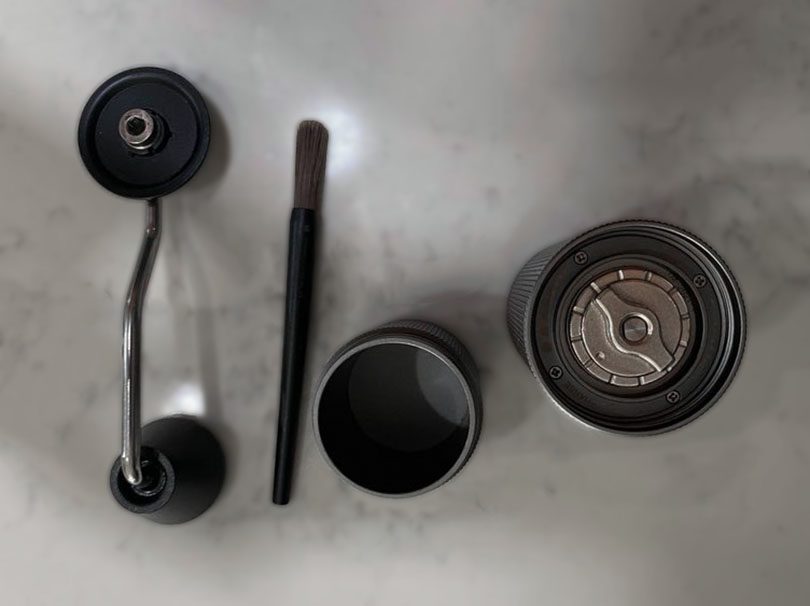 It certainly looks premium with its textured aluminum body. And the texture feels great in your hand – an important but often overlooked factor with hand grinders.
Then take into account the quick speed of grinding and the performance at the coarser grind settings. All these factors combined absolutely make for a premium feel.
The price tag is also much more budget-friendly than the premium features would suggest. Especially if you are able to pick up the Timemore C2 in its home market of China.
So, if you have been looking at budget-friendly manual coffee grinders like the Hario or the Porlex Mini, we would encourage you to stretch your budget just a little. The additional spend is totally worth it for a grinder that will perform this well and stand the test of time as your daily coffee grinder.
The only downside is that it doesn't have the precision needed to be a good espresso grinder.
But for anyone using any other type of coffee maker, it's a great budget option that looks great and is small and light enough to fit into your bag for travel.
Don't forget to Buy Your Chestnut C2 Hand Grinder Today
You Might Also Like
Find the perfect gifts for coffee snobs in your life. From budget-friendly to high-end, there are gift ideas for every coffee lover

The biggest sale of the year is here and we've hunted down the best Black Friday coffee maker deals so you don't have to. Get prepared here!