Panama may be more famous for hats, the canal, and an excellent song by Van Halen but it also produces exceptional coffee. In particular, the Panama geisha coffee varietal has become the flag bearer for top-quality Panama coffee and is widely considered one of the best in the world. So, if you want to know more about this hidden specialty coffee grower, you're in the right place.
Coffee has been produced in Panama for over 200 years, so why did it take so long to become prominent on the world stage? And why is Panamanian coffee still absent from many coffee lovers' radars?
We've got all the answers including the history of coffee in Panama and the best beans from this often-overlooked coffee nation. Read on for all you need to know about one of Central America's hidden gems.
This article may contain affiliate/ compensated links. As an Amazon Associate, we earn from qualifying purchases at no additional cost to you. For more information please see our disclaimer here.
At a Glance: The Best Panamanian Coffees
Surrounded by absolute superstar coffee-growing countries like Costa Rica and Colombia, Panama barely gets a look in. But ignore Panamanian coffee at your peril.
The world-famous Panama Geisha coffee beans catapulted to the world's attention in the early 2000s with good reason. And, despite its small size, Panama has some of the most exciting micro-climates in the Americas for growing coffee.
So, take this natural bounty and add in a desire to produce premium quality coffee beans that show off the volcanic region of Chiriqui. The result? A recipe for some mind-blowing cups of joe.
If you've seen or heard of Panama coffee, it's probably been the eye-wateringly expensive Geisha coffee bean variety. So why the astronomical price? Are they worth it? Read on as we spill the beans…
And, if you want to check out how Panama measures up to other countries in the Americas and their coffee exploits, then we have that covered here.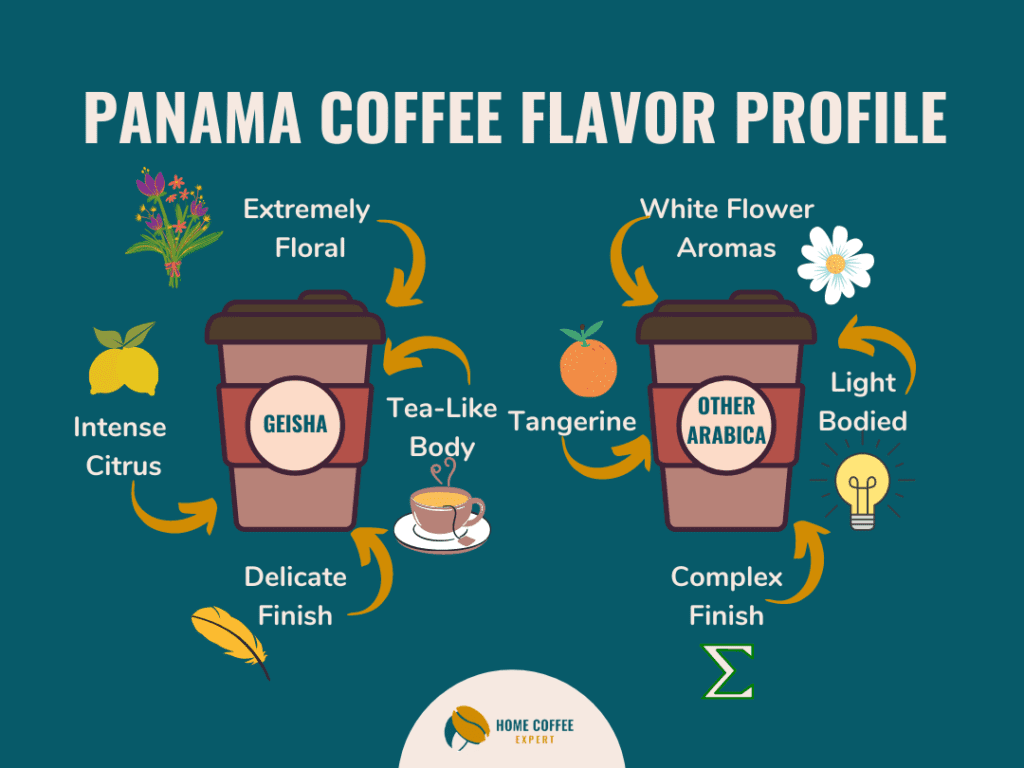 Most coffee from Panama will be bursting with citrus and floral flavors. The body is light with a delicate, complex finish. It lends itself to most brewing methods making it a great everyday coffee choice.
Panama Geisha coffee is a much more special sort of brew. It has an almost tea-like body, taking the citrus and floral notes of Panama coffee, and turning them up to 10. You might see it compared to Earl Grey tea but, to be honest, that does a massive disservice to both drinks.
In terms of brewing Panama geisha coffee beans, it is best to keep things simple. It's a bit like sampling a single malt whisky – less is more. So, to truly get the best from your specialty coffee beans stray away from milk, foam, sweeteners, etc. as they will only distract you from the great taste.
In the early 2000s, when the commodity price of coffee was relatively low, the Specialty Coffee Association of Panama organized a competition called "The Best of Panama". The best lots of coffee were ranked and then released on the online Panama specialty coffee auction in a bid to generate interest in premium Panama coffee.
A farm called Hacienda La Esmerelda, owned by the Peterson family had been growing a distinct variety called "geisha" for several years. But their entry into the Panama coffee competition brought the geisha coffee bean variety to global attention. They went on to win the competition 4 years in a row from 2004 to 2007, then again in 2009 and 2010.
Other Panama coffee brands have piggy-backed on the immense success of Hacienda La Esmerelda, quickly growing the high-end specialty coffee market with detailed flavor profiles of Panamanian micro-lots.
As a result, the price of Hacienda La Esmerelda Geisha coffee skyrocketed. In 2013, it reached the dizzying heights of $350.25/lb, comfortably making it the most expensive auctioned coffee in the world. So, does the flavor profile match the price tag? Well, the geisha variety is certainly unique in its style: extremely floral, bursting with citrus fruit but quite tea-like in the body.
Due to the wild success of Hacienda La Esmerelda's Panama geisha coffee, you will now find the geisha coffee bean plant across Panama and Central America more widely. The hope is that they can fetch a better price on the coattails of Hacienda La Esmerelda's quality and excellent marketing. Generally, this has been true – geisha coffee beans tend to sell for higher prices than other Arabica coffee varieties.
Whilst most have the option to buy pre-ground, we always recommend going for whole bean coffee instead. Grinding your own coffee allows you to get the most out of your delicious single-origin Panama coffee and to match the grind size to your preferred brewing method.
Volcanica Panama Coffee: Best Overall
If you like a bolder cup of joe to get you going in the morning, this offering from Volcanica is a great place to start. Volcanica has a great selection of high-quality single-origin coffees so you are in good hands when exploring what Panama coffee has to offer.
Volcanica source and blend the coffee beans from several smallholder coffee estates in the highlands region of Boquete, considered amongst the best coffee producers in the world. After being washed processed, Volcanica medium roasts the beans to highlight their aroma and acidity.
By blending coffees from differing microclimates across the region, this Panamanian coffee brews a beautifully complex but well-balanced cup. Compared to other Panama coffee brands, this offering has slightly more body whilst still showing off the fruit and floral notes the country is famous for.
The flavors of tropical fruit give way to caramel, fig, and honey. Overall, it makes for a great everyday coffee – and our overall best Panama coffee – thanks to the bright, refreshing acidity, and full body.
Hacienda Esmerelda Private Collection Geisha
If you're going to try Panama geisha coffee, it makes sense to buy from the original farm (Hacienda La Esmerelda) that started the geisha coffee craze.
The Esmerelda Special Geisha is their main offering and sells for crazy high prices. But the Hacienda La Esmerelda Private Collection is still exceptional in its own right. The difference is the micro-lot it comes from.
This year at auction, a lot of naturally processed Panama geisha coffee beans lot sold for $601/lb! So managing to try genuine geisha coffee at a reasonable price is a real feat, and one not to be missed. If you are a coffee aficionado or your loved one is and you need the perfect gift, Esmerelda Geisha coffee is a superb option that everyone should at least try once.
Flavor-wise, you can expect delicate citrus and fruit notes with an intensely floral nose. The light body is reminiscent of tea and has a very smooth finish.
Panamanian Boquete Single Origin Coffee, Out of the Grey
Out Of The Grey's specialty Panamanian coffee comes from the country's most famous growing region, Boquete. The finca – or coffee farm – can be found in the beautifully picturesque "Parque La Amisted" National Park. This bio-diversity protected area boasts a 500-year-old tree at its center.
Alongside this old tree are guava and tropical fruit trees which provide a perfect canopy for the coffee plants to be shade-grown. The almost 100-hectare farm predominantly grows Typica variety since its introduction to the area over 200 years ago. However, there are also 5 hectares of geisha coffee plants.
Grown between 4500 and 5500 feet above sea level, this washed processed coffee has developed a deep complexity. It is distinctly Panamanian in its exciting, complex style with bright floral notes, a delicate body, and a zesty, citrus character.
Fresh Roasted, Panama Boquete
By Arabica coffee growing standards, this Panama coffee is grown at very lower altitudes – just 1,200 to 1,600 feet above sea level. Here, you will find the Lerida Estate on the slopes of Volcán Barú. But don't let the low altitudes put you off, these coffee beans from Fresh Roasted offer a lot to be excited about.
The family-run Casa Ruiz Estate benefits from a rare microclimate that creates incredible tasting coffee beans. The cooling mists allow the coffee cherries to slowly ripen, developing delicious complex flavors. In your cup, you will taste the sweetness of brown sugar, followed by buttered pecans, and tangerine.
After roasting the coffee in the US, Fresh Roasted flush their coffee beans with nitrogen before sealing. This keeps it fresh and, even when buying through Amazon, we've always found the resultant coffee to retain its vibrance and flavor. Failure to do so would kind of go against their brand name!
The Ruiz family who runs the estate not only grows high-quality coffee but they are also one of the founding donors of the Ngabere literacy program. The program supports the Ngabe – the indigenous population – who also work on the estate during the busy harvest period.
Kotowa Coffee Organic Geisha
The Kotowa Farms are family-owned and were established by a Canadian, Alexander Duncan Macintyre, in the early 1900s. The farm and its coffee get the name "Kotowa" from an indigenous word meaning "mountains" – and there are certainly plenty of them around.
It's not always easy to get your hands on these geisha coffee beans as only around 50lbs are produced each year. Plus, its light body and heady aromas make it a highly prized commodity. So, if the thought of it tickles your taste buds, order quickly before it's all gone.
Traditionally grown at 5,500 feet above sea level, only the ripest coffee cherries are selected during harvest. A process that is done entirely by hand to ensure only the best make the cut. After harvesting the geisha coffee trees, the beans are naturally processed to preserve their natural quality and flavor.
The care and attention given to the naturally processed geisha coffee beans are abundantly clear, highlighting the complexity of the Panama geisha coffee variety. The Kotowa Coffee beans are also Rainforest Alliance Certified, something that isn't overly common in Panama due to the expense of ethical coffee certifications.
Although Panama is a relatively large country compared to its neighbors, it doesn't have the same quantity and quality of suitable coffee-growing land. So, most of the Arabica coffee is produced in just 3 small regions in the Chiriquí province in the west, bordering Costa Rica.
There is a lot of Robusta coffee grown at lower altitudes in other areas of Panama. But this is of low quality and generally not exported, only used for Panamanian coffee consumers.
BOQUETE
The most famous Panama coffee-growing region is Boquete. It is located in the west of the country on the east side of the Volcán Barú – an active stratovolcano and the tallest mountain in Panama.
As a tourist to Panama, it is likely you would visit the picturesque town of Boquete. But it is the centuries-old coffee-growing techniques that have really put the area on the map. Today, Boquete is known for being home to some of the most unique coffees, something that boqueteños take great pride in.
This area boasts various different microclimates depending on elevation and aspect. But, overall, it's relatively cool and there are frequent mists that slow the ripening of the coffee cherries. Some more intelligent people than us argue that this mimics the effects of growing coffee at a much higher altitude. Right or wrong, it does make for incredible complexity in the coffee beans from this region.
Here, the altitudes vary quite dramatically from 1,300 to 6,200 feet above sea level. The coffee farms around the area grow the geisha coffee bean plant alongside Typica, Catura, Catuai, Bourbon, and San Roman varieties.
VOLCAN-CANDELA
In the highlands of Chiriqui, not too far from Boquete, you will find Volcan-Candela. Its name comes from a combination of Volcán Barú and the city of Piedra Candela.
Proximity to the volcano is key to the success of these two areas of Panama's coffee growing industry. Around 450 years ago, Volcán Barú erupted and littered the surrounding areas with nutrient-rich rock fragments. This makes the soil perfect for growing both coffee and food, especially when combined with regular rainfall. In fact, most of Panama's food is grown in Volcan-Candela for this reason.
Coffee farms in Volcan-Candela can be found at altitudes from 3,900 to 5,200 feet above sea level. Similar to Boquete, the coffee varieties grown are Typica, Caturra, Catuai, Bourbon, Geisha, and San Roman.
RENACIMIENTO
Renacimiento is the third coffee region in the Chiriqui province of Panama. It lies on the Costa Rican border, just to the west of Boquete and Volcan-Candela. Whilst this is a very small region so not an overly large producer of specialty Panamanian coffee, it still plays an important role in the country's coffee industry.
Here, the Typica, Caturra, Catuai, Bourbon, Geisha, and San Roman coffee varieties are grown between 3,600 and 4,900 feet above sea level.
In recent years, interest from specialty coffee growers and buyers has caused the industry to really expand. Which is great for the local economy and us coffee lovers alike.
Panama's diverse geography means there are several distinct micro-climates within the coffee-growing regions. And there are some incredibly skilled farmers growing world-class coffee in these areas. As a coffee drinker, this means there are some exceptional quality Panamanian coffees to be found but the prices are also relatively high.
The price of Panama's coffee has been driven up by the rising cost of land. This is a result of the increasing number of North Americans looking to buy homes in a beautiful and relatively cheap country that is also politically stable. So, many farms have been sold to ex-pats as holiday or retirement homes.
The labor laws in Panama are also of a higher standard than in many coffee-producing nations. As coffee pickers are paid a higher wage so the cost of the coffee increases. But this does mean you can be more confident those growing and harvesting your coffee are being paid fairly.
However, this changed as the focus moved away from making as much volume of coffee as possible to growing smaller lots of extremely high-quality coffee. And, as Panamanian coffee started to gain international recognition, specialist coffee shops started appearing including the ubiquitous Starbucks.
This change appears to be generational – older Panamanians have a very different idea of what makes a "good" coffee compared to the more hipster-ish youth. With increased tourism to Panama, more and more quality-focused coffee shops have appeared. And now there is much more interest in drinking the top-quality Panama coffees within the country itself.
Cafe Unido has several locations across Panama city where you can try some insanely good microlot coffees from the best growers in Panama. Plus, they have a location in Washington too.
From the great natural flavors of the terroir to the stunning quality of Panama geisha coffee to the exciting climates around Volcan Baru – Panama is a hidden gem of a coffee country.
Compared to other coffee nations, you'll probably have to pay a bit more for your coffee. But this is often due to the premium quality and better wages for the farm workers. We're never against paying more if it means better working conditions for the farmers and their helpers.
When it comes to Panama geisha coffee, you will always pay more. It is now such a big name in the coffee industry that geisha coffee beans carry a premium price tag – around $9 a cup within Panama or $18 outside, at the least.
But if you love good coffee then trying one of the top geisha micro-lots is a must. Even if you're a little skeptical but have a bad case of FOMO, we highly recommend it. Drinking quality geisha coffee beans is an experience like almost no other in the coffee world and who can say no to that?
Panama coffee has lots of exciting options to explore. So, the only question is where will you start?
You Might Also Like
Naming your new furry friend is a tall order. But if you love coffee as much as your pup, get inspired by one of these Coffee Names for Dogs

The Kyoto Latte is an incredible addition to the coffee world from % Arabica's flagship store in Japan. Discover what makes it so special