If the price of espresso machines put you off taking the leap, this Mr Coffee Cafe Barista review is exactly what you need:
This is an affordable, semi-automatic espresso machine that is super simple to use. This makes the Mr. Coffee Cafe Barista the perfect choice if you're new to home coffee making. And if you don't want to spend hours learning how to use a machine.
Your hard-earned dollars are precious. But the price of this coffee maker compares to many quality drip brewers – yet it has way more functionality:
With just the press of a button, you can choose your favorite coffee drink. The machine will do the rest for you, including having an automatic milk frother to give you the perfect foam for your cappuccino or latte.
So, read on for our complete Mr Coffee Café Barista review and buying guide. This will help you decide if this is the best affordable espresso machine for you.
We have scoured the internet for all the reviews on this machine to collate with our own, meaning we have the most comprehensive guide you can find. Whilst not all home coffee experts give numerical scores, we have averaged these out. Therefore, you can get a consensus opinion on how good this espresso and cappuccino maker really is and know for sure if it is right for you.
This article may contain affiliate/ compensated links. As an Amazon Associate, we earn from qualifying purchases at no additional cost to you. For more information please see our disclaimer here.
At a Glance: Mr Coffee Café Barista Review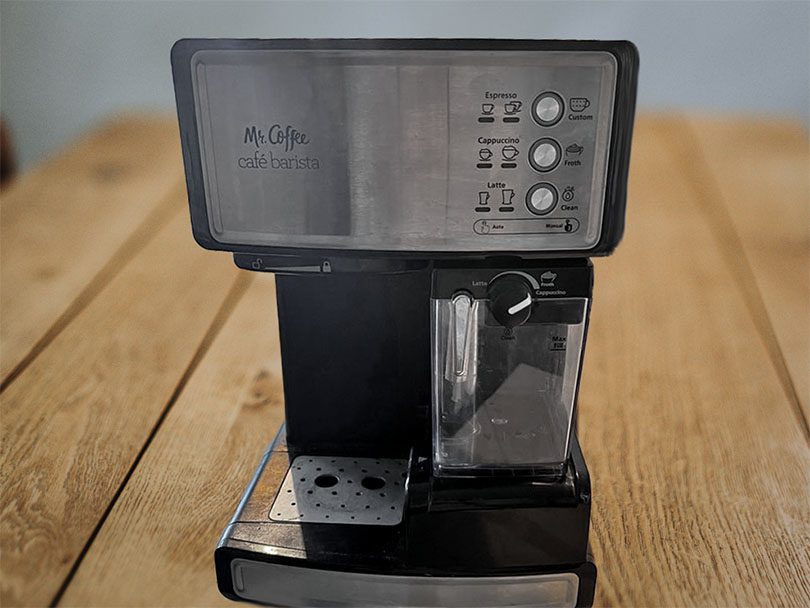 Easy to use is the main calling card of the Mr. Coffee Café Barista.
This simple coffee maker makes not only your espresso but also your milk at just the touch of a button. Your morning coffee just got a whole lot easier!
It does, unfortunately, struggle a little when pulling several espresso shots in a row.
Plus, if you're not interested in the automatic milk frothing feature there are better alternatives at the same price. That said, it is a great feature and rare on an espresso machine at this price.
Pros
Automatically makes espresso, cappuccino, and latte
Very easy to use and clean
Manual or automatic
Low-cost semi-automatic espresso machine
Automatic shut-off function
Large removable water tank and milk reservoir
Automatic milk frother
Brews single or double shots
Heats up quickly
Cons
Inconsistent temperature
Recommended settings pull weak espresso
Easily clogs up when using very fine coffee grounds
Can't use lightly roasted beans
Can't pull hot water only
Small drip tray
Instructions must be carefully followed
No lines on milk reservoir to indicate quantity
Time-consuming to clean
Can't accommodate tall cups
1. Automatic, Removable Milk Reservoir
The milk reservoir can automatically froth your milk at just the touch of a button. So, no experience is needed and the milk will be dispensed straight into your waiting cup.
A thick frothy foam is created and can be adjusted depending on your drink of choice – more for cappuccino, less for a latte.
As the milk reservoir is removable and refrigerator safe, you can store any excess milk.
2. Removable 34oz Water Tank
A large water reservoir is good if you plan on making a few coffees at a time. Plus, as it is easily removed, you can fill it up at the faucet or you can simply pour the water in whilst it is attached – whichever you prefer.
3. One-Touch Control Panel
It's very simple to use this semi-automatic espresso machine due to the simple control panel. The panel has three buttons and icons:
Simply press the button for both the coffee and milk you want. Then, the machine does the rest for you.
4. Pre-Programmed Cleaning Cycle
Having an automatic clean up function makes the Café Barista even easier to clean. The program runs for 30 seconds, cleaning the frothed milk dispensing tube after use.
5. Manual Mode
Rather than relying on the pre-programmed length of extraction for your espresso, you can do this manually if you prefer. This gives you the flexibility to have your espresso just how you want it.
The pre-programmed buttons make it simple to have either a single shot or double shot of espresso. Plus, there are easy buttons for foamed milk for either a latte or cappuccino. This means that there's no fiddling around or any learning curve involved to get a perfectly serviceable cup of coffee.
The difficulty comes if the standard settings are not to your liking. A common complaint of the Cafe Barista is that the espresso is too weak.
The good news, however, is that you can adjust the ratio of grounds to water to get an espresso shot more to your liking. This will almost certainly be essential and will take a bit of fiddling to get just right. But once you've nailed it, you can return to single-button-pushing coffee goodness.
You can also press and hold the "espresso" button to extract for as long as you want. This makes it similar to a manual espresso machine, which is a nice touch if you're looking for more control.
The reason for the weak coffee may be down to the plastic tamper. It's very difficult to exert a lot of force on the tamper due to its construction. And, if grounds are under tamped, this can result in under extraction and a weak tasting espresso. Something to consider as a good quality tamper won't set you back very much.
Working with the milk frother is very similar:
It produces decent foamed milk. But you'll need to manually adjust the foam levels if you want perfect proportions on your cappuccino or latte. This will take some trial and error but once you've worked it out, it's very easy.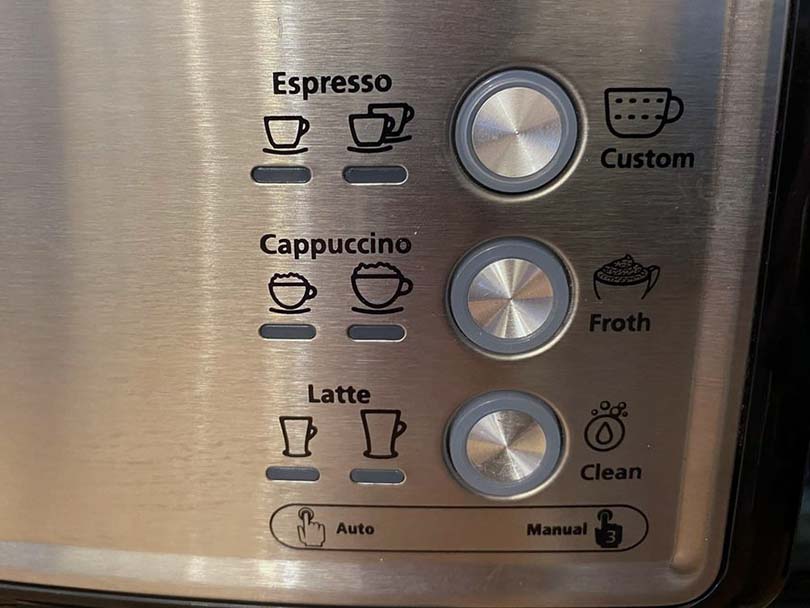 However, it doesn't come with a grinder. This means you either need to buy a grinder separately or use pre-ground coffee. Which you choose will depend on your personal preference and budget:
Freshly ground coffee is definitely better than pre-ground, especially if you drink espresso. But coffee grinders are not cheap and you need to ensure you have the right grinder for your needs.
So, if you're just looking for an easy way to make a latte at home to save on trips to coffee shops, you may find that pre-ground coffee does the job perfectly well for you. This is especially true if you already have a favorite coffee blend you can buy.
There is no right or wrong way of doing things, just personal preference.
The reason that this coffee maker is so wide is the automatic, removable milk reservoir. This is a great feature for taking the fuss out of having your favorite frothy beverages. And, since you can store any excess milk in the fridge, you don't need to worry about wastage.
The machine itself is that common combo of metal and black plastic that you'll see on almost all espresso makers at the lower end of the price spectrum. This one does come in 3 colors though – white, black, and red – which is a bonus over many of the espresso machines under $200.
Overall the build quality is good and solid, with the only exception being the flimsy plastic tamper.
There are some nice little features on this machine:
Firstly, there's a little clip on the portafilter which grips the basket while you knock out the spent puck.
Also, whilst each button has 3 functions, the instructions are so well written that you won't have any issues working out what is going on.
Now we do get that lots of people won't like any espresso machine that has a lot of plastic on the outside. But realistically at this price point, that is what you will most likely find. So we can't really hold it against the Mr. Coffee machine.
Overall the look is OK:
It's a bit big and blocky for our tastes but it would be harsh to call it an ugly espresso machine. And it'll fit in nicely with most kitchens.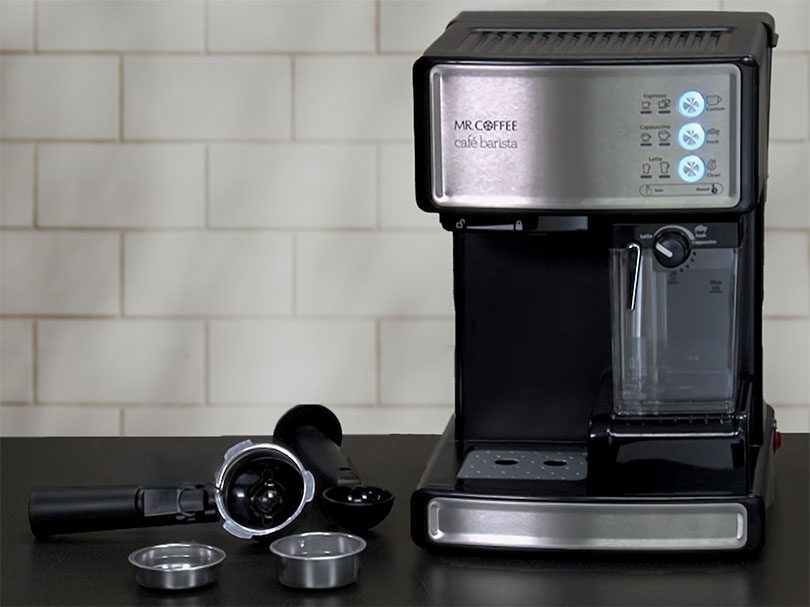 The answer is: Yes… but not always.
As previously mentioned, the standard settings and measures produce a slightly weak espresso. This is most likely down to the flimsy tamper.
To remedy this issue, you can beef up your coffee to water ratio. This will allow you to get a decent full-bodied shot of espresso from the Cafe Barista.
Consistency can be a bit of an issue with this espresso maker too, especially if you're pulling quite a few shots in a row. None of the shots taste "bad" but they definitely fall short of the quality you can get from the first one.
The Mr. Coffee machine uses 15 bar pressure from a vibration pump. This is plenty to get a quality espresso from dark or espresso roast beans. Although it will struggle with light or medium roast, if that is your preference.
The 15 bar pressure is standard at this price level though. You will have to throw a lot more money at an espresso machine if you're looking for something that can extract the delicate flavors from your favorite light roast beans.
Vibration pumps are also standard for espresso machines around the $200 mark. So, while this can result in inconsistent pressure and, therefore, variable espresso quality, they work pretty well. You will need to fork out a lot more for a rotary pump machine to get better, more consistent pressure.
The automatic milk frother is an excellent added feature on the Mr Coffee Café Barista. Whilst it's not perfect, it works really well:
By pressing the button for either cappuccino or latte, this espresso machine will dispense the correct volume of milk for your drink. You will, however, have to twiddle with the froth settings to get your milk to foam ratio just right. This will take a couple of tries but once you've sussed it, the job's a goodun'.
The fact it is removable and storable in the fridge is very helpful. It's inevitable that you won't use all the milk each time, so this saves unnecessary wastage. Plus, the milk reservoir is dishwasher safe, making cleaning even easier.
Being an automatic frother means it's never going to be as good as using a manual steamer. But only if you know what you're doing. So, if you're not interested in perfecting this skill, then the Cafe Barista will do the job for you admirably.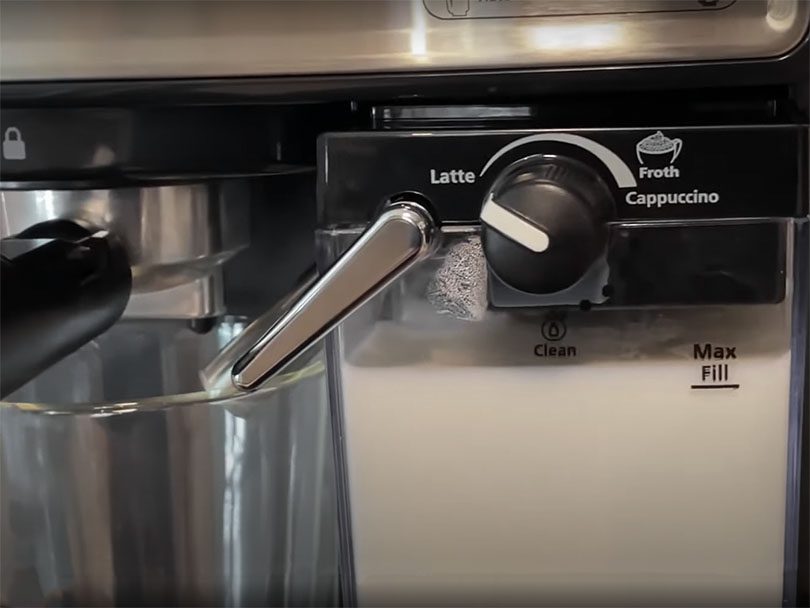 The portafilters must be emptied and cleaned after each use. Although this is as simple as dumping the dried coffee "puck" from the basket and giving it a quick rinse.
The frothed milk dispensing tube needs to be cleaned after each use. But, to make this easy, it is done at the push of a button. The pre-programmed cycle takes around 30 seconds. So, whilst this is slightly more effort than other espresso machines, it's the trade-off for having the automatic milk dispenser. If you were to go for an alternative machine with a frothing wand, the wand will need to be cleaned fairly regularly too.
Descaling needs to be completed every 90 days, or every 40-80 brew cycles. Doing so involves adding some vinegar to the water reservoir. And it only takes around 25 minutes – again nice and simple with a push of a button.
A common complaint is that the smell of vinegar lingers after descaling. So, we recommend running some water through the espresso maker a couple of times before using it for coffee. Always better safe than sorry – coffee and vinegar are not a good mix!
So, what's the verdict on our Mr Coffee Café Barista review?
This is an espresso machine for those who are looking for cappuccino and latte style drinks at home. Great if you want to do a little bit of fiddling – but not too much.
Using the Cafe Barista coffee maker is very easy. And, it does pull a decent shot of espresso, giving you nicely foamed milk – all with minimal effort.
The drawbacks of this machine are inconsistency in brew quality. Plus, it won't get the most out of your medium or light roast coffee beans. However, if you're looking for something that will create incredible espresso from light/ medium beans, you're going to have to pay a lot more sadly.
For the price, this is an excellent espresso and cappuccino machine that will do a fine job at creating your favorite coffees at home.
Don't forget to Buy Your Mr. Coffee Cafe Barista Today
You Might Also Like
Beautiful, simple, and delicious espresso for around $1000? We had to test if such a thing was possible – read our Jura ENA 4 review to see

Jura ENA 8 vs Gaggia Babila is a battle of philosophies. Is the convenience of the ENA 8 superior to the precision of the Babila?