Handground does one thing. And they do it well: The precision manual coffee grinder.
Dive in for all the ins and outs of this little device in our Handground coffee grinder review.
To launch their grinder, Handground took to Kickstarter in 2007. Their campaign may be the most successful in coffee history:
Their unique design – it is the first manual hand grinder to have a side-mounted crank – caught the eye of many coffee fans. In total, they raised over $300,000 and the Handground Precision was born.
Even now, they work in a collaborative fashion: If you have genuine feedback on the Precision, they will listen with open ears. Or, if you have an idea for a new product, they will work with you to see if it is viable.
So, when purchasing from Handground, you know you will get a quality product. One that has been made with the user in mind. Why? Because the people behind it are coffee lovers just like you.
Here, we have scoured the internet for all the reviews on this ceramic conical burr grinder to collate with our own. This means we have the most comprehensive buying guide you can find. Whilst, not all home coffee experts give numerical scores, we have averaged these out. Therefore, you can get a consensus opinion on how good this device really is and know for sure if it is right for you.
This article may contain affiliate/ compensated links. As an Amazon Associate, we earn from qualifying purchases at no additional cost to you. For more information please see our disclaimer here.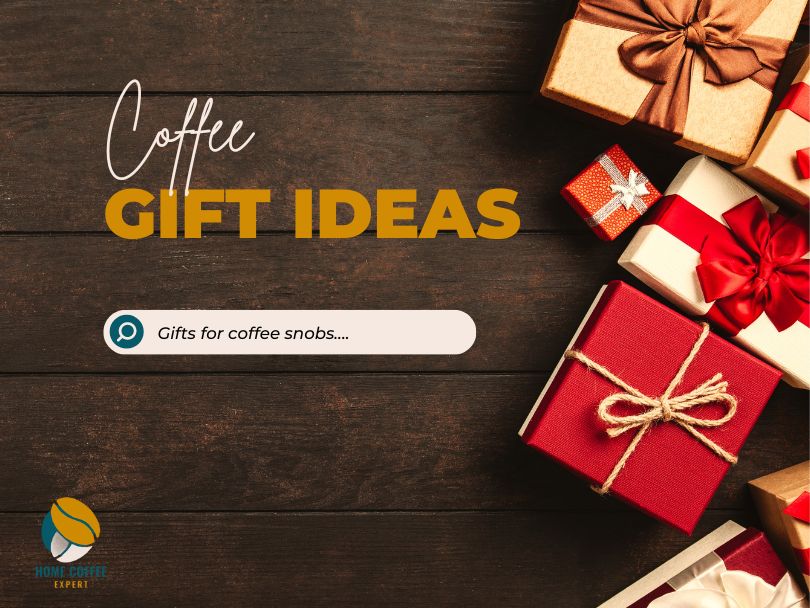 The holidays are coming. Which means stressing over the perfect gift is here too.
But stress no more. We've put together a list of all the best coffee gifts to please even the most discerning of coffee lovers in your life.
Check out our guide if they're on your 'nice' list. Or maybe be 'naughty' and buy something for yourself!
At a Glance: Handground Coffee Grinder Review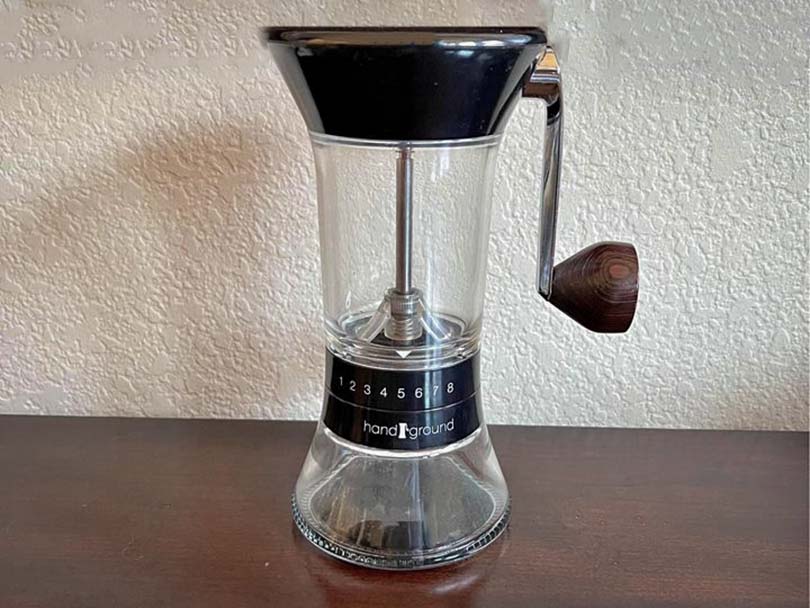 Handground Precision Coffee Grinder
The Precision Grinder looks great and is very comfortable to use.
The quick grinding and wide, rubber-coated base make grinding with the Precision really easy for a manual grinder.
Sadly, it isn't the smallest or most portable hand grinder. And the consistency starts to get a bit wooly at the coarser end of the spectrum – although this is a common issue with hand grinders.
Overall, it's a solid manual grinder that will do the job for you nicely. Plus, clean-up is easy.
Pros
Solidly built
Looks great
Easy to use
Grinds quickly
Good grind consistency
Ceramic burrs cut down on heat
Cons
Quite big
Not dishwasher safe
Fragile if dropped
Grind consistency gets uneven at coarser settings
Not the cheapest
1. 100g Bean Chamber
The enclosed bean chamber at the top of the Handground Precision can hold up to 100g of coffee beans. So, if you need to grind coffee for everyone, you can do it in one go instead of having to batch grind the beans.
2. Grinding Handle on the Side
This may seem like a small thing. But having the handle for grinding the beans on the side, rather than the top, makes grinding a lot easier. It is the best ergonomic feature of this grinder.
3. Stainless Steel Axle
The grinding mechanism is stabilized on a triple axle. This helps to maintain a consistent grind size as it prevents wobbling during the grinding process.
4. Rubber Pad
The rubber pad on the base of the Precision grinder helps it adhere to the surface. Doing so makes it easier to keep stable whilst grinding.
5. Separate Components
The Precision is easily disassembled into its constituent components making it very easy to keep clean.
It comes with a handy chart that tells you which setting and how much coffee you need for each brewing method. There are lines on the bean chamber so you can roughly measure out your beans if you don't have a scale handy. And the side crank is really nice to use. Using the ergonomic crank doesn't require a lot of effort. And it is much less awkward than using a crank on the top of the grinder.
Switching between the grind sizes is very easy and doesn't require taking the grinder apart or adding/removing parts.
There are 15 possible positions, numbered 1-8 with half steps in between. So finding the best grind size for your coffee will take very little time and effort.
Then, once you've got your perfect grind size, you don't need to worry about someone else playing with it causing you to spend ages finding it again.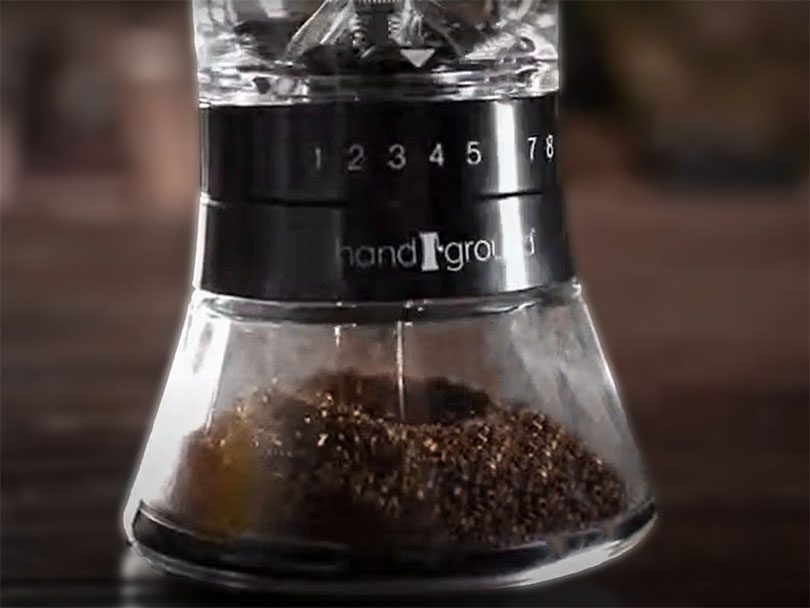 In the hand grinder market, it's not the most portable option although it does look fantastic. And the side crank handle is just so much nicer to use than a crank on the top. This also helps with stability as you don't have to put lots of force in a horizontal direction whilst trying to hold the grinder steady.
The grind size is easily adjusted with a simple numbering system. So even if it gets moved away from your preferred grind size, it's no hassle to reset.
The clear bean chamber has lines roughly every 10g of beans. This makes it a lot easier to measure out the correct amount of coffee if you don't have a set of scales handy. Or if you can't be bothered weighing it out.
We have heard some complaints that the plastic elements feel a bit flimsy. But, with a one-year warranty, any issues can be easily solved which is reassuring.
The glass chamber for the grounds does feel like it would break if you dropped it. So, while it is certainly fine for travel use, it probably isn't the ideal grinder for life on the bumpy road. 
The Handground Precision performs admirably overall:
It is particularly good at the finer ground settings for espresso, AeroPress, and drip coffee.
However, it starts to get a bit more uneven as we get into the coarser grinds for brews like French press. This is a common issue with manual grinders. So, whilst the Precision performs very well, it is not perfect.
If you're looking for a grinder specifically for French press, then your best bet is one that works best at that coarser grind setting.
Looking for a manual grinder but not sold on the Handground Precision?
Check out the Best Manual Handgrinders here
Annoyingly none of the parts are dishwasher safe. However, taking out the burrs to rinse them is very straight forward and it doesn't require any special tools or cleaning equipment which is nice.
So, for a job that is generally a bit of a pain, the clever design of the Handground makes it as pain-free as possible.
On the other hand, if you're planning to use a brewing method that requires a coarser ground coffee – like French press – then this isn't the one for you. All grinders have their own strengths and weaknesses. So it is always best to purchase one that is suited to your preferred brewing method.
Overall, this is an excellent hand coffee grinder that not only looks great but also produces excellent, consistent results.
The Handground coffee grinder really is a must-have for anyone looking to add a manual grinder to their coffee set up.
Don't forget to Buy Your Handground Precision Grinder Today
The world of coffee grinders can be complicated. We get it. With so many different types of coffee grinder out how do you know what you want?
Here we will lay out the top things to look for when purchasing a new coffee grinder. This will help you to work out if the Handground Precision is the right fit for you.
Burr or Blade Grinder?
The mechanism inside your coffee grinder will be either a burr or a blade. It's the important part as it's what actually grinds your coffee beans.
Blade grinders work just like a kitchen blender. In other words, it chops the beans to bits via rotating blades. Whilst this is great for making pasta sauce, when it comes to coffee beans the result will be inconsistent grind size. And questionable quality coffee.
On the other hand, burr coffee grinders crush the coffee beans between two plates (burrs). They will cost you more but will also produce more uniformly sized coffee grounds and a better cup of joe.
Within burr grinders, you have a further choice: conical or flat burr grinder. But in the home coffee market, you will mostly only come across conical burr coffee grinders like the Handground.
Capacity
For the best results, you want to grind the beans directly before using them. So, the capacity of your grinder only needs to match up to the number of cups you regularly make in one go.
If it's just for you, then a small capacity grinder will work a treat. Or, if you regularly entertain or have an obsessive caffeine addiction, then you will need something bigger so nobody misses out.
The Handground Manual Grinder has a 100g bean hopper with a wide opening to make loading easy. For a handheld grinder this is about as big as your want to go – you still have to grind the beans by hand after all.
The capacity will also dictate the physical size of your grinder and therefore how much space it's going to take up. As detailed in this Handground coffee grinder review, it's a reasonable size. So, it's not the most travel-friendly of hand grinders.
You Might Also Like
Find the perfect gifts for coffee snobs in your life. From budget-friendly to high-end, there are gift ideas for every coffee lover

The biggest sale of the year is here and we've hunted down the best Black Friday coffee maker deals so you don't have to. Get prepared here!