Espresso is a wonderful thing – so delicious, so versatile, so comforting. But sometimes it's nice to add a touch of milk just to mellow out the flavors, maybe accentuate some others, or just mix up your espresso experience. Cortado vs macchiato is a choice many espresso drinkers looking for a slight change may have wrestled with. So how do you choose?
The difference between cortado and macchiato comes down to the milk added. Cortado is made with equal amounts of espresso and steamed milk, but not foam. Macchiato is an espresso shot with a teaspoon of milk foam added. Flavor-wise, cortado is a sweeter and more mellow coffee whereas macchiato rounds off the edges of the pronounced coffee taste with the milk foam.
Of course, there's a little more to the differences between these two tasty coffee drinks. Read on as we dive into the background and full details on your favorite little European coffees:
This article may contain affiliate/ compensated links. As an Amazon Associate, we earn from qualifying purchases at no additional cost to you. For more information please see our disclaimer here.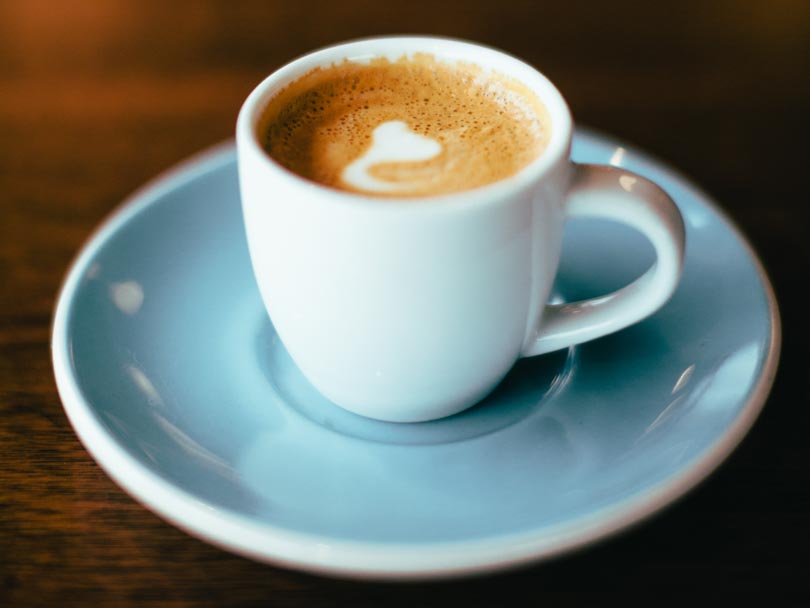 Being a traditional Italian coffee, the name comes from Italian. Macchiato literally translates as "stained" which refers to the espresso being "stained" with a touch of milk foam.
Many coffee houses in the US stray away from the classic Italian coffee recipe by making macchiato with a big dollop of foam resembling the whipped cream on an iced coffee or iced latte. But, to stay true to the original it should just be a very small amount (1-2 teaspoons) of milk foam that is added.
The touch of milk foam is there to take the edge off the acidity and bitterness of the espresso, creating a milder coffee drink. It won't sweeten it as much as adding steamed milk would, but it softens any harsh notes. As a result, the sweet fruit, chocolate, and smokey flavors of the coffee come to the fore. But without diluting the punchiness you expect.
Most coffee shops today will have a macchiato on their menu but they may not all serve the same thing. Some will serve an espresso macchiato and others will serve a latte macchiato. And then there are the flavored versions thrown into the mix.
The macchiato version popularized by Italian coffee culture is the classic espresso macchiato. But, since macchiato literally means "stained", some coffee shops choose to reverse the order of the milk and espresso. So, instead of espresso stained with a splash of milk (espresso macchiato), you get milk stained with a splash of espresso (latte macchiato).
You may also have seen or even ordered a "caramel macchiato" or similar from your favorite coffee house. What you received will have been a large, milky drink with just a little coffee in it and a lot of sugary syrup.
It's usually easy enough to spot the difference. In most coffee establishments, a "macchiato" is the classic espresso with a touch of milk. If it has some flavoring in the name like a caramel macchiato, you can expect a sweet, milky drink with just a touch of coffee.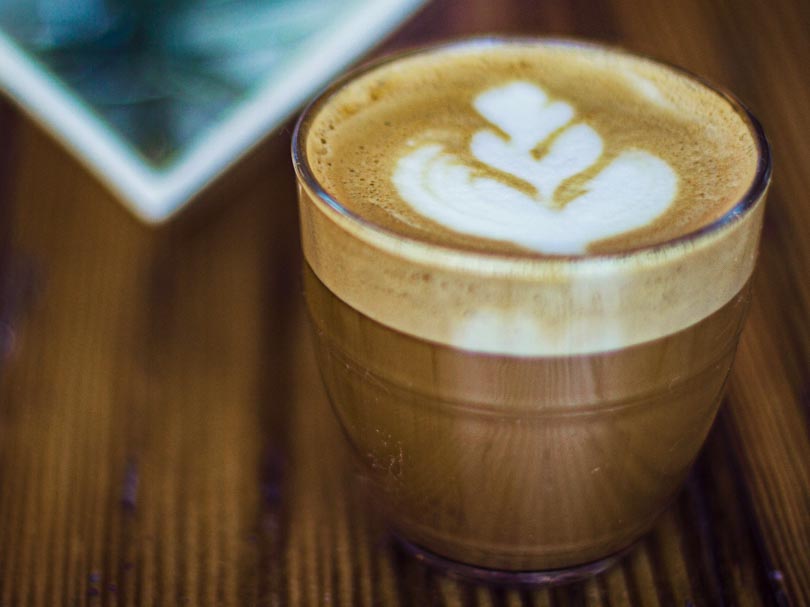 To make a cortado, a shot of espresso made from dark roast coffee beans (they should be Robusta) is cut with the same volume of steamed, but not foamed, milk.
The soft creamy coffee drink should only be served as a short 2oz size made from 1oz each of equal parts coffee and milk. The milk should accentuate the dark chocolate and sweet smoke flavors of the espresso.
What makes cortado unusual is that even big chain coffee shops tend not to offer it in multiple sizes. A "double cortado" or "large cortado" isn't something that is offered in a very rare homage to the drink's origins and Spanish coffee culture.
As a variation in name alone, cortado may appear on coffee shops menus as a "Gibraltar". This is in reference to the small glass it is often served in but the contents will be the same.
Cortado is also unusual in its need for Robusta coffee beans to make the espresso. Yes, any coffee that is espresso mixed with the same volume of steamed milk may be called a "cortado". But if it isn't made with Robusta it won't taste right and *technically* isn't a cortado.
The touch of milk foam in the macchiato is supposed to just take the edge off the espresso. It won't change the flavor in a huge way, just soften the acidity and bitterness a touch. It's almost like adding just a few granules of sugar to your espresso, but with the added texture of the foam. The end result is a more robust, espresso-forward coffee flavor than you get from a cortado.
On the other hand, the cortado fully rounds out the flavor of the espresso and brings the chocolate notes to the forefront. The addition of steamed milk, instead of foam, adds enough sweetness to make the espresso feel rich and indulgent.
Read Next: Cortado vs Flat White | Cortado v Latte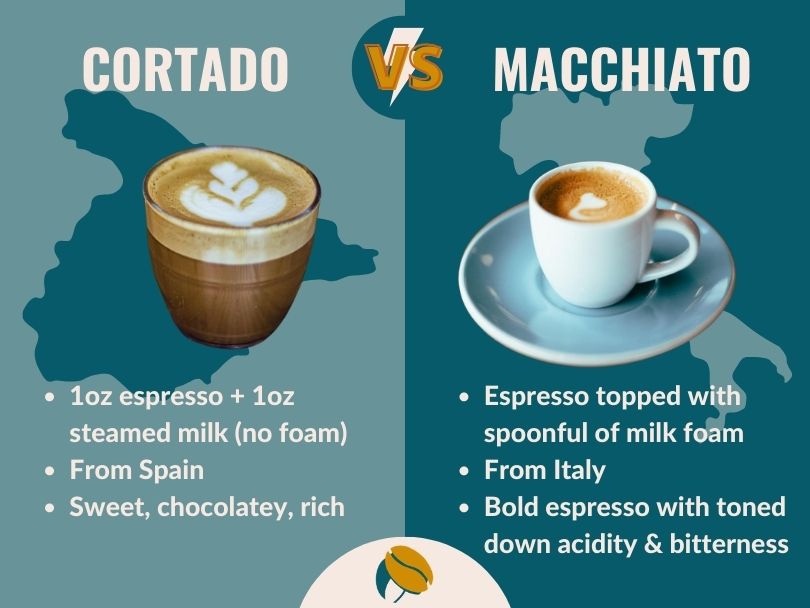 If you're looking for just the tiniest sweet hint to round off the sharper edges, then choose macchiato. If you're looking for a richer, more chocolatey flavor, then cortado is for you. But if you're after something sweet with just a hint of caffeine, the flavored macchiatos will be your best bet.
As long as you have an espresso machine, they are both pretty easy to make at home. Or you can add them to your next coffee shop order, but where's the fun in that? So which one is going to become your new favorite coffee drink – the Spanish cortado or the Italian macchiato?
You Might Also Like
Breve coffee is America's answer to a latte – espresso with creamy half and half. Discover how it stacks up and how to make it at home

Are you tired of questioning 'why does my coffee taste bitter?' With these helpful (and easy) fixes, say goodbye to bitter coffee forever